Don't Worry, Dijon Will Give Your Pasta Sauce An Extra Sharp Bite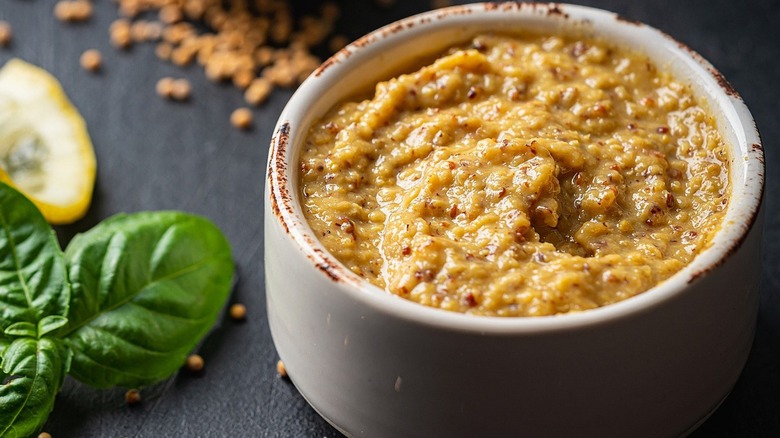 Goskova Tatiana/Shutterstock
Dijon can do way more than jazz up your sandwich. Whether you're adding tang to your salad dressing or complexity to a marinade, dijon has a unique flavor that will deliver a distinctive quality to whatever you're cooking, Epicurious reported. Humans have been harnessing this flavor for millennia, according to Serious Eats. It even shows up in the Bible.
Dijon mustard differs from traditional mustard because it originally used something called verjuice, which is the liquid from sour grapes. Now the real difference between dijon mustard and regular mustard is the inclusion of white wine, per MyRecipes. Traditional mustard is made with vinegar. Dijon mustard also comes from black mustard seeds, which are spicier than yellow mustard seeds, per a Mashed report.
Dijon mustard is highly versatile because of its pungent flavor, The Kitchen Community explained. It even pairs well with other ingredients in pasta sauce, as indicated by Food and Wine.
Dijon meets sausage in creamy pasta dish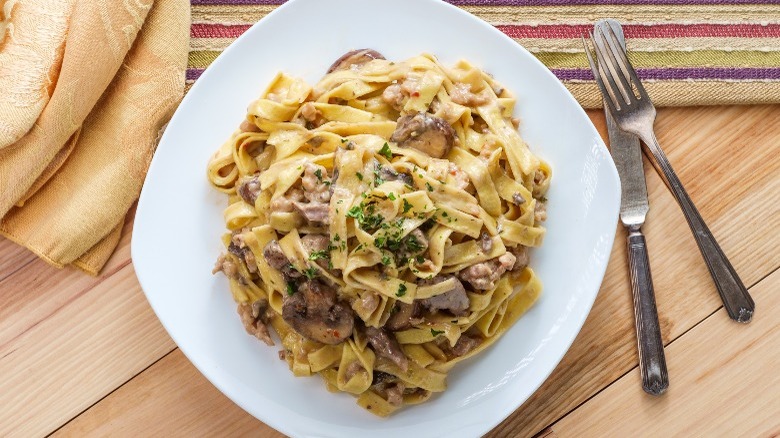 Ezume Images/Shutterstock
Pasta with marinara can grow tiresome if that's the only sauce in your rotation. If you need to break out of a rut, reach for the dijon mustard. Food and Wine reported that a simple dijon sauce comes together quickly with just a few ingredients. Start by sautéing sausage in olive oil. Then, mix in cream, dijon, and crushed red pepper flakes. Pour the sauce over al dente pasta, and top with fresh basil for a simple meal that packs a complex flavor. This sauce is just one reason why you need to start keeping dijon in your pantry at all times.
Be warned, the mixed reviews in the comment section indicate that not all foodies are on board with mustard in their pasta. "This was the worst recipe I've ever eaten. It was absolutely horrible," wrote one poster. Another thought the recipe was spot on. "I LOVE this recipe. I use Impossible or Beyond spicy sausage and it is a wonderful vegetarian dish."
Food52 has its own recipe for a dijon pasta sauce, and it incorporates aromatics early on in the cooking process and finishes the dish with kale.