Why You Need To Start Keeping Dijon In Your Pantry At All Times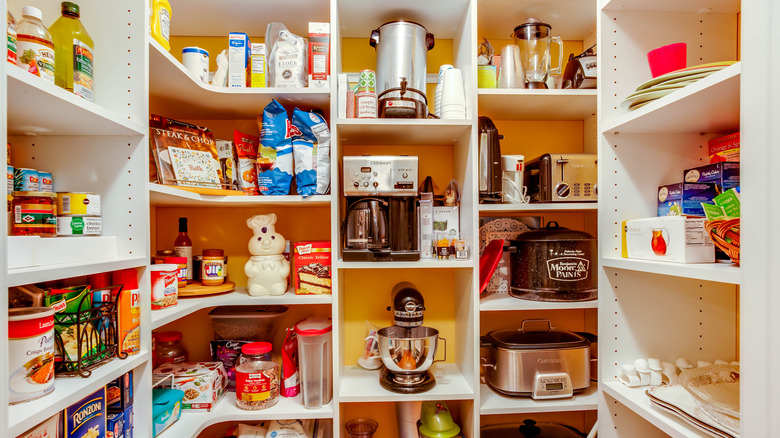 Pipas Imagery/Shutterstock
Whether you have a single, small cabinet in your studio apartment or a walk-in room that's color-coded, keeping your pantry well-stocked can make mealtime prep a cinch. Not only that, but such organization can save you from last-minute trips to the market. This idea of "being prepared" became even more evident during the recent COVID pandemic and the food shortages that followed.
While the list of basic essentials may vary slightly from home to home, there are some non-negotiables (salt, sugar, flour, olive oil, balsamic vinegar, canned tomatoes, beans, rice) that have a long shelf-life and can survive months, even years in the cupboard. One, in particular, takes up very little space, yet it packs a lot of punch. It's fat-free but has the power to add a depth of flavor that can transform any sauce, dressing, marinade, sandwich, or even a hot dog into an experience. We are speaking, of course, about Dijon mustard.
What is dijon and why is it important to stock?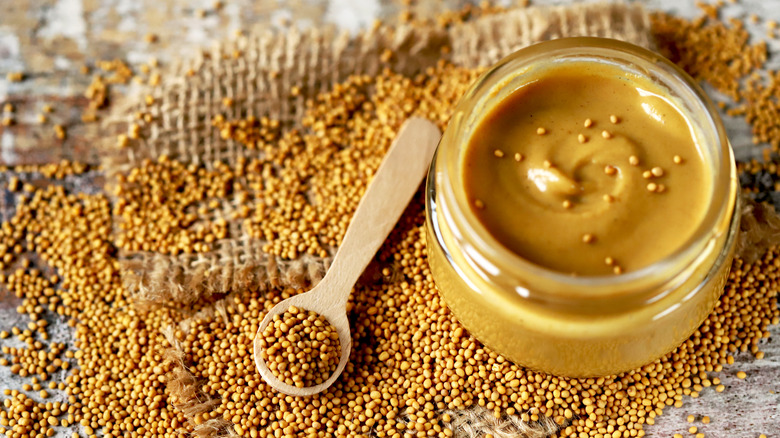 Shutterstock
Dijon mustard, the elegant high-brow French cousin of the American ballpark yellow mustard, was named after the French city of Dijon in Burgundy, France in the 9th century. Dijon mustard has a creamy texture and a sharp acidic bite compared to the mellower versions of yellow mustard and can be manufactured anywhere in the world. This is, of course, if the producer uses the original base of brown mustard seed and vinegar in their recipe. According to Dry Mustard Distillers, the Dijon mustard we know today is made with the same basic recipe we enjoy today thanks to federal regulations set in the 13th century.
What makes Dijon mustard a must? It's versatility. Chef Alyssa Gagarin, the founder of Meal Prep Chef, admits she keeps Dijon mustard in her pantry to use not only as a condiment but also to add to sauces, marinades, dressings and even to coat proteins prior to cooking. The chefs behind the publication, Cook's Illustrated, found that Dijon is a key ingredient for a great vinaigrette.
Other benefits of stocking dijon mustard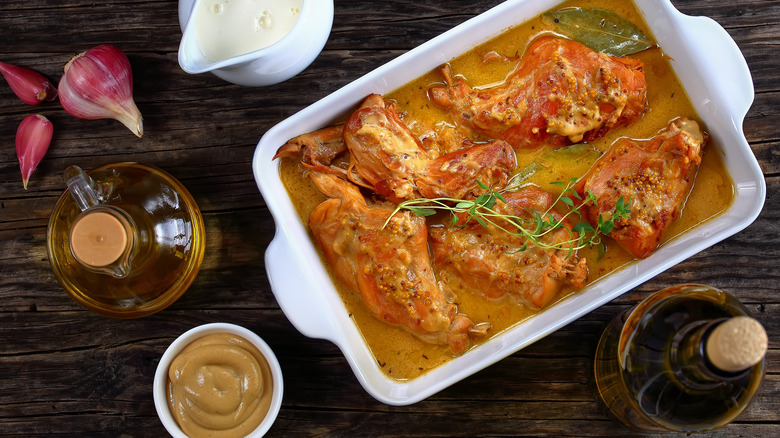 from my point of view/Shutterstock
Of course, there are other reasons why you should consider using Dijon mustard more often. For starters, it can create a delicious and flexible dressing appropriately called Dijon dressing. The mustard can bind together, or emulsify, oil and vinegar, creating a creamy, rich texture without the addition of butter or cream.  
Foodies minding their waistlines this time of year should also take note of Dijon's benefits. Very Well Fit writes that a teaspoon of Dijon mustard is just 5 calories vs. ketchup which has more than 3 times the amount of calories, giving you a big bang for your buck. 
Most importantly, however, Dijon mustard is beneficial because it elevates the taste of food. The next time you make pork chops, try coating the meat in Dijon mustard and sprinkling some breadcrumbs on top prior to cooking them. You can also a tablespoon of Dijon to your frying pan to make a delicious pan sauce. However you decide to use it or store this pale yellow jar for that matter, make sure to stock up on this beach body-approved pantry staple and improve your home cooking.