How To Order A KFC-Style Double Down Sandwich At Chick-Fil-A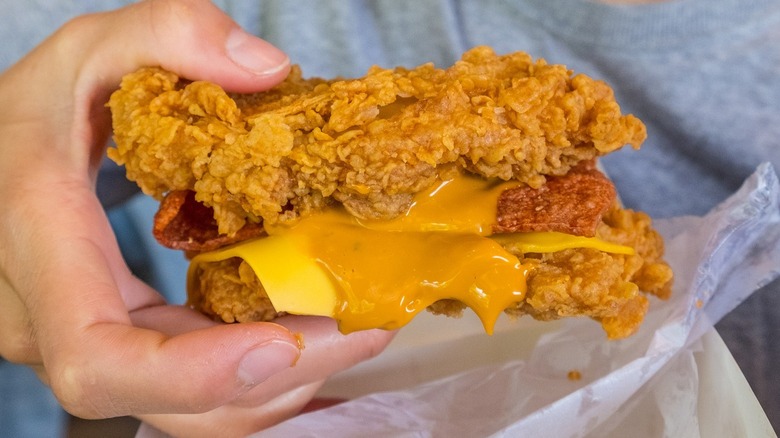 Boyloso/Shutterstock
The KFC Double Down sandwich is arguably one of if not the most iconic sandwiches at the fast food establishment famous for its crispy fried chicken. It first came out in April 2010 as an April Fool's prank, but the meat-heavy, calorie-laden creation ended up being so popular, it stuck around and has since developed a cult following (via The Street). If you have yet to try the Double Down, it's two pieces of fried chicken that act as the bun with cheese, bacon, and barbecue in between. That's right — it's a sandwich with no bread. KFC describes it as "a recipe of genius and recklessness that amazes from the first bite."
What few people know about the KFC Double Down is that, well, you can order it at other fast food restaurants — specifically, Chick-fil-A. According to super fans, it's entirely possible to get a Double Down dupe at the "Eat Mor Chikin" chain. While it's not on the regular menu, it is on the Chick-fil-A secret menu (via Restaurant Clicks). Here's how to order the meaty sandwich the next time you make a stop at Chick-fil-A.
It's a secret menu favorite
If you want to get a KFC Double Down-style sandwich at Chick-fil-A, it's surprisingly easy. According to Restaurant Clicks, all you have to do is ask for two chicken sandwiches without the bun. Then put the patties together with the toppings of your choice and voila: the Chick-fil-A take on the popular sandwich. You can customize it to your liking, as well. One person on Reddit said they like to add bacon and cheese, adding that the trick is to combine the ingredients immediately while still warm so the cheese melts evenly across the chicken.
Those who have tried the Chick-fil-A Double Down sandwich have given it high praise. "It was literally the best sandwich I've ever eaten from Chick-fil-A, 10/10 would recommend," one employee wrote in the Reddit thread. YouTuber The Endorsement also tested out the creation in a video review and said, "First things first, this is amazing. You have the flavor of Chick-fil-A, all of that cheese on the inside, and the bacon is cooked perfectly." He gave the sandwich a 95 out of 100.