What Are The Best Apples For Pie?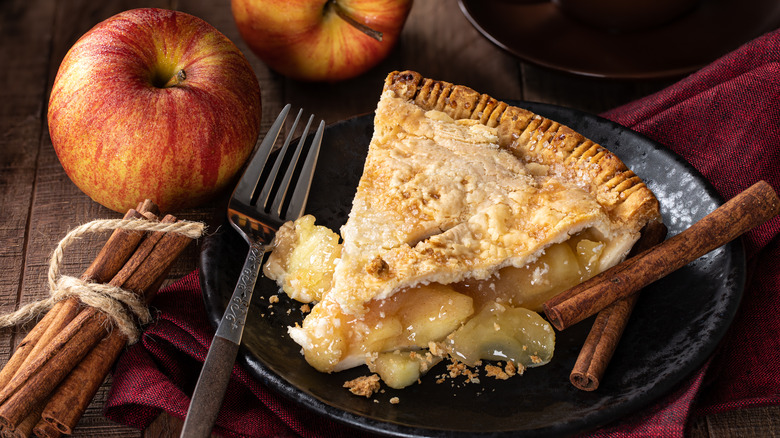 Charles Brutlag/Shutterstock
We may receive a commission on purchases made from links.
Nothing quite compares to the sweet satisfaction of biting into an all-American, homemade apple pie during the holiday season. If you're the baker rising to the challenge, baking one yourself could seem like a daunting task. That's fair, because there are only a whopping 7,500 varieties of apples in existence, with 2,500 of those apples growing on U.S. soil (via SelectHealth). Where do you even begin when it comes to choosing the perfect apple for the job?
You'll first need to consider the taste of your apples, lying dormant under your pie crust, ready to release a flavor bomb of massive proportions once the oven timer goes off. And we can't forget about texture. The simple truth is that some apples just can't take the heat, and when softer apples are baked into a pie, it's evident if you've used mealy ones. Mushy pies aren't exactly a top contender for the average pie lover. A great apple pie has that melt-in-your-mouth feel while still retaining some level of texture to enjoy.
Whether you love sinking your teeth into a tart Granny Smith or the sweet juiciness of a Honeycrisp apple, there are a few things you should be thinking about when you next want to dish out your favorite apple pie recipe.
For the best apple pie flavor, use a mixture of apples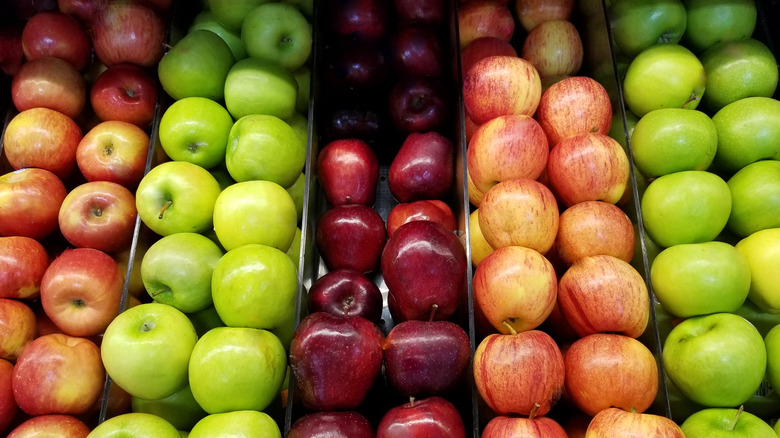 Dimarik/Getty Images
When you're hit with apple overwhelm, you may just decide to pack all your favorite apple varieties into one pie. If this is the case, you're on the right track. For a complex marriage of sweetness and tartness in your homemade apple pie, you'll want to choose flavors that will complement one another.
Amy Traverso, author of "The Apple Lover's Cookbook" and food editor with Yankee Magazine, categorizes the best apples to use as either "firm-tart" or "firm-sweet." Her top pick for the best firm-tart apple is the Granny Smith. In fact, it's widely considered the best apple for baking because it retains its shape well when baked. However, "it isn't exactly known for its flavor, so Granny Smiths are best used in conjunction with sweeter and/or more flavorful apples," (via The Washington Post). In terms of her favorite firm-sweet apples, Traverso likes using Ginger Gold and Golden Delicious apples the most.
Still finding it hard to choose? Take a look at this impressively detailed apple ranking conducted by Ask The Food Geek, complete with taste, texture, and baking test notes. "I encourage you to buy a single apple of a few different types are try the muffin-tin test at home," the author recommends, after testing around 100 pounds of apples via this method. 
Now that you know what to look for, your next apple pie bake should be, well, easy as pie.