The Best Insulated Tumblers To Buy In 2022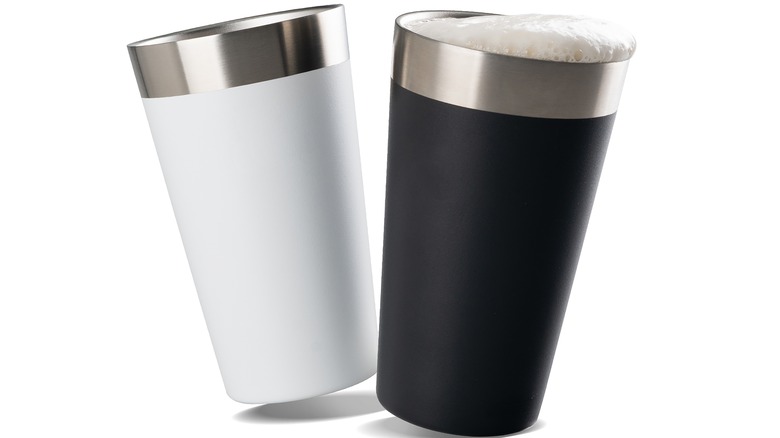 Gus Gan/Shutterstock
We may receive a commission on purchases made from links.
Life is hectic, but having a cup you can take with you on the go makes it a lot simpler. Unfortunately, many of those cups leave your coffee cold and ice water at room temperature — the exact opposite of what you want. Instead, it's natural to want your beverages to stay the temperature they were when poured, no matter where you go throughout the day.
Thankfully there are insulated tumblers. These cups make traveling with a beverage much more satisfying as they keep drinks at their ideal temperature. There are, however, an overwhelming number of options in the insulated tumbler space, many of which do not work as advertised. Because we care deeply about drink temperatures, we created a list of the top insulated tumblers on the market.
Scalding hot or ice cold, these options will keep the contents exactly how you want them. Check out this list to find your perfect cup.
How we chose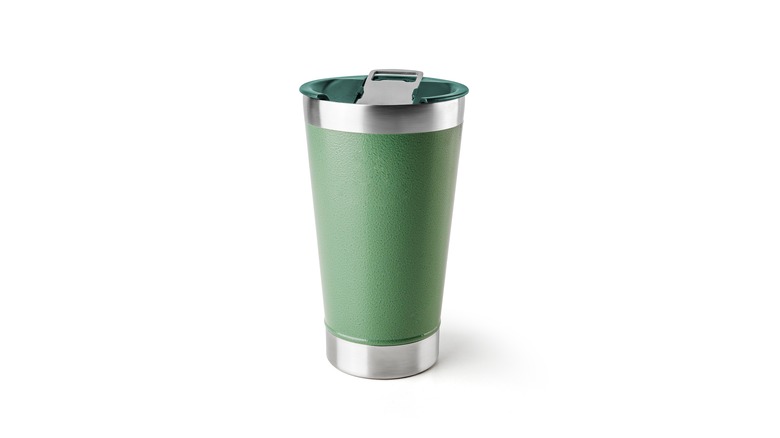 Gus Gan/Shutterstock
Insulated tumblers are easy to find, however, reliable ones are a little tougher to weed out. We looked to brands new and old to find a group of good tumblers, and from those we chose the best options that will keep your drinks hot and cold, won't spill, and have other special features that make them worth buying.
We followed some important steps to get there. First, we searched every crevice of the internet for insulated tumblers and gathered a list of the ones that met initial standards, like price point, design, and insulation efficacy.
Once we had a large selection of cups, we sorted through them to find which ones work best. From there we looked at reviews, compared seemingly minute details that actually make a huge difference in functionality, like external material and lid design, and assigned each cup a superlative according to which feature makes it worthy of this list. Here are the best insulated tumblers to buy in 2022.
Best overall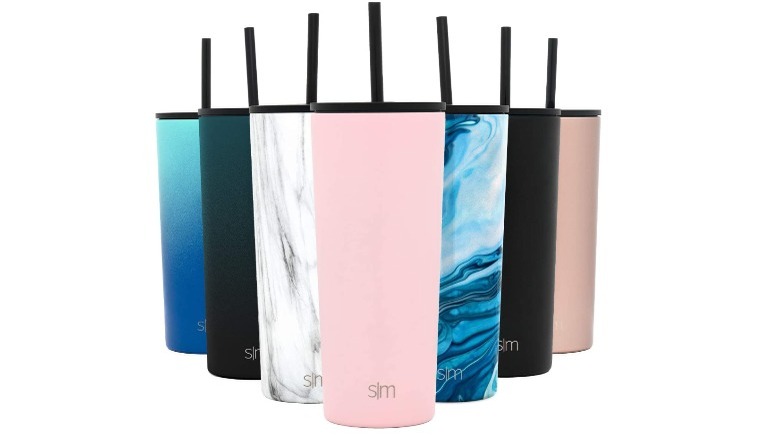 Simple Modern
At first glance, you might dismiss Simple Modern's insulated tumbler as basic and choose to purchase a different option. But we're willing to bet that if you just give it a chance, you'll see why it's loved by so many users, and you'll see why we love it so much, too. The Simple Modern tumbler is more than just a good-looking cup to hold your beverages.
Replete with a double-wall insulation system, Simple Modern keeps your coldest drinks cold and your hottest drinks hot for hours at a time. As one reviewer noted, "I fill it towards the end of the evening and it's still ice cold when I get up in the morning with the kids. I need less ice with these tumblers compared to other brands too. Keeps drinks hot as well! This brand really delivers on heat/cold retention!"
We do have to admit, part of Simple Modern's appeal is its look, but that look is also vital to its functionality. Its sleek design makes it easy to manage, and the stainless steel is part of a double-wall technology. Simple Modern comes in dozens of colors and patterns, and it includes a leak-proof lid and a straw, making it the best overall insulated tumbler option this year.
Get your own Simple Modern insulated tumbler on Amazon for as little as $23.98 as of December 2022.
Best affordable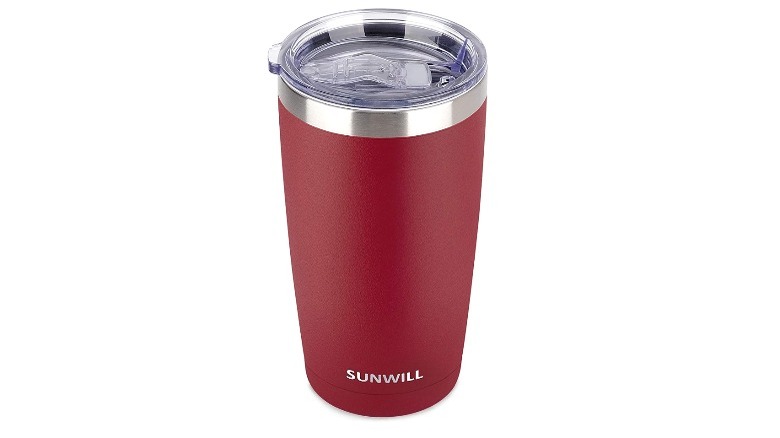 SUNWILL
If you're looking for an insulated tumbler at a great price, the best one is from SUNWILL. SUNWILL has struck the perfect balance between an insulated tumbler that does what it says it's going to do without costing an exorbitant amount. Made from stainless steel and powder coated for traction, SUNWILL offers 20 ounces of space for your liquids and keeps them at temperature for hours. The tumbler is easy to wash, easy to drink from, and easy to manage. Per one Amazon reviewer, "Simply put I love this cup without bias, it's perfect in every way and I don't have a single complaint. They underpriced and over delivered. You will not regret the purchase."
With SUNWILL, you have lots of buying options starting with a range of colors. If you buy it on Amazon, you can purchase a two-pack, which brings the price per cup way down, making it almost ridiculous not to buy it. Although SUNWILL doesn't come with a straw, the lid is built to fit one if you so choose, and of course, you can always use the cup without the lid.
SUNWILL insulated tumblers can be purchased on Amazon for as little as $11.99 as of December 2022.
Best splurge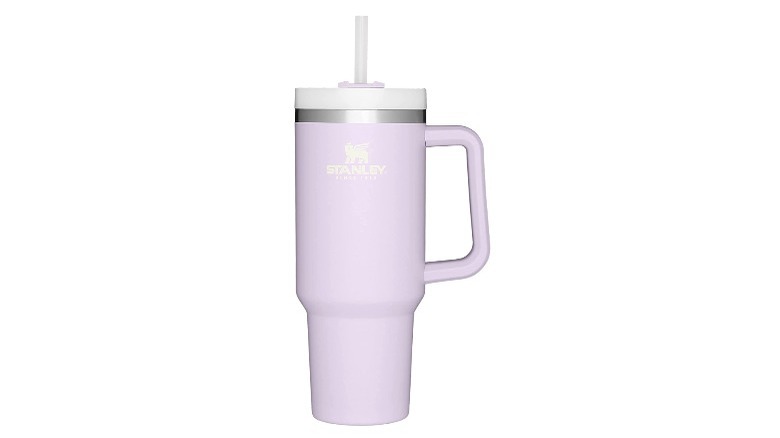 Stanley
You might be familiar with the Stanley insulated tumbler thanks to the internet. The TikTok influencers touting this cup are onto something — it's a great cup. Not to be confused with the hockey award, the Stanley cup is a 40-ounce insulated tumbler that went viral thanks to its Instagrammable colorways and great design. It's sleek, comes with a straw, and has a handle. It truly makes hydration easier than without a Stanley cup.
As we noted, this is a splurge. With tax it costs over $100, but consider one Instagram reviewer's comment before totally scoffing at the price: "I drive for a living and used to have to buy bottled water constantly because none of my larger capacity cups fit the cup holder in my work car. I cannot thank you enough for this design. In less than a month this mug will have paid for itself in what I'm now saving."
Stanley cups are portable, easy to wash, and the insulation works. "Literally keeps ice in the cup for 2-3 days!! I can't speak highly enough of this purchase," another reviewer shared. The Stanley cup is an investment, but it's one at least worth considering.
Get a Stanley insulated tumbler on Amazon for $99 as of December 2022.
Best with a straw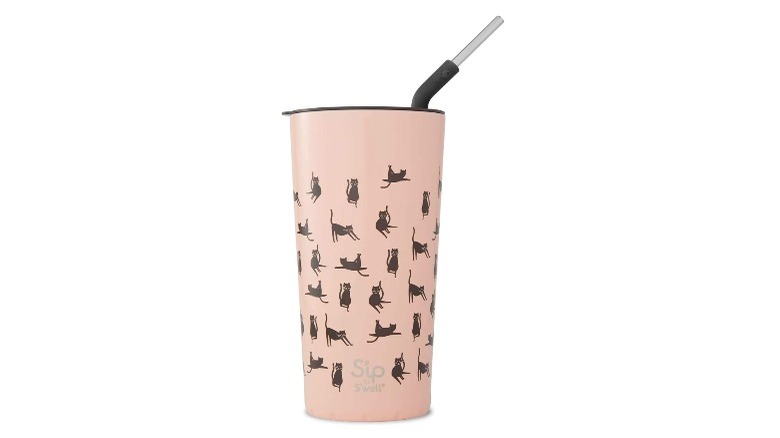 S'well
S'well is known for its sleek insulated water bottle, and the brand took that superior technology to give the people what they want — an insulated tumbler with a straw. Sure, not everyone wants a straw, but lots of tumbler drinkers do. Tumblers rarely come in small sizes and they can sometimes be hard to manage, especially if they don't have a handle. A straw makes drinking from a tumbler far easier, which is why we thank brands like S'well for making products that include a reusable straw. The difference between S'well and those others brands? S'well is better.
S'well's insulated tumbler maintains beverage temperatures and it comes in darling patterns and colors for anyone who wants something pretty to drink from. The tumbler and straw are hand-wash only, but the cup's design makes washing easy. There's a lot to love about this cup. Take it from this Amazon reviewer: "This cup fits the bill perfectly: the lid fits tightly, the stainless steel straw works well, and last but not least, the cute 'yoga cats' design is adorable." The brand name is apt; its products are swell, and you'll feel swell with this insulated tumbler.
Purchase a S'well insulated tumbler on Amazon for $18.78 as of December 2022.
Best spill-proof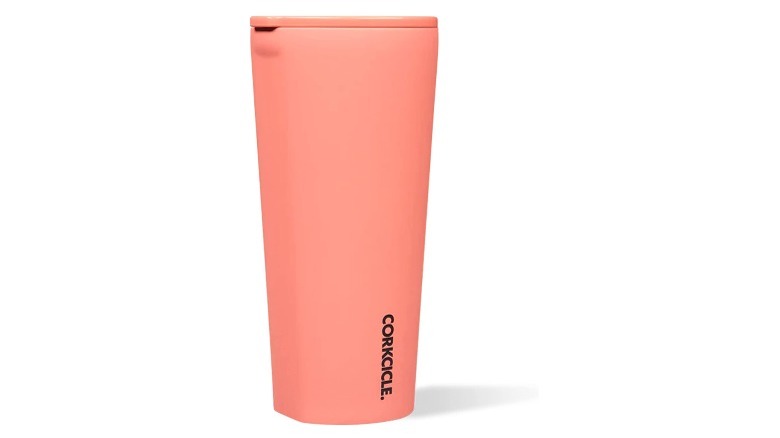 Corkcicle
Insulated tumblers are large items and they're easy to spill if you're not careful. Thankfully brands have started crafting tumblers with that in mind, designing them so that clumsy users don't lose their precious beverages to one accidental fling of the hand or trip up the stairs on the way into the office. Corkcicle is one such brand that knows the value of a spill-proof cup, and its insulated tumbler is proof. Along with being spill-proof, the Corkcicle tumbler is lightweight, easy to clean, and available in lots of colors. It comes with a lid that helps insulate, to keep your beverages contained while they stay hot or cold too.
Corkcicle has a mountain of fans who love its products, and this tumbler is a favorite. "What a great cup! It stays cold all day and overnight too," one customer shared. "Another great product from Corkcicle. A large 24oz cup I use for cold drinks given it's [sic] size. No complaints," an Amazon customer added. Trust us, you'll join the ranks of these rabid customers from the moment you purchase a Corkcicle product.
Get your Corkcicle insulated tumbler from Amazon for $34.95 as of December 2022.
Best dishwasher safe
Swig Life
Let's be honest — for all the great features insulated tumblers boast, one glaring issue is that they're a pain to clean, especially if you use yours every day. Very few of us actually enjoy hand-washing items, and if we're being brutally honest with ourselves, our daily rinses that, if we're lucky, include a drop of dish soap, just aren't cutting it. And frankly, a dirty cup is a health hazard. 
That's why it's so splendid to have a dishwasher-safe insulated tumbler, like the one from Swig Life. This cup isn't just cute and a great size, it can be washed in the dishwasher, quite literally taking all the pressure of a thorough scrub off our hands. Not only is it dishwasher-safe, but it's also a high-quality product. As one Amazon reviewer shared, "The cup is beautiful and great quality! Super happy with my purchase."
This tumbler isn't as big as some as it only holds 32 ounces, but many users actually find that to be positive. It doesn't have a handle, so the smaller size makes it easier to hold onto. There are endless reasons why you'll love this product from Swig Life.
Swig Life insulated tumblers are available on Amazon starting at $27.93 as of December 2022.
Best with a handle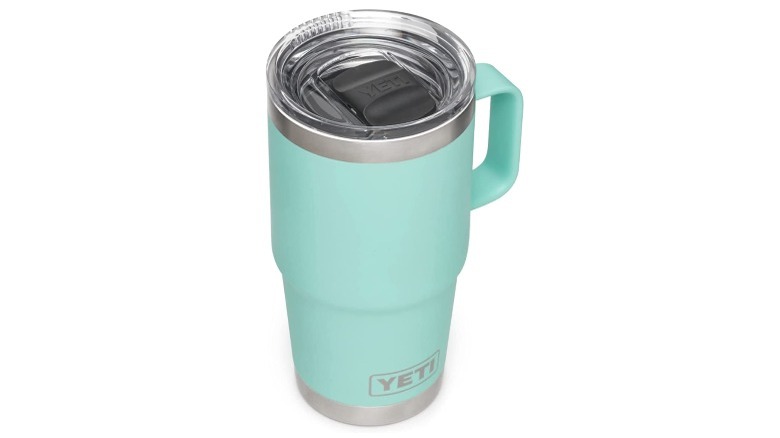 YETI
Insulated tumblers are full of double-edged swords. Sure, it's nice to have a large capacity, but it also makes maneuvering the cup rather tricky. Brands are constantly coming up with solutions to our insulated tumbler problems, and a common fix is a handle. Many brands include a handle in their designs, but we're partial to the YETI insulated travel mug. YETI has insulation figured out, and although it has a tumbler that can be purchased with a handle attachment, we prefer this design with the handle already built-in. It's sturdy, easy to grab, and makes drinking and transportation simple and spill-proof.
We're not the only ones who love this cup. "I have seriously gone through so many travel coffee cups in the past couple of years because I just couldn't find one that fit all of what I wanted. I'm so glad I found this cup. Way to go, YETI!" one Amazon reviewer lauded. "Yeti products are at the top of the class. It will keep your coffee hot for hours in a leakproof easy to drink from mug. I own several different Yeti products and they are all superior at what they are designed to do," another customer raved.
Get your YETI travel mug on Amazon for $38 as of December 2022.
Best mini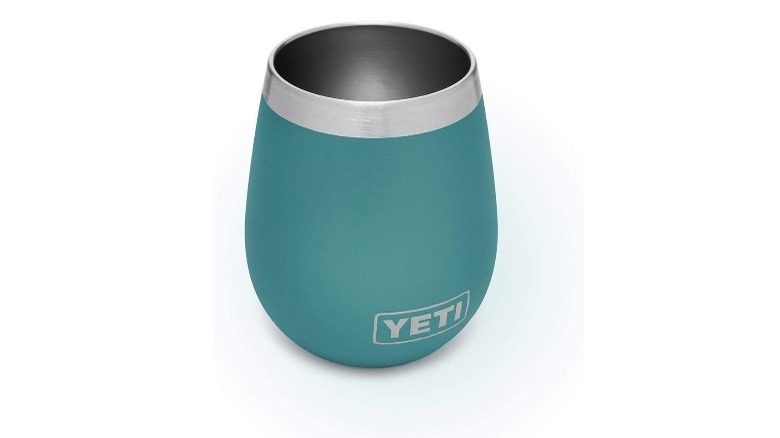 YETI
Although large-capacity tumblers are nice, we don't always need all that space. For anyone who'd like a smaller option, check out YETI's 10-ounce wine tumbler. Although it's called a wine tumbler, the insulation works equally well for hot or cold beverages. Whether you intend to use it for wine, a hot toddy, or won't be pouring alcohol into it at all, this is a great cup for small volumes.
YETI wine tumblers are small but they have all the features people love about bigger YETIs. They're dishwasher safe, come in lots of colors, and are perfect for taking outdoors. "The quality Yeti puts out, compared to no other. [...] It keeps my white wine chill, easy to wash and although $25 may seem expensive for one wine tumbler, it's worth it," a customer noted in an Influenster review.
Keep in mind, this product does not include a lid, much to the chagrin of some customers, but aside from that, there isn't much to criticize. "Yeti is the only cup that keeps drinks hot or cold for hours. I have other Yetis, and highly recommend this brand," another customer shared.
YETI insulated wine tumblers are available on Amazon for $25 as of December 2022.
Best lidless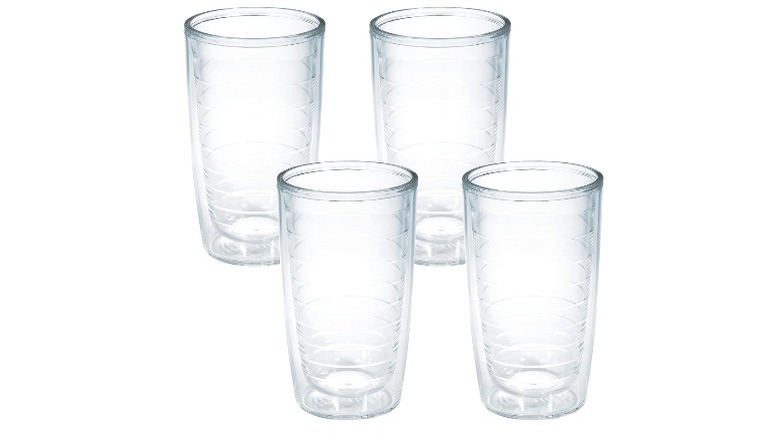 Tervis Made
An insulated tumbler doesn't need a lid to be great — just look at Tervis Made. For the occasions when you're not on the go but still want your beverage to maintain its temperature, turn to these cups. Clear or colorful, you can see the insulation thanks to its transparent design, and you just know the drink powers that be are at work for you. Tervis Made tumblers are built to last, a breeze to clean, and perfect for hanging out at home or hosting a picnic. No matter the circumstance, as long as you're staying put, you'll love these.
"I use these every day and they work great. Ice lasts longer and beer stays colder," one Amazon reviewer wrote. "Not cheaply made, look just as good in person as they do in pictures. Awesome brand. Will be my go to when we need drinkware," another customer added.
Even though these don't come with a lid, you can purchase lids that are compatible with the tumbler format. These also come in several different sizes, and there's even a mug version with a handle available. It's hard to beat the Tervis Made tumblers.
Get your own Tervis Made tumbler on Amazon for as low as $8.75 as of December 2022.
Best for cupholders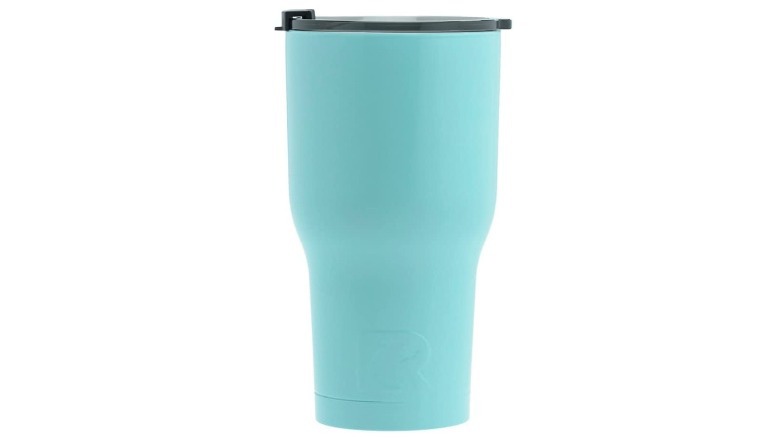 RTIC
Far too many tumblers are cumbersome and impossible to put in a cup holder. The ones that do fit are often designed so poorly they get stuck when you're trying to grab them for a drink. This too often results in spills — usually on yourself — that are impossible to thoroughly clean while driving. Even if you're not taking a sip while you're on the road, it's nice to have a product that can fit in the cup holder so you don't have to hold it or set it on your seat.
Enter RTIC. This is a great brand for outdoor equipment, and its insulated tumbler is just as functional as its other products. Made with double-wall insulation, this cup is ideal for cup holders. Its design features a tapered bottom that fits in most holders, and its sweat-proof material gives you enough traction to grab without dropping. But even if you do drop the tumbler, it's shatterproof. You really can't lose here.
Per one satisfied customer: "Cannot say enough about how much I love this tumbler. Ice lasts for over a day in it. Very sturdy. I use it all day long!" "I liked it so much that I bought a second one to use and leave on my desk at work," wrote an Amazon reviewer.
You can purchase an RTIC insulated tumbler on Amazon for $24.88 as of December 2022.
Best for outdoors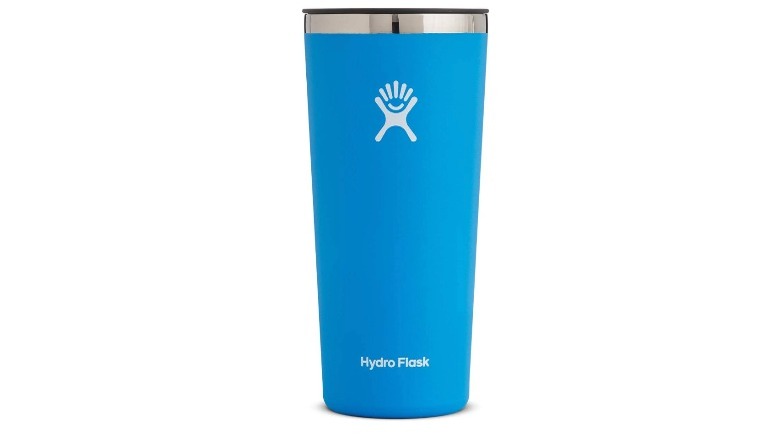 Hydro Flask
Campers and hikers rejoice — we've got a fantastic insulated tumbler option for you too. The Hydro Flask insulated tumbler is another item on the list of the brand's top-notch drinking merchandise. Though a little pricey, it's worth it for the stellar insulation and durability — two things you need if you spend lots of time outdoors.
Some customers find Hydro Flask's insulation too good. "This tumbler does a great job of keeping hot drinks hot — almost too hot. You have to keep the lid off to let your drink cool down if you want to drink it right away. On the positive side, it keeps your hot drinks hot for hours," one Amazon customer wrote. "This cup is terrific for either cold drinks or hot drinks. The ice lasts forever. I was really surprised how long it lasted," another Amazon reviewer shared.
Pop this in your backpack or hold it next to you by the campfire. Either way, you'll be glad to have your Hydro Flask insulated tumbler.
Get your Hydro Flask on Amazon for $44.35 as of December 2022.