The Best Travel Mugs Of 2022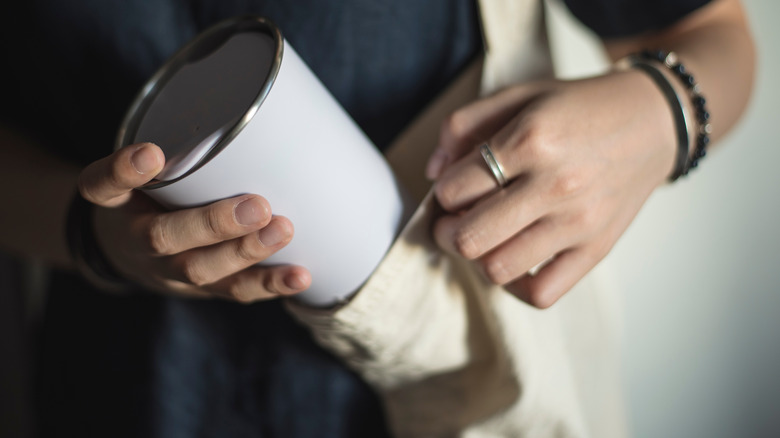 Colin Hui/Shutterstock
We may receive a commission on purchases made from links.
In our fast-paced society, we don't always have time for a leisurely cup of coffee in the morning. For those who need to take their coffee or desired beverage on the go, finding the right travel mug for the situation can be crucial. No one wants to have their drink spill or have to sip an iced drink that was once piping hot because their mug doesn't hold its temperature.
Everyone has slightly different needs when it comes to travel mugs. Some people may want features such as a handle, while others prioritize a straw. And with so many options out there, finding the best mug for your needs can be challenging. That is why we have combed through as many mugs as humanly possible to find the best options across various categories. So whether you are a coffee or tea drinker, or want to sip on hot chocolate throughout the day, we have the best travel mug for you.
How we selected our products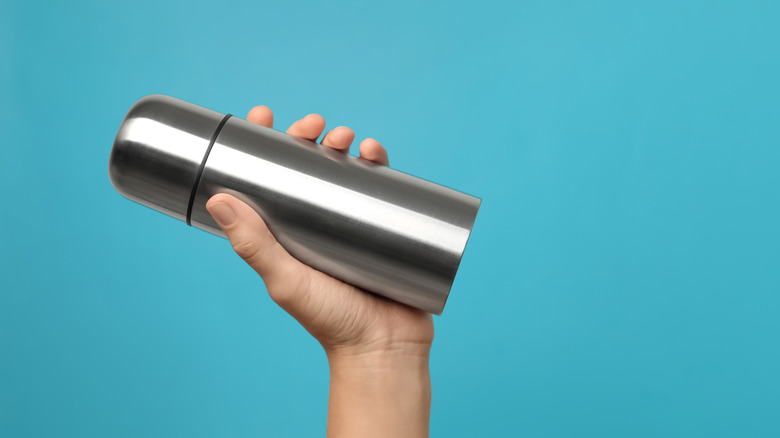 New Africa/Shutterstock
To find the best travel mugs, we looked at a number of criteria. First, we observed the features and designs of the cups. Next, we wanted to know if they were spill-proof and leakproof; we would not recommend a mug that sloshes hot liquid all over you and your car when you hit a pothole. We also looked at the ease of opening and closing the lid — could it be done one-handed if needed? Perhaps most importantly, we examined temperature retention to ensure that whatever drink you are carrying remains in its optimal range.
Finally, we looked at ratings and individual reviews for each product. Of course, companies are in the business of selling and they will always put their best foot forward. However, consumers can give us a better picture of each mug and whether it delivers on all its promises. By going through all the research and checking out mug after mug, we have found the best of the best.
Best overall travel mug
Choosing the best overall mug was a challenge. There are so many great options available, each with impressive qualities and features. For our best overall pick, though, we went with the mug that brings the most to the table; and this travel mug brings almost everything.
Let's start with the features. The Contigo West Loop 2.0 holds 20 ounces of liquid, which it can keep hot for seven hours or cool for up to 18 hours. In addition, the lid is dishwasher safe, which is uncommon for many travel mugs. But what sets the Contigo West Loop apart from others is its easy-open AutoSeal lid. With a simple push of a button, the lid spout opens so you can take a drink. As soon as you remove your thumb or finger, the lid automatically closes and reseals itself. This prevents spills and makes taking a drink during a commute a breeze; no more fumbling with slides or worrying that your cup is going to spill piping hot coffee onto you. All this and the cup even comes with a limited lifetime warranty.
Purchase the Contigo West Loop 2.0 from Amazon starting at $27.99.
Best budget travel mug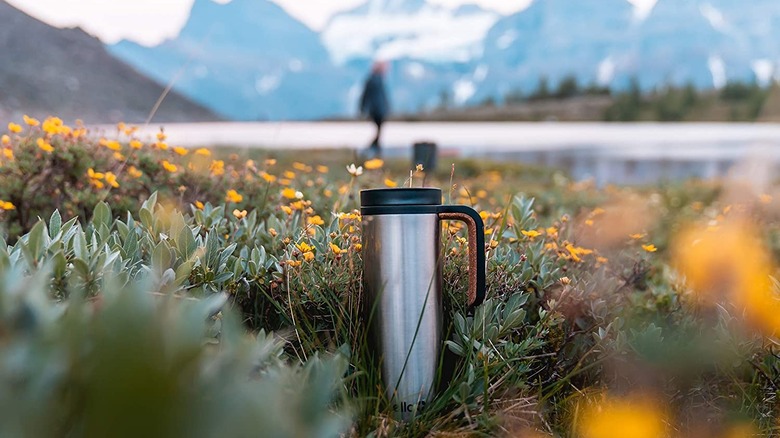 Ello
For those looking to save a bit of money, we have an excellent recommendation that comes in at under $20. The Ello Magnet is a simple yet effective travel mug that will fit most budgets. It features a simple, sleek black design and a slide-open lid for easy access. It promises to keep drinks hot for up to five hours or cold for 24. While it may not come in a variety of cool colors, the mug does feature a handle with a no-slip cork feature and a built-in cork coaster on the bottom. Customers rave about the cork features which are both practical and offer a level of attention to detail that can't be beaten for the price.
The Ello Magnet has knocked it out of the park with this one. With over 1900 reviews and a 4.6 rating on Amazon, this is an excellent and affordable travel mug that will meet your daily needs.
Purchase the Ello Magnet from Amazon starting at $17.99.
Best splurge travel mug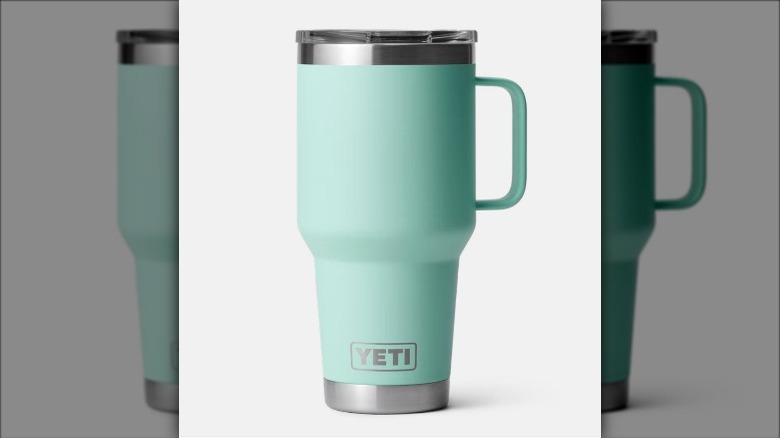 Yeti
On the flip side, for those looking to spend a little more on a high-end product, we have just the mug for you: Yeti's Rambler 30 oz-Travel Mug. We compared many top-quality mugs but always came back to this one. The Yeti Rambler features an adjustable base design so that it easily fits into most car cup holders, and the sturdy handle makes it comfortable to grip. 
Consumers and independent reviewers love it, and customers praise its durability, effectiveness, and the fact that it is dishwasher safe. Similarly, when Leads Rating tested the Yeti against the popular brand Hydro Flask, the Yeti came out ahead in almost every category, including greater heat retention, a better spill-proof lid, and a nicer handle.
The one complaint that seems to pop up with consumers is that the lid does not currently have the option to use a straw. But the top features a leakproof StrongHold technology, so we will forgive the Yeti for this absence.
Purchase the Rambler 30 oz-Travel Mug from Yeti starting at $42.00.
Best travel mug for hot drinks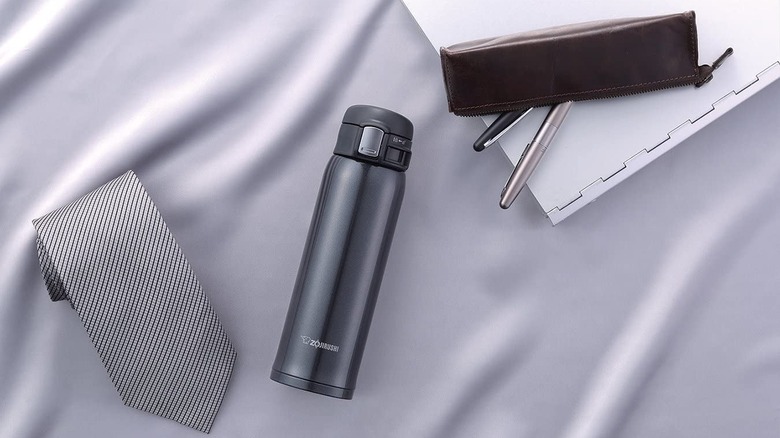 Zojirushi
One of the quickest ways to ruin your morning is by reaching for your coffee mug, only to discover that it has cooled to a mere tepid temperature. If you want a mug that will keep your favorite hot beverage piping hot all day long, we have the pick for you. The Zojirushi insulated travel mug offers the best temperature regulation on the market. The travel mug uses a vacuum-insulated technology to keep drinks perfectly hot. It also offers a flip-open style lid for easy drinking and to further maintain temperature.
Officially, the company states that drinks will stay warm for six hours, and reviewers have backed this up, noting that their coffee was still hot enough to burn them after five hours. (So proceed with caution.) Some commenters even said that their drinks stayed warm for up to 48 hours. For a reasonably priced mug, this is more than a little impressive.
Purchase the 20-oz Zojirushi SM-SD60BC from Amazon starting at $27.99.
Best travel mug for cold drinks
Brümate
For those who take their coffee iced, we have found the top travel mug to keep your beverages chilly. Named after the British pint (which is larger than the American pint), the Brümate Imperial Pint holds more than you would expect. In fact, it contains four more ounces of liquid, coming in at a satisfying 20 ounces. It has all the benefits of other Brümate travel mugs, including a leakproof lid and a magnetic closure to keep the container sealed, but it also features a few qualities specific to cold preservation. The tumbler can keep drinks cold for up to 24 hours, and the company promises no condensation build-up on the outside.
The Imperial Pint is great for iced coffee or tea, but Brümate also highly recommends it for those who enjoy a stronger beverage. In addition to keeping beer cold, the travel mug can also be used with Brümate's cocktail shaker top to spike your drink. This feature would be perfect for barbecues or camping trips. With the majority of reviews coming in at 5 stars, we can't recommend the Imperial Pint highly enough.
Purchase the Imperial Pint from Brümate starting at $39.99.
Best travel mug for tea drinkers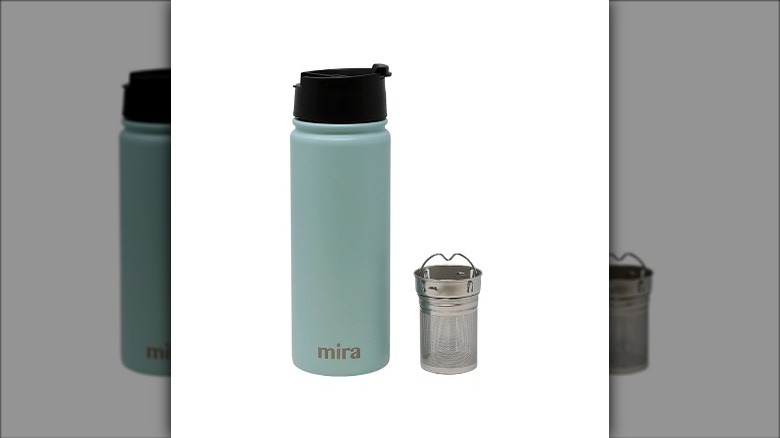 Mira
Not everyone is a coffee drinker, and those who prefer tea should not be left thirsty and abandoned. Luckily, Mira makes a travel mug that is specifically designed for tea enthusiasts. As with many travel mugs these days, the Mira Nomad comes with vacuum-sealed insulation and claims to be leak and spill-proof. 
What sets the Mira Nomad apart from the rest is a metal tea infuser that fits perfectly into the top of the mug. You can let your tea steep and then remove the infuser before placing the lid. This makes it easy to prepare tea without dirtying multiple cups to pour hot tea from one mug into the other. Really, the company is saving you from burning your hands with hot tea. The strainer is not just an afterthought. Reviewers on Amazon love this component, commenting that the holes are small enough to be suitable for loose leaf tea.
Purchase the 18-ounce Nomad Tea Mug from Mira, starting at $16.95.
Best travel mug designs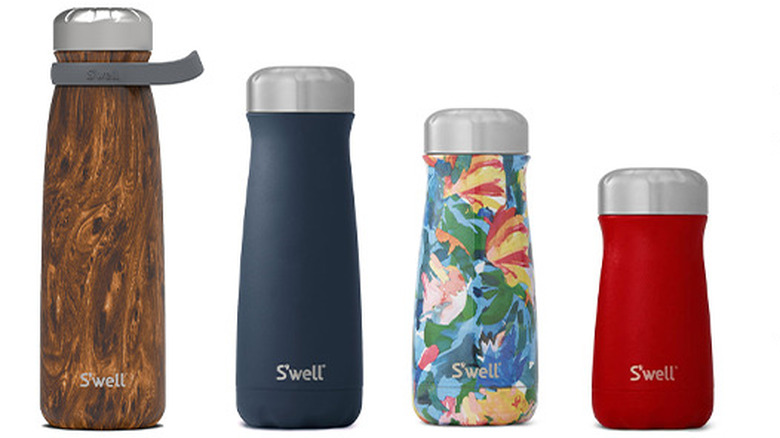 S'well
It is okay to be vain sometimes. There's nothing wrong with wanting the item you are spending your hard-earned money on to be pretty as well as functional. If you are looking for a travel mug that does the job properly and looks good doing it, the S'Well Stainless Steel Traveler is for you.
Gone are the utilitarian, clunky travel mugs — this one showcases a sleek minimalist design. The top is smooth brushed silver and the base is narrower with a bit of a tulip-shaped top. The build is nice, but the stylistic choices are especially intriguing. The bases come in different colors and patterns, including marble designs and landscape options for every aesthetic.
The S'Well Stainless Steel Traveler is beautiful, but is it functional? The answer is mostly. The company claims it can keep beverages hot for 12 hours and cold for 24 hours. While customers have not pushed the mug to those limits, Amazon reviewers say that it keeps their beverage warm. The problem is with the lid; the screw-on and off mechanism looks beautiful but can be a little difficult to maneuver while traveling. Additionally, some reviewers have commented that the lid gets stuck, eventually ruining the mug. But you know what they say, beauty knows no pain, and this mug is truly a beauty.
Purchase the S'Well Stainless Steel Travel Mug from Amazon, starting at $35.
Most versatile travel mug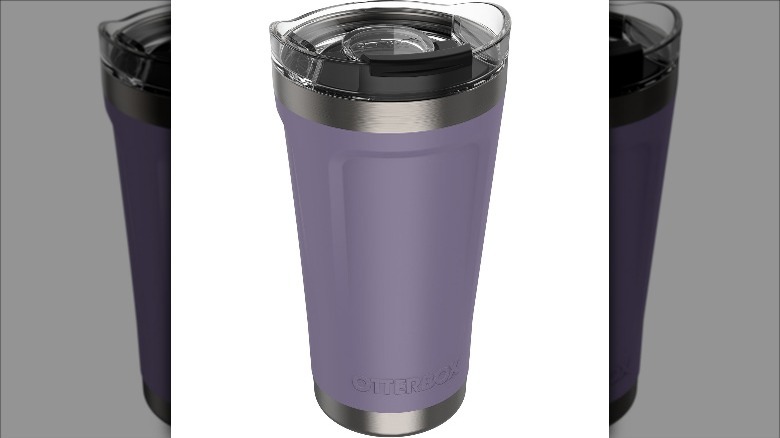 Otterbox
When money or space is limited, versatility is key. This is why we chose the Otterbox Elevation Tumbler as the most versatile travel mug. First and foremost, it is a well-made mug garnering a 4.7-star rating on Amazon. One customer even claims they like it more than their Yeti. Impressive, we know!
But what really sets this mug apart from the rest is that Otterbox makes a series of different interchangeable lids. One base travel mug can be used for just about anything. One of the big complaints from Yeti users was that there was no straw. Well, Otterbox heard them and made one to fit this mug (via Amazon). Want a different style lid? You got it. Thermos top? Of course. Cocktail shaker? Why not? This really is the most versatile mug you could buy.
Purchase the Otterbox Elevation Tumbler from Otterbox starting at $24.99.
Best high tech travel mug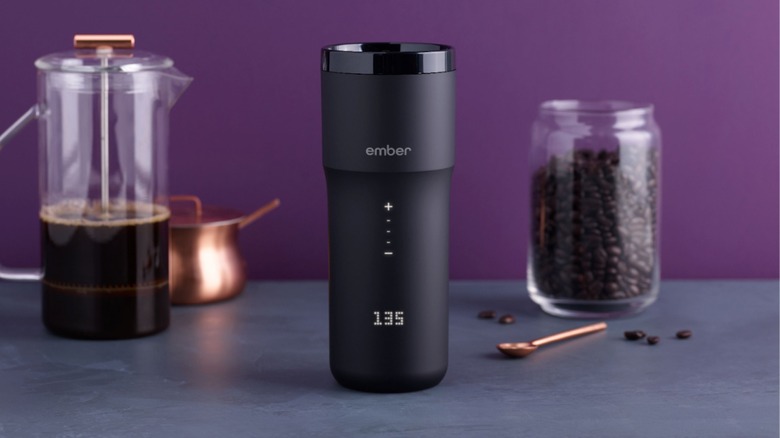 Ember
Everything is smart these days. Smartphones, smart watches, smart houses, so why not your travel mug? The Ember Temperature Control Travel Mug brings plenty of smart qualities to your daily coffee experience.
As the name implies, the mug allows you to control the temperature of the mug. An LED display on the side of the mug allows you to see what temperature the mug is set to and gives you the option to control it. Of course, what would a piece of smart technology be if it did not have an app? The phone app allows you to control the temperature of your beverage, track your caffeine consumption, and monitor when your mug needs to be charged.
A typical charge lasts about three hours, so make sure you consume your beverage within that time. If you want to ensure its full range of capabilities, do not forget to charge it, or it becomes a very expensive ordinary mug.
Purchase the Ember Temperature Control Smart Travel Mug from Best Buy starting at $199.95.
Best travel mug with a handle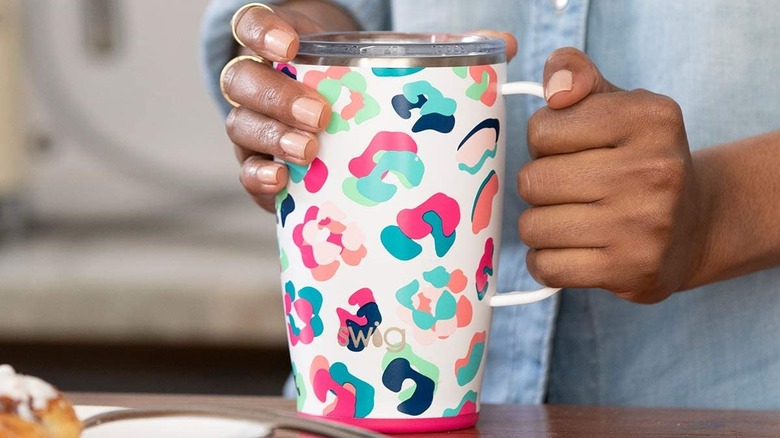 Swig Life
Finding a travel mug with a handle is oddly difficult. Top mugs, including Yeti and Hydro Flask models, just don't consistently come with them. This can be annoying for some people and even cause accessibility issues for others. Luckily, we have a great pick for you that not only comes with a handle but is cute and dishwasher safe.
The Swig Life 18-ounce Travel Mug with Handle is a pretty fantastic vessel. It may not keep drinks hot for as long as the others, but it comes with enough features to make up for it. For example, the handle on the mug is positioned to be car cup holder friendly. Additionally, the mug offers a non-slip silicone base to help prevent spills. The exterior comes in over 40 designs, and reviewers are satisfied with the aesthetics and durability. All in all, this mug has a handle on the situation.
Purchase the Swig Life 18-ounce Travel Mug with Handle from Amazon starting at $37.95.
Best durable travel mug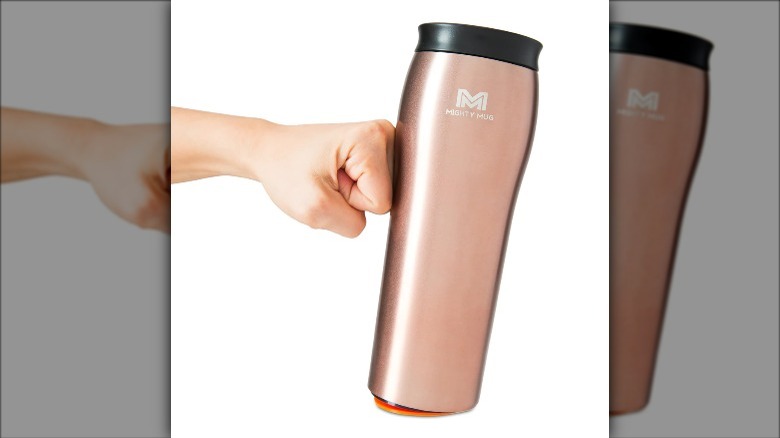 Mighty Mug
Durability is critical when it comes to an object that is specifically designed to move around and be handled on a daily basis. That being the case, it is amazing how many travel mugs out there are not designed with durability in mind. Luckily, Mighty Mug Go fills that void. Per the website, "Mighty Mug was founded with one objective; stop spills before they happen." And to do that, the company made a mug that is tough, durable, and will quite possibly save you from yourself.
The Mighty Mug Go features Smartgrip technology that allows the mug to use suction to temporarily attach itself to a surface, preventing it from falling or spilling. Don't worry — the suction doesn't stop you from picking it up. Mighty Mug is also completely leakproof, to the point that the company feels confident you can simply throw it in your bag and take off without any problems. The mug also features a condensation-free exterior, making it easy to grip even on hot days. At 16 ounces, this mug may be small, but it sure is mighty.
Purchase the Mighty Mug Go from the company website starting at $24.99.