Dunkin' May Be Rolling Out A Cold-Brew Beverage Line In 2023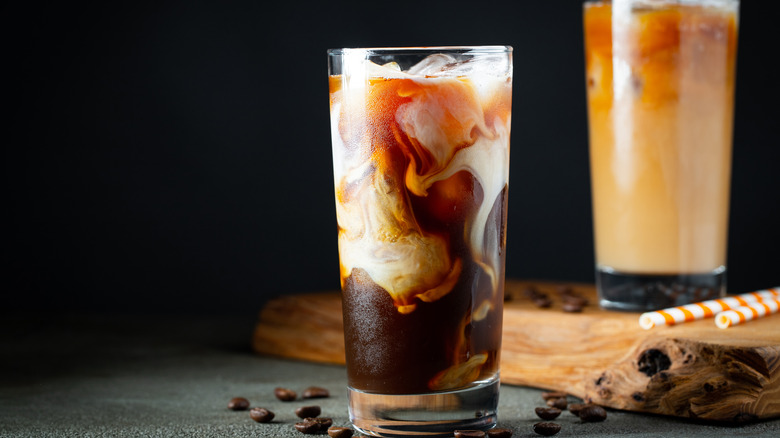 VasiliyBudarin/Shutterstock
Sometimes a person might want Dunkin' coffee without the hassle of a trip to Dunkin'. And while Dunkin's bottled drinks make some of that possible, what if you want a gentler jolt of caffeine from a cold brew? One of the benefits of cold brew is that it's less acidic than hot coffee, making it easier on the stomach and more digestible for those with acid reflux (per Insider). But for a while, if you wanted a cold brew with a signature Dunkin' flavor, you had to get in your car and shuffle through the drive-thru or pay a premium for a delivery app. Dunkin' does deliver through Uber Eats, Grubhub, and DoorDash (per Dunkin' Donuts).
But that may be about to change, as what consumers want in their at-home coffee is changing. "At-home coffee is expanding from a morning cup of Joe to be more about different experiences throughout the day," says J.M. Smucker Co. chief operating officer John Brase, the company behind the Dunkin' products you find in the grocery store or at places like Walgreens or CVS (per Food Business News & PR Newswire).
Dunkin' want was to meet the at-home demand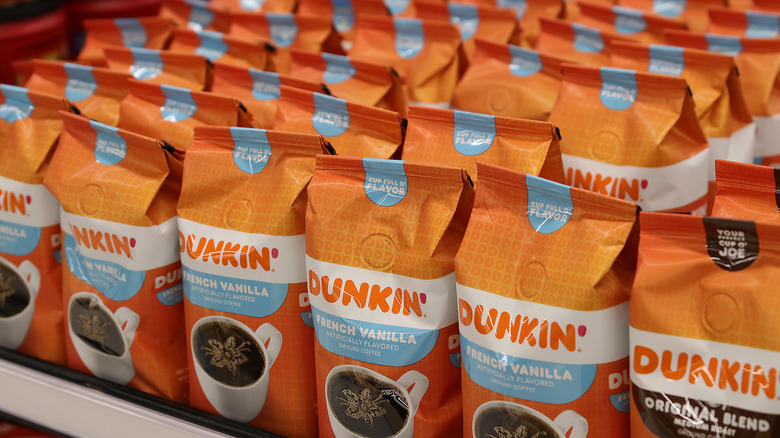 Eric Glenn/Shutterstock
What consumers seem to want is the coffee shop experience at home. Cafe Bustelo, Dunkin' brew, and K-Cups are now making up more than 50% of Smucker's coffee sales (per Food Business News). That says a lot considering the company also owns the iconic coffee brand Folgers and several others. The president and CEO of J.M. Smucker's, Mark Smucker, explains that there are four waves to the consumer coffee trend, saying that we're now in the fourth wave. Taking it one step further than the third wave of coffee shops and craft brews, this period is dominated by at-home specialty drinks and the rise of "social media influence," whatever exactly that means.
And Dunkin' is ready to give the people what they want. The brand already boasts several make-at-home cold-brew options (per Dunkin' at Home), including sachets called Cold Brew Coffee Packs and cold brew k-cup pods. But all of these require some amount of prep work or equipment – overnight steeping in the case of the coffee packs and the use of a coffee machine with the k-cups. In spring 2023, Dunkin' intends to roll out liquid cold brew concentrates. In doing so, the company would be joining a list of popular brands like Starbucks and Chameleon, which already offer them. While one can always whip up an easy cold brew recipe, sometimes it's nice to skip the 12-hour wait.