Thai Basil Chicken Recipe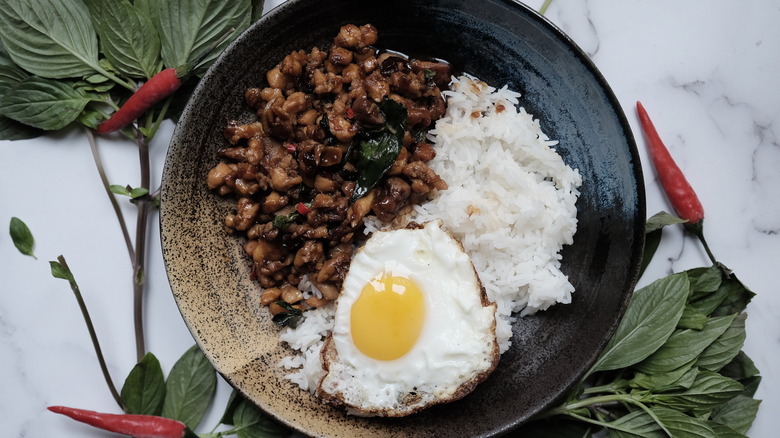 Eric Ngo/Mashed
If you're in the mood for a Thai-inspired dish, this Thai basil chicken should do the trick. All you need are a handful of ingredients, about 20 minutes to make the dish, and you can enjoy this hearty and delicious dish. The basil flavor is tasty without being overwhelming, and balances well with the sauces in the meal. Recipe developer Eric Ngo of Frenchie the Toast came up with this simple recipe for Thai basil chicken recipe. "It super quick and easy to make, and it's so flavorful," Ngo says. 
Another great thing is that this is simple to make, so anyone from a beginner to a professional can cook this dish. "Yes, [it's] very easy to cook, and [there's] no special techniques involved," Ngo adds.  Whether you want to eat this solo, or served over a bed of rice with a fried egg, this is a solid dish that makes meal prepping easier than ever.
Keep reading to find out how to make this quick and easy Thai chicken.
Gather the ingredients for this Thai basil chicken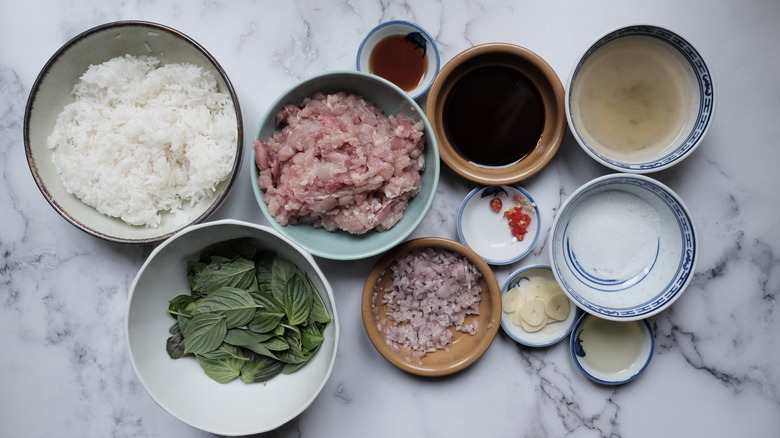 Eric Ngo/Mashed
This recipe calls for ground chicken, oil, shallot, garlic, sugar, dark soy sauce, fish sauce, chicken broth, Thai basil, and cooked white rice. "If you don't have dark soy sauce, you can use regular soy sauce. Dark soy sauce gives the dish a darker color, and in my opinion, makes it more appetizing," Ngo shares. 
By the way, the Thai basil is the secret ingredient. "You must use Thai basil for that authentic flavor," Ngo shares. There are also two optional ingredients: Thai bird chili, and fried eggs. Once you have those items, you can whip up this Thai basil chicken.
Cook the garlic, shallots, and chicken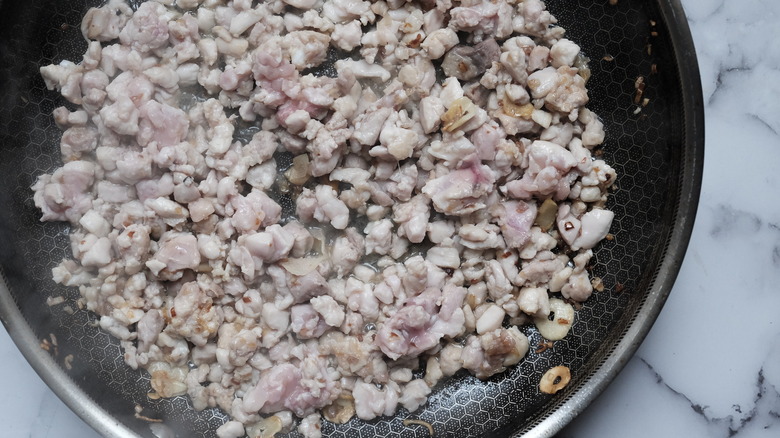 Eric Ngo/Mashed
Place a pan on the stove, and heat over medium-high. Add the oil, sliced garlic, and minced shallot, and cook the ingredients for about 1 minute.
If you are using the Thai bird chili, Ngo says you can "either brown [it] in the beginning with the garlic and shallots, or at the end with the Thai basil," he says. "The first option makes it a bit spicier." Add the ground chicken, and cook for 2 minutes.
Add the remaining ingredients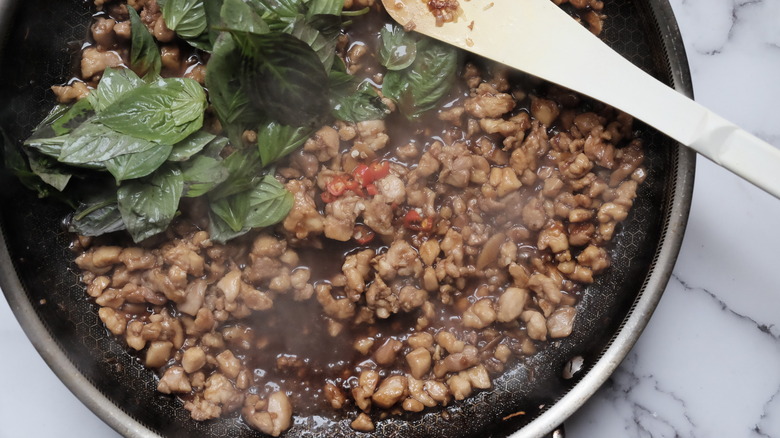 Eric Ngo/Mashed
Add the sugar, fish sauce, and dark soy sauce, and cook for another minute. Ngo describes the flavor as "sweet, savory, spicy, and full of umami." Stir in the chicken broth, turn the heat to high, and cook for 30 seconds.
Lower the heat to medium, and add the Thai basil. Cook the mixture for 1 minute, or until the Thai basil wilts. 
Serve and enjoy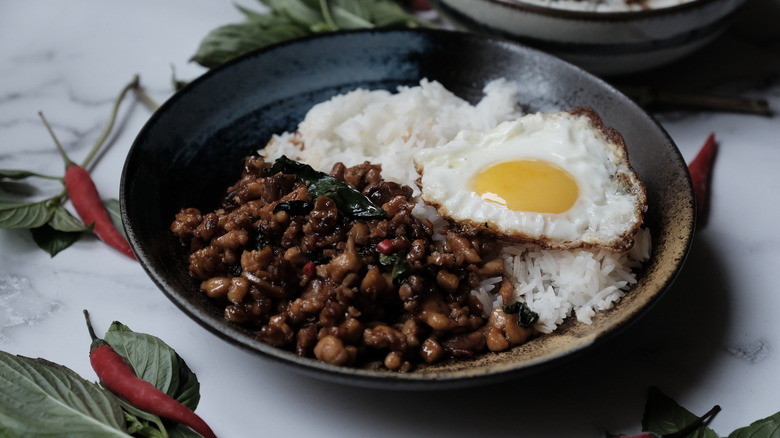 Eric Ngo/Mashed
Remove the Thai basil chicken from the skillet, and serve as you wish. Ngo recommends serving the chicken over a bed of rice. You can also add a fried egg, which compliments the chicken and rice perfectly. You could also add more veggies, or a side if you'd like.
"You can keep [this dish for] up to 2 days in the refrigerator," Ngo notes. "Store separate from [the] rice in order to not have the sauce soak into the rice." 
Thai Basil Chicken Recipe
This Thai-inspired basil chicken recipe is the perfect meal prep recipe, thanks to the addition of rice and a fried egg.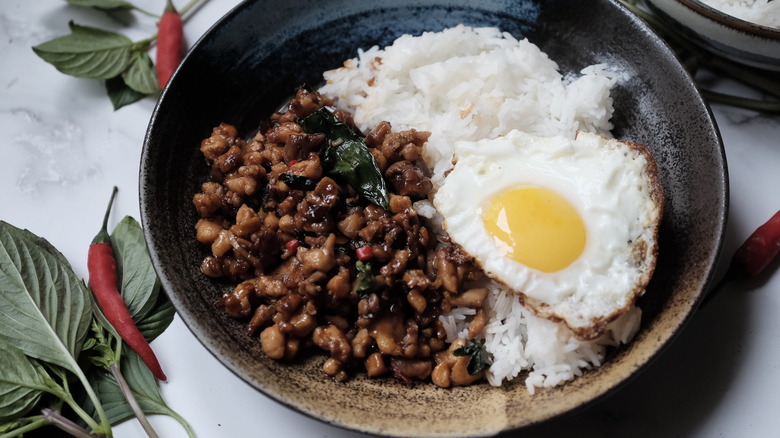 Ingredients
5 tablespoons oil
1 garlic clove, diced
1 shallot, sliced
1 pound ground chicken
2 teaspoons sugar
1 tablespoon fish sauce
1 tablespoon dark soy sauce
¼ cup chicken broth
1 cup Thai basil
2 cups cooked white rice
Optional Ingredients
2 fried eggs
1 Thai bird chili, sliced
Directions
In a skillet over medium-high heat, add the oil, garlic, optional chili, and shallot. Cook for 1 minute.
Add the chicken, and cook for 2 minutes.
Add the sugar, fish sauce, dark soy sauce, and cook for 1 minute.
Add the chicken broth, and cook on high heat for 30 seconds.
Lower to medium heat, add the Thai basil, and cook for 1 minute, or until the Thai basil is wilted. Serve over rice, and top with a fried egg optionally.
Nutrition
| | |
| --- | --- |
| Calories per Serving | 936 |
| Total Fat | 54.3 g |
| Saturated Fat | 8.0 g |
| Trans Fat | 0.3 g |
| Cholesterol | 195.9 mg |
| | |
| --- | --- |
| Total Carbohydrates | 65.0 g |
| Dietary Fiber | 1.8 g |
| Total Sugars | 7.4 g |
| Sodium | 1,329.3 mg |
| Protein | 47.1 g |