The Best Meat Tenderizers In 2022
Marinazg/Getty Images
We may receive a commission on purchases made from links.
Meat is a popular food group. In fact, Statista reports that 86% of people around the world say that meat is part of their diet. Though various outlets encourage us to consume less meat, it's still a major part of many people's eating habits. And if we're going to continue eating meat, we might as well make sure it tastes good, right?
Enter meat tenderizers. These kitchen tools are handy little instruments that are used to flatten and tenderize pieces of meat, making them a more suitable thickness for cooking and improving their texture. Not every kitchen has a meat tenderizer, but every kitchen should (at least the kitchens that cook meat should).
If it's your first time buying a meat tenderizer, or if you just want a new one, use this list to help you make your purchase. With one visit to Amazon, you'll be well on your way to a tastier 2023 filled with chicken fried steak, chicken parm, and schnitzel.
How we chose our selections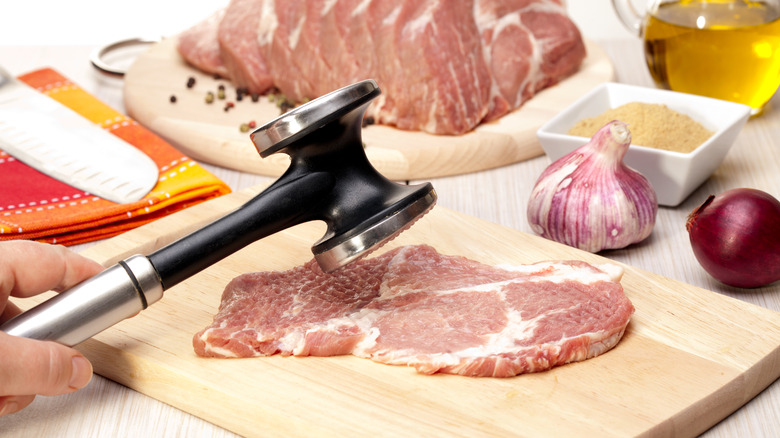 Gkrphoto/Getty Images
We create lots of lists featuring the best products of the year, so we've got our processes down pat. This list was unique, though, because there aren't as many meat tenderizers on the market as you might think. No, there's not a shortage by any means, but there aren't nearly as many meat tenderizers as there are, say, knives or frying pans. This circumstance made creating our list easier in some ways (fewer to sort through), but challenging in others (fewer good options).
Nevertheless, we persisted, and by collecting an initial list, weeding through until we had the best ones, and assigning each on a category according to its best feature, we ended up with a list of the best meat tenderizers in 2022. You certainly don't need all of these, but any one is going to be a worthwhile purchase. Say hello to tender, tasty meat with these stellar meat tenderizers. All prices were accurate as of the publishing date of this article.
Best overall meat tenderizer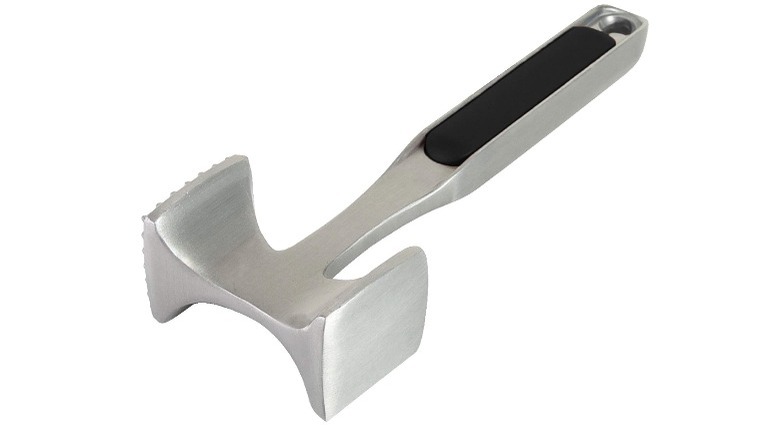 KitchenAid
The best meet tenderizer of 2022 is from KitchenAid. This mallet-style tenderizer is made with steel, making it easy to clean, and it's got a grip on the handle that makes it easy to hold.
By all accounts, this tenderizer looks like your typical tenderizer. It's hammer-size, and it comes with both a flat side and a spiked side. The flat side is good for pounding meat until it has an even width throughout, and the spiked side is great for tenderizing the meat to give it a better texture than it would have otherwise. And yes, to a certain extent, this meat tenderizer is just like many others, but we like it best because it's durable and long-lasting and works fantastically, all for a great price.
As one reviewer said, "Since never had I used this before, I did not know what to expect. Wow! That thing got the breasts down to the size I needed within just a few minutes. It was amazing. The next night we used it to tenderize a couple of rib eye steaks. Same thing. It was amazing. Why we waited for decades to get this is beyond both of us." Meat tenderizers aren't typically a purchase you put lots of thought into, and if you want to continue with that practice, do yourself a favor and just buy the KitchenAid meat tenderizer.
The KitchenAid Gourmet Meat Tenderizer is available on Amazon for $16.99.
Best affordable meat tenderizer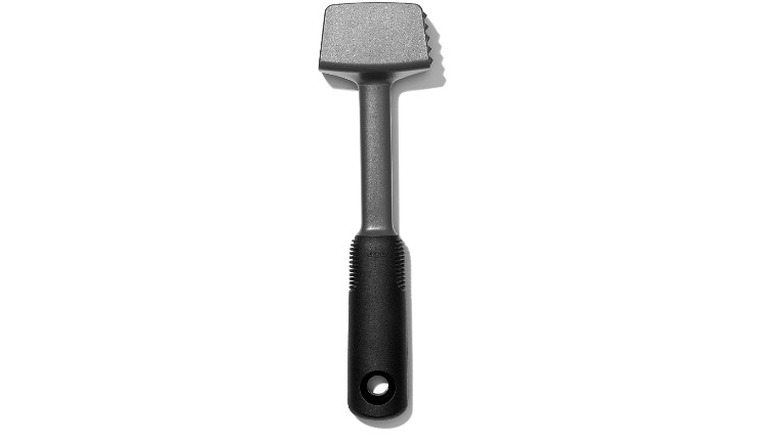 OXO
Meat tenderizers aren't all that expensive, but if you'd rather your money go toward a good cut of meat to tenderize than the tenderizer itself (and we totally understand if you are in that camp), then we suggest the OXO tenderizer. OXO has been making incredible kitchen tools for great prices for years. All of its tools do exactly what they say they're going to do, and you never have to spend too much of your hard-earned money.
The OXO meat tenderizer is a mallet-style tenderizer, and you can tell simply by the design that it's going to work well. Unlike many meat tenderizers, this one has a square head, whereas others look a little more similar to a tapered hammerhead.
Lots of people who have used this meat tenderizer before are fans. As one said, "This is a good tenderizer due to its weight. Easy to hold and handle and yet has some heft to it. Nice-sized mallet. It gets the job done!" Another said, "Very well made!" We happen to agree with both.
You can purchase the OXO Good Grips Meat Tenderizer on Amazon for $11.95.
Best splurge meat tenderizer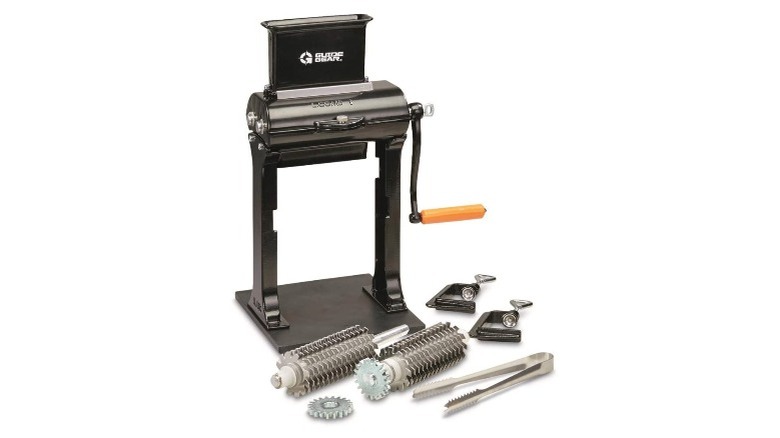 Guide Gear
Some meat tenderizers are worth splurging on, and that one is from Guide Gear. Although this is worth about 13 OXO meat tenderizers, the Guide Gear has a lot of functions other meat tenderizers lack. It's made with a crank and has lots of different attachments you can use to move your meat through, and it can tenderize pieces of meat up to four inches thick. This contraption does require some effort, though, as well as a little bit of technical knowledge so you can effectively change the different pieces, but it makes for great pieces of meat with unmatched texture.
Despite the effort required, it's really not difficult to use. As one customer said, "Very easy to put together and use. Made deer meat into cube steaks in seconds and even used on boneless chicken breasts. Easy to clean. Love it."
Seriously, don't let it intimidate you. It comes with instructions, and once you get the hang of it and understand the machine, you'll be able to make your own decisions about what pieces you're going to use for which cuts of meat. It's the perfect gift and a great way to experiment more with your meat while getting it super tender and flavorful in the process.
Splurge on the Guide Gear 2-In-1 Meat Tenderizer on Amazon for $159.99.
Best meat tenderizer for beef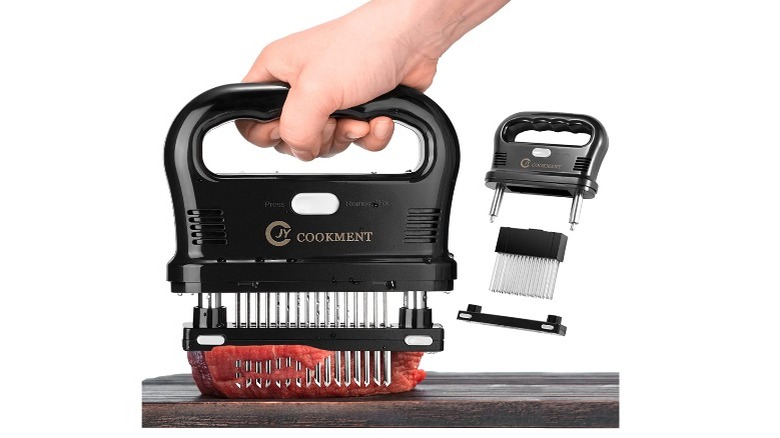 JY Cookment
Technically, all meat tenderizers can be used for all types of meat. You don't necessarily need to dedicate one to beef and one to poultry, but there are certain tenderizing techniques that you don't need to use for poultry but work great for beef, and vice versa, like poking holes in the meat. Sure you could poke holes in your chicken breast, but there isn't a reason to do it like there is for beef. Poking holes in beef allows the meat to cook more quickly and evenly, and it's a great technique if you're going to marinate your beef.
All that being said, if you do want to separate your tenderizers and have one just for beef, we suggest the JY Cookment. This tenderizer is made with needles that press down into the slab, poking several holes in the beef all at once. The tenderizer is also great because of its design. It clicks down like a stapler, exerting force you don't have to exert yourself.
People who have used this before are major fans. One buyer said, "I would have easily paid $100 for a tool this useful. It makes all the difference in the world. It gives an $8 steak the texture and taste of something you'd pay $60 for at a fancy restaurant." Another added, "Used it to tenderize chuck roast and made meat yummy and tender. Great product."
Get your own JY Cookment Meat Tenderizer from Amazon for $17.59.
Best meat tenderizer for poultry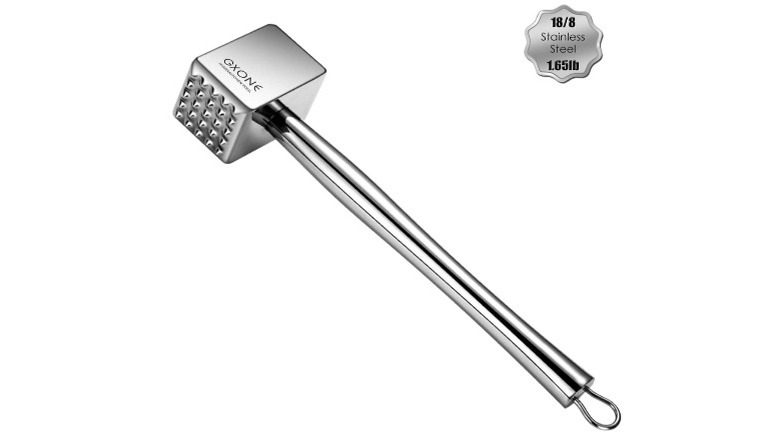 GXONE
As noted, it's not necessary to have separate meat tenderizers for beef and poultry, but it is nice. Poultry doesn't need to be poked with a needle like beef does, but it is great to have something that pounds really well. For poultry, you need a tenderizer that pounds well so the meat is an even thickness throughout. This is important because if the thickness of your chicken is even throughout, it'll cook evenly.
To effectively flatten poultry, enlist a meat tenderizer like the GXONE. This baby has tons of force and will flatten and tenderize chicken and other poultry like you wouldn't believe. It's made of stainless steel and weighs over a pound, so there's plenty of weight behind it to get your meat to your desired thickness without too much human effort. "I read a review that said this was like Thor's hammer. All I want to say is Sir or Mame [sic] you did NOT lie. And now I too have a piece of the god of thunder in my kitchen cabinet," one customer said.
Get the GXONE Meat Tenderizer on Amazon for $26.99.
Best stainless steel meat tenderizer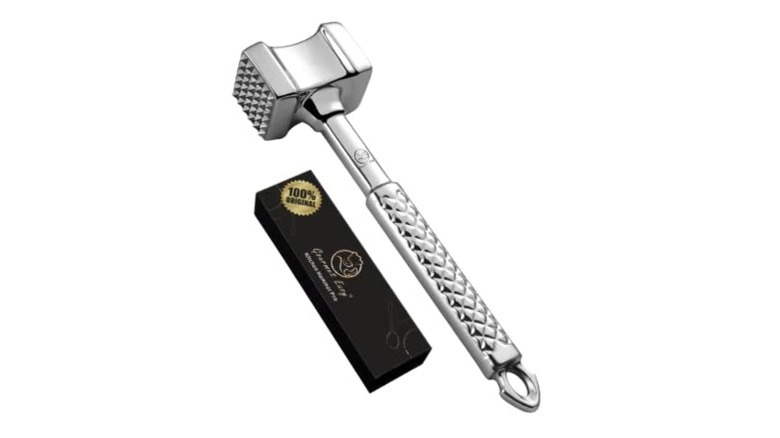 Gourmet Easy
There's a lot to love about stainless steel. Not only is a good looking, it's a great metal to use in the kitchen. It cleans easily and does a great job no matter what it's tasked with. If you are specifically after a stainless steel meat tenderizer, go for the Gourmet Easy.
Gourmet Easy lives up to its brand name. You're going to have gourmet food easily. This is a mallet-style tenderizer, and like many of the others on this list, it has a flat side and a spiked side. It's dishwasher safe and it can be used for about any type of meat imaginable.
The reviews for this tool are great, and anyone who has used it loves it. One person who purchased it shared, "As far as kitchen tools go, it's pretty to look at and has a good weight to it. The textured grip makes it easy to hold on to while using, even if your hands are wet or slippery. There is a side for pounding and a side for tenderizing and both are very effective." Another added, "This meat tenderizer is easy to clean and hold. I would recommend purchasing this quality item."
Purchase the Gourmet Easy Stainless Steel Meat Tenderizer for $29.99 on Amazon.
Best crank meat tenderizer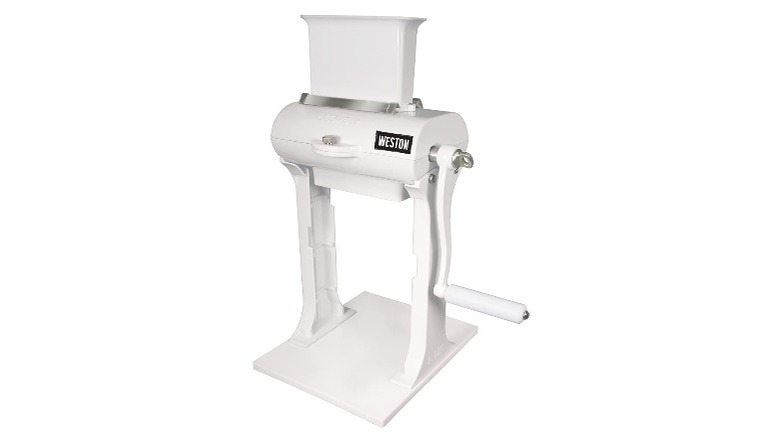 Weston
We're almost certain you don't dream of having to create more work for yourself when you're trying to tenderize your meat, but if you do look for a crank meat tenderizer. We're just kidding. Using a crank meat tenderizer really isn't that much work, and the effort comes with high reward. A crank tenderizer creates pressure that we just don't have the capacity to create ourselves. It flattens out pieces of meat, making them so thin and so tender it's almost unbelievable.
Our favorite is the Weston. With this tool, you can use different attachments to have different effects on your pieces of meat, and it flattens things way more quickly than you would be able to while using other methods, like stacking or pounding to flatten. With a crank tenderizer, meat has never had such a great texture. And though this machine does take some effort to clean, you won't regret using it. "Great value for your money," one customer said, adding, "Built very sturdy and heavy. Great way to cube less expensive cuts of meat tender."
Find the Weston Manual Heavy Duty Meat Tenderizer on Amazon for $133.99.
Best reversible meat tenderizer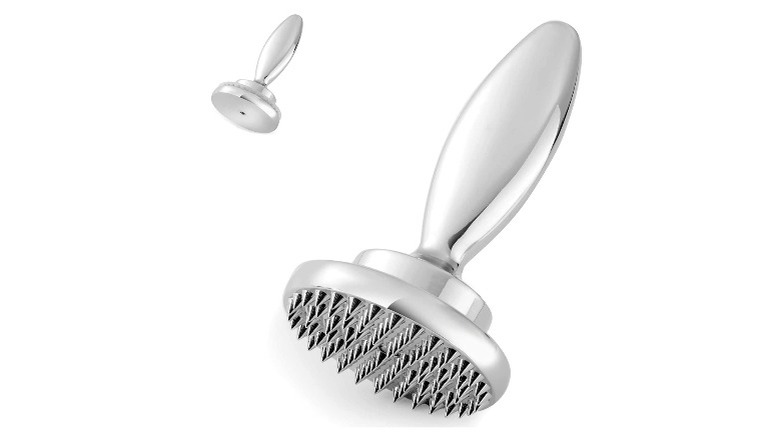 KEISSCO
A reversible meat tenderizer is another great option. These neat gadgets come with a handle and a two-sided heas. Twist on the flat side for pounding and the spiked side for tenderizing. This particular one, made by KEISSCO, weighs about two pounds, so there's lots of zinc to use to flatten and tenderize your cut. "Such a great tool to add to your kitchen if you cook with a lot of meats that need tenderized!" one customer said.
We love reversible meat tenderizers for many other reasons. They're easy to keep clean — the dirty part is designed to be removed, and KEISSCO's is dishwasher safe. They're also more versatile than many other meat tenderizers. As one customer noted, "I use this for smash burgers, and crushing cookies for pie crusts." A kitchen tool with multiple uses? Definitely worth the money.
Finally, we love this product because it works. Meat takes on a great texture when it's employed. All the other features are just added bonuses.
Get the KEISSCO Reversible Meat Tenderizer on Amazon for $25.99.
Best wooden meat tenderizer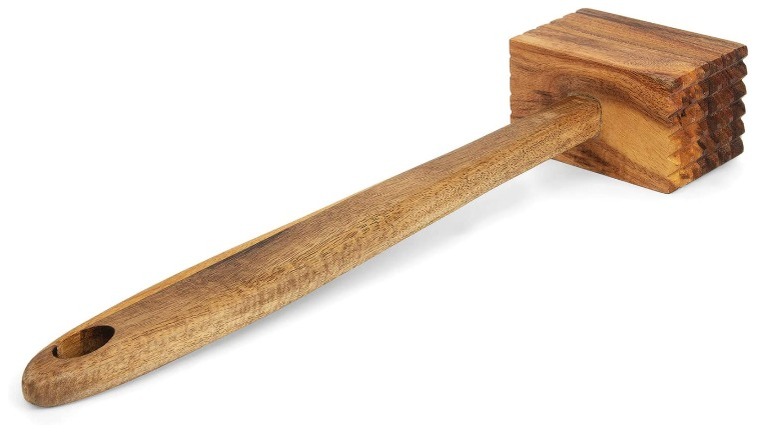 Ironwood Gourmet
Whether it's for the aesthetic or just for the way it works, some people are partial to a wooden meat tenderizer. This one from Ironwood Gourmet, our choice for wooden tenderizers, is made from acacia wood, making it perfect for use in the kitchen. "This is a very large and sturdy meat tenderizer. I was surprised by the quality for the price and I highly recommend," one reviewer said.
We must note, though, using a wooden tool with meat does require some extra care. Of course, it's not impossible — we wouldn't be recommending it if it weren't safe — but do note that wood is far more porous than other materials, meaning it will hang on to bacteria if not properly cleaned. Like with a wooden cutting board, if you use this mallet with raw meat, make sure you are cleaning it immediately after use with soap and hot water. Though you could put it in the dishwasher, we don't recommend it, as that will deteriorate the quality of the wood over time.
That note aside, a wooden tenderizer does just as good a job with meat as a metal tenderizer, and it's safer to keep in your kitchen as it won't damage your countertops or cutting boards. "I find this excellent for my use. Its weight [sic] enough and gets the job done. I am very pleased with it," another customer shared.
The Ironwood Gourmet Acacia Wood Meat Tenderizer is available on Amazon for $14.74.
Best needle meat tenderizer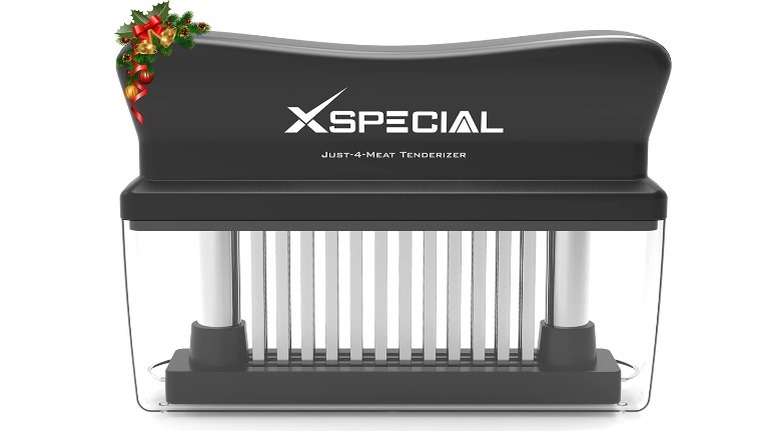 XSpecial
Needle tenderizers are great, especially if you work with a lot of beef. Their design makes working with beef a breeze, and you'll love the texture of your meat after you've used it. It'll be tender and moist, and you'll be especially glad you used this tool when you marinate your beef.
We are partial to the XSpecial meat tenderizer. This kitchen tool works like a hole punch, getting the needles deep into the meat with lots of force. The design is fabulous, and it's very well-made. Using this tool might take some getting used to, but as one user pointed out, you'll be happy in the long run. "At first I thought it was to [sic] heavy but after using it I was pleasantly surprised how easy to use and effortless to get the job done," the buyer said. Weight aside, it's easy to handle and a great tenderizer.
Buy your own XSpecial Meat Tenderizer on Amazon for $20.99.
Best rolling meat tenderizer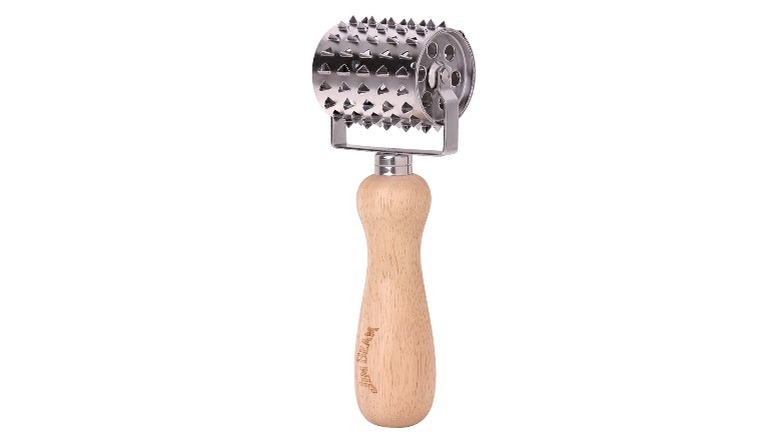 Jim Beam
The final meat tenderizer on our list is the rolling tenderizer from Jim Beam. This tenderizer has a far more interesting design than almost any on the list. Its rolling feature makes tenderizing super easy, and we especially recommend this for beef as it comes with spikes, though you can use it for chicken. If you are going to use it for poultry, we recommend you use another one in tandem to get it flat because this isn't going to work quite as well for pounding as it will simply for tenderizing.
Jim Beam's design makes it easy to quickly roll over a piece of meat and have it tender in no time. Cleaning this can be a little bit difficult as its wooden handle can't go in the dishwasher and the spikes can be dangerous to wash. But if you soak it in hot water and soap long enough without submerging the handle, it'll be clean. And per one reviewer, "I don't like the kind that works like a hammer. For beef under an inch thick, this is perfect."
The Jim Beam Rolling Tenderizer is available on Amazon for $14.99.