Traditional Polish Pączki (Doughnuts) Recipe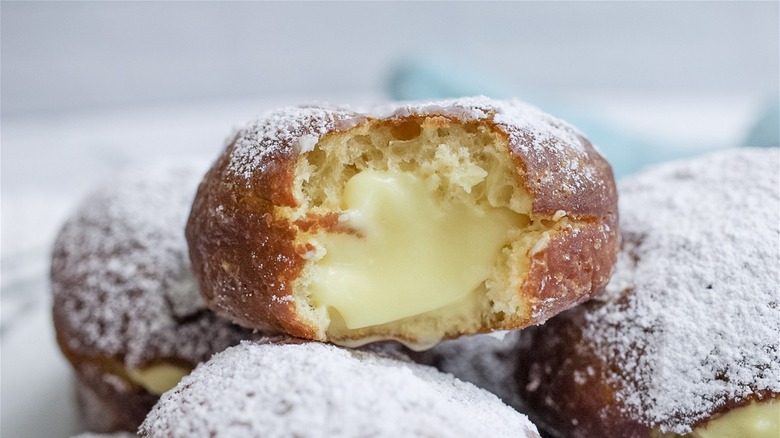 Jessica Morone/Mashed
Let's face it: everybody loves doughnuts. There's just something about stopping by your local doughnut shop, whether it's a chain like Dunkin' Donuts or a local bakery, for something fried and sweet. It's also always exciting to try new doughnut varieties, and if you prefer your doughnuts to be cream-filled, a type of Polish doughnut called pączki should be right up your alley. "You don't have to be Polish to make or enjoy these," recipe developer Jessica Morone says. "They are delicious either way!"
Making a cream-filled doughnut from scratch might seem intimidating, but Morone has made the process convenient and accessible. Instant pudding "is a lot quicker, and easier than making a homemade pastry cream or custard filling," she explains, "and you can pick any flavor of pudding you'd like to fill them with. I even made a version with Oreo instant pudding — that was a fun option." Keep reading to find out how to make your very own pączki.
Assemble your Polish doughnut ingredients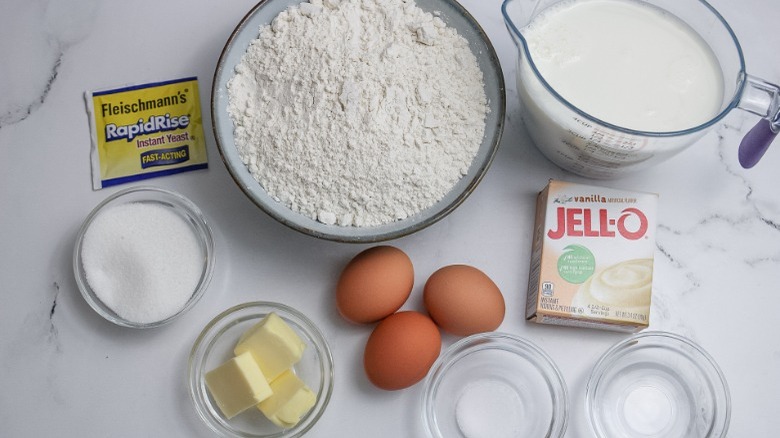 Jessica Morone/Mashed
This doughnut recipe involves a lot of pantry staples, so you might already have many of the ingredients on hand. You'll need flour, milk, sugar, salt, eggs, instant yeast, butter, a little white rum, vegetable oil for frying, and of course, instant pudding mix. You can also grab some powdered sugar if you want to sprinkle it on your finished doughnuts.
Make the doughnut dough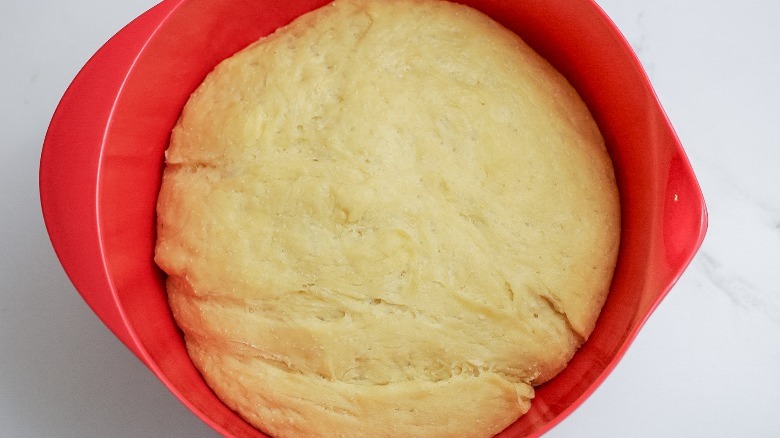 Jessica Morone/Mashed
Start by mixing together your dry ingredients — salt, sugar, flour, and yeast. Heat up 1 cup of milk, and mix it in with the rum, egg and egg yolks, and melted butter. "The milk has to be warm to activate the yeast and wake it up," Morone explains. "If the milk isn't warm enough, then the dough will take a really long time to rise, and if the milk is too hot, it can kill the yeast, so you really want the milk to be around 110 degrees when you put it in the dough."
Add the wet ingredients into the dry mixture, and mix until you get a dough, then knead for about 6 to 8 minutes, until it get stretchier and doughier. Then, let it rise in a covered bowl for 1 to 2 hours.
Shape the doughnuts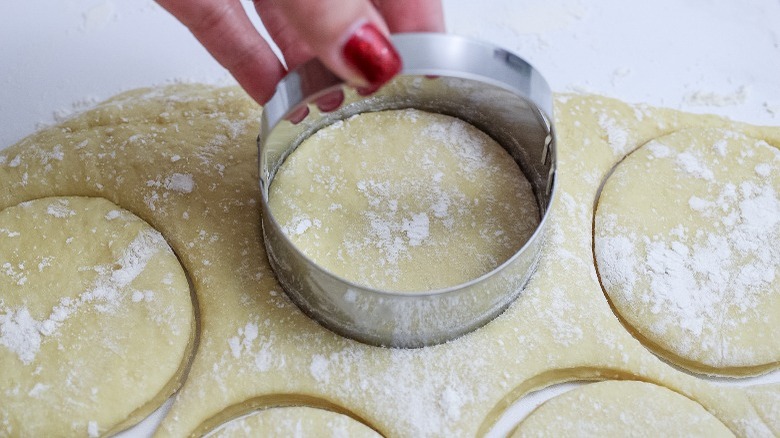 Jessica Morone/Mashed
Once your dough has doubled in size, roll it out until it's about 1-inch thick. Cut rounds out using a 3-inch biscuit cutter, or something similar. Place these circles of dough on baking sheets lined with parchment paper, cover them, and leave them to double in size once more, about 1 hour.
Fry the pączki doughnuts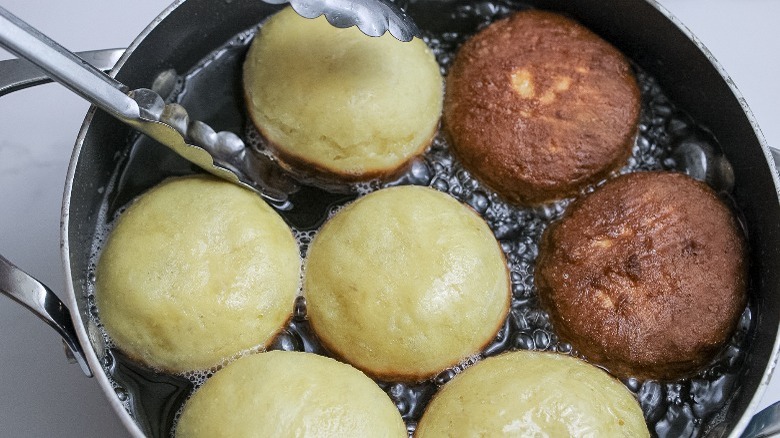 Jessica Morone/Mashed
Now that your dough is finally ready, it's time to fry up some pączki. In a big pot like a Dutch oven, heat 3 inches of oil to the appropriate frying temperature, about 345 F, and cook the doughnuts for 2 to 3 minutes per side, taking care not to crowd the pan. When they're golden and cooked-through, let them drain on a paper towel-lined baking sheet. Repeat the steps with the remaining batches. 
Fill the doughnuts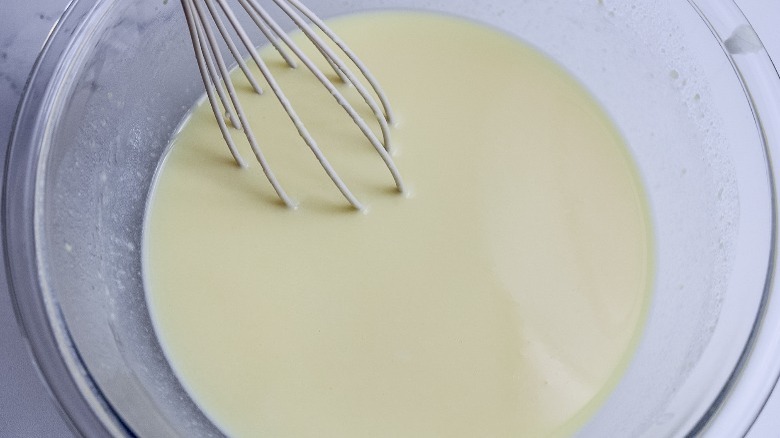 Jessica Morone/Mashed
Once all your doughnuts are fried, exercise some patience, and let them cool, about 1 hour. This is the perfect time to prep your filling. This part's easy: just mix your instant pudding mix with the rest of the milk, and stir it up. When your doughnuts have cooled down, create a hole in each one and stuff it with the pudding — you can use a piping bag if you have one, but a spoon works just fine too. 
Enjoy your fresh pączki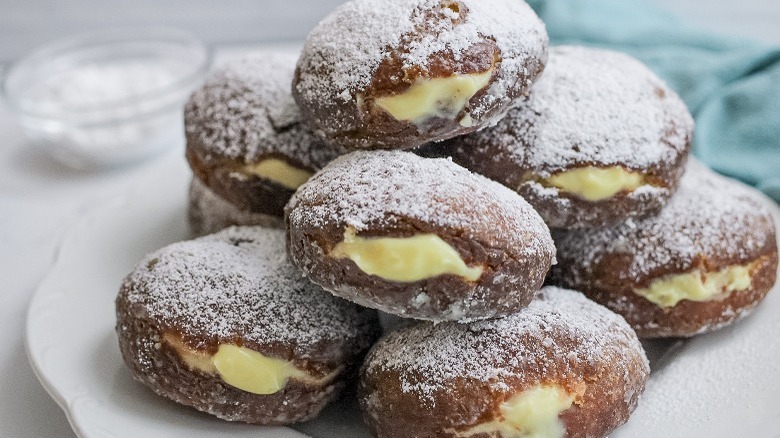 Jessica Morone/Mashed
You've made the dough, you've fried the doughnuts, and you've even filled them. Give them a dusting of powdered sugar if you wish, and voila — you've made your own sweet, creamy, satisfying pączki. "Like most fried foods, these are best eaten the same day that they are made," Morone advises. "But, you can store leftovers in an airtight container in the fridge for a couple of days." However, it may be a surprise if you end up with any leftovers — everyone loves doughnuts, after all.
Traditional Polish Pączki (Doughnuts) Recipe
Switch up your doughnut game with this traditional, cream-filled Polish pączki recipe.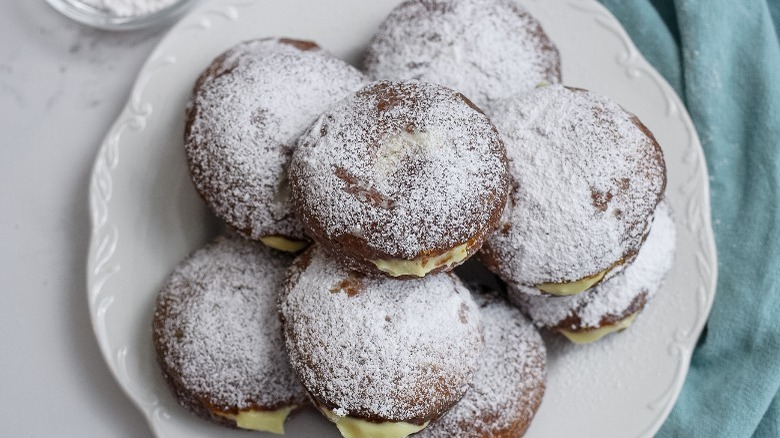 Total time: 3 hours, 15 minutes
Ingredients
3 ½ cups flour
⅓ cup sugar
2 ¼ teaspoons instant yeast
½ teaspoon salt
3 cups milk, divided
1 whole egg
2 egg yolks
3 tablespoons butter, melted
1 tablespoon white rum
Canola or vegetable oil, for frying
1 3.4-ounce package instant pudding mix
Optional Ingredients
Directions
In a large bowl, whisk together the flour, sugar, yeast, and salt until combined.
Heat 1 cup of milk to between 110 F and 115 F. Add the warm milk, whole egg, egg yolks, melted butter, and rum together, then add it to the flour mixture. Mix until a sticky dough comes together.
Knead the dough with floured hands, until the dough becomes smooth and elastic, about 6 to 8 minutes. Once kneaded, place the dough in a clean greased bowl, cover, and let rise in a warm place until it doubles in size, about 1 to 2 hours.
Once the dough has doubled, place the dough on a lightly-floured surface, and roll it out until it's 1-inch thick.
Use a 3-inch biscuit cutter to cut out rounds, and place them on baking sheets lined with parchment paper. Cover the sheets, and let the dough rise in a warm place, until the dough doubles in size again, about 1 hour.
Pour enough oil into a large dutch oven until it is at least 3 inches deep. Heat oil to 345 F.
In batches of about 4 or 5 at a time, fry donuts in the hot oil for 2 to 3 minutes per side, then place them on a paper towel-lined baking sheet to remove excess oil.
In a large bowl, add the pudding mix of your choice, and the remaining 2 cups of milk, and whisk together until combined. Let sit until the pudding thickens.
Once the donuts are fully cool, about 1 hour, use a knife to cut a hole in the side of each one. Put the pudding into a piping bag, and pipe the pudding into the center of the donuts, or use a spoon to scoop the filling in.
Sprinkle the donuts with powdered sugar, if desired.
Nutrition
| | |
| --- | --- |
| Calories per Serving | 338 |
| Total Fat | 19.3 g |
| Saturated Fat | 3.8 g |
| Trans Fat | 0.2 g |
| Cholesterol | 41.1 mg |
| | |
| --- | --- |
| Total Carbohydrates | 35.3 g |
| Dietary Fiber | 0.9 g |
| Total Sugars | 13.0 g |
| Sodium | 197.3 mg |
| Protein | 5.5 g |