This East Coast Gas Station Started As An Ice Cream Shop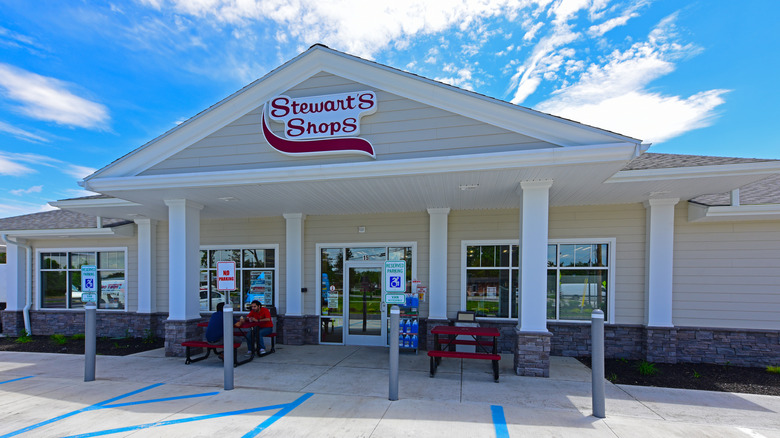 a katz/Shutterstock
If you've traveled at all throughout northern New York or Vermont, you'll have spotted the regional gas station chain, Stewart's Shops. A little like the Wawa or Sheetz of the Adirondacks and neighboring Green Mountains, Stewart's is known among the region as a gas station first and foremost, but then also a spot to grab a bite to eat.
Today, the Stewart's Shops brand encompasses more than 350 gas station locations. The brand makes about 75% of all the products that you'll find in-store. A huge Stewart's Shops manufacturing plant sits in northern New York, from where it sources dairy, eggs, and other ingredients all locally. However, before this mammoth regional chain won awards for its ice cream and firmly cemented its spot in the hearts of locals, it was just a small, one-family operation, and it didn't start with gas like you might assume. Instead, Stewart's Shop history can all be traced back to ice cream.
An ice cream empire
Stewart's Shops gives a very brief history of the chain, with a timeline that includes the brand gaining a following for its ice cream in the 1950s, expanding to sell other dairy in its ice cream shops in the 1960s, and finally adding gas pumps to its locations in the 1970s. Coffee, beverages, and ready-to-eat food items followed throughout the decades. However, it was dairy that started it all — and actually before the 1950s. As New York Almanack reports, Stewart's Shops founder Donald K. Stewart was born in the late 1800s and grew up a grocer's son. A 1920 census listed Stewart's occupation as "milk dealer" and then, later, in 1930, the updated census showed he'd switched to "retail merchant, milk and cream." In 1934, the first Stewart's Shops location opened (a 1944 ad shows the shop's name listed as "Stewart's Ice Cream").
Stewart didn't stay in the ice cream business, even though his name did. In the 1940s, another dairy family purchased the business and, by 1955, had grown the brand to more than 50 regional, ice cream-specific shops (via New York Almanack). That other dairy family, the Dakes, already had a successful ice cream business, Dake's Delicious Ice Cream, but kept the Stewart's name while introducing new offerings like a "make your own sundae" bar and individually packaged servings of ice cream (via The Times Union), eventually turning the brand into what travelers see today.