4 Ways To Cook Trader Joe's Cauliflower Gnocchi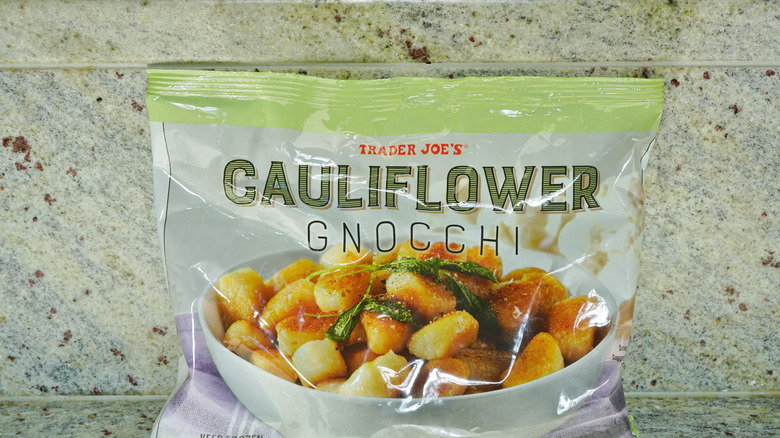 EQRoy/Shutterstock
For Trader Joe's super fans, cauliflower gnocchi is one of the chain's items that the internet can't get enough of. The dumplings are handmade in Italy using real Italian-grown cauliflower and traditional gnocchi-making techniques per Trader Joe's, which adds to the food's viral mystique. While gnocchi is traditionally prepared by simply boiling in salt water, Trader Joe's suggests sautéing the cauliflower gnocchi on a stovetop until crisp for a no-thaw cooking method or popping the food in the microwave until it is warm. 
For those looking for a more modern take on the Italian delicacy, many cooks have taken to the internet to share their creative takes on how best to prepare the viral Trader Joe's find. With so many cauliflower gnocchi variations available from decadent vegan curries to quick-prep air fryer meals, a bag of the popular grocery store's specialty has endless possibilities for home chefs to enjoy. 
Adding world flavors for a saucy adventure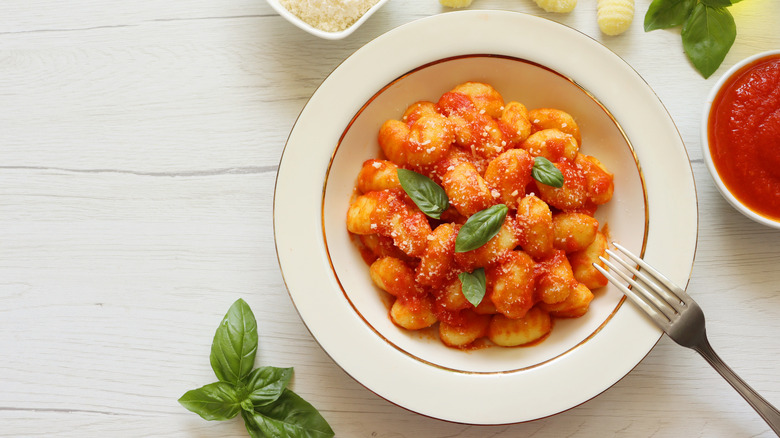 KANGIITALY/Shutterstock
One quality that makes gnocchi so versatile is its ability to take on any flavor they are cooked with. Pairing the dish with an aromatic sauce can completely transform your meal into cuisine inspired by any region of the world. Adding a slightly sweet coconut curry or korma sauce to the gnocchi will bring out the nutty, sweet undertones of the cauliflower. Enjoying this meal with a side of naan bread will make for the perfect Indian fusion creation. 
For another saucy take on Trader Joe's famous gnocchi, The Urben Life suggests using a fresh green pesto sauce for a meal straight out of Northern Italy. Adding some delicious sautéed eggplant and zucchini with some chickpeas for protein is the perfect way to turn your pesto gnocchi into a well-balanced meal. If you're craving a more savory dish, the green pesto can be swapped out for a tomato-based variety. 
No time, no problem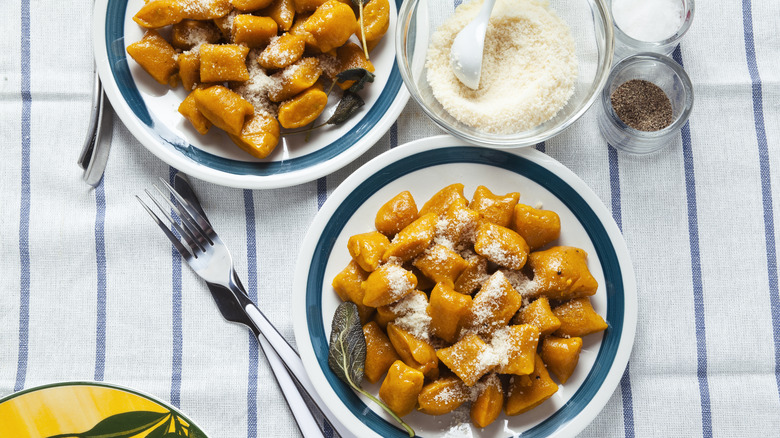 Irigri8/Getty Images
If preparing a curry or pesto pasta sounds like too time-consuming an endeavor in the middle of a busy week, there are still a number of ways to cooking the dish that don't involve slaving over the stove. As mentioned by Trader Joe's, the gnocchi can be prepared without the need to thaw out, meaning they can be taken straight out of the freezer and put into the frying pan. If you need even more time-saving power, cooking the gnocchi in an air fryer is one of the fastest ways to prepare the meal. Air fried gnocchi take on a crispy, dense texture that makes them perfect to pair with a side of sour cream and marinara sauce. 
If you're looking for a filling meal that will wow your guests in no time flat, consider turning your gnocchi into a delicious lasagne-inspired bake. The cheesy dish is easily adapted to be suitable for vegans and vegetarians and can be mixed with a variety of vegetables and sauces to expertly mimic your favorite lasagne variety. The entire dish can be prepared in a skillet, making it the perfect one-pan meal for chefs on a time crunch.