The Best Frying Pans In 2022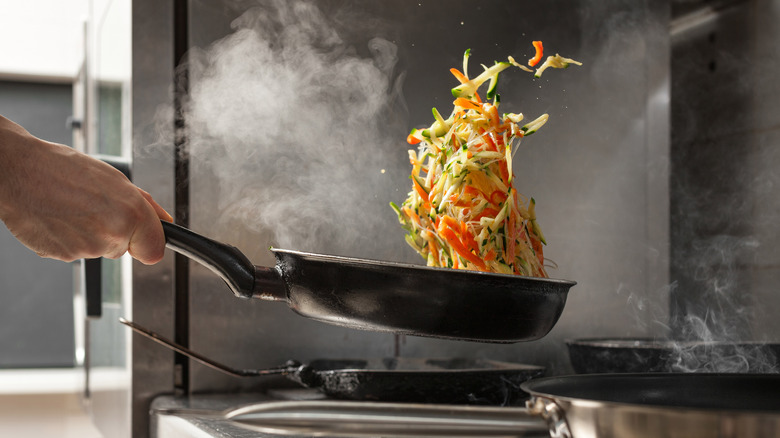 Evgeny Litvinov/Shutterstock
We may receive a commission on purchases made from links.
A frying pan is one of the most useful tools in the kitchen. From frying eggs in the morning for breakfast to sautéeing fresh veggies for dinner at night, your frying pan works hard around the clock to put hot food on your plate. And all of that heat takes a toll — according to Prudent Reviews, most nonstick frying pans need to be replaced after only a few years. 
This is partly because many nonstick pans use PFAS (an acronym for a group of chemicals) that have been tied to a wide range of serious health problems including cancer and hypertension (via USA Today). According to Live Science, the coatings tend to break down when exposed to high temperatures, in turn releasing toxic gases. Depending on your pan's material and current condition, if you've had it for at least a few years, there's a good chance it's about time for a replacement. 
When you're shopping around for a new frying pan, there are a lot of product features to consider. What material should it be made out of? Do you want your new frying pan to be oven safe? Should it have a lid? Do you want a bundle package that includes a variety of different pans? Your answers to these questions depend on your own circumstances and preferences, so we've collected the facts to simplify your decision.
How we selected products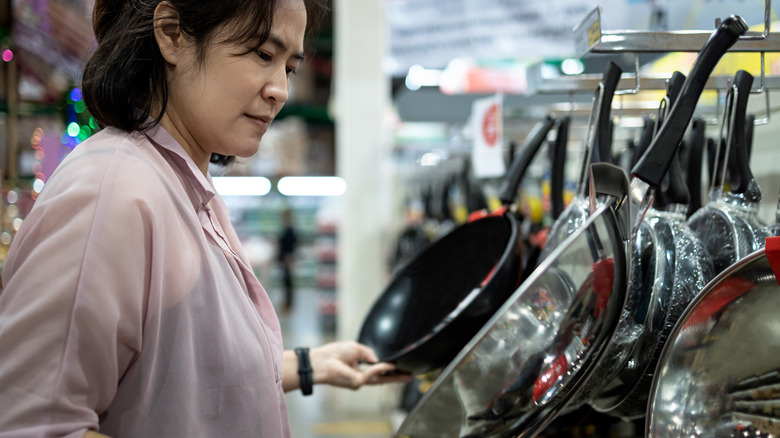 CGN089/Shutterstock
Our selection of frying pans was assembled through careful research and analysis. By considering consumer reviews, user feedback, press coverage, and general popularity, we've pieced together and curated an inventory of some of the best frying pans on the market. We've paid special attention to cost and each product's unique traits to ensure a spectrum of high-quality products at different price points.
Below you'll find a collection of frying pans that includes all of the major categories you're looking for depending on your purposes. Whether you're searching for a pan that can easily make pancakes, sear meat to a crispy golden brown, or safely slide in the oven or over a fire, we've got you covered. No matter if you're a home cook mastering the basics or a professional chef with plenty of experience, there should be a frying pan on this list that will suit your needs. Step up your cooking game and read on to pick from the best frying pans of the year.
Best overall frying pan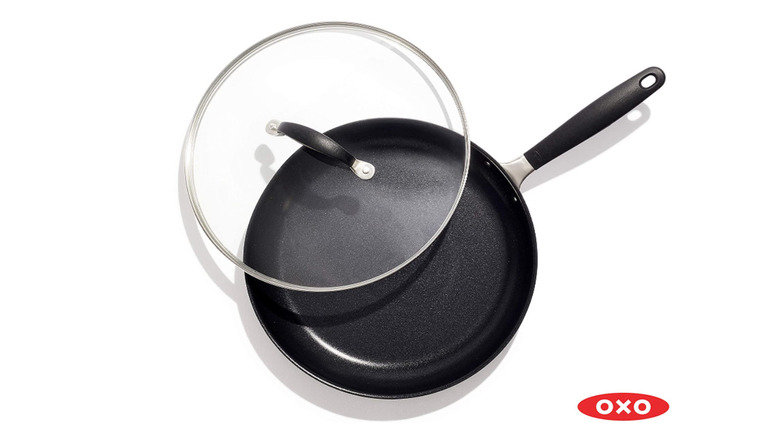 OXO
This 12-inch nonstick frying pan made by OXO is one of the best on the market, with nearly 14,000 positive reviews that average out to four-and-a-half stars. It also comes highly recommended by The Kitchn, which ranked it as the best nonstick cookware in its class. The outlet praised the pan for its lightweight, comfortable grip, and ideal design. 
This pan has three layers of nonstick surface areas that are PFOA-free to ensure a safe and impressively smooth cooking process. Oven safe up to 390 F, you can easily cook dishes on your stove top and finish them off in the oven. Its hard-anodized construction extends the pan's lifespan by making it scratch resistant and preventing flaking, peeling, and other imperfections that could jeopardize its structural integrity.
This frying pan also comes with a durable glass lid that efficiently traps heat to help you finish off dishes with some added steam. Its ergonomic handle maximizes comfort, ensuring a solid yet cozy grip. All in all, this frying pan offers top-notch quality at a very fair price.
You can buy the OXO Good Grips PFOA-free Frying Pan on Amazon for $60.
Best budget frying pan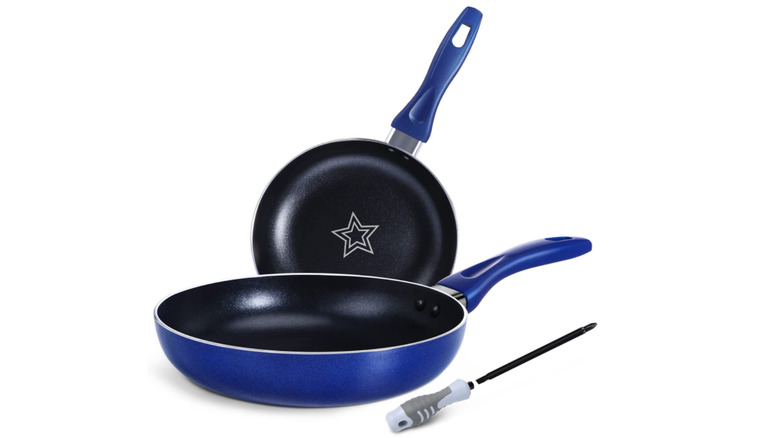 Zvonema
It's always important to consider affordability when you're shopping for new kitchen gear. Everyone needs an update from time to time, but new equipment and appliances tend to be expensive and higher price tags are a barrier for folks on a budget. Luckily for you, we've scoured the market for some great deals so you can treat yourself without breaking the bank.
This deal from Zvonema is one of the best bargains we've seen; you'll get two nonstick frying pans of different sizes that are both safe for oven and dishwasher use, all for just over twenty bucks. These pans are free of potentially harmful PFAS and have scratch-resistant surfaces. They are designed to work on multiple stove tops, including induction, gas, ceramic, and electric. Additionally, the pans are composed of several different coatings to ensure excellent performance and superior heat retention. 
You'll love the carefully designed riveted silicone handles that provide a comfortable grip. Not to mention, the pans come in a radiant shade of blue that will liven up the aesthetics of your kitchen. There's no doubt that scoring two brand new pans of this caliber at such an affordable price is an unbeatable deal. Take advantage while it lasts.
Purchase the Zvonema Nonstick Frying Pan Set on Amazon for only $23.
Best cast iron frying pan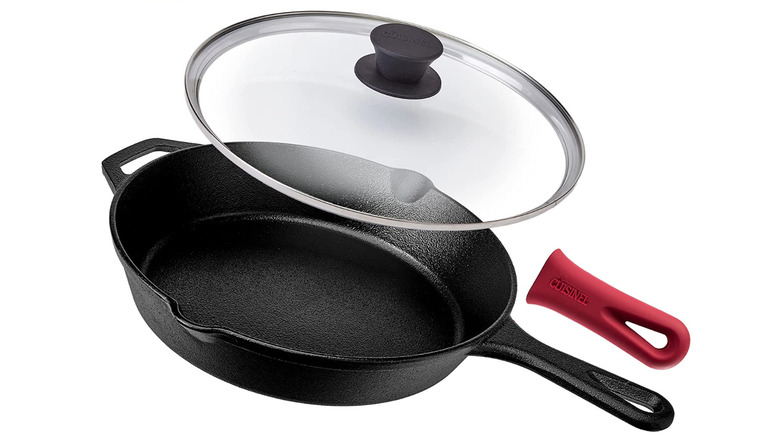 Cuisinel
Cast iron tools have been used by humans for thousands of years, originating in China and eventually making their way to Europe where they were first used in construction projects and cookware (via Southern Kitchen). There's a good reason that cast iron has been so popular for such a long time. The material is built to last for generations if taken care of properly, making these some of the most durable pans in the kitchen. Considering their long lifespan, they are also relatively cheap as this cast iron pan from Cuisinel proves.
This pan comes in a range of sizes from eight to 15 inches in diameter, depending on what you're looking for. It's safe to use on multiple stovetops, in the oven, or over an open fire. It also has excellent heat capacity, which ensures a consistently stable temperature. As for the materials, they are toxic-free and do not consist of any chemicals or Teflon, which safeguards you from potentially harmful risks to your health. This cast iron pan also comes with a tempered glass lid with a heat-resistant silicone knob, making it an ideal vessel for dishes that require extra heat retention. A versatile and durable pan like this that comes in different sizes at a price this cheap is a rare find. Don't let it pass you by.
You can buy this Cuisinel Cast Iron Skillet on Amazon for only $32.
Best nonstick frying pan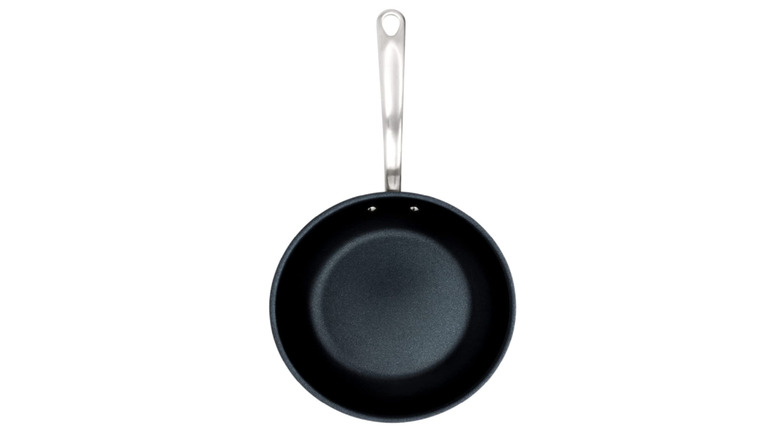 Made In
Nonstick pans certainly have their charms. There really is no better way to guarantee that your pancakes and omelets will effortlessly glide out of your pan completely intact. That said, it's important to make sure that you purchase a nonstick pan made with materials that you can trust. Our chosen nonstick (and non-toxic) frying pan comes from Made In, a cookware company that's recommended by famous chefs such as Nancy Silverton and Tom Colicchio.
Produced in Italy by craftsmen, this stainless steel nonstick frying pan is bound to impress you with its ultra-slick surface. Oven safe up to 500 F, this frying pan is also ideal for dishes that require baking at high temperatures. It conveniently works with multiple stovetops, including gas ranges, electric, glass, ceramic, and induction. Even though this frying pan is made with five layers of four different metals for maximum heat retention, it is still very lightweight (two-and-half pounds) and a joy to handle. All things considered, even though this nonstick pan is on the higher end of the price spectrum, there's no doubt that it's extremely well made and will quickly prove itself worthy of the cost when it becomes your favorite pan in the kitchen.
Purchase the Made In Nonstick Frying Pan on Amazon for $109.
Best frying pan bundle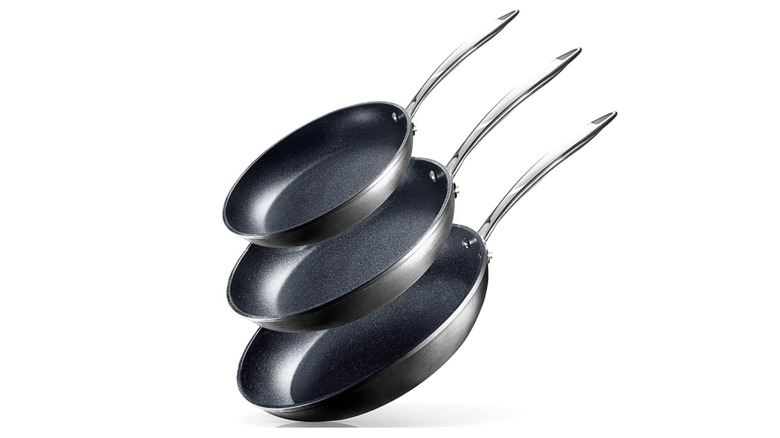 Granitestone
If you're looking to score a set of frying pans in one bundle, then this amazing three-piece deal from Granitestone is meant for you. This set comes with three different frying pans that are eight, 10, and 12 inches in diameter, which should cover just about every size you need. They are free of any toxic coatings, oven safe up to 500 F, and compatible with all types of stovetops.
These pans are well designed with a triple-coated interior and a hard-anodized exterior that makes them durable and efficiently reactive to heat. The ultra nonstick surface and even heat distribution make cooking a breeze, while the anti-warp design means these pans are built to last. And even though it's perfectly safe to use these pans at high temperatures, the handles still manage to stay nice and cool for maximum protection. No matter what dish you're cooking, there's no doubt that one of these pans is guaranteed to get the job done.
You can buy this Granitestone Pro Hard Anodized Set on Amazon for only $60.
Best oven safe frying pan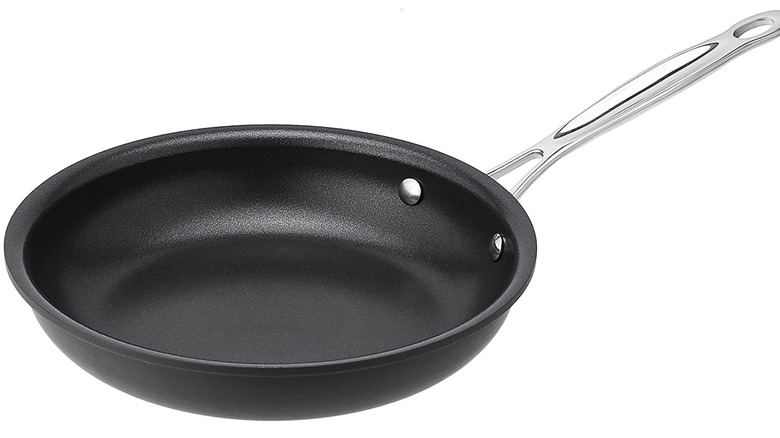 Cuisinart
Having the ability to slide your frying pan into an oven can be really convenient for many recipes. Unfortunately, not all pans are created equal — some can only hit a certain temperature before they become unsafe and others aren't safe for the oven at all. What you need is a pan that can withstand high heat so that you don't have to be limited by its temperature capacities. That's where this chef's classic nonstick frying pan by Cuisinart steps in.
Oven safe up to 500 F, this frying pan should be able to handle just about any recipe that requires baking time. The handles stay cool when cooking on the stovetop and offer a comfortable sturdy grip for easy maneuvering. Thanks to the hard-anodized aluminum components, this frying pan can heat up quickly. According to Your Cookware Helper, working with anodized aluminum pans can be beneficial because the material is scratch resistant and has superior thermal conductivity. This pan's titanium reinforcement also makes it strong enough to handle the use of metal utensils. All in all, this versatile, nonstick, oven-safe frying pan is affordable and lightweight and can accomplish just about anything you need it to.
Purchase the Cuisinart Chef's Classic Frying Pan on Amazon for only $24.
Best frying pan with lid
Almond
Plenty of pans come with lids, but not all of them are safe for the oven. The good news is that this nonstick frying pan by Almond comes with a tempered glass lid that is resistant up to 500 F. Having a lid is useful when you want to bake something in your pan and need a cover to stop liquids from spattering and creating a mess that could potentially fill your oven with smoke and debris. This pan's lid has a slight dome shape to ensure that it doesn't make contact with the food and it also has a small vent hole to let moisture and pressure safely escape. Plus, the large stainless steel handle is ideal for easily removing the pan from the oven. 
This pan is 10 inches in diameter, which is a great size that can suit a variety of dishes you might want to cook. It is free of toxins, safe for the dishwasher, and has three built-in layers to provide an ideal surface that's both durable and nonstick. This pan also works on multiple stovetops, including gas, electric, and induction ranges. Beyond all of these excellent qualities, from a purely aesthetic perspective, this pan has a sleek shine that will bring a touch of sophistication to any kitchen.
You can buy this premium Almond Nonstick Frying Pan on Amazon for only $38.
Best carbon steel frying pan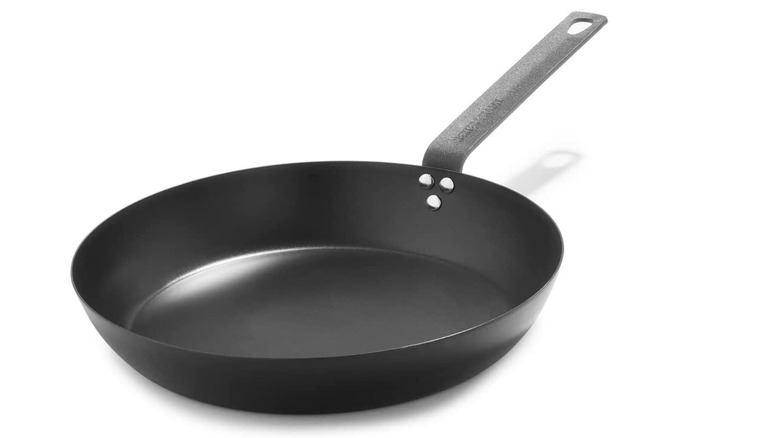 Merten & Storck
Carbon steel has its share of advantages. According to Food Network, it conducts heat much quicker and more evenly than just about any other material. Carbon steel also happens to be half the weight of cast iron and extremely durable. This adds up to a frying pan that is built to last, easy to handle, and a pleasure to cook with. This 12-inch carbon steel frying pan made by Merten & Stork has a triple-riveted steel handle with a hanging hole, it works on all types of stovetops, and it develops a natural patina that gradually grows increasingly nonstick with time. It's also oven safe up to a scorching 600 F which is probably above and beyond your needs.
This pan also comes highly recommended by Food & Wine, for its impressive performance across a range of tasks. Even though the surface is nonstick, this pan is still perfectly capable of browning meat until it's crispy. If you've never experienced the wonders of cooking with carbon steel, it might be time to change that.
Purchase the Merten & Stork Carbon Steel Black Frying Pan from Amazon for only $50.
Best ceramic frying pan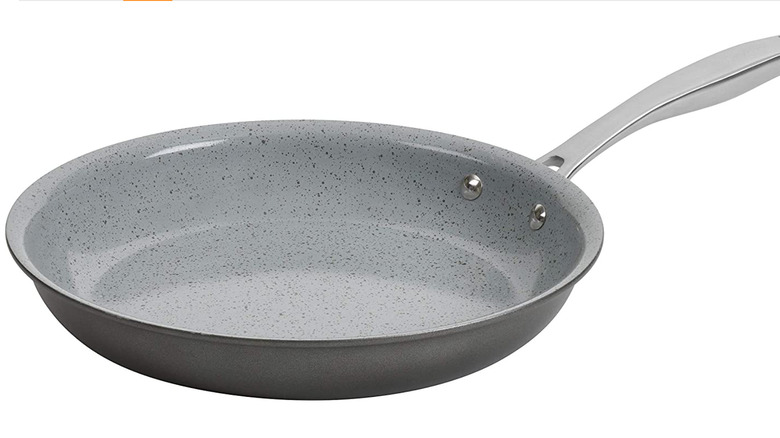 Trudeau
While ceramic pans may not be commonly used due to a slightly higher price point, there's no doubt that the material offers some beneficial features that are worth considering. According to Prudent Reviews, the coating on ceramic pans is toxic-free since it doesn't contain chemicals and consists of natural components. Ceramic pans are also naturally nonstick and have a very high heat tolerance.
This 10-inch ceramic pan by Trudeau has a base that can heat up quickly and is thick enough to ensure solid durability. It's safe for the dishwasher and works on electric, gas, and ceramic stovetops, not to mention it's ovenproof up to 430 F. The stainless steel handle stays cool on the stove top and feels comfortable in the palm of your hand. Because this ceramic pan is already nonstick, it requires less oil and butter when cooking which means healthier meals. Once you treat yourself to the pleasures of a ceramic frying pan, you won't look back.
You can buy the Trudeau Ceramic Frying Pan from Amazon for $48.
Best aluminum frying pan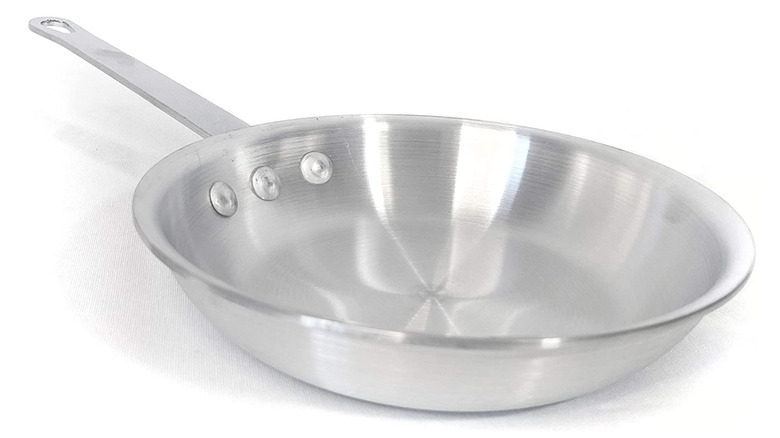 Update International
If you're searching for a commercial-grade aluminum pan, then look no further. This aluminum pan by Update International is made with durable aluminum and comes certified by the National Sanitation Foundation (NSF). For those unaware, the NSF is an organization that protects consumers from potentially harmful products.
If you've never considered aluminum cookware before, The Good Life Designs explains that it excels at heat conduction, allowing it to spread evenly throughout the pan with impressive swiftness. Aluminum also tends to be affordable and very lightweight, making it not just easy on the wallet but a breeze to handle. With this aluminum pan, you can achieve excellent browning that may be difficult to create in cookware made from a different material. The slope on this aluminum pan also lets you flip or toss food with ease. Heavy-duty yet affordable, this frying pan is a practical choice for anyone who loves to cook.
Purchase the Update International Aluminum Frying Pan on Amazon for only $26.
Best stainless steel frying pan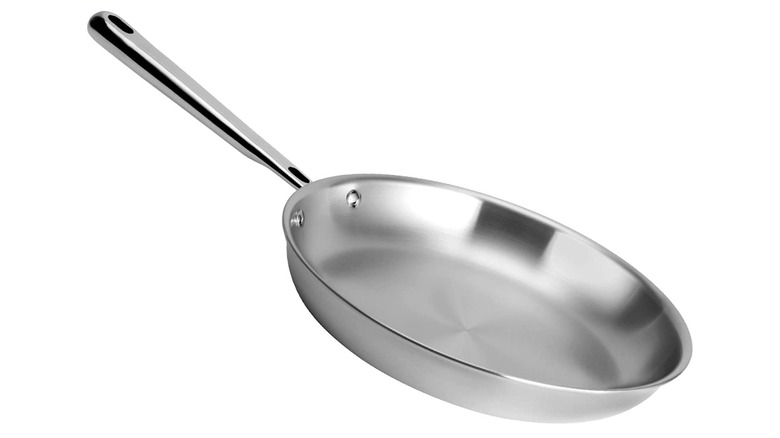 Misen
It's common to see stainless steel cookware in kitchens and there's a good reason too. According to All Cookware Find, stainless steel has many advantages including incredible durability and relatively low maintenance. This stainless steel frying pan by Misen checks all those boxes and more — it will even last a lifetime.
This frying pan's five-ply design is made with aluminum and stainless steel to promote even heating during the cooking process, ensuring that food is uniformly seared. Furthermore, the ergonomic handle stays cool while you're cooking, and the whole pan is oven safe and compatible with all types of stovetops, including electric, gas, and induction. This pan also provides a spacious surface area for cooking, which avoids the risk of overcrowding food and leads to better browning. Meanwhile, the rounded edges of the pan assist with easy pouring without any spillage. You won't need to swap out your utensils since the pan can be used with all materials.
You can buy the Misen Stainless Steel Frying Pan on Amazon for $75.
Best granite frying pan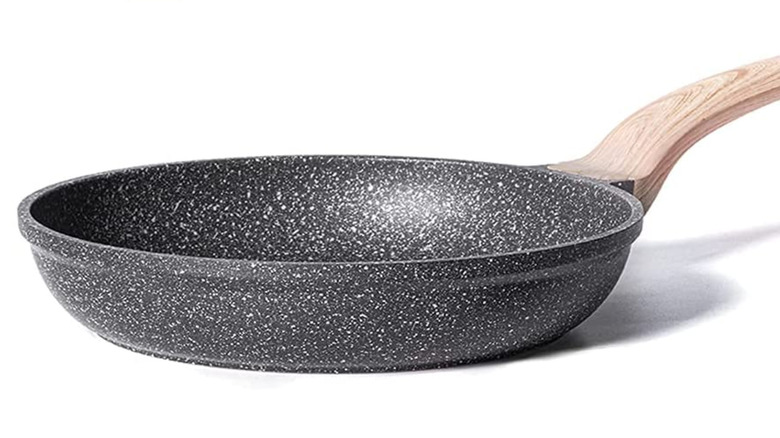 CAROTE
If you're in the market for a granite frying pan, then this model by CAROTE should be at the top of your list. Available in a wide range of sizes and colors, there's no doubt that this frying pan comes in the format and style that you're seeking. This granite pan is nonstick and has a rivetless interior which makes it easy to clean. The handle is comfortable to maneuver, and the base works on all types of stove tops, including gas, halogen, induction, and ceramic.
Since this ceramic frying pan is ultra nonstick, very little oil or butter is required, which cuts back on the fat in your food and reduces smoke in the kitchen. Constructed with a durable die-cast, this well-designed and affordable frying pan is built to last. If you've never worked with a granite pan before, it's time to see what you've been missing out on.
Purchase the CAROTE Nonstick Granite on Amazon for only $27.
Best frying pan for travel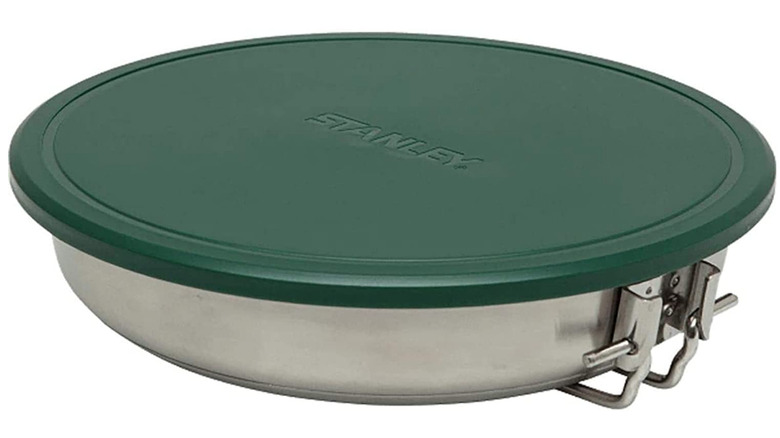 Stanley
If you like to camp, you know that having pans that you can count on in the great outdoors is important. You need something lightweight, compact, and durable. And there's no better choice than this nine-piece frying pan set from Stanley. This pack includes a seven-inch frying pan, a cutting board, two plates, two sporks, a spatula, a trivet, and a cover. 
The clever design allows for most of the components to be stored inside of the pan, which is especially convenient for portability when you're traveling. The handle locks down to snap the set shut and keep everything secure while you hike or travel to your destination. Additionally, the set is leakproof and easy to pack, making it an ideal companion for all of your adventures. This pan is made with stainless steel that is BPA free and rust-proof. While this frying pan set is fairly modest in size, it's still perfectly capable of cooking for two. If you need a frying pan set that you can trust far and wide, look no further.
You can buy the Stanley Adventure Stainless Fry Pan Camp Cook Set on Amazon for only $36.