Here's Where To Find The Best King Cake In New Orleans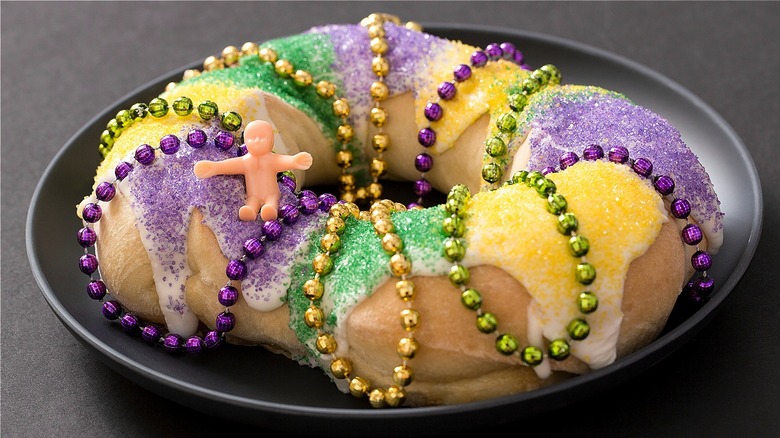 Jennifer White Maxwell/Shutterstock
King Cake and New Orleans go hand in hand and every local has their opinion on which bakery makes the best. So it can be difficult to know who to trust if this is your first time trying the bakery treat. There are standards across all offerings — they're usually a ring of sweetened bread, topped with icing and decorated in the traditional colors of the Mardi Gras season – green, gold, and purple.
The other thing to note is that they will contain a plastic baby — or, these days, the baby comes separately for you to insert into the cake yourself for health and safety reasons. Finding the baby has a bittersweet meaning to New Orleanians — it's good luck for the finder but it's then their responsibility to supply the next King Cake at the next party. If that responsibility falls to you, it's probably best you have a strategy for where to find the best King Cake in New Orleans. While you might be bombarded with opinions, there are ways you can narrow down your choice.  
Many visitors may be disappointed to find the locals have snapped up spots for pre-orders very quickly, according to Take Out. However desperate though, it's best to ignore the selection at  Louisiana grocery stores like Rouses, Walmart, or Winn-Dixie because, as many will tell you it won't be the same as ones from popular bakers such as Antoine's, Dong Phuong, or Randazo's.
New Orleans locals have their say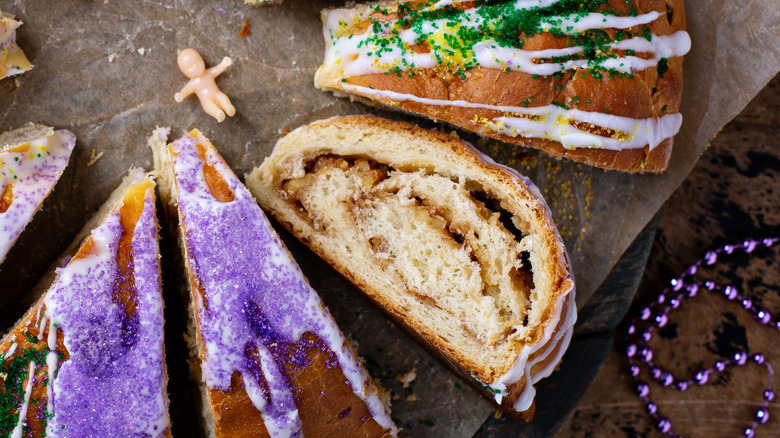 Elena Veselova/Shutterstock
Fortunately NOLA Weekend runs a yearly competition asking people to vote for their favorite bakeries to be crowned "King of Cake". The winner is announced on Fat Monday — the day before Mardi Gras. 2022's winner was Caluda's King Cake and it's clear to see why with a 4.6 star review from 272 people on Google, the Harahan bakery has people saying things like, "Ordered a King cake for the office since it was one of my coworker's birthdays. Everyone raved about how good it was!" and "We LOVE the king cakes. Perfect and always quick shipping and fantastic customer service!"
For those that just want to try it and don't want to go all-out and buy a full-size King Cake, there are bakeries around town that will serve you a single slice. Locals on the Facebook page "Where NOLA Eats" suggested various places where you can get a serving of the cake such as the King Cake Market which is happening every Thursday from January 9 – February 12, cafe Tartine New Orleans, Piety, and Desire Chocolate, or the Wandering Goat in Harahan which has mini King Cakes.
However, it's important to remember that you should only eat King Cake during the Mardi Gras season which runs this year from Ephinany on January 6 through to Fat Tuesday (Mardi Gras Day) February 21 as the locals think it's bad luck to eat it at any other time!