These Mardi Gras-Themed Popeyes Are Turning Heads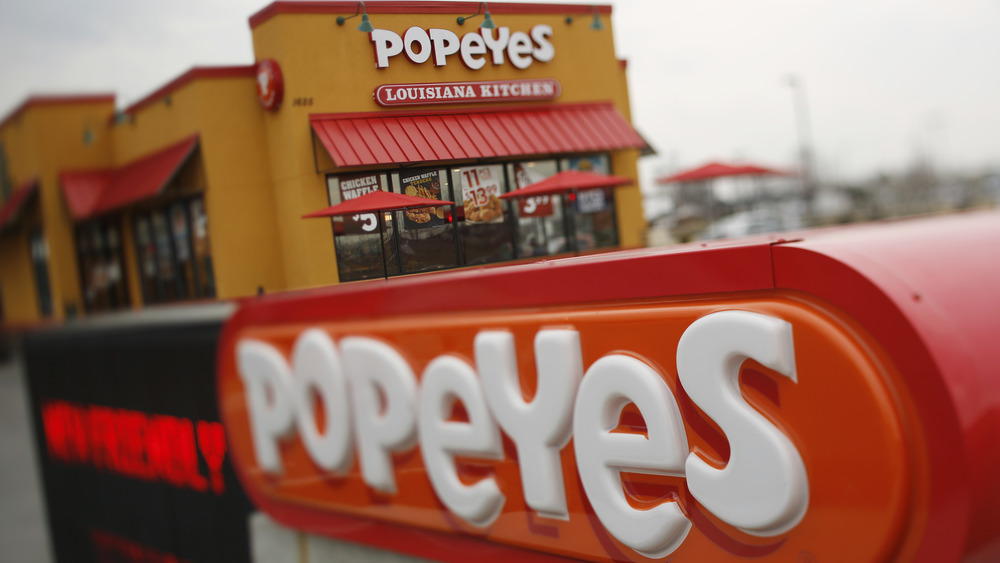 Bloomberg/Getty Images
Popeyes is one enthusiastic brand when it comes to festive occasions such as Mardi Gras, ensuring that it gives its customers something to look forward to. In 2019, the company celebrated Mardi Gras — alternatively called Fat Tuesday — by offering a unique meal box to its customers that included fried chicken and pretty beads (via Elite Daily). Additionally, it also once came up with an innovative food campaign to celebrate its 3,000th outlet and offered special chicken wings that had champagne on them and were coated in gold. Sounds very fancy.
The fast food chain also introduced readymade Cajun Turkey for Thanksgiving, in order to make things easier for its customers during the festivities. The restaurant is now stepping up again, for a special cause. For Mardi Gras this year, Popeyes is doing something a little different to appeal to its customers. Excited? Here's everything you need to know about the special festivities.
Popeyes has revamped three outlets for Mardi Gras
Popeyes has decided to rope in unemployed Mardi Gras artists for the festivities, since the parades are not taking place this year because of the pandemic (via Food & Wine). Popeyes has managed to include Mardi Gras artists in the celebrations, by asking them to decorate three of their buildings in New Orleans. You read that correctly — these artists are paying tribute to Mardi Gras floats. And the results are incredibly cool, to say the least. The buildings are filled with impressive artwork.
This feat, by the way, was achieved in collaboration with Kern Studios and Mardi Gras World. "We believe celebrating Mardi Gras in even a small way at our restaurants can bring a bit of joy to our guests and the people of NOLA," Bruno Cardinali, CMO of Popeyes, said in a statement. He also said that this initiative aims to help Mardi Gras artists, as well as Popeyes' customers that are looking for a bit of festive cheer.