TikTok Is In Awe Of The Breakfast At Trixie Mattel's Trixie Motel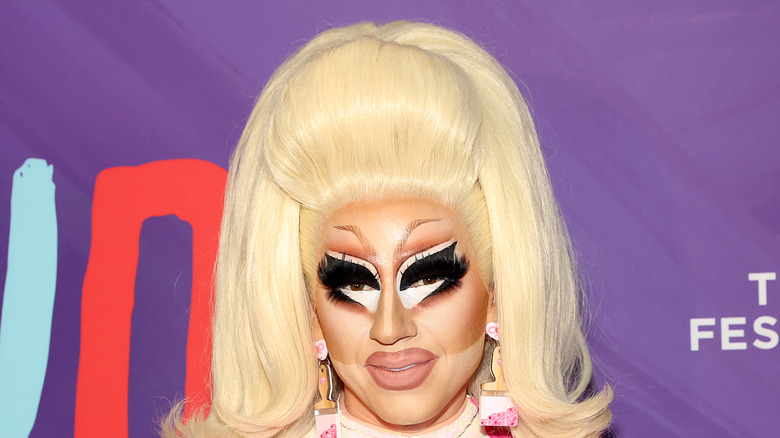 Monica Schipper/Getty Images
You might have heard of Trixie Mattel. Since getting booted off "RuPaul's Drag Race" season 7, the queen has kept herself extraordinarily busy (via The Guardian). After being booted from "Drag Race" not once but twice in her original season, Mattel went on to win "RuPaul's Drag Race All Stars 3," which pits some of the strongest contenders who didn't take the crown in past seasons against each other, making it perhaps an even greater triumph than taking the crown in her original season (per Entertainment Weekly).
Mattel has kept herself busy with a Youtube channel with 1.5 million followers, her WOW-produced Youtube show with fellow "Drag Race" alum Katya, "UNHhhh," which is nearing its 200th episode, maintaining her three million Instagram followers, and touring the world (per Thrillist and Youtube). And then, of course, there's Mattel's latest venture, the Trixie Motel, in Palm Springs, home of some of America's best LGBTQ+ bars and restaurants. You may have seen the renovations underway on the starlette's reality show of the same name on Discovery+. 
On the program, she and her partner and business partner, David, renovated the motel themselves along with help from some famous friends and celebrity guests (per Out Travel). The motel is meticulously decorated in Mattel's signature over-the-top girly '60s kitsch style.
Fans are loving the breakfast at the Trixie Motel
The motel officially opened to guests on Labor Day weekend, September 2022 (per Thrillist). And despite the fact that rooms run $550 dollars and there's a required two-night minimum booking, bookings have been steady according to fans who've stayed in the motel or tried to book and been unable (per TikTok). Before they head out for a day lounging around the pink and white heated pool or exploring Palm Springs, guests can enjoy a complimentary breakfast basket that's turning heads on TikTok.
The basket can be delivered to each of the themed guest rooms, "Malibu Barbara," "Queen of Heart," "Atomic Bombshell," "Flower Power Suite," "Pink Flamingo Suite," and the "Yeehaw Cowgirl Suite," as well as the honeymoon suite (per Trixie Motel). The baskets (which are pink, naturally) include two vegan olive-oil-based croissants, tiny packets of Bonne Mamman jam, miniature jars of Nutella, fruit-flavored Chobani yogurts, and adorably branded Trixie Motel granola cups. To quench that morning thirst, the basket also includes two Simply Orange juices, and generous pours of Prosecco are available in the lobby. 
For those who need a cup of joe to get their morning going, there are Keurigs in the room with plenty of choices to brew along with large mugs that match the wallpaper in the rooms. The beautifully decked-out lobby also has coffee in to-go cups for those who don't want to mess with the Keurig. After this European-style breakfast, you're ready to hit the Barbie-pink pool area and relax.