Duff Goldman's 'Pro-Move' For Getting The Right Frosting-To-Cake Ratio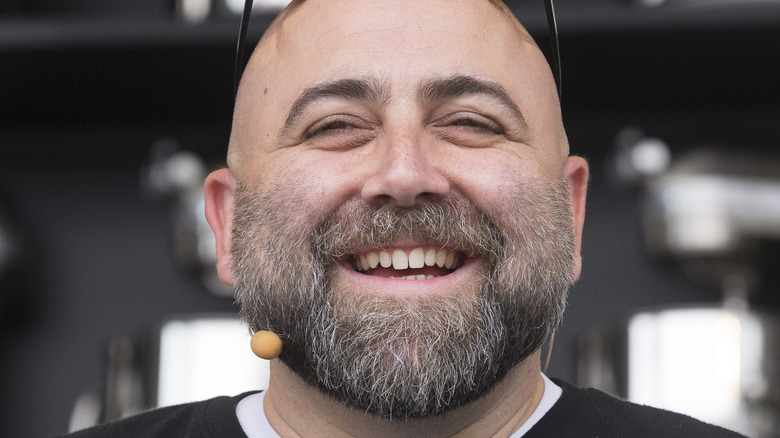 Sterling Munksgard/Shutterstock
Frosting and cake are an undeniably amazing combination. The playful back and forth between a moist cakey base with the creamy accent of frosting brings any recipe to another level. Where would one be without the other? Imagine a beautifully baked chocolate cake left bare with no silky buttercream to fill in the void. However, the relationship between the two has to be carefully balanced, otherwise, you are left with a final product that is either too dry with the lack of frosting or overpowering when the baker has a heavy hand.
But what exactly is the perfect ratio of cream to cake and how can you make sure you're not making any frosting mistakes the next time you're finalizing a special dessert? For answers to this question, it helps to listen to the professionals. Food Network personality, executive chef of Charm City Cakes, and cookbook author Duff Goldman knows a thing or two about what makes for the ideal cake. From creating cakes for red carpet galas to the inauguration of President Barack Obama — as per Charm City Cakes — Goldman and his bakery team have tailored incredible feats of sweet-tasting artistry. Let's take a look at what he suggests is the perfect balance for your next tasty treat creation and how you can get the perfect bite every time.
Here's how Duff Goldman gets the ideal taste of cake with every bite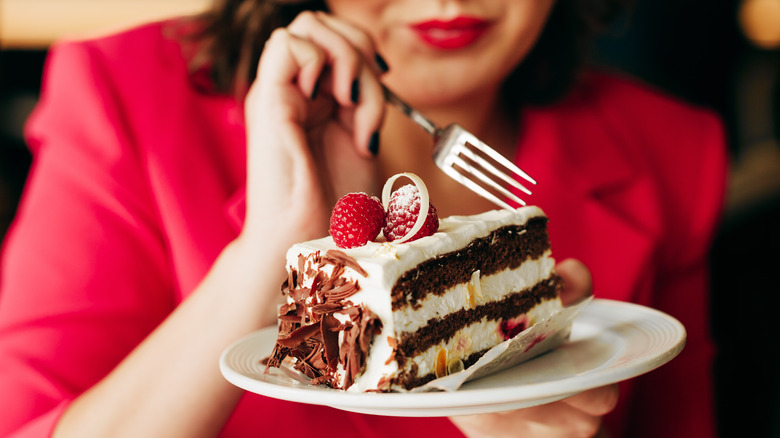 Anna Nahabed/Shutterstock
When hunkering down with a slab of your favorite delicious dessert, you want to make certain that every morsel is enjoyed to its fullest. To ensure that every mouthful of your slice has the perfect ratio of frosting to cake, celebrity chef Duff Goldman has a little inside tip. In an episode of "The Sporkful" podcast, Goldman revealed that in order to achieve perfection in every bite, "I'll take my fork and get a little bit of the backside and then take a bite of a thing. And then I almost use the backside, like a reservoir." This is no doubt an eating strategy that comes from years of experience. By incorporating a little bit of the outer layer of frosting, you make certain that you're saving some of that creaminess for when it comes time to tackle the cakey portion of the slice in the middle. Brilliant!
Goldman also goes on to say that every cake should have a "three to one, cake to frosting" ratio. This is helpful to know when you are getting ready to bake your own recipe. Depending on the size, shape, and number of layers, this could greatly influence the quantity of frosting you need to prepare. According to RecipeTips, a 6-inch round cake should have around 3 cups of frosting, whereas the same-sized cake in a square pan, may need around 3 ½ cups of frosting.