Red Lobster Brings Back Lobsterfest And 2 New Dishes For A Limited Time
Throughout the year, Red Lobster holds celebrations honoring various seafood through special offers. Among the most popular is Endless Shrimp, which takes place in the late summer-slash-early fall. The last time the promotion was held, it included a new parmesan-bacon shrimp scampi dish as well as Argentine red shrimp and shrimp linguini Alfredo, among other items. For those who aren't tuned in to the experience of Endless Shrimp, it's exactly as it sounds. Patrons start with two choices of shrimp, and as they go, a new dish can be requested.
Crabfest has also been a tradition. However, the last reported instance we could find was held in 2019. According to FSR Magazine, Crabfest took place in the summer and featured numerous dishes with crab as their centerpiece. In 2019, the restaurant served up three varieties: Bairdi, Southern, and Golden King crab. It's unclear if the company has halted the celebration, but that wouldn't be surprising considering that in 2020, Red Lobster had to contend with COVID-related shutdowns and plummeting customer traffic (via Daily Journal). Moreover, crab prices during the pandemic, in part due to shortages, per NPR.  
However, one promotion that continued in 2020, 2021, and last year was Lobsterfest. It's now time for the brand's flagship shellfish to take the spotlight again, as Lobsterfest has just made its return with some new offerings.
Some favorites are returning as well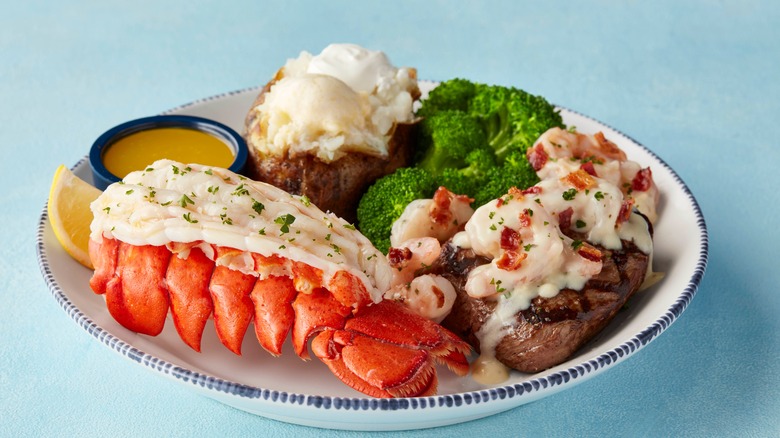 Red Lobster
According to a press release, Lobsterfest has officially kicked off for a limited time Red Lobster. It will feature the popular Lobster Lover's Dream — a dish with two lobster tails paired with linguini — as well as other returning favorites such as the Maine Lobster Tail Duo, the Live Maine Lobster, and the Bar Harbor Lobster Bake. In previous years, the celebration has introduced new items, such as the creamy Lobster Topped Stuffed Flounder that was offered last January and the soy ginger sauce-tossed Kung Pao Noodles with Fried Lobster that joined the lineup in 2021. This year, the Lobsterfest menu will also feature two new dishes, including the Lobster & Shrimp tacos featuring Maine & Norway lobster and the Lobster & Shrimp-Topped Sirloin.
New lobster-inspired drink options will be available to serve as spin-offs for the classic Lobsterita, which will also be on the menu. One is the Berry Sunset Lobsterita, which is frozen with raspberry and strawberry flavors, and the other is the Passion Fruit Lobsterita with a lime rim. Red Lobster also announced Lobsterfest's return on Facebook, and as indicated by some of the comments, patrons are ready. "CAN'T WAIT FOR MY 2 LOBSTER TAILS!!" read a comment. "Yay my favorite fest of all time!" another customer wrote.