Tim Hortons Fans Told Mashed Which Donut Is The Best - Exclusive Survey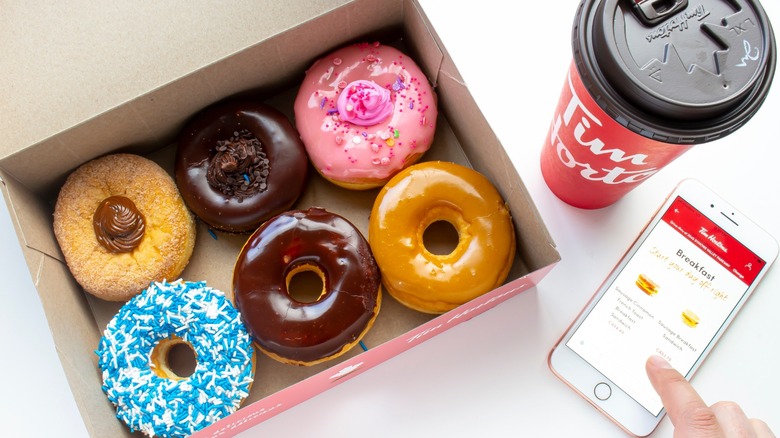 oasisamuel/Shutterstock
Canadian-based Tim Hortons is an innovative brand with new ideas up its sleeve every year. To pay homage to its hometown, it unveiled three new donut flavors last summer molded after Canadian's favorite desserts (via Daily Hive). The "dream donut" collection drop included a Reese's Peanut Butter Cheesecake Dream Donut, a Birthday Cake Confetti Dream Donut, and a S'mores Dream Donut. Almost exactly a year earlier, Tim Hortons announced cream-filled ring donuts, which came in Strawberry Shortcake and Vanilla Cream Puff varieties (per International Comunicaffe).
Both Canadians and Americans have a special place in their hearts for donuts. Per Reader's Digest, Tim Hortons serves 43 million donuts to Canadians per month, which adds up to 10 million per week and 1.4 million per day. When it comes to Americans, 56% of 1,000 surveyed claim they love donuts, while 40% at least like them (via National Today). Curiously, 3% of Americans say they don't like donuts at all.
Mashed surveyed our readers to find out which Tim Hortons donut is most commonly preferred, and the list of choices included popular menu mainstays.
Boston Cream reigns supreme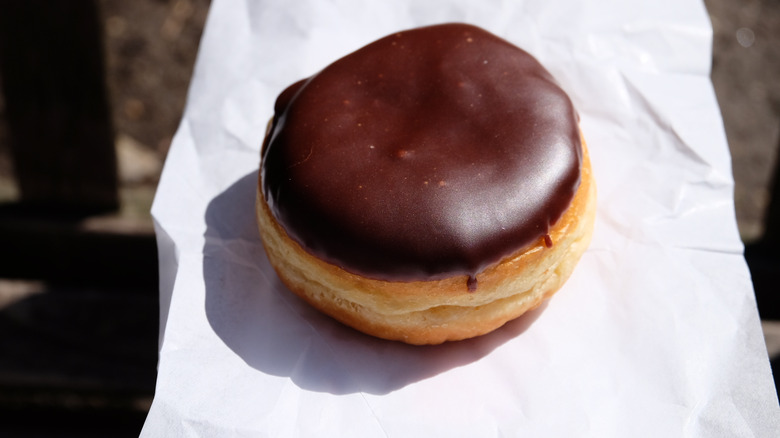 Alex Dmr/Shutterstock
Here at Mashed, we conducted a survey asking which donut from Tim Hortons our readers prefer. Answers came in from 622 individuals, with the top spot going to Boston Cream with 26.21% of votes. The second most-liked flavor is Apple Fritter with 23.79% of votes, and in third is Old Fashion, which amassed 16.56% of votes. In a narrow competition, Double Chocolate came in fourth at 13.67%, followed closely by Canadian Maple at 13.50%. The least favorite donut chosen by our readers was Honey Cruller at 6.27%.
Per the Tim Hortons website, our winner, Boston Cream, is "dipped in chocolate fondant with rich Venetian cream filling." Furthermore, plenty of Tim Horton's fans on Twitter share the opinion of our readers when it comes to this treat. One Twitter user wrote, "I could eat a million Boston cream donuts from Tim Hortons." A second fan found that no other dessert can compete. "The Boston cream donut from Tim Hortons. Nothing like it. What a treat," they wrote.