The Unexpected Ingredient Duo Giada De Laurentiis Loves On Pizza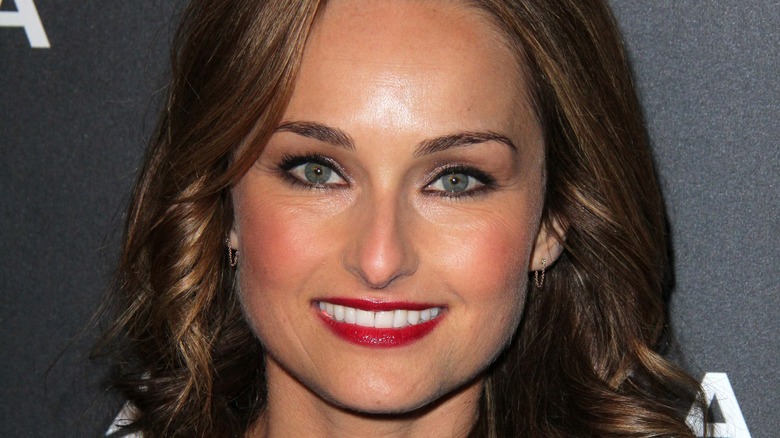 s_bukley/Shutterstock
Pizza lovers are quick to defend their favorite toppings as well as criticize the pizza toppings they hate. One common topping debate centers around pineapple and whether it belongs on pizza at all, and some people think that fruit and pizza shouldn't be eaten together. According to the results of a poll from Donatos and OnePoll published by SWNS Digital, pineapple is the second least-liked pizza topping, with anchovies coming in at number one.
But what do chefs feel the same way about their pizza toppings? It turns out, Giada De Laurentiis doesn't mind fruit or salty toppings on her pizza. In the past, De Laurentiis has revealed that some of her favorite pizza toppings include pancetta, prosciutto, and arugula, but she recently shared some other toppings she loves (via YouTube).
On Instagram, De Laurentiis posted a photo of herself enjoying pizza at Spartina, a restaurant in West Hollywood. Followers flooded her comments sections, with some people drooling over the pizza's cheese pull. Others took notice of the toppings on the "Everyday Italian" host's pizza and weren't sure about this combination but according to the caption, this combination is one of the culinary star's favorites.
Giada De Laurentiis has her own gorgonzola and pear recipe
It's no surprise that Giada De Laurentiis' beloved gorgonzola and pear pizza toppings have mixed reactions on Instagram. Even some cheese lovers shy away from blue cheeses because of their strong flavor, but gorgonzola's funky taste is actually what makes it shine with pears. The Cheese Empire writes that gorgonzola is one of the best cheeses to enjoy with the fruit, but if you stay away from blue cheese, another great option is camembert.
But it's clear that DeLaurentiis has no fear of stinky cheeses, and she shared a pear gorgonzola tart with Food Network. Instead of pizza dough, the base is a store-bought pie shell, and there looks to be less cheese and more pear than the pizza, along with prosciutto. If fruit on pizza is a no for you, then this recipe might be the way to try the blue cheese and pear combo. But if you're still not convinced, lean into the sweetness of the pears and make this easy pear and blackberry crumble recipe for dessert instead.