Celebrity Chefs Who've Been To Jail
When most people think of out of control celebrities, they tend to picture rock stars trashing hotel rooms, or maybe actors doing stints in rehab. Somehow, we don't picture celebrity chefs as leading a particularly wild lifestyle. Maybe it's because we've watched them whip up comfort food on TV, or maybe it's because kitchens don't really seem to cultivate much of a partying mentality.
It turns out, though, that even some of the most seemingly straight-laced chefs don't just stir the pot in the kitchen. They also get up to a lot of mischief when they're away from the stove. Quite a few celebrity chefs have had some sort of run-in with the law. In some cases, their reckless behavior didn't lead to too much trouble, and they were let off with a warning. Others, however, didn't get off so easily and served hard time. Has your favorite celebrity chef spent time in the slammer? Keep reading to find out which celebrity chefs have a record.
Cat Cora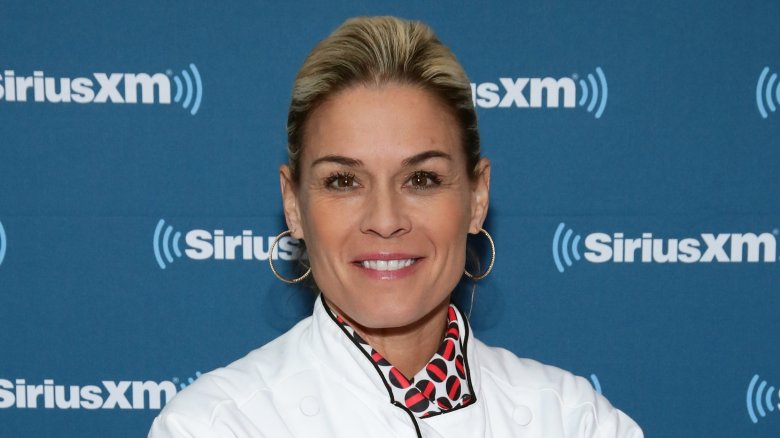 Getty Images
In the summer of 2012, Cat Cora, co-host of "Around the World in 80 Plates," rear-ended a car. Fortunately, she was driving slowly and no one was hurt, but the other driver told the cops who arrived on the scene that she suspected Cora had been drinking. While Cora claimed to have only had three beers, she failed a breathalyzer test and was confined until she sobered up a few hours later.
Cora managed to avoid actual imprisonment (aside from the brief period spent in the Sobering Center) but she did receive a suspended sentence of 120 days in jail, along with three years of probation and a fine of $2,386 in addition to nine months of DUI school. Cora later released a statement expressing remorse over the incident.
"I learned a very important lesson from this experience and take full accountability for my actions," said Cora. "This will never happen again."
Gordon Ramsay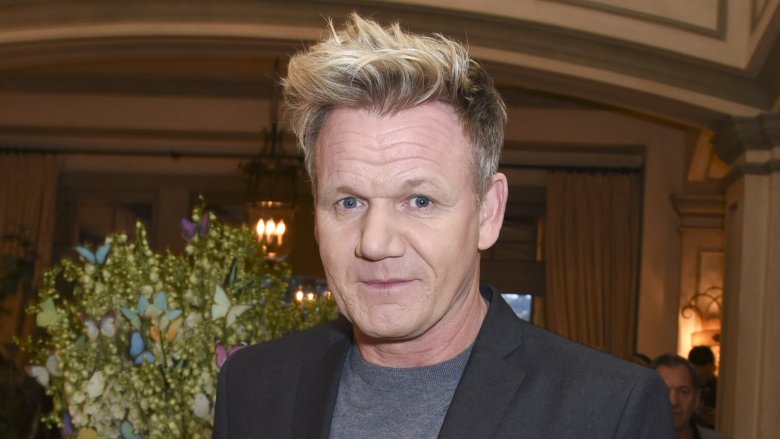 Getty Images
Gordon Ramsay is well known for his brash personality and his hot temper, so it probably won't shock people to learn that the chef has a rap sheet. In 1993, before he became the mega-famous celeb he is today, Ramsay was arrested in London for gross indecency.
While he didn't serve any jail time, the incident was understandably an embarrassing one that Ramsay hoped people would forget about. In 2004, Mirror asked Ramsay about the arrest, only for Ramsay to say he couldn't talk about it. His PR team later explained that the arrest came after a night of drunken hijinks. Ramsay and his friends were "horsing around" in public toilets and were arrested. Ramsay reportedly nearly passed out at the urinal, while one of his friends urinated into a sink. Ramsay was ultimately let off with a caution. The incident remained on his record, but no charges were brought forward and he did not have to make a court appearance.
Juan-Carlos Cruz
Food Network
While most celeb chefs who get arrested don't torpedo their careers in the process, Juan-Carlos Cruz's record means that he's going to have a hard time getting a job when he's released. In 2010, the celeb chef, also known as the Calorie Commando, was sentenced to nine years in prison after he tried to kill his wife. Cruz didn't actually plan to commit the act himself, though. Instead, he took to the streets in search of a homeless person to do the deed for him.
It would be outrageous enough if the story ended there, but Cruz claimed to have a good reason for trying to hire a hit man. Allegedly, his wife, Jennifer Campbell, was depressed over her inability to conceive a baby and wanted to end her life because of it. Campbell's deep religious convictions prevented her from taking her own life, as the Catholic Church views it as a mortal sin. Cruz supposedly planned to have her killed and then kill himself.
Marco Pierre White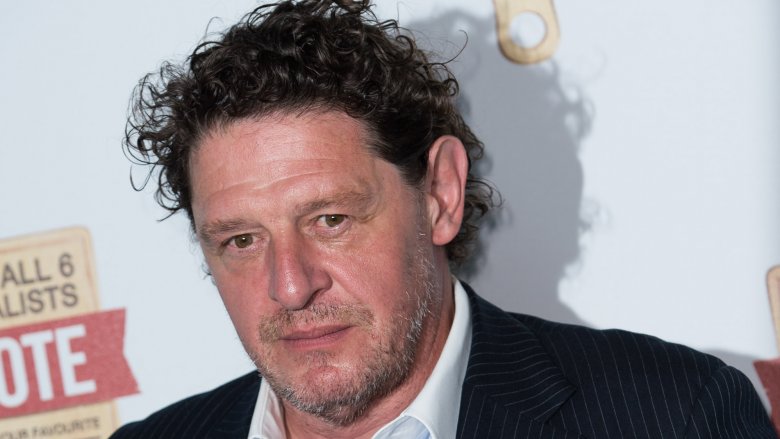 Getty Images
A domestic dispute landed Marco Pierre White in hot water back in 2005. He and his wife, Mati, got into a fight which resulted in her calling the police. White was taken into police custody under suspicion of assaulting his wife. He ended up spending 14 hours in a police cell before being released. White later denied that he ever hit his wife, who blamed her temper for the situation spiraling out of control. She said that she never intended for her husband to be arrested, and she thought that the police would simply make him leave their home and that he would spend the night with a friend.
The situation may or may not have been a misunderstanding, but either way it was a sign that the marriage wasn't working out. A couple of years after White's arrest, he and his wife separated. While their divorce was never finalized, the two are estranged from each other and no longer living together.
Antony Worrall Thompson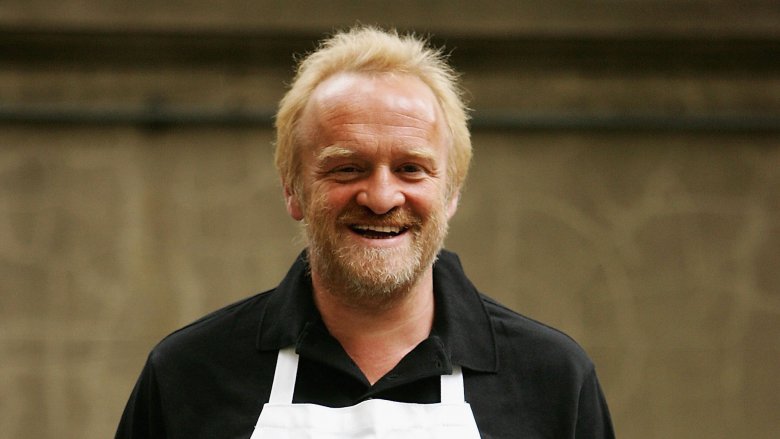 Getty Images
Antony Worrall Thompson's shoplifting arrest was more embarrassing than scandalous, at least from his perspective. The chef was arrested for failing to pay for items at the self checkout of a Tesco. Worrall later told The Telegraph that it started off innocently enough. He said that he arrived home with the groceries one day, only to discover that he had inadvertently shoplifted some items. He thought he had rung everything up, but when he checked the receipts, discovered that he had left the store without paying for some items.
Worrall added that he didn't know why he continued to shoplift, although he thinks it's possible that his desire for excitement stemmed from the depression he had been experiencing."Was it a challenge?" he wondered. "Was it something that sparked my naughtiness, or my desire to live on the edge?"' The total value of the stolen goods was only £70.68, and Thompson was let off with a caution after being caught.
Matthew Tivy
Chef Matthew Tivy was the owner of New York City's Cafe Du Soleil, and had a few appearances on Food Network's Chef Du Jour under his belt when his career came to a crashing halt in 2015. The chef was taken into police custody on several charges, including sexual exploitation of a minor as well as receiving and distributing child pornography. He was arrested and held without bail, although his lawyer claimed that Tivy was innocent of all charges.
Tivy was still in jail and awaiting trial for his many alleged crimes when he suffered complications from a brain tumor that would lead to his death, per the New York Daily News. Tivy died at the age of 55, still in jail. According to his lawyer, he had been in the process of negotiating a plea deal that might have gotten him out of jail. As it was, the celeb chef died before he could either prove his innocence or be convicted for his alleged crimes.
Jeff Henderson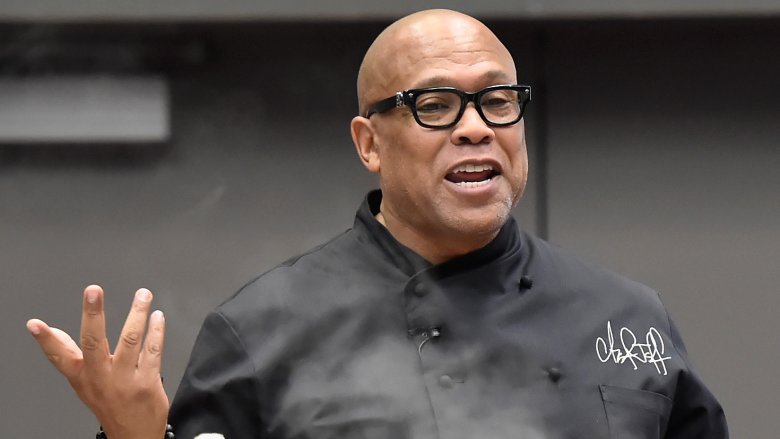 Getty Images
While most celebrity chefs who end up arrested for a crime attract scandal that can damage their careers, Jeff Henderson's criminal background actually makes for an inspiring story. Henderson came from a poor family, and began dealing drugs at a young age. When he was in his 20s, Henderson was arrested and sentenced to ten years and seven months in prison.
While in prison, Henderson discovered his culinary talent. He began to take business courses and worked in the prison kitchen. After a few years, he gained admission to a special culinary training program for inmates where he honed his craft. While it was difficult for Henderson to find work upon his release due to his record, he kept searching until he landed a job as a dishwasher. From there, he worked his way up, eventually becoming executive chef at Café Bellagio. He now has a successful career, not only as a celebrity chef but also as an author and public speaker.
Todd English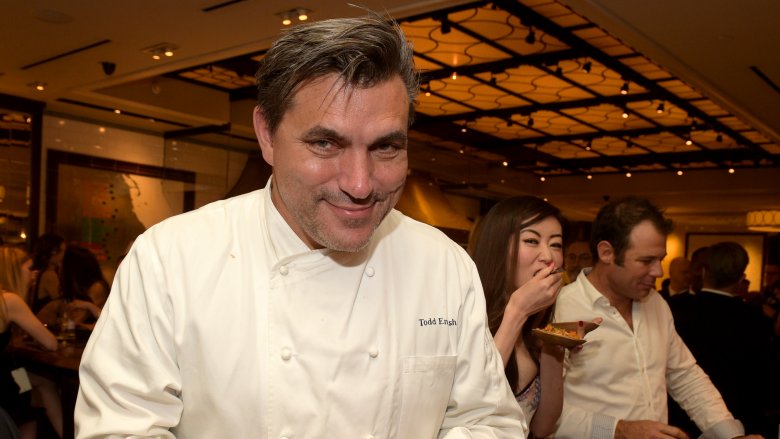 Getty Images
Fame often has unexpected consequences, which might be why so many celebrities seem to cave under the pressure. Todd English launched his career at the age of 15, and his early start led to success at a young age. That's why it came as such a surprise when in 2014, English was arrested on charges of drunk driving, as the chef seemingly had too much going for him to risk his career. Cops pulled him over around 3:30 in the morning for drifting lanes, suspecting that he might be intoxicated. English, however, said that his erratic driving was because he was lost and simply trying to find his way.
While English was adamant that he hadn't been drunk when he was pulled over, he did admit to having had a couple glasses of wine. He refused to submit to a breathalyzer test, which led to his arrest. English posted bail that same day, still maintaining his innocence. Shortly after his arrest, English did a stint in outpatient rehab.
Curtis Stone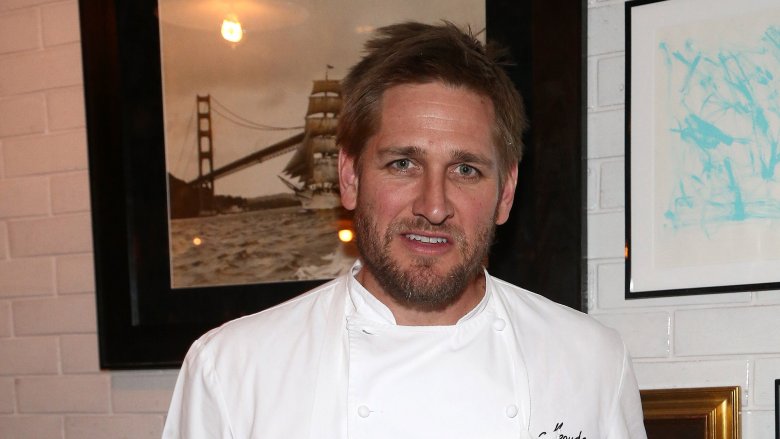 Getty Images
Curtis Stone is another celebrity chef who found himself in trouble with the law after drinking while intoxicated. After his 2008 arrest, Stone said he wasn't guilty, although a breathalyzer test found that he was indeed over the legal limit — and he had been driving without a license to boot. He quickly posted bail, but the event seems to have left a big impression on him.
These days, Stone is quick to offer sympathy to those who have been in jail, and offers jobs to people who have a criminal record. "You have to throw the whole notion of a background check away," Stone told The Hollywood Reporter. He said that he often hires those who have been homeless, and even people who have been to prison. Stone said that this not only gives the underprivileged opportunities that are difficult to come by, but also leads to employee loyalty. "These guys stick around," said Stone. "Our experience has been a really positive one where they've committed to be loyal, long-standing employees."
Aaron Grissom
Aaron Grissom's career seemed like it was off to a solid start in 2014. The chef was working at Bow & Tress in North Hollywood and was a contestant on "Top Chef" that season. While he wasn't exactly the season's most-liked contestant (his combative attitude didn't win him many friends) Grissom was making a name for himself. His TV career came to a halt in November of that year, though, when he was arrested on charges of domestic violence.
Grissom allegedly got into a fight with his girlfriend, pushing her so hard that she fell and hurt her knee. He was released after posting bail. News outlets soon dropped the story, and seemingly dropped Grissom altogether. His career sputtered after the arrest, and Grissom lost "Top Chef" (although this was unrelated to his arrest) along with his job. He's been staying out of the limelight since then, although he did manage to land a job at a Tacoma, Washington bar.
Buddy Valastro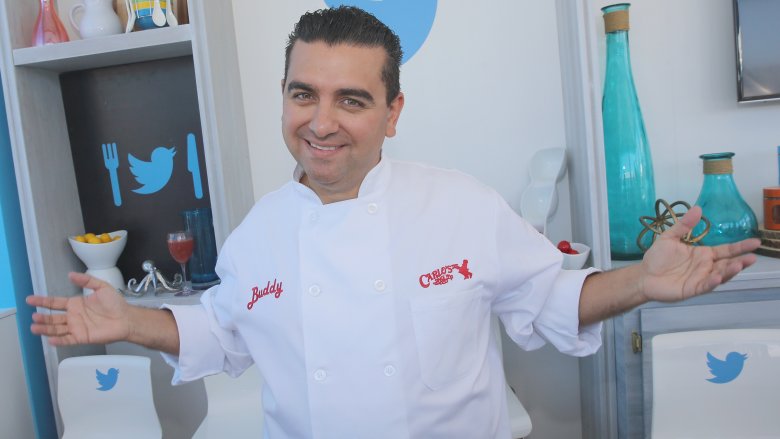 Getty Images
Add Buddy Valastro to the list of cooking celebrities who haven't yet seemed to learn that mixing alcohol and driving is both dangerous and illegal. The "Cake Boss" star found himself in handcuffs in 2014 after he was arrested for driving while intoxicated. Cops caught Valastro's Corvette swerving in and out of traffic, and pulled him over on suspicion of drunk driving.
Sure enough, Valastro's eyes were bloodshot and he seemed off-balance when he stepped out of the car. He failed a breathalyzer test, and allegedly protested his arrest, telling the police officers, "You can't arrest me! I'm the Cake Boss." In spite of this compelling argument, Valastro ended up spending the night in jail, per the New York Daily News. He eventually pleaded guilty and posted a public apology on Twitter for his actions. The celeb managed to avoid more jail time, although he was grounded in a different way — by having his license suspended for 90 days.
Marcel Vigneron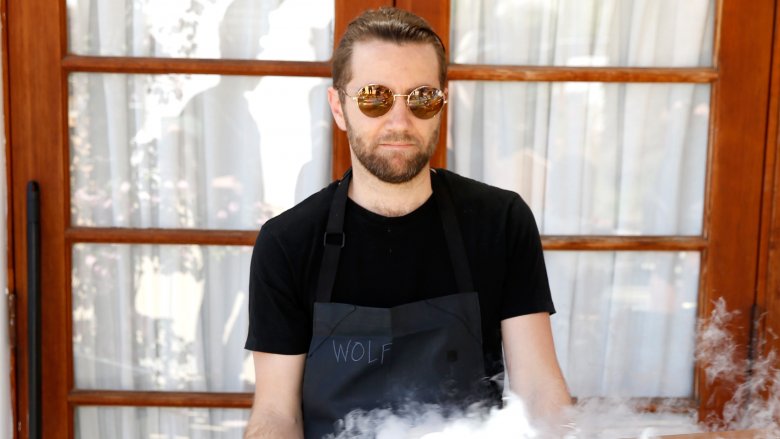 Getty Images
Former Top Chef contestant Marcel Vigneron also seems to have missed the memo about not drinking and driving. With so many celeb chefs getting arrested for drinking and driving, they could start a club. Vigneron was arrested in 2008 after a cop noticed his erratic driving. Vigneron was given a blood test and then brought into custody. He was released after paying a $2,500 bail and was back on the road soon after.
Vigneron seems to have grown a lot since his brush with the law. In 2016, eight years after his arrest, he spoke to Forbes about how he has changed over the years. "As you get older, you become a little bit wiser and more comfortable in your own skin," he said. Granted, Vigneron was talking about cooking, but his sage words are clearly proof that the once brash young man has grown into a self-possessed and mature chef. Here's hoping that his days of drinking and driving are far behind him.
Martha Stewart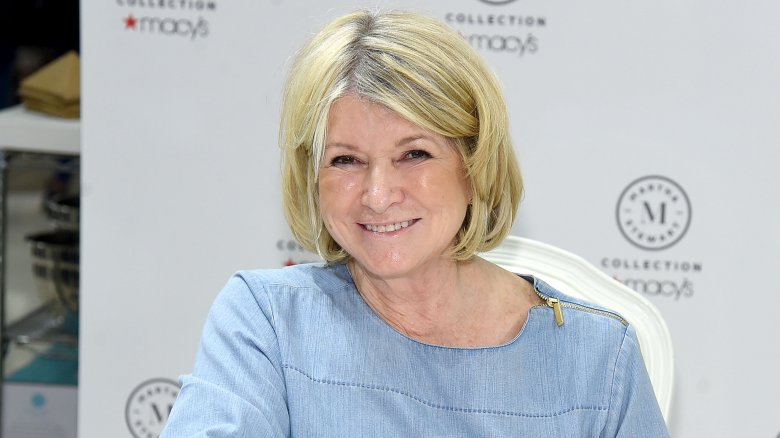 Getty Images
We mostly think of Martha Stewart as a celebrity homemaker rather than as a celebrity chef, but with a few cookbooks under her belt, she definitely qualifies  as both. Her career hit a snag in 2004 when she began a five month prison sentence for insider trading. While the sentence of five months in a minimum security prison followed by five months of home confinement wasn't too harsh and was, in fact, the minimum sentence she could have received, the time under lock and key changed Stewart.
In an interview with Giuliana Rancic at 2015's Quickbooks Connect conference (via ABC News), Stewart spoke about that period in her life. She credited her family, her fans, and her health for getting through her imprisonment — and the lack of good food in jail. "Health, optimism and that curiosity to see what shouldn't happen, what you can overcome," said Stewart. "So, I overcame a very difficult, nasty situation."