These Are The Easiest Cakes You Could Ever Make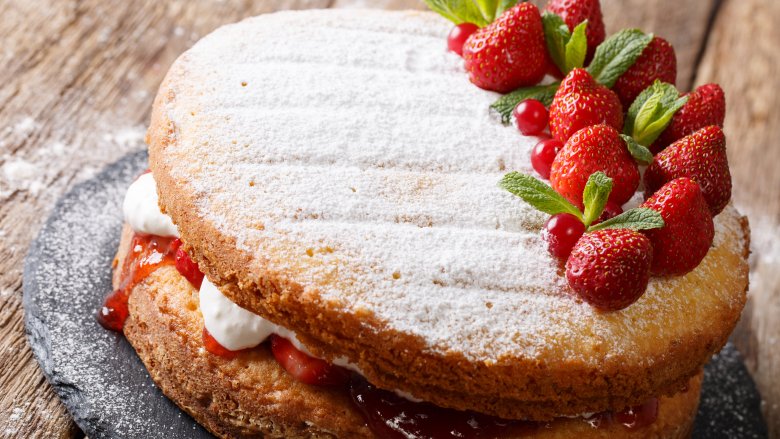 Shutterstock
All those cakes you have saved in Pinterest? They're beautiful, definitely, but who has time for those on a good day? And what about the days you realize you've forgotten a coworker's birthday, and you're the one that's expected to bring in the cake? It happens to the most well-prepared of us all, and there's no shame in it. In fact, it's the perfect reason to make any one of these super-easy cakes that look way more complicated than they actually are.
We'll be upfront here. Not all of these are from scratch (although some are), and sometimes, you're just going to have to cheat a little bit. There's nothing wrong with using a boxed cake mix — real life is tough and complicated sometimes. What's important is the final product, so let's talk about these creative, beautiful, and above all simple cakes. Office parties, bake sales, and birthdays will never be the same — at least, not when you're in charge of dessert.
Tomato soup cake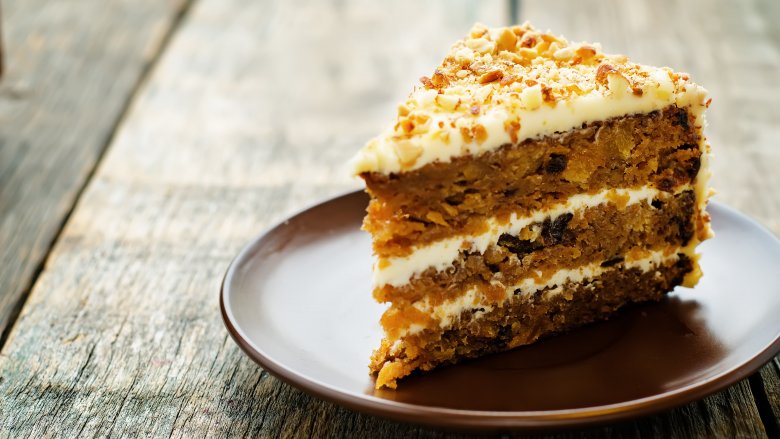 Shutterstock
Tomato soup cake definitely deserves a better name. By the time you're done, there's no tomato taste — only a deliciously moist, definitely different sort of spice cake. As an added bonus, the tomato soup replaces all the usual dairy ingredients, so if you're looking for a dessert that's dairy-free and low-fat, this just might be your new go-to.
Campbell's didn't invent tomato soup cake, but they're the ones that helped make it popular. Their condensed soup is a key ingredient, and they've helped re-make it several times since its invention in the 1920s. If you'd like to give it a try, you can't get any easier: just mix a can of tomato soup with half a cup of water, two eggs, and a box of any spiced cake mix. That's it! Bake, and in case you're wondering what you'd top something like this with, we'll tell you: cream cheese frosting. It's the perfect cake for something that's not too sweet and not to terrible for you, and if your family's in doubt, just don't tell them what's in it. They'll never know it's tomato soup.
Pie filling dump cake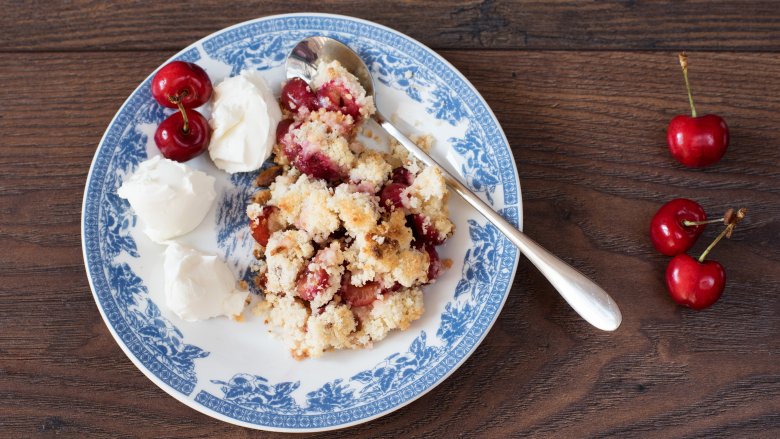 Shutterstock
We did promise easy, and this one is so easy there's literally no excuse for skipping dessert ever again. As a bonus, there are only three ingredients! One, you always have on hand, and that's butter. The other two — boxed cake mix and a few cans of pie filling — are non-perishable, and you can absolutely keep some in your cupboard for dessert-related emergencies.
All you need to do is spread the pie filling out on the bottom of the cake pan, dump the mix on top, and make sure everything is spread out evenly. Drizzle the whole thing with ¾ cup of melted butter, and bake. We did say easy, and don't worry — you're underestimating just how good it is.
Best of all, this works with any kind of fruit pie filling and cake mix, so get creative. Cherry pie and devil's food cake? Blueberry and a yellow cake mix? How about apple pie filling and a spice cake mix? Or, try strawberry pie filling and a white cake. Top with whipped cream and some fresh fruit, and no one will believe it's as easy as it was.
Angel food shortcake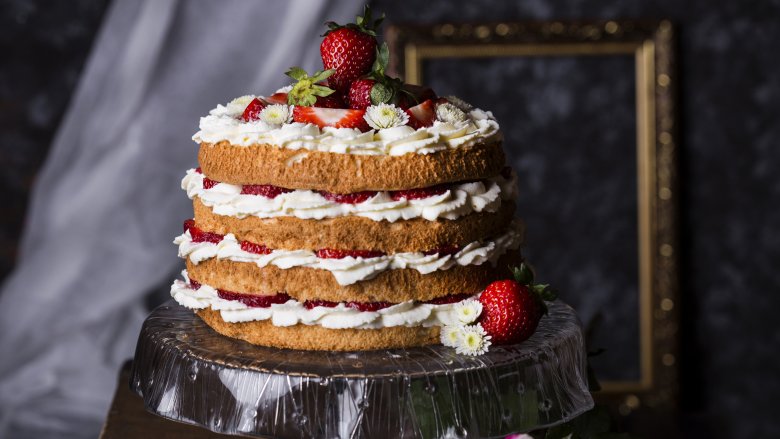 Shutterstock
Depending on how much time you have, it's possible picking up some premade angel food cake at the store is all you can swing. That's completely legitimate, so let's talk about just how you can dress that up into something that doesn't look the least bit store-bought.
While you're there, pick up a few cartons of fresh fruit. For now, let's talk peaches. The only cake prep you're going to need to do is a few horizontal slices, and done! Then, slice your peaches into thin pieces (but save one), and saute them with some brown sugar, butter, and lemon juice. By the time they're soft, you're going to have some ridiculously delicious caramelized peaches — and it's only going to take about five minutes. Set them aside, and make your frosting. Whip a pint of heavy cream until it starts to peak, then start folding in some powdered sugar. Make it as sweet as you like, and that peach you saved? Puree, then fold that into your whipped frosting, too.
Then, assemble your cake. Put a generous layer of caramelized peaches and whipped frosting between the two layers, add more peaches and whipped topping on the top, and sprinkle with some crushed nuts. You can do the same thing with any fruit you find. Use the same idea with cinnamon apples, strawberries, blackberries, blueberries, or raspberries.
Lemon pound cake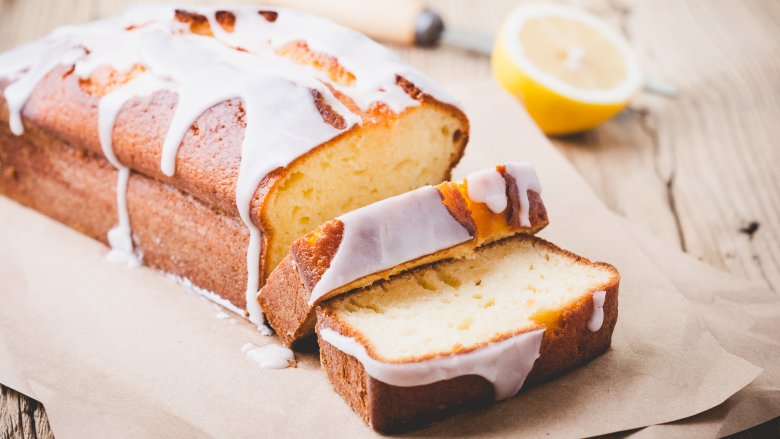 Shutterstock
Now, let's say you want the kind of cake that's just the right amount of sweet, light, and not-too-filling. That would be a lemon pound cake, and it's so straightforward you probably don't even have to write down the recipe.
Mix a cup of sugar and a cup of melted butter, then add two eggs, a cup and a half of flour, a pinch of salt, a teaspoon of baking powder, and half a cup of milk. Mix completely, then add your lemon juice. Start with a tablespoon, and add more or less depending on how much lemon flavor you're looking for. Bake, and in the meantime, mix up your glaze.
You can definitely go simple — lemon juice and sugar make a super-sweet, delicious glaze — or you can get only a little more complicated. Lavender and lemon are amazing together, and mixing up a quick frosting — confectioners sugar, milk, and a teaspoon of dried lavender — can take this cake to the next level.
Boston creme angel food cake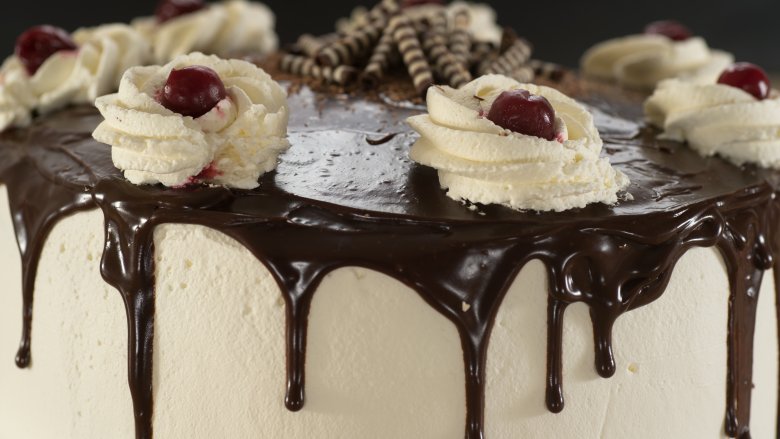 Shutterstock
Angel food cake is one of those things that's easy to make and even easier to pick up at the store, but let's say you want to start this one from scratch. Start with mixing a cup of flour and ¾ cup of sugar, and set that aside. In a mixing bowl, mix 12 egg whites, a dash of salt, and either vanilla, hazelnut, or almond extract. Beat until the egg whites are stiff, then add ¼ cup of sugar. Keep mixing as you fold in your flour and sugar mixture, and that's it! 
For an amazing Boston creme cake, stir up a batch of instant vanilla pudding as your cake cools. That's going to be the center between two layers of angel food cake, and you're going to cover the entire thing with a layer of whipped heavy cream (just beat the cream with sugar and vanilla to taste) and layer the top with a simple chocolate ganache. Just heat some heavy cream to barely bubbling, then pour over some chocolate chips. Stir as it thickens, and there's your sauce. Decorate this one with a few serious dollops of heavy whipped cream and a handful of cherries, and you'll have a dessert with all the lightness of angel food and all the flavor of Boston creme.
Rum cake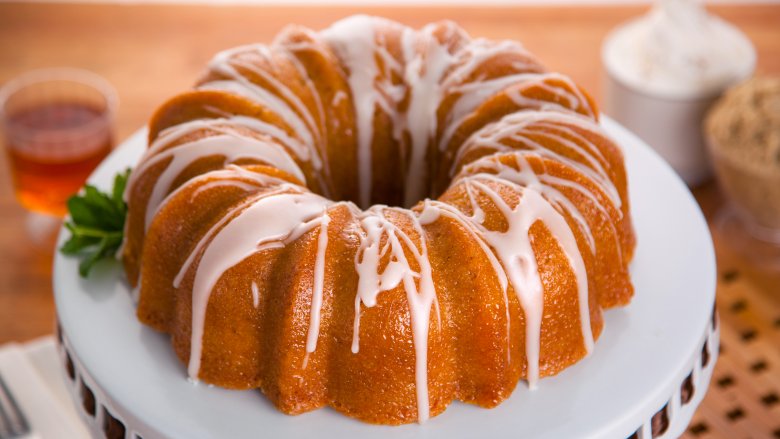 Shutterstock
Rum cake sounds intimidating, but it doesn't have to be — not when you start with a simple white cake mix. Disregard all the directions on the box, and instead, use a package of instant pudding (vanilla, banana cream, and coconut are all great options), four eggs, and half a cup each of water, rum (dark or light), and your oil of choice. Bake like you would a standard, boring, non-alcoholic cake, and that's it!
A simple glaze will finish this off right, and it also means a bundt pan is perfect for this type of cake. To get the most out of the glaze, poke holes all over your cake before pouring it on, and making the syrup is super easy. Just heat a stick of butter on the stove top, then add about a cup of sugar, a half a cup of rum, and just a dash of water. Boil for around five minutes, then turn down the heat and simmer to reduce the mixture to a thick, syrupy glaze. Pour over the cake — slowly, to allow it to seep into the holes — and let it all cool before digging in.
Swirl pound cake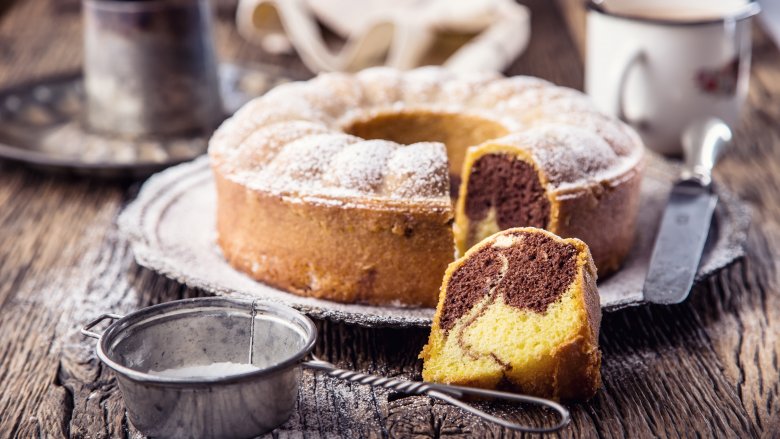 Shutterstock
Pound cake definitely isn't good for you, but that's OK — it's delicious. Switch up a traditional pound cake with some swirl, and let's talk basics first.
There aren't too many ingredients to a pound cake: two sticks of butter, a cup of sugar, two cups of flour, four eggs, and a dash of salt. That's it. Start by beating your eggs and sugar into a light, fluffy mixture, then add the salt. Slowly add your flour, then bake your batter. Seriously, that's really it!
Now, here's how to make it a little more fun. Split your batter into two before you bake it, and keep the majority of it for your cake base. The smaller amount is going to be swirled through the base — think of a marble cake, but with fun flavors. Use vanilla, rum, or hazelnut extract for your base, and cocoa powder for the swirl. How about a vanilla base with cinnamon swirl? A lemon base with ginger swirl? Top with confectioners' sugar, or add an easy whipped frosting — heavy whipped cream, granulated sugar, and flavoring — flavored to match your swirl, and you'll have a guaranteed win.
War cake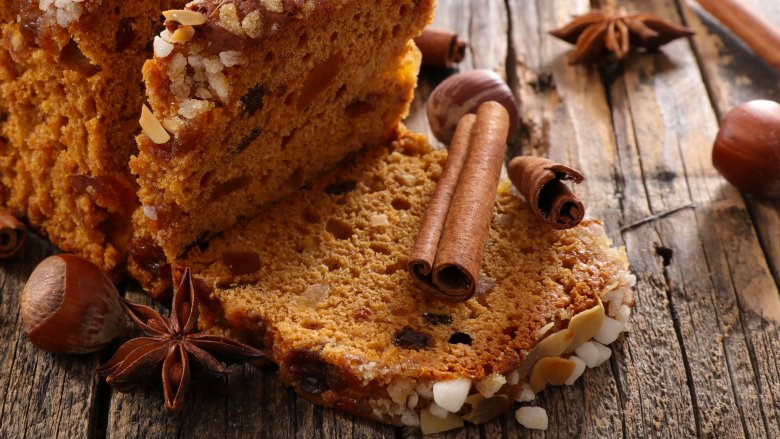 Shutterstock
World War II had staggeringly far-reaching effects, and everything was scarce — even on the homefront. People were forced to come up with new and creative ways to use what they had available to them, and when it came to desserts, there are some epicly inventive ones out there.
Let's talk about cake, because one of the main ingredients — butter — was heavily rationed. Home cooks came up with their own versions of cake, and the one we're going to talk about was found in an anonymous, handwritten, war-era cookbook, discovered by Jaya Saxena of the New York Historical Society (via First We Feast).
It starts with boiling two cups of caster sugar, two tablespoons of lard (which you can replace with butter, for a slightly different end product), a teaspoon each of salt, cinnamon, and cloves, and a package of raisins. Cool, while you dissolve a teaspoon of baking soda in a teaspoon of hot water. Mix that, your boiled mix, and two cups of flour, then bake for an hour at 300 degrees. What you'll get is a sticky, heavy cake, and while it's not our traditional idea of a cake, it's still pretty delicious — and an awesome conversation starter.
Chocolate-and-caramel dump cake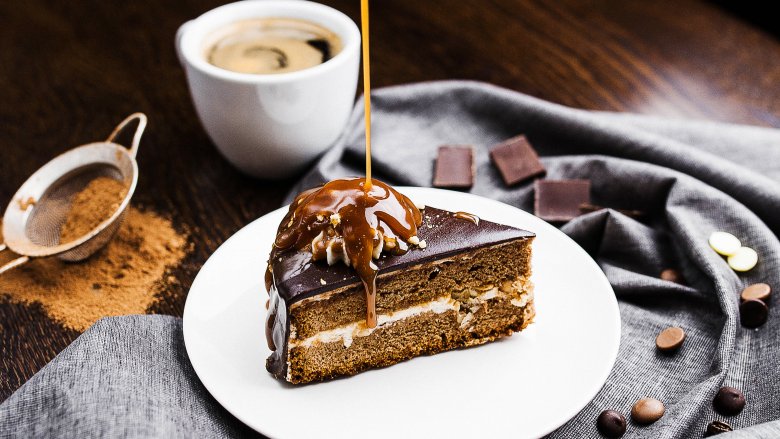 Shutterstock
Dump cake is a brilliant way to make a sort of mix-and-match cake, so let's talk basics. Start with a box of chocolate or devil's food cake mix, and when you mix it up, add in a packet of instant chocolate pudding. Trust us! Your batter will be extra-thick, and that's what you want.
Spread a layer on the bottom of your cake pan, but only use about half your batter. Then, layer in your goodness. We're talking about things like salted caramel squares, peanut butter cups, chocolate or peanut butter chips, or crushed candy bars. (Kit Kat or Twix, anyone?) Cover with the rest of the batter, bake, and top.
What you use for the top depends on what's in your center layer. If you used chocolate chips, say, how about topping with a layer of marshmallow fluff to cut through all that chocolate, then decorating with a drizzle of melted chocolate? You could also make a thick caramel drizzle with just a can of condensed milk boiled then simmered with some light brown sugar and vanilla, because everything is better with a few thick, gooey layers of caramel.
Victoria sponge cake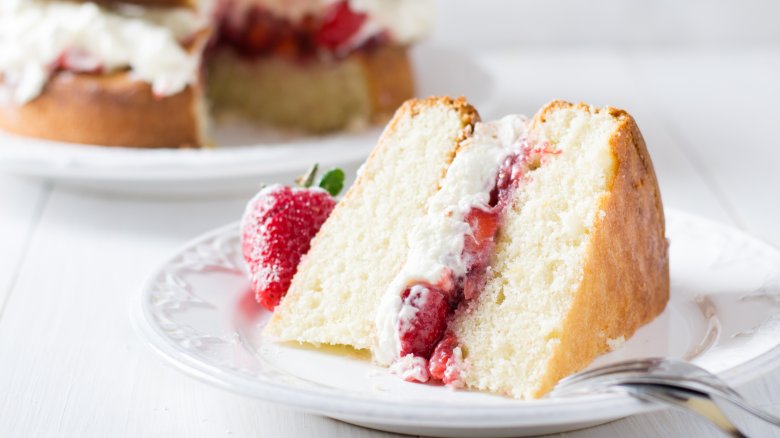 Shutterstock
Sometimes, you're not in the mood for something heavy, decadent, and chocolatey. If that's the case, a Victoria sponge cake might be exactly what you're looking for.
The recipe is ridiculously easy, but there's a catch: it's important to measure out this one based on the weight of the ingredients. The go-to recipe across England and the UK is simple: 8 ounces of caster sugar, 8 ounces of self-rising flour, 8 ounces of butter, 4 eggs, and 2 teaspoons of baking powder. That's it! Mix, then divide between two cake tins, and bake until golden. For something traditional, layer the two parts of the cake with a thin layer of jam, then sprinkle the whole cake with caster or confectioner's sugar. For something a little sweeter, you could definitely whip up a simple vanilla frosting to layer between the cakes and dollop on the top. Dress it up even further with some fresh fruit — use the same kind as the jam you used for the layer — and you've got something light, elegant, and easy.
Medieval honey cake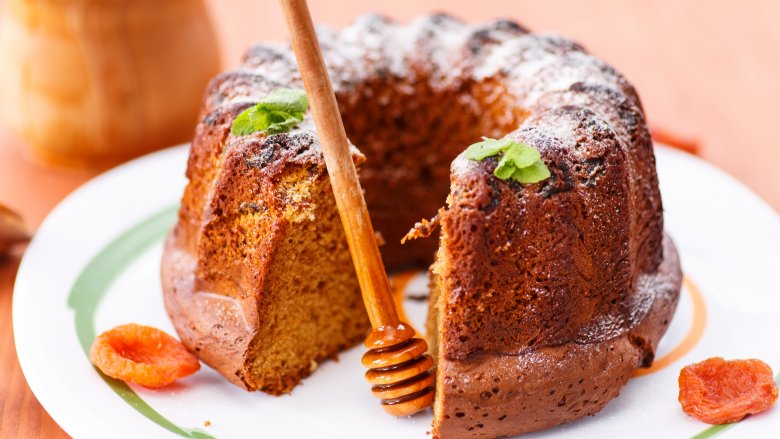 Shutterstock
Tired of the same old, same old? Even cake can get kind of boring, so let's take a page out of the history books to talk about a super-sweet cake right out of the Middle Ages.
First, when we say "cake," we're talking about something that's somewhere between our modern ideas of a cake and a pancake. It's going to be flat, dense, and sweet, but amazing. For an authentic version of this, beat three eggs until they're very, very frothy. Add in ¾ cup of honey, mix well, then slowly add in ¼ cup of flour. Bake at 350 until it turns golden, and you're done! Since this is such a sweet but thin cake, that makes it perfect for serving alongside ice cream. Imagine this honey-filled cake with a giant scoop of vanilla ice cream topped with crushed graham crackers and a drizzle of honey. Yes, please!
A more modern version of this is just as easy. Add a cup of butter, half a cup of brown sugar, and 1 ¾ cups of self-rising flour to that above recipe, and you'll end up with a more modern version of a centuries-old favorite.
Flourless chocolate cake with glaze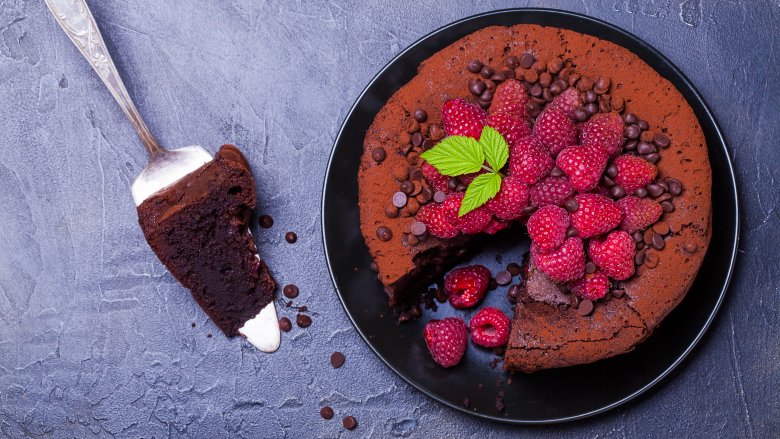 Shutterstock
Even without flour, cake is still cake. It's heavy, super-moist, almost brownie-like cake, and it's super-easy to make.
Start by melting half a cup of butter and a cup of chocolate chips, and once you've stirred that into a thick, heavy liquid, add ¾ cup of sugar and a dash of salt. Here's where you can switch up the flavor a bit, by adding a few teaspoons of vanilla, hazelnut, or almond extract, espresso powder, or chicory syrup. Add three eggs, and keep stirring until the batter is completely smooth. At the very end of mixing, add a healthy helping of cocoa (or dark cocoa powder), and bake for only about 25 minutes.
There are a number of ways you can dress this one up, too. Mix some sliced strawberries or raspberries and sugar for a sweet topping, or whip up a chocolate glaze with confectioners' sugar, cocoa powder, vanilla, and a dash of water. You could also opt for a quick caramel sauce (boil water, sugar, and a pinch of salt until honey-colored, then add heavy cream and keep stirring), or go even easier with a few maraschino cherries.
Sangria cake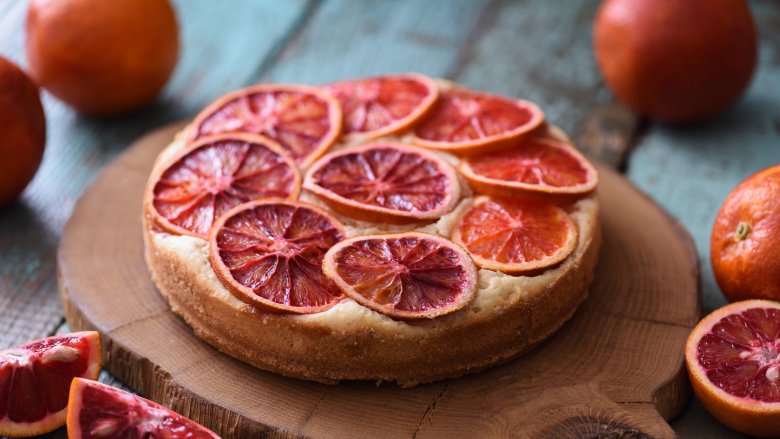 Shutterstock
There are a few different ways you can put together a cake filled with all the delicious flavors of a summer sangria, so let's start with a non-alcoholic poke cake, popular throughout the 1970s and deserving of a comeback.
Take a simple boxed white cake mix, and stir it up as normal — except, use only egg whites, replace water with juice from a lemon, a lime, and an orange, and stir in finely diced apples. While it's baking, make a thick syrup with grenadine and a box of raspberry Jell-O. Simmer, reduce, and cool. After your cake has cooled, poke repeatedly with a knife. Pour your syrup over the top, then frost with an easy, homemade frosting. Start with a pint of heavy cream, beat until it's frothed, then add a cup of powdered sugar and some lemon extract.
You can mix this up as much as you can switch up a sangria recipe. For a boozy alternative, use wine in your syrup. You could also simmer a mix of red wine and sugar to reduce into a thick syrup, and use that to flavor your frosting instead of the extract. Decorate with heaping piles of fruit or slices of oranges, and you'll have a cake that's as gorgeous as it is easy.