14 Fast Food Chains That Use Real Chicken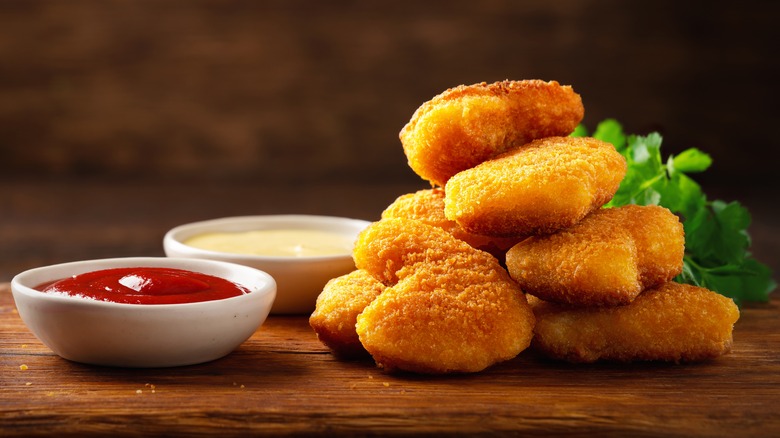 SerPhoto/Shutterstock
While fast food joints are sometimes given a hard time for serving "fake chicken," or even the dreaded "pink slime" to their customers, most quick-serve restaurants actually do a pretty good job of serving up real chicken on their menus. That said, there's a difference between "real chicken" (which may still be highly processed and doused in additives and chemicals ... like McDonald's chicken nuggets), and high-quality, low-processed chicken sourced from farms that prioritize animal welfare. 
Granted, you may not be overly concerned with animal welfare or processing when you're pulling through a drive-thru to order a 12-pack of your favorite nuggets. (Who can blame you?) But in the spirit of education and health, having a handle on which fast food joints produce and deliver the type of "real chicken" your grandma used to whip up in her kitchen may help you make better decisions when the hankering for a basket of chicken strips hits. 
1. Shake Shack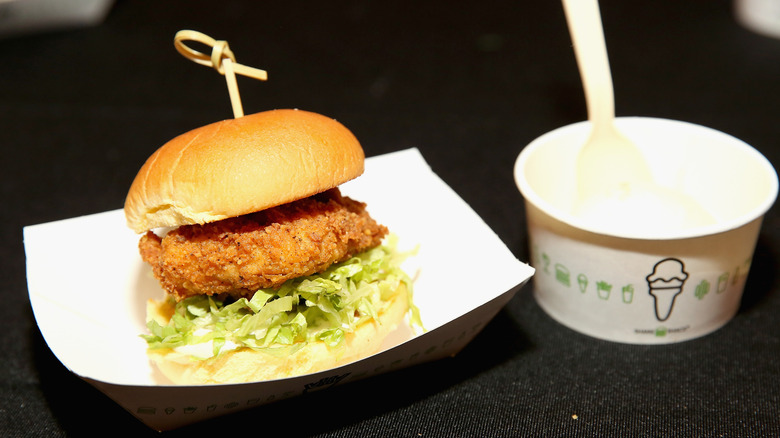 Monica Schipper/Getty Images
Shake Shack only has two chicken items on its regular menu (although the restaurant occasionally releases limited-time specials), but it's serious about making sure the chicken it serves is high-quality. So much so that it includes a whole section on its website about its animal welfare policy regarding what it expects from the farmers. For chickens, it requires a cage-free environment where the birds have room to flap their wings and move around. It may not sound like much, but it's the first step toward more stringent guidelines set to take effect in 2024. 
It also only sources chicken from farmers who don't use antibiotics and don't give their chickens feed with animal byproducts. This helps ensure the chicken Shake Shack serves is safe for you to eat. As far as how Shake Shack handles its chicken once the meat arrives at its restaurants? It ensures its meals are as fresh as possible — the chicken is never frozen and is always hand-fried and made to order.
2. Whataburger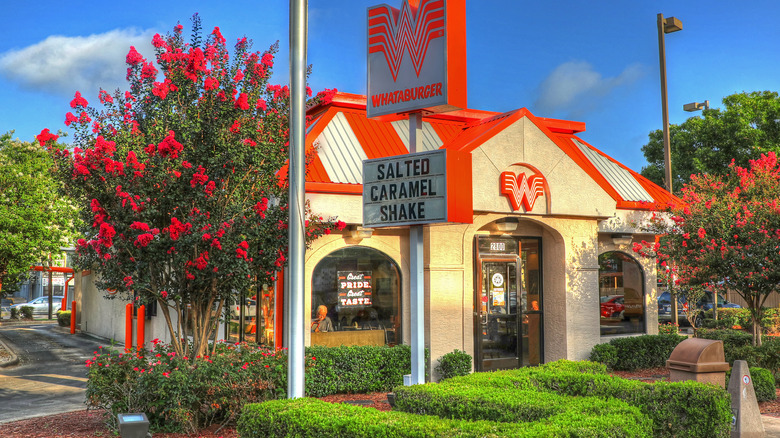 QualityHD/Shutterstock
Whataburger, like Shake Shack, has a fairly limited chicken menu, sticking to chicken strips and chicken sandwiches (with grilled chicken, fried chicken, or spicy fried chicken options). This actually works in the Texas chain's favor when it comes to serving real chicken, as the most common culprit of "fake chicken" accusations are chicken nuggets. The chain uses chicken breast for its sandwiches and chicken strips, with no chicken nuggets to be seen. 
It takes a little digging to find the actual ingredients included in Whataburger chicken, but it appears that the chain's chicken is made from whole chicken breasts that are prepared and cooked at each restaurant. The only additives are seasonings requested by the customers during the ordering process. As whole chicken, it hasn't been ground up or combined with other chicken byproducts like many other fast food restaurant's chicken nuggets, so you should be safe from the "pink slime" that goes into making more highly-processed offerings.
3. Starbird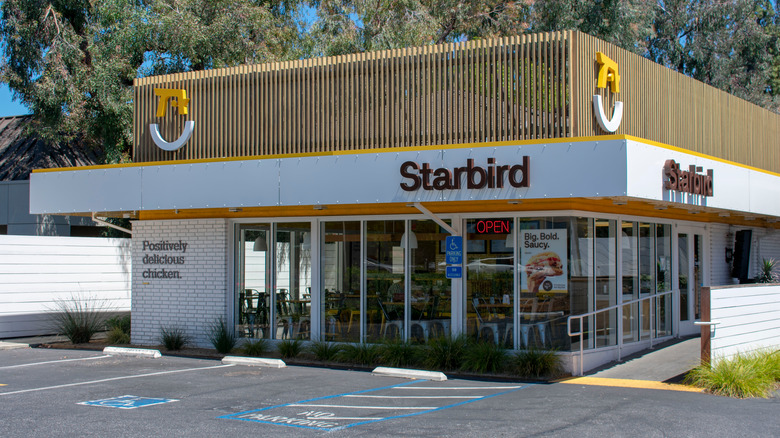 Michael Vi/Shutterstock
Starbird chicken may not be a chain you're familiar with unless you live in Los Angeles or the Bay Area in California. But if you happen to live in these areas and love chicken? It's worth a stop. The restaurant's slogan is "positively delicious chicken," so you know it's ready to stand behind the product it is serving. And one of the things it does differently than most restaurants is source its chicken locally. That means it's fresher than if it was shipped across the country, which makes it easier to adhere to the promise of "never frozen, antibiotic-free poultry." 
It's a little harder to find confirmation about the company's rules regarding animal welfare, but in an interview with Eat This, Not That! a Starbird rep shared that its chicken is all "sustainably raised." So, if you're looking for some truly interesting chicken options made with real chicken, consider the brand's truffle parm tenders, Thai chicken salad, or Baja chicken taco the next time you find yourself flying through the San Francisco airport (yes, Starbird has a restaurant in the terminal).
4. Raising Cane's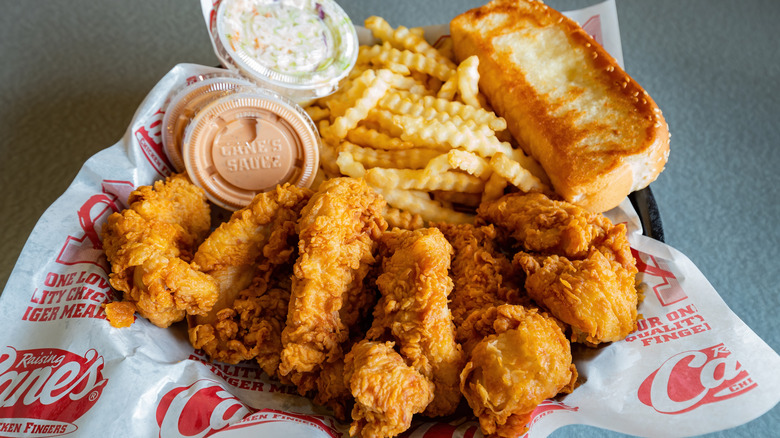 Kit Leong/Shutterstock
Raising Cane's is a restaurant built specifically around offering high-quality chicken strips ... or chicken fingers or tenders, depending on your preferred nomenclature. Granted, it offers a chicken sandwich, too, but when you're in the mood for dippable finger foods, Raising Cane's has you covered. And even better, it offers real chicken you can feel good about eating. In fact, the chicken strips taste so good it won Thrillist's Fasties Award for the best chicken tenders in 2020, largely due to the company's high-quality, delicious-tasting chicken, not any added seasonings.
All of Raising Cane's chicken consists of real tenderloins marinated for 24 hours and hand-breaded in the restaurant before being cooked to order. And while it's not quite as candid about how it sources its chicken, it's a conscientious process. For instance, before opening the first Raising Cane's restaurant in the Middle East, the CEO himself traveled to the region multiple times to ensure all its ingredients and food preparation techniques were guaranteed to meet halal standards.
5. Chick-fil-A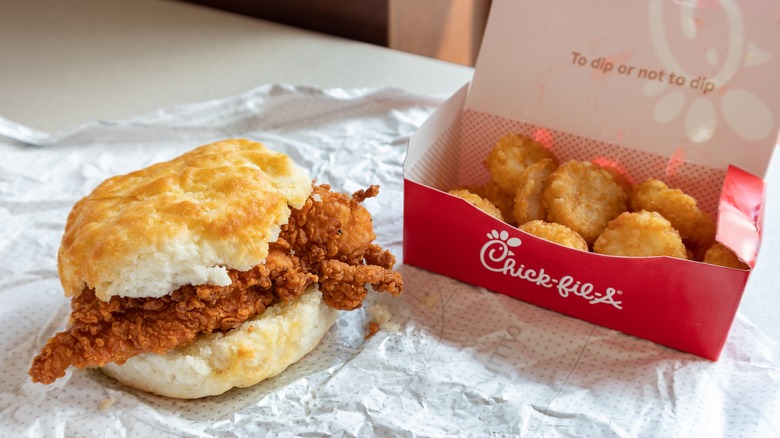 James Andrews1/Shutterstock
Chick-fil-A is known for having high-quality food, and the company's approach to sourcing and preparing its namesake dish is no exception (rather, it's the rule). In fact, it makes its standards blatantly obvious, stating on its website, "Chick-fil-A sources 100% real, whole, boneless breast of chicken that has never been ground or separated, and that contains no fillers or added steroids or hormones." And that even includes its chicken nuggets. 
The brand is also serious about animal welfare. In fact, Chick-fil-A has some of the highest standards in the industry, only sourcing chickens that have been raised in climate-controlled barns where the animals are free to roam and have access to feed and water. They also must be raised with proper nutrition and the farmers are subject to auditing by Chick-fil-A and another third-party organization.
Whether you're driving through before work for a spicy chicken biscuit or you're grabbing an order of nuggets to take home to your kids, you can feel good about the chicken you're eating when you buy it from Chick-fil-A.
6. KFC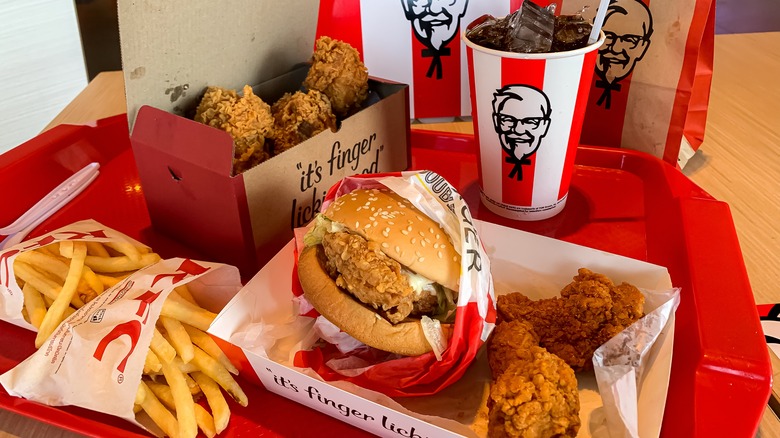 PJiiiJane/Shutterstock
When you order a bucket of chicken from KFC, it's pretty obvious the food comes from real chickens. It's hard to get a breastbone or a thigh bone implanted into a piece of fake chicken, after all. But even when you're ordering KFC's other menu items (particularly those lacking bones), you can rest assured that the chicken is still very real. According to the restaurant's website, its chicken is always 100% real and comes from animals that have never been treated with added hormones or "antibiotics important to human medicine." 
Employees also make the chicken daily, going through an extensive process that includes inspecting the meat, seasoning it well, and pressure cooking it to help seal in its flavors before it gets placed on your tray (or in your bucket). While the brand still has a way to go when it comes to animal welfare, the holding company Yum! has implemented policies to meet goals related to improved animal health and well-being by certain deadlines. This includes Key Welfare Indicators (KWIs) released by KFC in 2020 to ensure the chicken in its supply chain is raised and handled humanely. 
7. Popeyes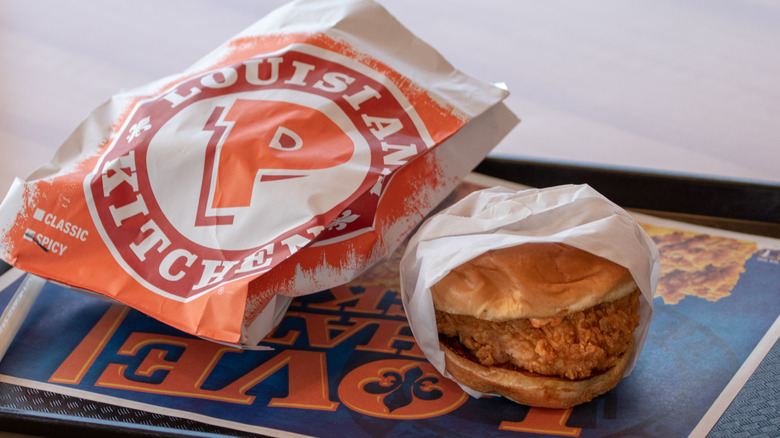 Tony Prato/Shutterstock
According to a 2021 press release published in Meat & Poultry, fast food chain Popeyes was set to eliminate all artificial colors, flavors, and preservatives from its fried chicken products by the end of 2022, solidifying its quality standards when sourcing the 100% real chicken that's used to make the chain's famous "Love That Chicken" meals. Unfortunately, its quest to eliminate all the "extras" was slowed, and the brand's website currently indicates it's shooting to meet the same goal by 2025. 
So, while the juicy chicken sandwiches and family-sized meal packs may still taste especially delicious thanks to those artificial additives, the chicken itself is real and made fresh daily. In fact, it's all sourced from American farms, is free of added steroids, hormones, and antibiotics important to human medicine, and the chain is taking steps to improve the animal welfare of its broiler chickens (those used for meat production). If you already "love that [Popeyes] chicken," you're likely to love it even more as these changes all get implemented.
8. Hardee's/Carl's Jr.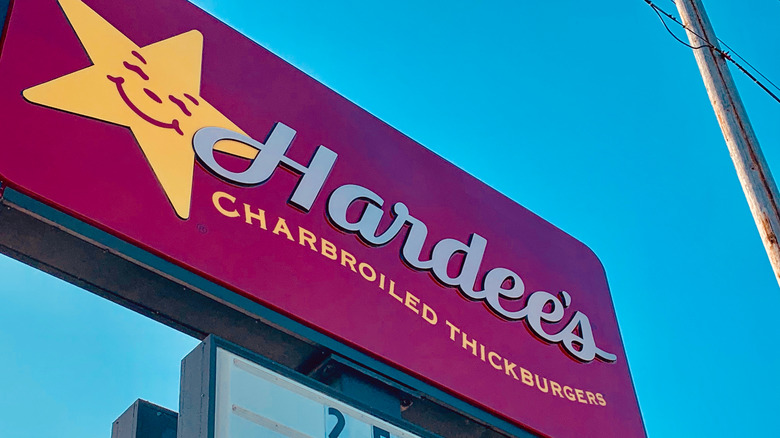 PJiiiJane/Shutterstock
Hardee's and Carl's Jr. are really the same restaurant under two different names, with a few differences in menu items. So, the food-quality practices implemented by one restaurant are carried over to the other. And in the case of providing real chicken to its customers, the fast food duo delivers. 
According to a 2016 article from WATTPoultry.com, Hardee's and Carl's Jr. have actually been at the forefront of the fast food industry when it comes to providing higher quality proteins without added hormones, antibiotics, or steroids. When speaking with the publication, Brad Haley, the chief marketing officer for the two chains, stated, "We are happy to announce the addition of all-natural chicken breast fillets to our menu, which are skinless and charbroiled for better flavor." The charbroiled chicken is made without artificial additives or preservatives, and its other chicken menu items are made from real chicken tenderloins that contain no antibiotics important to human medicine and that have been sourced from farms that conduct animal welfare audits. 
The one item to be a bit cautious of is the Chicken Stars, which are more highly processed than its other chicken offerings. To be fair, that should be obvious, given there are no chicken parts that naturally come in the shape of cute little stars. 
9. A&W (Canada)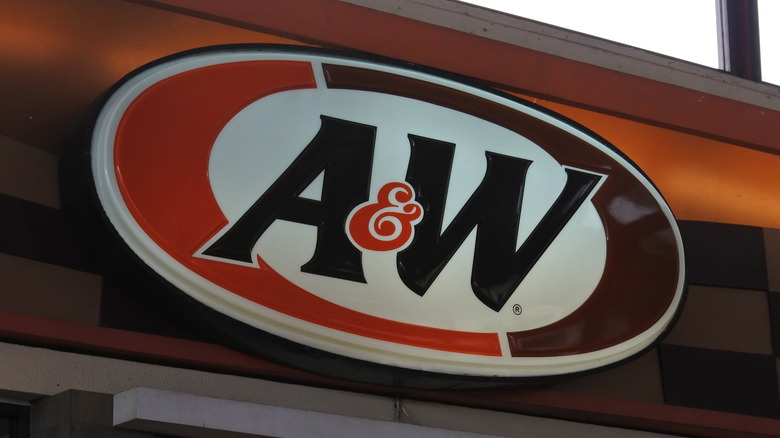 tupaiterbang/Shutterstock
In Canada, A&W is refreshingly upfront about where and how it sources its chicken, how it's raised, and ultimately, how it's processed and prepared before serving. The classic burger joint is clear: all of its chicken products are made of 100% chicken breast, without any additives. It's also antibiotic-free, and the chickens are all raised on a 100% vegetarian diet without the risk of animal byproducts included in their feed. A&W has even gone as far as to include pictures of some of the farms where its chickens are sourced, visually reiterating the fact that its products are humanely sourced and that farmers are held to the highest standards (and third-party audits). However, it's not clear that U.S. locations of this restaurant chain abide by the same rules, so stateside diners may need to cross the border to the north to be sure.
One thing that sets A&W Canada apart even farther from other fast food restaurants is that the chicken it uses has never been treated with antibiotics. Unlike some restaurants that adhere to the "no antibiotics important to human medicine" guidelines ... leaving room for other, non-human-important antibiotics (which, frankly, is a good first step), A&W Canada's chicken products are guaranteed never to have been treated with any antibiotics. In fact, its website clearly states that even in the event that a chicken gets sick and must be treated with antibiotics, suppliers will make sure that animal doesn't make it to anyone's order.
10. Chipotle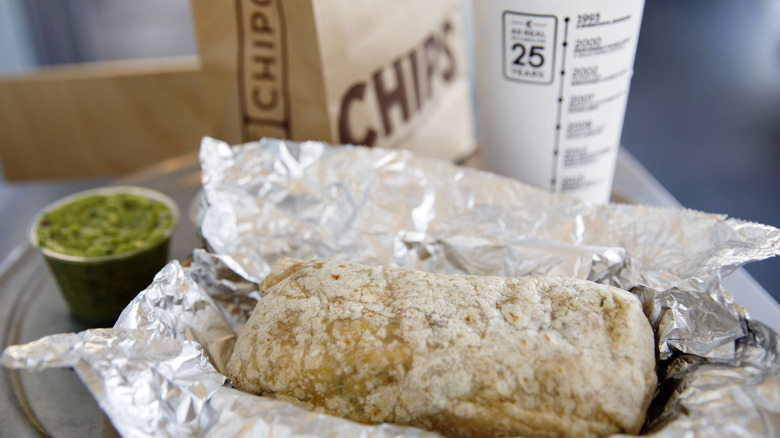 Bloomberg/Getty Images
Given that Chipotle doesn't offer fried chicken strips, tenders, or sandwiches (which make it a little harder to identify when the chicken has been ground, processed, and combined with fillers), it's easy to tell at a glance that Chipotle uses real chicken. Sure, some of it has been shredded to add to the fast food chain's famous burritos and burrito bowls, but it's still in its identifiable chicken form. 
The sourcing and delivery of high-quality chicken and other proteins is actually one of the restaurant's founding commitments. In 2017, Chipotle partnered with Compassion in World Farming and the Humane Society to help improve standards for raising chicken for mass consumption. As such, the chicken Chipotle uses is sourced in the United States from facilities that undergo audits by Chipotle and other third parties. It's also hormone- and antibiotic-free and undergoes very little processing aside from being marinated in adobo sauce. 
11. Panera Bread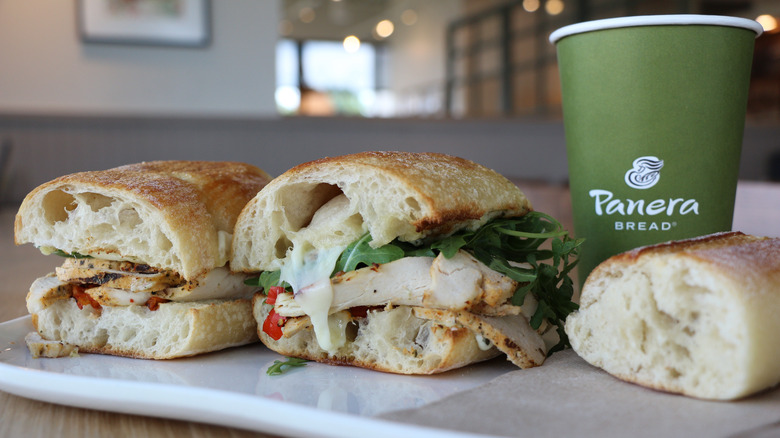 Deutschlandreform/Shutterstock
Panera serves a lot of chicken. In fact, it's the restaurant's most popular protein offering. But given that the chicken is largely served sliced on sandwiches, salads, and in soups, it's obvious to the human eye that Panera's chicken is, in fact, real chicken with minimal processing. The big slices of chicken breast just look like something you could cut from a roasted chicken you cook up at home. 
The fast-casual restaurant isn't just committed to serving minimally-processed chicken — it also wants to make sure the chicken served is high-quality. In 2016, it released its own Broiler Welfare Commitment, promising to enact more humane chicken sourcing guidelines by 2024 (although Panera later extended it to 2026, given ongoing research). This includes ensuring chickens have ample room to move, better resources for food, light, and enrichment activities, and are only slaughtered under more humane practices. The chain has also committed to reporting progress on working toward Better Chicken Commitment guidelines.
12. Bojangles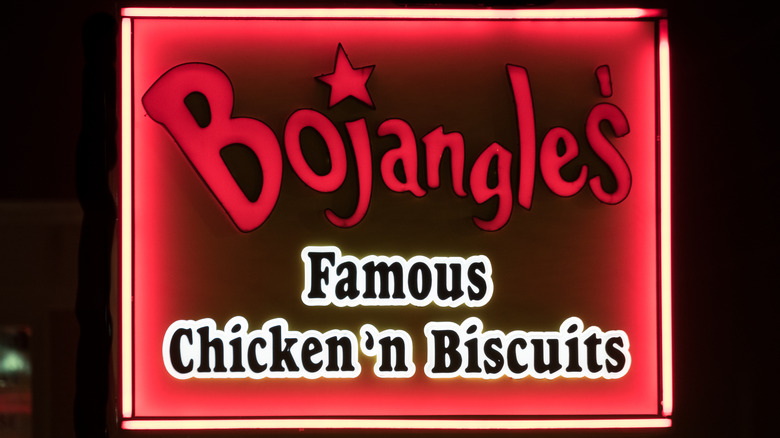 William Howard/Shutterstock
Bojangles, like most other chicken-centric fast food joints, is pretty serious about making sure the chicken it serves is real. In fact, Bojangles' chicken is never frozen, and it's cooked fresh onsite at its restaurants every single day. This means that while it undergoes minimal processing before it arrives in the kitchen, what arrives is clearly chicken that hasn't been ground, separated, or re-combined into something that's more akin to "real chicken adjacent." 
That said, the chicken news on the Bojangles front isn't all positive ... especially when it comes to animal welfare. According to the 2020 Food Industry Scorecard released by the Humane Society, Bojangles scored an F. That's in stark contrast to some of the other restaurants on this list, like Chipotle, which scored an A+, and Panera Bread, which scored a C+. The main problem? Bojangles doesn't appear to have made any commitments to many pressing animal welfare concerns, aside from a commitment to sourcing cage-free eggs by 2025 ... without demonstrating any clear steps to get there. So, when it comes to the restaurant's broiler chickens? The chain's stance on raising and treating chickens well is completely unclear. Of course, it's not alone in its poor grade. Many other popular chicken joints, including KFC and even Chick-fil-A, received similarly poor ratings. 
13. Culver's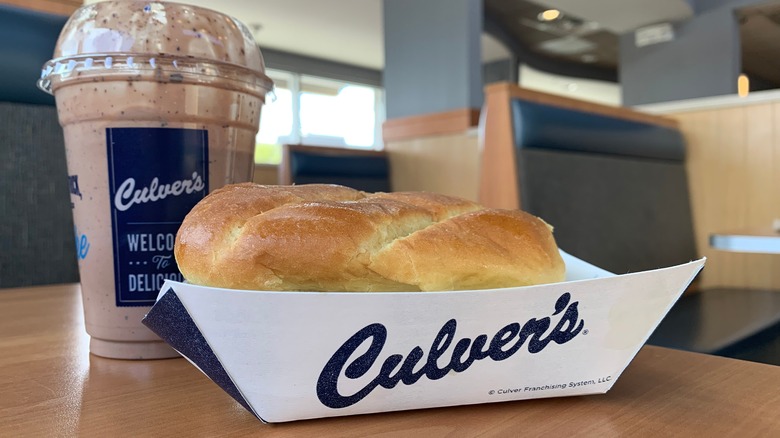 JJava Designs/Shutterstock
Culver's may be better known for its frozen custard and cheese curds than its chicken sandwiches and tenders, but the fast food joint's commitment to delicious, quality fare carries through all of its menu offerings. In fact, all of its chicken meals are made from whole, white meat tenderloins and breasts that haven't been ground or recombined with added fillers. That's not to say the products don't include seasonings and water, though, as Culver's chicken appears to be more processed than some of the other restaurants on this list, like A&W or Chipotle. 
When it comes to animal welfare, Culver's was actually one of the first fast food restaurants to take steps to improve its chicken sources. According to a 2011 article on QSRweb.com, Culver's had entered into a partnership with Springer Mountain Farms in Georgia, the only farm at the time that was American Humane Certified by the American Humane Association. This certification ensures chicken is fed a 100% vegetarian diet free of antibiotics and growth stimulants, and that the chickens are raised according to humane, stress-reducing practices. 
14. Starbucks
Granted, chicken probably isn't the first thing you think of when you hear "Starbucks," but the coffee shop's menu includes several chicken sandwiches that you can grab along with your favorite drink. The good news is that you can trust the chicken breast included on these sandwiches and paninis is, in fact, real chicken. For one thing, it looks and tastes just like chicken, meaning there's nothing separated or reconfigured here. What's more, the brand is serious about delivering high-quality deli food to match its high-quality (and high price) coffee drinks. In July 2022, Starbucks even voluntarily recalled its much-hyped breakfast chicken sandwich due to concerns about that quality, even though there were no indications of food-borne illness linked to the sandwich. 
Starbucks has also taken a stand on animal welfare, committing to improve the living conditions of its sourced broiler chickens by 2024, aligning its standards with those of the Global Animal Partnership, including using a third-party auditor.