The Untold Truth Of Panera Bread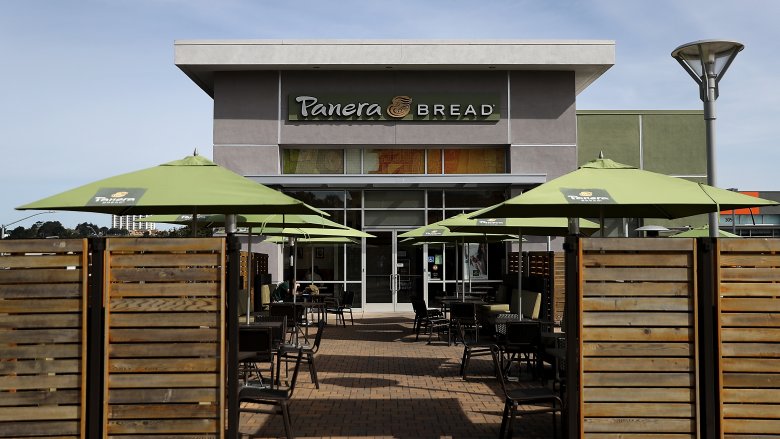 Getty Images
Apparently the way to America's heart is through its stomach, with a bread bowl filled with hot soup — plus reasonably fast and free wifi. That's the formula that's worked for Panera Bread, at least, which now has over 2,000 restaurants in the United States and Canada. They're arguably the leader of the fast-casual revolution, serving up a variety of soups, salads, and sandwiches in a fairly short amount of time. Additionally, they employ over 40,000 people, making them a significant force in the North American economy. So are they as healthy as they say they are? What's the secret to their success? And have they ever made mistakes? Here are some of the lesser known facts about the bakery juggernaut. 
They started as Saint Louis Bread Co.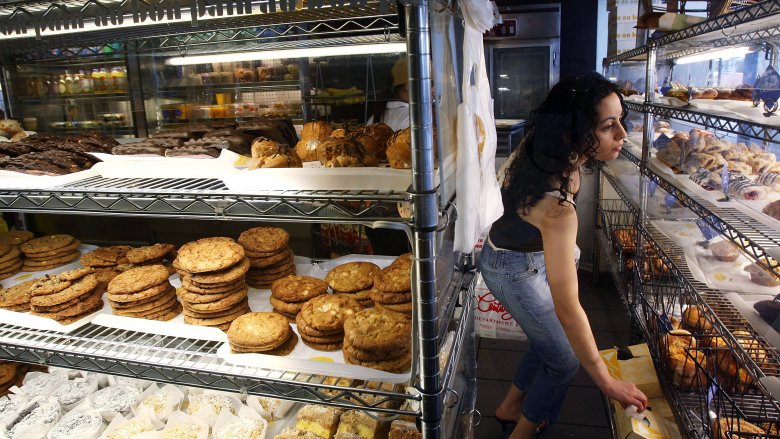 Getty Images
Ever wonder why you never saw a Panera Bread until the 1990s even though the company was founded in 1981? That's because it didn't exist as an entity until the mid-90s, when two businesspeople stepped in and purchased a small chain of bakery-cafes known as the Saint Louis Bread Co., which operated in the greater Saint Louis metropolitan area. Louis Kane and Ron Shaich, who co-founded Au Bon Pain back in 1981, sought to re-brand and expand the humble midwestern chain, and thus Panera Bread was born. It didn't take long for them to realize that the brand had a potential to expand and become the giant it is today, so they sold all of Au Bon Pain to work on Panera Bread exclusively. You'll still find the original Saint Louis Bread Co. in some of its original locations. Additionally, Panera Bread purchased Paradise Bakery & Cafe in the late 2000s. 
They used to be the country's largest provider of free wifi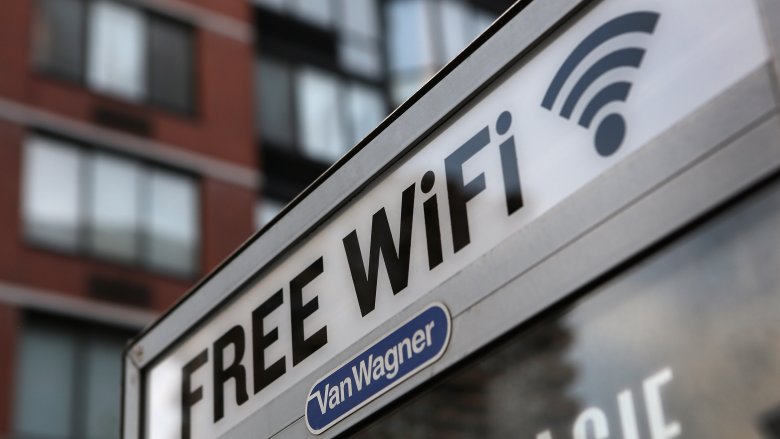 Getty Images
One of the amenities Panera offers its customers is free wifi at many of its locations, a policy they implemented quite some time before other chains like Starbucks and McDonald's. They wanted to find a way to boost sales between meals, and providing wifi certainly did the trick, as sales rose initially about 15 percent. However, so many people were using the service that it became the country's largest provider of free wifi, and with that came some setbacks that arose from too many people logging on. These days it's not so much of an issue with ubiquitous 3G and 4G networks and many more wifi providers, but back then what they did was pretty revolutionary. 
They really do bake bread daily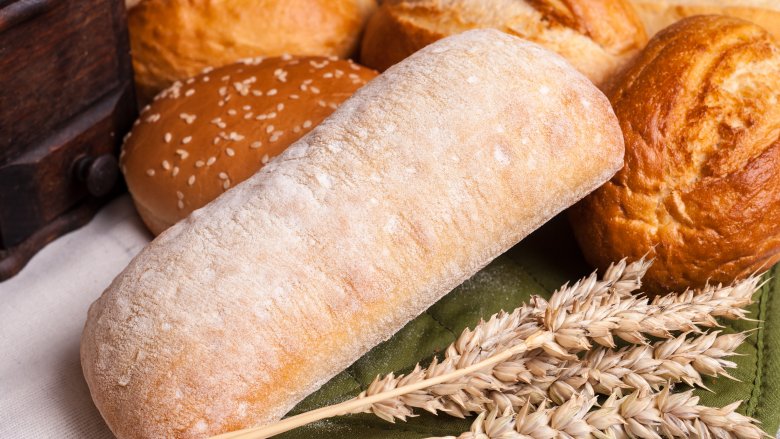 Shutterstock
Panera does indeed bake bread on-site every day. That ensures that the loaves you purchase are fresh, and sometimes, in my experience, still warm from the oven. But they don't make the dough on-site — rather, their dough is prepared in their Fresh Dough Facilities, then shipped by truck to each individual location. That makes them one of the largest networks of professional bakers out there. Given that they move a bulk of products fairly quickly, your bread is likely a lot fresher than the pre-sliced loaves you can grab on a grocery store shelf.
But some of their food isn't fresh at all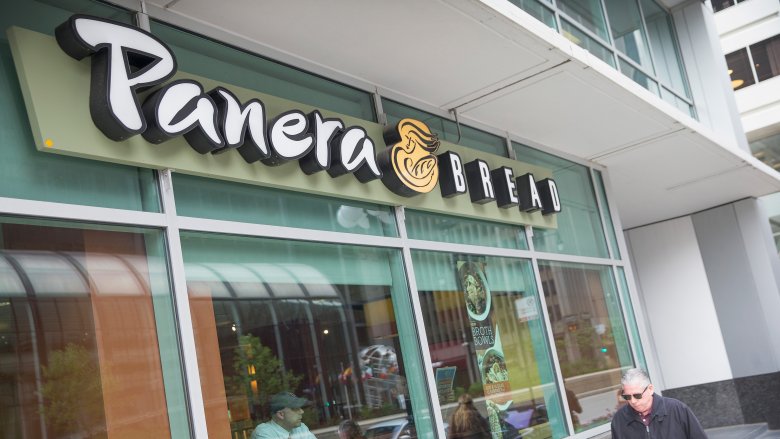 Getty Images
According to an AMA by an alleged Panera employee on Reddit, Panera's macaroni and cheese isn't prepared in-house. Rather, it's sent to the stores frozen, and it reheated in either in the microwave or in boiling water. The employee also claims that the avocados get left out during the day, so they're not in optimal condition toward the end of the day. Of course, this is not substantiated, so your mileage may vary. 
You don't always have to pay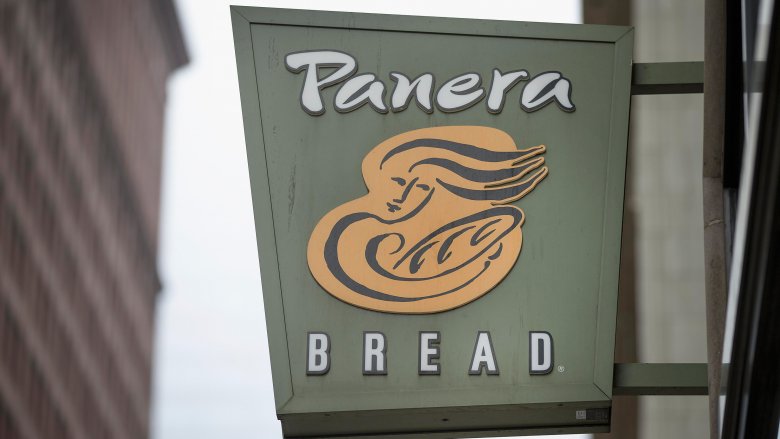 Getty Images
According to the USDA, 12.3 percent of American households experienced some kind of food insecurity in 2016, which translates to about 41.2 million individuals — that's a lot of people. Panera took note of this, and back in 2010, decided to do something about it. That's when they opened the very first Panera Cares community cafe in Saint Louis, in an effort to combat food insecurity with dignity. In 2013, they opened another location in Boston, which follows the same model. These stores, which operate as non-profits, look and feel like a regular Panera restaurant, but the difference is that you only pay what you're able to afford. That means folks who aren't struggling can pay full cost or more, and people who are in need can eat for a reduced price, or for free. These cafes also direct needy patrons to outside services, such as food pantries and housing shelters.
Some people took advantage of their generosity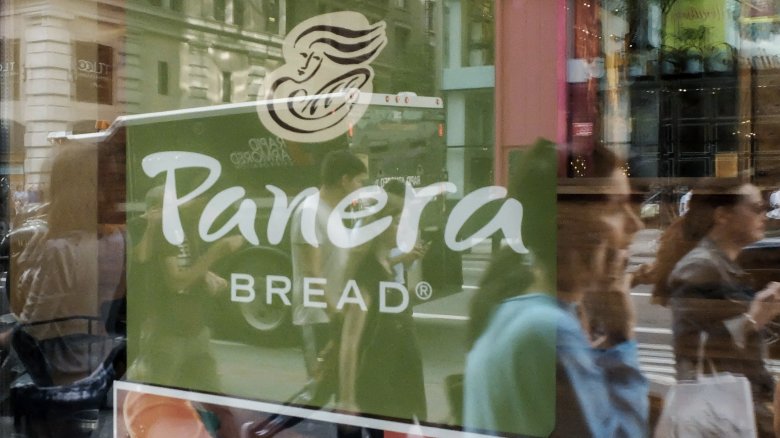 Getty Images
There were some hiccups with the Panera Cares initiative, which is not surprising given the noble nature of its mission. In some locations, such as in Portland, the restaurant had trouble staying financially solvent because too many people didn't pay enough to cover operating costs. And although the Panera Cares in Portland is now closed, Panera still operates two Panera Cares restaurants that are self-sufficient, mostly because many customers pay full price — and sometimes more.
They're pretty healthy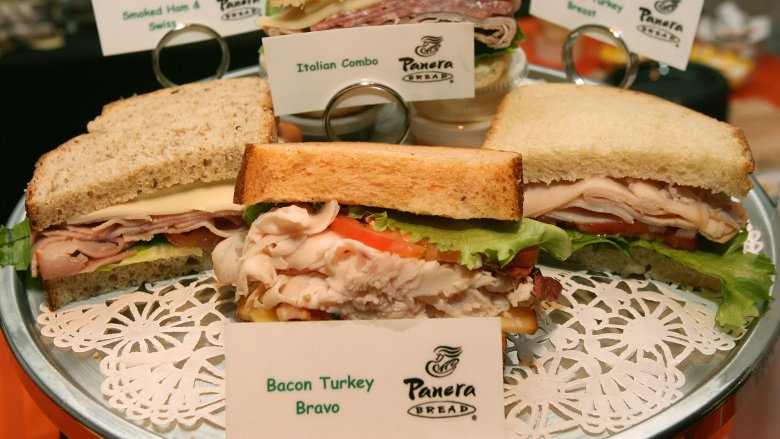 Getty Images
It's not often that you hear the words "healthy" and "fast food" in the same sentence, but Panera managed to earn the honor when it was named the healthiest fast food chain in 2013 by a team of experts at Health magazine. They were praised by dietitians for their variety of healthy options, such as whole-grain breads and fresh fruit. Additionally, the half-size option makes it easy to exercise portion control when ordering soups, salads, and sandwiches. They were also credited with having healthy options for kids, including organic peanut butter and yogurt.
Additionally, Ron Shaich recently announced that everything on the menu will be available in child-sized portions, making it easier for kids to have a variety of healthy options beyond standard, less healthy kid's fare. He also challenged the CEOs of other fast food restaurants to re-evaluate their kid's menu, a bold move. 
They were the first to post calorie information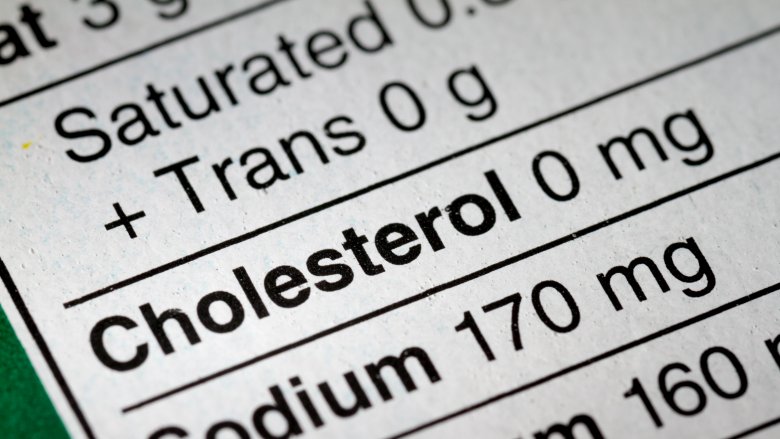 Shutterstock
In addition to having plenty of healthy items on their menu, Panera was the first in its industry to post calorie counts on their menus. This allows customers to assess how much they're eating, and make choices that best align with their nutritional needs. As Scott Davis, Panera's chief concept officer told USA Today, "It puts everything out in the open, obviously. So when you look at making a choice between a soup with 100 calories and a sandwich with 300 or 400 calories, it puts it pretty clearly what's in your best interest." And even though they would have been forced to do so eventually due to the Affordable Care Act, they still got out front first.
It's still an easy place to indulge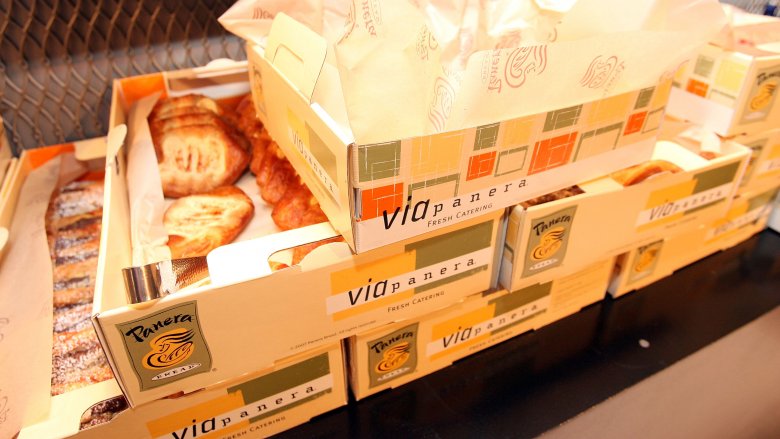 Getty Images
In spite of Panera's proven reputation as a place where you can eat healthy, you can also indulge to your heart's content. For one, let's not forget that this is where you can order macaroni and cheese served in a bread bowl, which has a total of 1,140 calories and 35 grams of fat. And many of their sandwiches are high in calories, fat, and sodium. Additionally, they sell a variety of baked goods, which are packed with calories, sugar, and fat, but for a mere 99 cents you can add one to your meal. And since you already get a side of either chips, a baguette, or an apple with your meal, you can see how the calories could really add up. Good thing they have the calorie counts posted!
Their clean eating message is dubious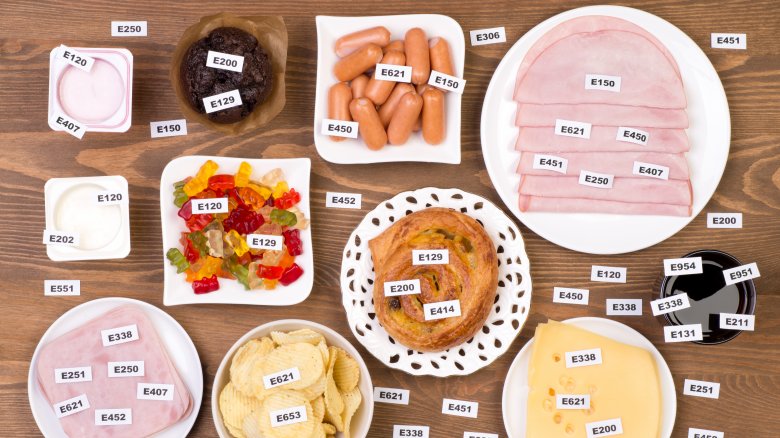 Shutterstock
Panera boasts that all the food they serve is "clean." So what exactly does that mean? In a nutshell, according to their website, the word clean "describes food that does not contain artificial preservatives, sweeteners, and flavors along with colors from artificial sources." That sounds like a good thing, as some additives can be bad for your health, like trans fats and excessive salt. However, some experts have criticized Panera's clean campaign as fear mongering. Matt Teegarden, a graduate fellow in food science at The Ohio State University, told Forbes, "It  promotes the perception that scientific-sounding food additives are harmful, unhealthy substances that do not belong in foods. Their scientific names, admittedly, may not sound super appetizing, but in no way does that mean they are unsafe." 
Additionally, some additives are necessary to prevent waste. John Frelka, a PhD candidate in food science at The Ohio State University told Forbes, "Without these additives some foods and personal care products would go bad before you could use them all up creating a lot of waste." 
You should always order the small fountain drink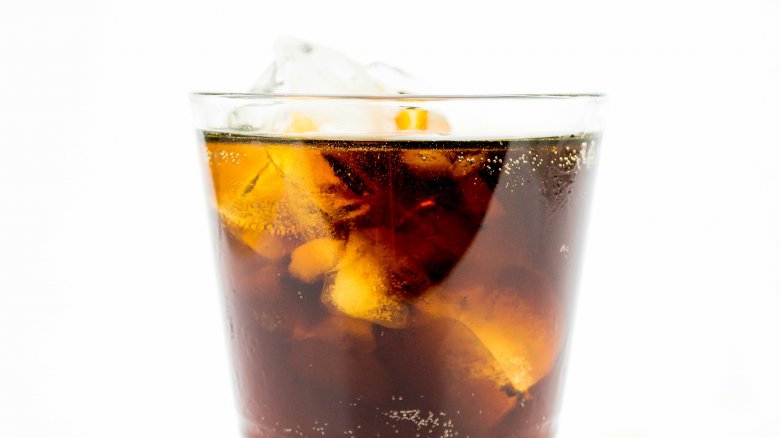 Shutterstock
If you're sitting down for a meal at Panera, here's a money saving tip: you don't need to order a large fountain drink or coffee. Instead, order the small size, and fill it up as many times as you want (within reason). Refills are free for more than just soft drinks, so there's no point in spending the cash on a large size. I spend a lot of time at Panera, so I can confirm that they're super cool about letting me drink as much iced tea as I want. The only caveat is with made-to-order beverages — there's no free refills on those. And if you're getting your food to go, the large size makes more sense.