Here's Why You Should Never Order Mac And Cheese At A Steakhouse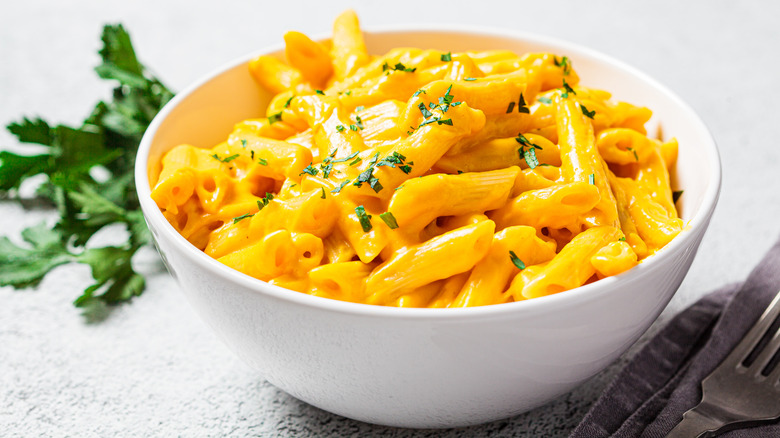 Nina Firsova/Shutterstock
Even when people go to a steakhouse, they don't want to have a cow, figuratively speaking. Heaps of beef? Absolutely. And if they want dairy, they may be okay with munching on some mac and cheese. But when it comes to this fairly easy-to-make pasta dish, steakhouses might not be the place to go to fully enjoy it. For instance, a customer expecting a carefully crafted meal could end up ordering Kraft macaroni and cheese without realizing it.
Remember when Texas Roadhouse got called out for serving a customer boxed Kraft mac and cheese for $4 instead of a housemade version of the side dish? Texas Roadhouse went on to explain on Twitter that this option was restricted to the kids' menu. However, some users argued that this detail was hidden from the menu. In case you were wondering, you can find Kraft on the kids' menu at other chains like LongHorn Steakhouse, where it can cost more than $6 (though prices may vary by location).
This just goes to show that some people ordering creamy, cheesy pasta at a steakhouse can spend a lot of money compared to the quality they might have expected. You can avoid the steakhouse Kraft mac and cheese, but who said the housemade version doesn't have its own issues? It certainly does. Besides, nothing beats a well-prepared and home-baked mac and cheese.
Steakhouse mac and cheese can be underwhelming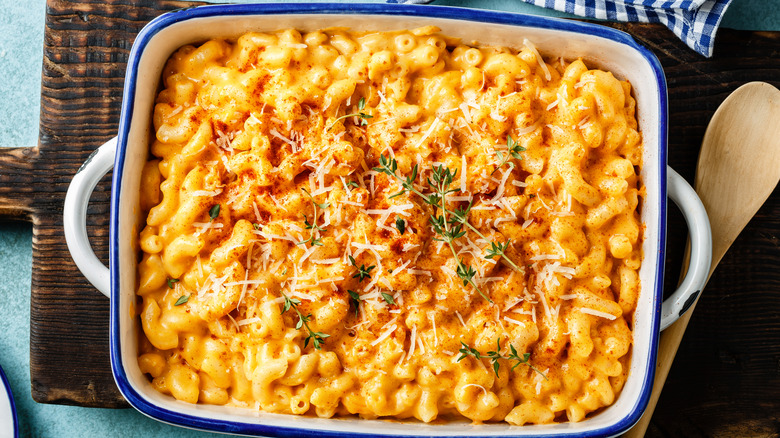 Sunny Forest/Shutterstock
Although it's hard to ignore the opportunity to have savory, tasty, and creamy mac and cheese, Kai Chase, a celebrity chef, shuns ordering the stuff when she's dining out at steakhouses. "It's a shame too because it's my favorite when it's done right and it's homemade – with crispy edges, several ooey-gooey melted cheeses, and a parmesan bread crumb buttered topping. That's the ticket!" Chase told Eat This, Not That!. She also noted that restaurants "tend to overcook the noodles" and never season them enough. If you are looking for a dish with cheese, Chase suggests that you should instead settle for a vegetable one such as broccoli and cheese. Additionally, if you're craving a dish that is "salty with a little crisp," then you should try Brussels sprouts because it's healthier and more flavorful.
Another reason you should not order mac and cheese at a steakhouse is that you don't need much time to make your own version at home. For example, our Copycat Longhorn Steakhouse mac and cheese recipe, which combines bacon, breadcrumbs, and a variety of cheeses, only takes a little over 30 minutes. Using this recipe, you can customize your mac and cheese by adding another flavorful meat like buffalo chicken breast. Making mac and cheese at home rather than ordering it at a steakhouse is not only cheaper but also fast. Plus, you'll be sure you're not ordering the Kraft version for kids.