Check Your Fridge: Starbucks Bottled Vanilla Frappuccino Is Being Recalled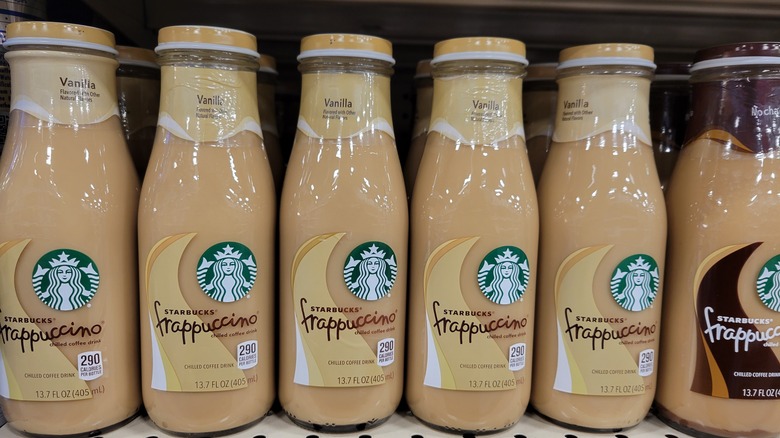 HappyAngel 888/Shutterstock
Hundreds of food and drink items are recalled each year. The U.S. Department of Agriculture Food Safety and Inspection Service and the Food and Drug Administration issued 270 recalls on food and beverage in 2021 alone, and although it was significantly lower than the previous year, any products being recalled could be critical news.
Food recalls can happen for unsettling reasons or due to smaller but still serious packaging mishaps. Allergens like peanuts, shellfish, and dairy not listed on food labels are a common cause for recalls as are concerns over food contamination with listeria, salmonella, and E.Coli outbreaks. In some cases, food and drinks are recalled due to foreign objects being found in them. Take for example McCain's frozen hash browns that were found to have "golf ball materials" in 2017 or Weis and Klein's ice cream tubs that were removed after a consumer found a piece of metal in their ice cream in 2021.
It's best to pay heed to these recalls. Not only can consuming recalled items cause serious illnesses or injuries but in some extreme cases, they can also lead to death. If you've just stocked up on bottled Starbucks vanilla Frappuccinos, the FDA's most recent food recall may be of concern to you. Check the expiration dates on the back of your Frappuccino bottles because they are being recalled over the presence of a foreign object in them (via FDA).
Starbucks' vanilla Frappuccino bottles are being recalled due to glass contamination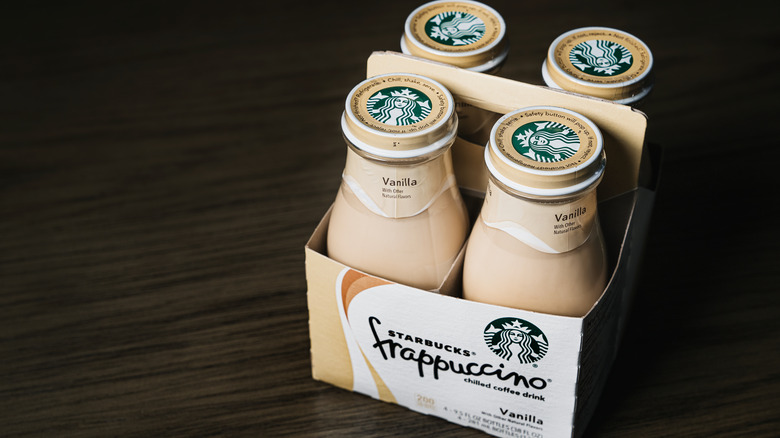 AFM Visuals/Shutterstock
PepsiCo has voluntarily recalled 25,200 cases of Starbucks' 13.7oz bottles of vanilla Frappuccino on behalf of the North American Coffee Partnership, a distribution partnership between PepsiCo and Starbucks. The FDA classified it as a Class II recall in which "a violative product may cause temporary or medically reversible adverse health consequences or where the probability of serious adverse health consequences is remote."
The reason for the recall given by the U.S. Food and Drug Administration is that the bottled vanilla Frappuccinos may contain foreign objects, glass to be precise. With 12 bottles per case, the number of bottles being recalled is over 300,000. The bottles that are recalled over the possible presence of glass are those that have expiration dates of March 8, May 29, June 4, and Jun 10 of this year. If it seems like Starbucks encountered a similar issue in the not-too-distant past, that's because it has. As fans of the brand may recall, last year, hundreds of cases of Starbucks Vanilla Espresso Triple Shot were pulled from shelves due to the possible presence of metal pieces.
In case you have a bottle of Starbucks' vanilla Frappuccino that expires on one of these dates, it's best to dispose of it properly rather than risk drinking something that could have glass in it. In a statement released to ABC News, a Starbucks representative advises all those who have queries about their recent bottled vanilla Frappuccino purchase to reach out to the chain's Consumer Relations at 1-800-211-8307.