This BBQ Sauce Fountain Is Sure To Be The Star Of Your Next Buffet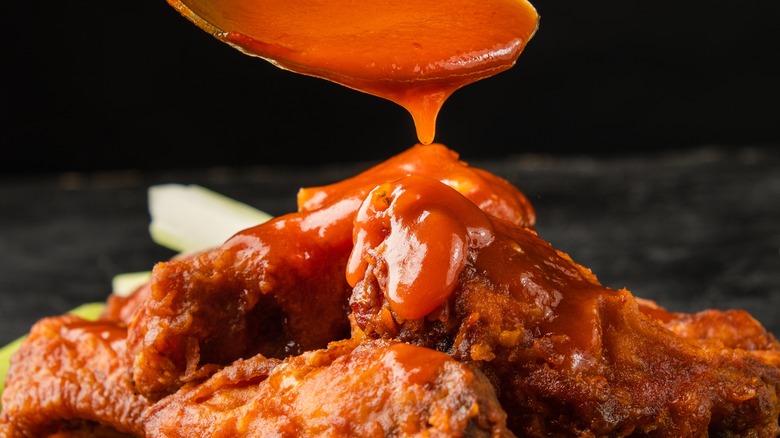 Axel Mel/Shutterstock
Food and drink fountains are certainly an entertaining focal point of social events: You can expect chocolate fountains at children's parties, champagne fountains at weddings, and even continuous rivers of delicious cheese — surely a vital feature of every occasion. Forget tap water, every home needs access to free-flowing cheese.
Taking it to the next level, chef Michael Ponzio has revealed a game-changing invention for lovers of barbecue food on Instagram: a fountain pouring with the sweet and tangy flavors of BBQ sauce. This new type of condiment fountain is sure to be a popular idea given the significance of barbecue food in United States culture — Americans love ribs, chicken, pork, and hamburgers. So, let's take a look at how this barbecue sauce fountain works, and some important tips to follow if you're considering using the idea yourself. Just be careful to avoid including any of barbecue's red flags when adding accompaniments. 
Use the right flavors in your BBQ sauce fountain
The barbecue relish fountain showcased on Instagram certainly could be the centerpiece of any gathering for barbecue lovers. The video shows a crispy brisket being sliced into juicy portions before the fountain erupts into life, spewing thick droplets of maroon sauce onto the tender slices of meat held below. In fact, Ponzio compares the process to bathing the steak pieces in sauce, which has got to be a pretty exciting prospect for fans of barbecue dip. Describing the fountain as mouthwatering doesn't even come close.
Ponzio certainly demonstrates skill with his use of the barbecue relish fountain, which is no surprise given his background as a top chef, cookbook author, and culinary TV show host. Home cooks can still make good use of such a fountain, but should first consider how different sauces benefit different meats and choose wisely. Any vinegar-infused sauce is especially good for fatty pork, while mustard dips are better for pulled pork, and mayonnaise works well with chicken. If you're unsure what barbecue sauce to choose, tomato-based ones can accompany many types of meat. Be mindful of the biggest mistakes people make with barbecue sauces, then enjoy your feast.