The Best Barbecue Sauces To Try At Your Next Cookout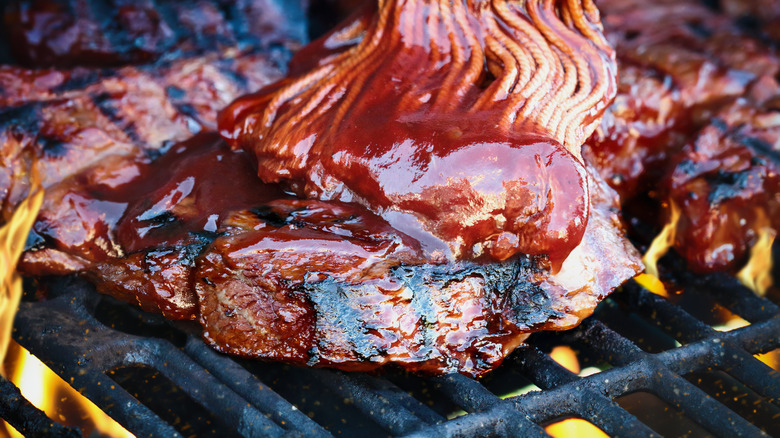 Stephanie Frey/Shutterstock
We may receive a commission on purchases made from links.
Thanks to climate change, one day we'll have year-round barbecues! Not that climate change will ever be a good thing but hey, silver linings, right? Anyway, if you're having more barbecues, you don't really want to be serving up the same old cuts of meat with the same old bottled barbecue sauces. Variety makes life worth living, after all.
You might be thinking that barbecue sauce is barbecue sauce. But if you are, please know that you are so very wrong. Barbecue sauce is as eclectic and diverse as salad dressing. The broadest categories include those made from one of four different bases: tomato, vinegar, mustard, or mayonnaise, but there are also narrower subcategories. Memphis and Kansas City-style sauces are tomato-based, for example, while Carolina sauces employ mustard. Meanwhile, Alabama white sauce is made from mayonnaise.
A good barbecue sauce should add flavor to the cooked proteins, but it should never hide the taste of the meat. It should be complex — spicy and sweet with smoky notes, for example — and it should never taste like anything artificial. Texture-wise, it should be thick enough to stick to the meat but not so viscous that it ruins the experience of biting in. We think that homemade barbecue sauce is ideal, but if you don't want your cookout to be too labor-intensive, there are many, many bottled barbecue sauces on the market that are a very close second. Here are a few of the best to try at your next cookout.
How we selected products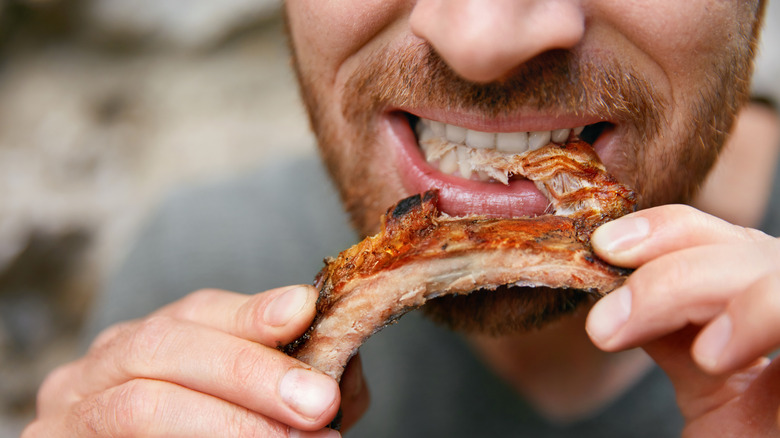 puhhha/Shutterstock
A good taste test can reveal your personal favorites when it comes to barbecue sauce. But because taste tests are so subjective, we've found that user reviews, blogs, and word-of-mouth are often the better barometers for finding the best-of-the-best products. So to compile this list, we relied somewhat on our personal experiences with these brands and flavors. We also heavily factored in user reviews and the opinions of chefs and other culinary experts. When relevant, we heavily favored sauces that have received professional accolades such as taste test awards and barbecue championship titles. 
Of course, it's always worth mentioning that food preferences are very personal, and everyone has different likes and dislikes when it comes to barbecue and barbecue sauces. You might love all of these sauces, only a few of them, or none of them at all. You might even dislike one or two. And if your favorite barbecue sauce missed the ranking altogether, we apologize. It's nothing personal. But if you're new to the game or are looking for a highly-rated barbecue sauce to add to your cookout rotation, then read on.
Best overall barbecue sauce
Sometimes you just want to have a delicious, all-purpose barbecue sauce on hand, in case you decide to have an impromptu barbecue and you don't want to put too much thought into crafting the just-right sauce for the occasion. If you often find yourself in that situation, Blues Hog Original is a great product to keep in your pantry. This barbecue sauce was voted "best baste on the planet" at the American Royal (via Blues Hog), so it's got some professional accolades as well as a bevy of five-star reviews on Amazon.
Blues Hog Original BBQ sauce is sweet with just a little heat. It's on the thicker side, to the point where you buy it in a jar, likely because it's too thick to easily make its way through the neck of a plastic bottle. It's also versatile — the manufacturer recommends using this sauce for all sorts of proteins, from fish to chicken to beef and pork. You could also try using it to dress up a boring hamburger or as a dipping sauce for some slow-cooked meat.
Blues Hog Original is available on the manufacturer's website starting at $7.99 a jar.
Best barbecue sauce for ribs
Ribs kind of need to be slathered in barbecue sauce. After all, if you don't need to wear a bib while you eat them, then you're not getting the full rib experience. So, we think that the Bone Suckin' Sauce has just the right name for a rack of ribs, and the right flavor, too. The name comes from co-founder Sandi Ford, who wanted diners to suck on the bones so as not to waste any residual flavor (via Bone Suckin' Sauce).
This tomato-based sauce is sweetened with honey and molasses, has chunks of garlic and onion to give it texture, and horseradish for an extra kick. As a bonus, Bone Suckin' Sauce has less sodium than many competing sauces and about half the calories. Bone Suckin' Sauce won its first award in 1994, taking the title at the North Carolina Battle of the Sauces. It's a little thinner than other bottled sauces, so Meatwave recommends adding more than one coat to make sure it sticks and adds some color to your meat.
You can buy Bone Suckin' Sauce directly from the manufacturer for $8.49 a jar.
Best barbecue sauce for chicken
It's easy to overpower the mild flavor of chicken with an overly intense barbecue sauce, so if you're going to grill chicken we recommend something with a more subtle zing. That way, your meat is jazzed up, but not overwhelmed. These qualities are all happily present in Capital City Sweet Hot Mambo Sauce, a tomato-based sauce that has a little bit of sweetness and a medium-sized kick that's fueled by cayenne and habanero peppers. This Washington, D.C.-style sauce is so popular that it was even picked up by KFC as a condiment (via KFC). Don't let its mainstream popularity deter you, though. This sauce has a solid history as a local favorite and is loved both in and out of the fast food universe for its distinctive taste.
Capital City Sweet Hot Mambo Sauce is a relatively thin barbecue sauce, so it's well-suited for dipping. Besides serving as a general all-purpose sauce for fried chicken sandwiches, you could also use it for your chicken nuggets or even as a stand-in for the ketchup you usually dip your fries in.
As of writing, Capital City Sweet Hot Mambo Sauce is available from Capital City for $6.99 a bottle.
Best Alabama white
If you're used to dark red and orange barbecue sauces, you may find white sauce to be a little outside your comfort zone. Don't discount it just yet, though. This type of barbecue sauce is famous in Alabama and relies on a mayonnaise base to give it its namesake color and texture.
Traditional Alabama white is flavored with black pepper, horseradish, and vinegar. You can put it on practically anything, but it goes particularly well with grilled chicken and pork. Some people also drizzle it over grilled veggies.
If you're new to this kind of barbecue sauce (or even if you're already a fan), you can't go wrong with Full Moon's Alabama White, a creamy, garlicky, mustardy sauce that CNET praised (though they also accused it of not being a real barbecue sauce). While it is true that Alabama white tastes more like ranch dressing than a classic barbecue sauce, this stuff can still be used for grilling. We think that's the best qualifying factor for a barbecue sauce.
Buy Full Moon Alabama White on the Full Moon website for $7.49 a bottle.
Best Carolina barbecue sauce
Carolina barbecue sauce has a few incarnations. South Carolina has four different types: mustard, light tomato, heavy tomato, and vinegar/pepper. North Carolina has two: Eastern (a vinegar or lemon juice-based sauce with pepper) and Western (vinegar and tomato-based), also called Lexington or Piedmont style (via Charlotte Mecklenburg Library). All this diversity makes it hard to nail down one best Carolina sauce. We ended up picking the clear people's choice Carolina barbecue sauce that showed up again and again: Lillie's Q Carolina Barbecue Sauce. This front runner is a western North Carolina blend of tomatoes, vinegar, mustard, molasses, and spices.
Sauce Rank praised both the flavor of the sauce and the bottle itself, which has a cool wax-sealed cap. Lillie's products are also all-natural and gluten-free, in case that's important to you.
Lillie's Q Carolina Barbecue Sauce is available from the manufacturer for $7.49 a bottle.
Best Kansas City barbecue sauce
If you like your barbecue sauce to be mildly sweet and tangy, look for a Kansas City style sauce like Jack Stack Barbecue Kansas City Original. Traditionally, Kansas City barbecue sauce is brushed on before grilling or immediately afterwards, so it flavors the meat without overwhelming (via Q39).
Jack Stack's barbecue sauce is served at Jack Stack restaurants, but you can also buy it for your home barbecues. It's made with a base of tomato paste, cane sugar, and vinegar. Molasses lends texture, while a blend of cayenne peppers, salt, and garlic brings a little kick. Kansas City barbecue sauce tends to be on the sweet side, but there's a fine line between just right and too sweet, and Jack Stack doesn't cross it. This makes it ideal sauce for just about any meat.
You can purchase Jack Stack Barbecue Kansas City Original from the company for $8.95 a bottle.
Best Memphis barbecue sauce
Memphis barbecue sauce is typically thinner than Kansas City sauce, and not as sweet. Memphis-style sauces are also on the spicy side and are often enjoyed with ribs (via Q39). It was pretty easy to choose the winner in this category: BBQ Buddha's Memphis Mop. This sauce has some pretty impressive credentials — it holds an award of excellence from the National BBQ Association, and it got a second place Scovie Award in 2017 and 2018 (via Sauce Rank). In 2020, it earned the coveted title of "Best BBQ Sauce in the World" at an international competition in Louisiana (via San Diego Tribune).
Memphis Mop is made with a tomato base sweetened with brown sugar. It also has some smoky notes and gets its tang from mustard and cider vinegar. According to Matador Network, it's made without artificial sweeteners or thickeners.
BBQ Buddha's Memphis Mop is available on Amazon for $7.99 a bottle.
Best spicy barbecue sauce
If you've ever dreamed of sitting around a campfire with a bunch of cowboys and with cattle lowing in the shadows... well, you're not going to come terribly close to that experience with a barbecue sauce, no matter what sort you use. But Cowboy Brand does say that its sauces harken back to just such a setting. So, unless you can afford to spend thousands of dollars on a cattle drive vacation, you might as well just pick up some Cowboy Charcoal Prairie Fire Sauce for your next cookout.
This sauce is a perfect example of sweet heat, with a tomato base that's sweetened with three different kinds of sugar. Meanwhile, it gets its spicy edge from a special blend of chili powder and other spices. "It has a nice bright, tomato-ey flavor and a good amount of spice that really builds the more you eat," wrote a Safeway reviewer. CNN recommends using it on wings or as a way to perk up an ordinary burger.
Cowboy Charcoal Prairie Fire Sauce is available from Ace Hardware for $7.59 a bottle.
Best smoky barbecue sauce
If you believe that a good barbecue is all about smoke, then rest assured that you're not alone. You can choose to buy one of many different smokers for home use, or you can buy a good smoky barbecue sauce and just pretend like you spent hours perfecting a smoked tri-tip in a very expensive backyard smoker.
A real smoked meat connoisseur isn't going to be fooled by that little trick, but you'll almost certainly be able to satisfy less-picky guests with Traeger 'Que BBQ Sauce. This sauce is sweetened with brown sugar and features a smoky hickory flavor. Traeger also sells hickory hardwood pellets, so if you do have a smoker you can pair its sauce with the meat you've smoked properly in your backyard.
Traeger Que BBQ Sauce is an Amazon favorite, with more than 2,800 five-star reviews. "I use this on EVERYTHING!" said one reviewer, and another said, "Whoooweee this sauce is fire on chicken wings."
Buy Traeger 'Que BBQ Sauce at Amazon for $9.45 a bottle.
Best sweet barbecue sauce
Making a great sweet barbecue sauce is nothing short of an art form. Some brands accomplish sweetness with artificial ingredients or with a lot of unhealthy stuff like high fructose corn syrup (not that brown sugar is especially healthy or anything, but it's at least, you know, not high fructose corn syrup). If you're wary of such add-ins, then you'll be happy to hear that Rufus Teague Honey Sweet BBQ Sauce is a Kansas City-style barbecue sauce that gets its sweet flavor from brown sugar, honey, molasses, and raisin paste. It's also a perfectly thick sauce — and not because of artificial thickeners. Instead, this sauce is simply cooked until it reaches the right consistency.
"Rufus should be the leader in Bar B Que sauce," wrote one Amazon reviewer. If you're after a sweet but not overly so barbecue sauce, you might want to exercise caution here. When Amazon reviewers rank this sauce poorly, it's because they claim that it's too sweet.
Rufus Teague Honey Sweet BBQ Sauce can be purchased from the manufacturer for $6.95 a bottle.
Best Asian-style barbecue sauce
We've mostly been talking about American-style barbecue, but we also have to point out that a variety of Asian cultures also have their own barbecue cultures. Also, sometimes you want something a little different for your backyard cookout. If you're tired of the same old brisket, try Bachan's Original Japanese Barbecue Sauce. This sauce has a Japanese heritage, meaning that it's rich in umami flavor and has notes reminiscent of teriyaki. It tastes great on almost everything. You can use it on your grilled food to add a new-to-you flavor to meat or fish, mix it into a vegetable stir fry, or use it to amp up fried rice. If you're still a little wary of straying from the American barbecue path, Bachan's has received accolades from such notable sources as American Chef, various winemakers, and Dave "the Butcher" Budworth (via Bachan's). 
Buy a 2-pack of Bachan's Original Japanese Barbecue Sauce from Amazon for $20.38.
Best easy-to-find barbecue sauce
If you're having an impromptu barbecue, you obviously can't just order your sauce on Amazon and expect it to be there in an hour.  You need to be able to pick it up at the same place you buy your brisket or tri-tip. Store-bought brands can be tricky, though. Oftentimes, they can taste pretty ordinary, and they aren't always made with quality ingredients to complement the meat.
If you need a good, versatile barbecue sauce in a hurry, Stubb's Original Barbecue Sauce is available in almost all major grocery stores. It's not fancy but it tastes great and has simple, straightforward ingredients that include tomato puree, distilled vinegar, sugar, molasses, and salt. Stubb's is designed to be used on almost any meat, so it's bound to be a good choice no matter what you've decided to put on the grill for that last-minute cookout.
Buy Stubb's Original Barbecue Sauce from Walmart for $3.68 a bottle.
Best sugar-free barbecue sauce
Sweet is kind of a barbecue sauce thing. A lot of people like to pair that brown sugar or molasses flavor with the umami sensation of a tri-tip or pork chop. Barbecue sauce manufacturers know this, but they also know that something sugar-free can be a big selling point for many. Unfortunately, this often means that they go for artificial sweeteners, which have questionable health benefits, can taste too sweet, and may leave an unpleasant aftertaste.
The best sugar-free barbecue sauces are often those that don't try to compensate for missing sugar, like Primal Kitchen's Classic BBQ Sauce. This is truly unsweetened, with no add-ins like sucralose, stevia, dates, or anything other than the slight, natural sweetness of tomatoes and balsamic vinegar.
If you're concerned that "unsweetened" means "bland," don't worry. Nutrition Insider says this is a pretty close facsimile of the less-good-for-you stuff you'll typically find on grocery store shelves. Still, if you think it's not barbecue sauce unless it's very sweet, you might want to look elsewhere for a brand that uses natural sweeteners like honey or dates.
Primal Kitchen's Classic BBQ Sauce is available on the manufacturer's website for $6.49 a bottle.
Best budget barbecue sauce
There are a few condiments that you simply can't live without, like ketchup, mustard, mayo, and barbecue sauce. While the first three aren't usually spendy, a good barbecue sauce can be on the pricey side. Fortunately, you have options if you're trying to keep the cost of your cookout down. Some barbecue sauces are both delicious and affordable, like the widely-known Sweet Baby Ray's.
One of Sweet Baby Ray's few downfalls is that it's a tad generic. According to Meatwave, it's a typically sweet, smoky, and vinegary barbecue sauce that Americans have come to expect from just about any barbecue. It also contains high fructose corn syrup as a first ingredient, so it's not the healthiest option out there. On the other hand, there's a reason so many barbecue sauces have that blend of sweet, smokey, vinegary flavors. That's because this is a delicious combo that works well with many different types of meat. Ultimately, Sweet Baby Ray's produces a great finished product, if not an especially healthy one.
Buy Sweet Baby Ray's from Walmart for $1.97 a bottle.