The Cooking Spray You Should've Been Baking With All Along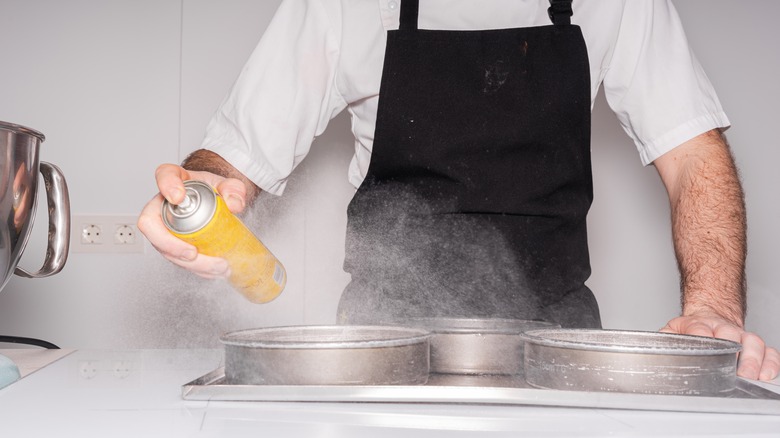 Unai Huizi Photography/Shutterstock
There is absolutely nothing worse than putting effort into a pan of brownies or a beautiful cake only to have it stick and tear when you try to remove it from the pan. No matter the method — butter and flour, cooking spray, or even "Great British Baking Show" champion John Whaite's nifty trick, it always seems there is a moment of truth when it comes to separating the baked goods from the pan. Will it? Won't it?
For professional bakers and pastry chefs this fear has real-world implications. Crumbled cake layers can mean a loss of revenue and precious energy wasted trying to rebake the item. Luckily for them there is a cooking spray that is akin to the holy grail of cooking sprays, one that is a workhorse in bakeries around the country and is known for letting baked goods slide out of pans with ease every time.
Why you should use Vegalene cooking spray
The spray is called Vegalene and now that the secret is out you too can put this time-tested product to work in your own kitchen. In an article for Kitchn, pastry chef and cooking teacher Ivy Manning says that Vegalene has been a constant presence in the professional kitchens she's worked in because it really, truly works.
The key to Vegalene's success lies in its composition. Three oils, Canola, Sunflower, and Soybean, make up the base of the spray. Lecithin derived from soy is also added for additional heat resistance, helping the oils to avoid breaking down during baking. The Vegalene company makes a variety of cooking sprays, including an allergen-free spray and ones flavored with olive oil or garlic, but the go-to spray for both professional and home bakers is that classic three oil blend. While pricier than PAM, it may be worth it for the way it might improve your cakes.
Give Vegalene a try the next time you find yourself in the mood for a homemade chocolate cake recipe or need to tackle Grandma's bundt cake for the holidays. After all, any cake left sticking to the pan is a waste of time, energy, and (most importantly) good cake!