The 1940s Copycat Peppermint Patty Holds Strong To This Day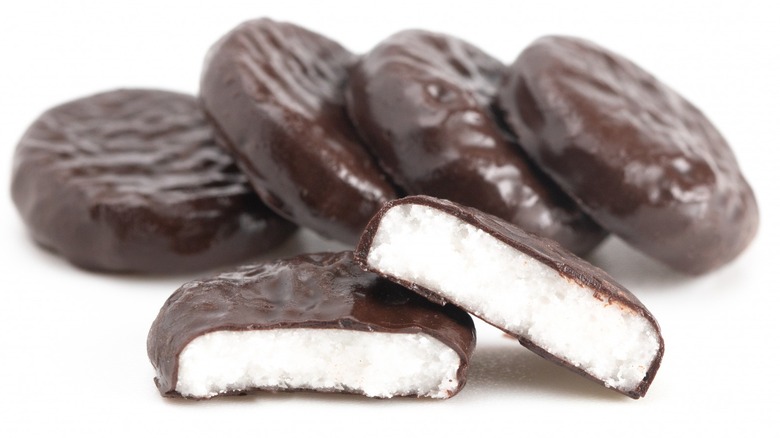 P Maxwell Photography/Shutterstock
Anytime there's a question about whether a vintage recipe is still worth making today, the best source to turn to is TikTok's B. Dylan Hollis. In over a hundred high-energy videos he does the sometimes rewarding — and sometimes terrifying — job of making and tasting recipes from cookbooks that date far back as the Civil War. In particular, Hollis loves to zero in on old recipes with some really unfortunate names such as lard nuts, pork cake, and frog eye salad. He also loves recipes with really questionable ingredients, like Velveeta cheese folded into fudge. 
Besides the oddball concoctions that are best left forgotten, Hollis has also unearthed many vintage baking recipes that are definitely keepers. These include avocado bread, wacky cake, cottage cheese cookies, and this one from 1946: from-scratch peppermint patties. Surprised to hear that this checkout-aisle candy treat can be created at home? So was Hollis, who says in his TikTok post, "I thought it was a closely-guarded industrial process. Take that, big Peppermint!" Here's what goes into this old-fashioned, homemade candy. 
Spoiler alert: You only need five ingredients
This recipe is a cinch to pull together using confectioner's sugar, peppermint extract, sweetened condensed milk, shortening, and chocolate. The total time to make peppermint patties is a couple of hours, but most of that is chilling time in the fridge. B. Dylan Hollis shows his TikTok audience how to roll out peppermint dough, then use a cutter to make rounds. Finally, dip them in chocolate and let them set. The familiar York Peppermint Patties are made with dark chocolate, but Hollis doesn't specify which type of chocolate he uses. Candy fans are free to try a dark, semisweet, or even milk chocolate coating.
So how do they taste? Just watch Hollis as he tries them for the first time: His ecstatic reaction says it all. You can even hear the snap of the chocolate shell as he bites through the peppermint patty. He sums it up by saying, "How are these so perfect??" 
It's quite fitting that Hollis shared this TikTok recipe during the holidays because homemade peppermint patties are perfect to make at Christmastime. You can stuff them in stockings or give them to neighbors as a food gift. But don't wait for December to roll around; these sensational candies are so easy, it's a recipe worth making year-round.