The Best Salad Spinners In 2023
stockcreations/Shutterstock
We may receive a commission on purchases made from links.
As healthy as lettuce and other salad greens are for you, they can also harbor a lot of bacteria. According to the Centers for Disease Control and Prevention, it's not uncommon for greens to be homes for norovirus and Salmonella germs as well as bacteria that can cause E. coli infections. Yuck!
To make salad greens as healthy as possible to eat, it's crucial to wash them before packing them into your salad. Although rinsing them in a colander can work, colanders don't remove all the water left behind. As a result, you might end up with a soggy salad. 
The answer to this is a salad spinner, which combines the basic idea of a colander with some extra mechanics that spin and toss salad ingredients to remove excess water. These gadgets can be a great addition to your kitchen if you're a regular salad eater. Bonus: You can even use a salad spinner for other kitchen tasks, like defrosting shrimp! There are a lot of styles and brands of salad spinners to choose from, though, which is why we've put together this guide of our top picks to help you find the best one for your needs.
How we selected products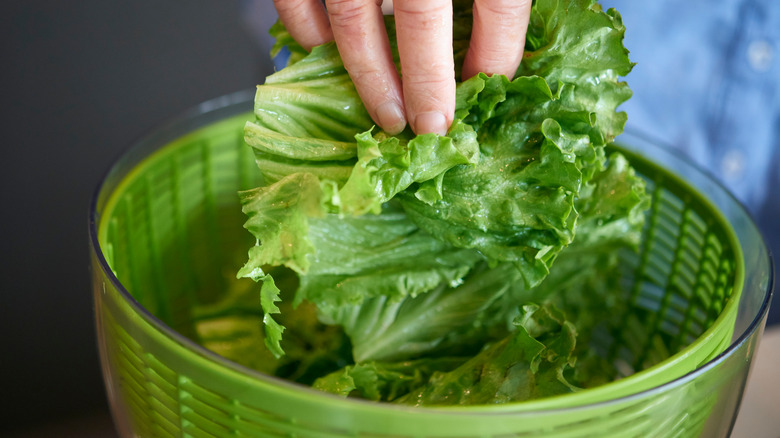 jefftakespics2/Shutterstock
If you walk into the home goods section of a department store, it won't be hard to find a multitude of salad spinners for sale in various brands, sizes, and price points. However, we think some salad spinners simply outperform others in specific areas, like spinning technology, designs for smaller herbs and sprouts, and space-saving features.
When compiling this list of the best salad spinners, we considered what people most commonly look for when deciding on these kitchen gadgets. For instance, some home cooks prefer glass or stainless steel containers and tools, while others are more concerned by the amount of room the salad spinners take up in a cabinet. For others, the budget is their primary concern. After selecting the most important categories of salad spinners, we used our personal experiences, customer reviews, press, and product features to determine the best ones to fit each need. The following list is the result of our research, hopefully leading you to your ideal salad spinner.
Best overall salad spinner
After trying a few salad spinners over the years, we keep coming back to the Mueller Large Salad Spinner. We love its large 5-liter capacity that's big enough to wash and dry salad ingredients for the family. Plus, its craftsmanship outshines many others we've tried. Mueller makes it with durable ABS plastic that maintains its shape, even when you put it in the dishwasher. Its unique spinning technology also stands out, utilizing a pull-to-spin design that doesn't require you to keep pushing a button to continue the spinning mode. This can be helpful for people who have limited use of their hands.
The salad spinner has a 5-star rating on Mueller's website, with customers frequently praising the tool's stability, efficiency, and durability. According to one Mueller customer, "Just received my salad spinner, and I love it. It does just what it was supposed [to] do. We are big salad lovers, and there is nothing worse than having a salad that is wet. This is my 2nd spinner (another brand), and it just didn't work like this one."
Purchase the Mueller Large Salad Spinner from Amazon for $19.97 as of February 2023.
Best budget salad spinner
Let's face it: A salad spinner really doesn't need to be expensive to do the job it's made to do. Unlike cookware and other kitchen gadgets that might warrant more splurge-focused purchases, a salad spinner is a relatively basic tool without a lot of space for upgrades and high-cost features. That's why we're completely on board with spending less than $15 on one, like the Mainstays 4-quart Salad Spinner, available at Walmart stores and on Walmart.com.
It's not the fanciest tool in your kitchen, but it doesn't need to be. And it looks relatively similar to other salad spinners at higher price points. Yes, it's a bit smaller than others, and you have to spin it manually. But if you don't mind trading some convenience for a lower price point, then this salad spinner is a must-buy. Despite its low price, it's clearly a winner with Walmart customers, who give it a 4.6 rating out of 5 on Walmart's website. One reviewer even calls it "perfection," while another writes, "I wasn't expecting this salad spinner to be as nice as it is. Very well made and plenty big enough. It spins really [easily] too. I love it."
Purchase the Mainstays 4-quart Salad Spinner from Walmart for $12.44 as of February 2023.
Best stainless steel salad spinner
When you do want something a little snazzier that feels more upscale, you might opt for a stainless steel salad spinner, like the OXO Stainless Steel Salad Spinner. To be fair, you will spend quite a bit more for this one than you would other non-stainless salad spinners, but the aesthetics alone might be worth it to you if you have a stainless-focused kitchen. Plus, the stainless steel bowl doubles as the perfect serving bowl for your completed salad, and it'll look great on the table. And, the inner basket can be fully removed for use as a colander, so it's kind of like a three-in-one tool that makes up for its higher price point.
This salad spinner is dishwasher safe, another bonus for many home cooks. But, one of our favorite features of this salad spinner is how secure it sits on the countertop while spinning. It has an incredibly sturdy non-slip base that keeps it right where you want it, and the easy-to-use spinning knob doesn't cause the bowl to wobble. It has one of the highest salad spinner ratings on Amazon with 4.6 out of 5 stars and more than 5,000 ratings at the time of this writing.
Purchase the OXO Stainless Steel Salad Spinner from Amazon for $64.95 as of February 2023.
Best large-capacity salad spinner
When you're making large meals for the family or bringing a dish to a party or potluck, the last thing you want is to feel restricted by the size of your kitchen tools. Smaller salad spinners can get in the way of convenience and time-saving kitchen preparation when they're too small to hold enough lettuce and other salad ingredients. That's not the case with the Cuisinart Salad Spinner, which has a 5-quart capacity that customers rave about being the perfect size. As one reviewer on the Cuisinart website states, "It's just the right size for two [heads] of romaine lettuce," yet its unique shape doesn't take up a bunch of needed space in the cabinet. Unlike other salad spinners, this one's a bit taller than it is wider, which makes it both roomy on the inside and space-saving on the outside.
It also comes with the features you'd expect to make prep time a breeze, like a non-slip base, an easy-spin manual knob, and a locking lid to make sure none of your salad contents spill out while spinning. One important note: This spinner isn't marked as dishwasher-safe, and some Amazon customers have noted that putting it in the dishwasher hasn't worked out well. So it may take a little extra time to clean.
Purchase the Cuisinart Salad Spinner from Amazon for $18.99 as of February 2023.
Best small salad spinner
If you usually make salads for just yourself, you may not have a need for a salad spinner that handles anything larger than an individual salad. That's the case with the ExcelSteel Mini Salad Spinner, which has just 1.4 quarts of interior space for lettuce and other salad mix-ins. Its compact size can save room on your kitchen countertop or in your cabinets, yet it's just as functional as other manual salad spinners.
One of the best things about this salad spinner is how easy it is to clean. Part of the reason is because of its size, which allows it to fit in most sinks easily. It's also dishwasher safe and takes up minimal space on your dishwashing racks. Several Amazon reviewers state that this salad spinner's capacity is just right for one person, and despite its size, it's highly capable of removing an impressive amount of water in a few spins. At the time of this writing, the ExcelSteel Mini Salad Spinner has a 4.4 out of 5 rating on Amazon from over 1,500 customers.
Purchase the ExcelSteel Mini Salad Spinner from Amazon for $14.50 as of February 2023.
Best collapsible salad spinner
Sure, there are mini salad spinners on the market, but they're generally geared toward people who cook for just themselves or maybe one other person. Opting for larger salad spinners can mean sacrificing storage space for salad-spinning capacity. However, the Progressive International Prepworks Collapsible Salad Spinner can work for cooks needing a decent amount of salad-spinning space that doesn't take up extra room in the kitchen. This salad spinner has a flexible design that allows you to collapse it into a compact unit when you aren't using it. It folds down to just a couple of inches, so you can tuck it in a cabinet corner or stack other items, like plates or storage containers, on top of it.
For travelers, especially, it's an absolute gem. If you can't live without your salad spinner on your next camping trip or interstate visit to family, collapse this one down to tuck it inside your travel bag. It'll probably even fit under a car seat, if need be. This collapsible feature is a primary reason why Amazon customers choose this one over others and rate it 4.4 out of 5 stars at the time of this writing.
Purchase the Progressive International Prepworks Collapsible Salad Spinner from Amazon for $39.99 as of February 2023.
Best glass salad spinner
While many salad spinners are made from various types of durable plastic, the OXO Good Grips Glass Salad Spinner is designed with a borosilicate glass bowl. According to the European Container Glass Federation, glass is recyclable and sustainable and could be more health-beneficial to consumers, as chemicals used to make glass containers do not make their way into the food you put in those containers. It's not surprising, then, that some consumers choose glass kitchenware over those made with plastics, and if you're one of them, you'll likely appreciate that there's a glass salad spinner option for you.
In addition to its overall eye-catching appearance, this salad spinner has loads of features to be thankful for. For starters, its spinning pump locks down while storing, so it doesn't get in the way. Also, the pump requires minimal effort to use, so it's easy to operate with just one hand and little force. It also has a braking system that causes the spinner to stop immediately when you're ready to take out your salad fixings. Over 400 customers have given this classy salad spinner an average of a rating of 4.6 out of 5 stars on Amazon at the time of this writing.
Purchase the OXO Good Grips Glass Salad Spinner from Amazon for $64.95 as of February 2023.
Best multifunction salad spinner and chopper
We always appreciate multifunctional tools for the kitchen, which is why we like the Mueller Salad Spinner with QuickChop Pull Chopper. At first glance, it looks solely like a salad spinner. But, packed neatly inside is a chopper with a pull-string guide that helps you quickly chop up everything you need for your salad, like peppers, onions, and mushrooms. When you're done using the chopper, tuck it back inside the salad spinner for convenient storage.
As for the salad spinner itself, it's a bit on the smaller side compared to some of the others on our list with a 3.2-quart capacity. Still, this can handle salads for two to four people. We like its stable design with a wide base that keeps it from wobbling when spinning. Although some Amazon customers do note that it's a bit loud, they also praise it for being budget-friendly without feeling flimsy.
Purchase the Mueller Salad Spinner with QuickChop Pull Chopper from Amazon for $24.96 as of February 2023.
Best spinning technology
Salad spinners sure have come a long way since they entered the market in the 1970s, and the Zyliss Easy Spin Salad Spinner proves it. While some of the older versions of the device were clunky to use and required two hands to operate, newer devices like this Zyliss salad spinner have evolved to help home cooks spin their salad ingredients dry without tiring out their muscles. This salad spinner has no buttons to push or knobs to pump. Instead, it has an easy-to-use pull cord. Just one pull on the cord, and the salad spinner does the rest of the work. Then, all you need to do is press a button to activate the brake, which abruptly stops the spinner and fluffs the salad.
With close to 1,800 ratings and an average of 4.4 stars out of 5 on Amazon, it's clear customers love this salad spinner's technology, too. One Amazon customer says, "OMG! A world of difference to my prior salad dryer, which you have to spin with a handle. The pull string gets the bowl spinning so much faster and with much less effort! This spinner is a major winner!"
Purchase the Zyliss Easy Spin Salad Spinner from Amazon for $34.95 as of February 2023.
Best salad spinner for herbs
Do you cook with a lot of fresh herbs and sprouts? If so, the OXO Little Salad and Herb Spinner could be the right salad spinner for your kitchen. It has a 2.44-quart basket and a bowl with a little over a 3-quart capacity. However, its smaller size is just right for tiny herbs and thin sprouts. Plus, the salad spinner's narrow holes prevent smaller ingredients from escaping when spinning. When you're ready for a salad, you can make a small one fit for one person using the same tool.
The OXO Little Salad and Herb Spinner has a pump to start the spinning process, which, when coupled with the non-skid base, you need only one hand to operate. Another bonus: This little gadget is very easy to clean, as the lid pieces detach from one another to help you reach every nook and cranny.
Purchase the OXO Little Salad and Herb Spinner from Amazon for $24.95 as of February 2023.
Best salad spinner for restaurants
We know that restaurants probably won't get the efficient salad preparation they need from a traditional household salad spinner, which is why we added the Choice Prep 5 Gallon Salad Spinner to our list. This massive salad spinner can hold up to six heads of lettuce at once, so you can make multiple salads for diners in one shot. Or, add your vegetables and herbs into the basket to wash and spin them dry.
Because of this spinner's size, the spinning mechanism requires a little more work than other salad spinners. Still, the rotating handle on the lid is designed to give you an excellent grip, so it doesn't feel cumbersome to use. We love that there's a hose on the bottom to drain water away as it spins instead of having to try to fit the whole salad spinner in a sink for drainage. One perk that a customer mentioned on the WebstaurantStore website: "This allows me to spend less time in the set up of the salad bar and less costs in labor."
Purchase the Choice Prep 5 Gallon Salad Spinner from WebstaurantStore for $94.99 as of February 2023.
Best salad spinner alternative
If you're not sold on adding another tool to your kitchen, perhaps the Salad Sling will better fit your needs. If you've watched the product's owner pitch the Salad Sling on "Shark Tank," you might remember that the gadget didn't win over any of the sharks enough to invest in the product. Even so, the Salad Sling still exists today as an alternative to the traditional salad spinner. Simply place your lettuce in the towel-like sling, fold up the edges, and sling it around in a circular motion a few times to dry the lettuce. The microfiber material soaks up the wetness, leaving you with dryer ingredients.
As of this writing, the Salad Sling has 4 out of 5 stars on Amazon, with several customers stating that they chose the product because of how little space it takes up in their kitchen compared with a salad spinner. One customer even mentions that it's perfect for small herbs that often fall out of a regular salad spinner.
Purchase the Salad Sling from Amazon for $23.99 as of February 2023.