Twitter Is Calling For A Heineken Boycott One Year Into Russian War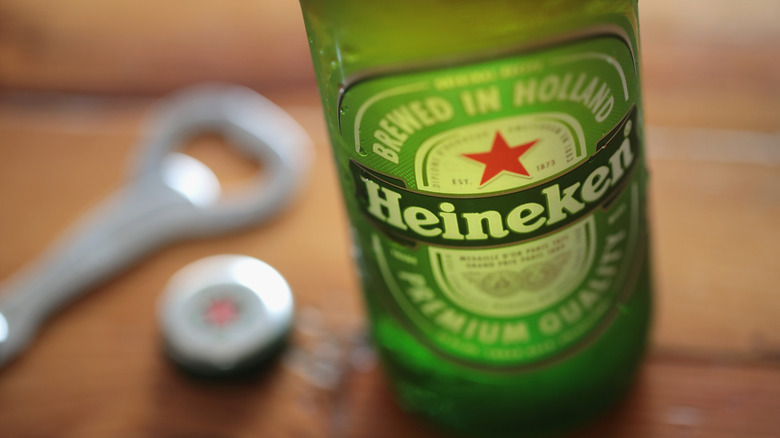 Scott Olson/Getty Images
On February 24, 2022, Russian troops invaded border-country Ukraine in an attempt to forcibly take over the country (per The Conversation). Under the order of Vladimir Putin, 2,000 troops were deployed on what they thought would be a simple mission. Instead, the Ukrainian Army fought diligently, leading to the continuation of the war. Per The Jerusalem Post, an estimated 300,000 people have died in the conflict.
Following the attack, many companies found it in their best interest to pull operations from Russia. According to a press release from the Golden Arches themselves, McDonald's temporarily closed all Russian locations because the war isn't "consistent with McDonald's values." Coca-Cola did similar, suspending operations until "circumstances evolve." For better or for worse, some corporations didn't make the decision to revoke their business in Russia. Now, a year to the date later, a certain beer is starting to face the repercussions of their choice.
The brand broke its promise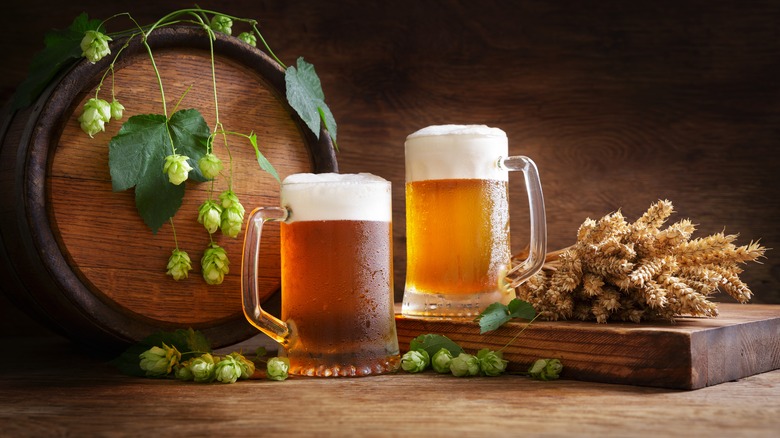 Nitr/Shutterstock
A month after the war began in Ukraine, Heineken made the promise to suspend production, sale, and advertising of its product (via NL Times). "We are shocked and saddened to watch the tragedy in Ukraine unfold. We stand with the Ukrainian people, and our hearts go out to all those affected," Heineken CEO Dolf van den Brink said at the time. However, instead of pulling its products, Heineken released 61 more. On its website, Heineken Russia reported "record highs in multiple segments." As far as monetary growth is concerned, one executive understands the choice. "Heineken is cynically benefiting from the fact that major international brands have withdrawn from Russia — the Budweiser and Carlsberg brands were much bigger there."
Twitter users, though, made it clear their beliefs that lives should be valued over money. An account with the handle @AnonOpsSE shared a picture of Heineken bottles that read "Proud supporter of Russian genocide." People in the comments' section below announced they'd be boycotting the company upon learning the news. "Not buying your products anymore...I'm sure it taste like blood," one user wrote. "I promised not to buy anything from any company who still does business with Russia. Sorry but I'm out!" wrote another. Another user @AuroraGroove shared a list of all Heineken brands "Heineken is a year too late. Everyone should boycott Heineken and all its brands," they wrote. 
No matter what decision you make, you'll be happy to know beer is actually good for you.