The Jonas Brothers Apparently Love French Onion Soup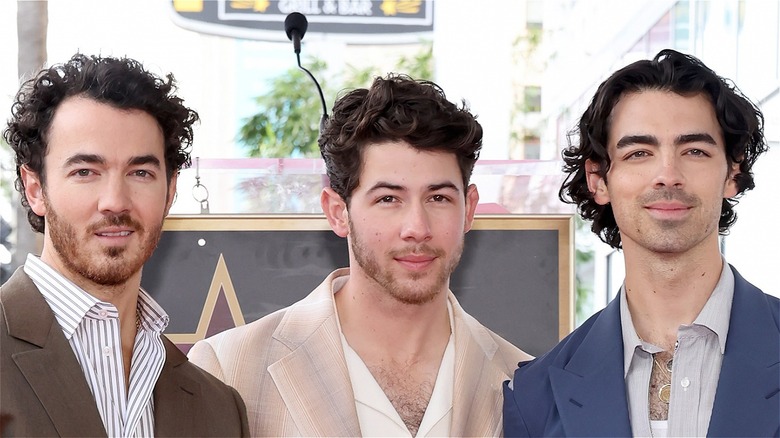 Amy Sussman/Getty
The Jonas Brothers have shown just how hungry they are since returning to the music scene in 2019. A mere 24 hours after announcing the end of their six-year hiatus on February 28, the group comprised of brothers Joe, Nick, and Kevin Jonas dropped the first single of their comeback era, "Sucker." Their fifth studio album "Happiness Begins" dropped later that year. Since then, the Jonas Brothers have stayed incredibly busy with nationwide tours, Las Vegas residencies, and another album that's coming out this May.
The JoBros also entered the food world with the launch of their popcorn brand, Rob's Backstage Popcorn, and all three are married with children. But even with so much going on, the siblings still try to prioritize getting together for a meal. "That's one of the things that really drew us so close to each other," Nick told Rolling Stone at the opening of the Vegas location of the Jonas family restaurant last summer.
Nick noted that their family dinners have become a bit more sporadic due to their demanding schedules. But last week, he and his brothers were able to reunite around the dinner table once more to enjoy a dish that, as a recent TikTok video suggests, they apparently love.
Evidently, the Jonas Brothers are suckers for soup
In the chorus of their hit song "Sucker," the Jonas Brothers belt out, "I'm a sucker for you." But if you've been hearing "I'm a sucker for soup" this whole time, it seems you wouldn't be too far off. Though not the correct line, it appears that there is actually some truth to the mondegreen, as evidenced by a TikTok posted to Nick Jonas' page last week.
The camera isIn the February 20 video, we begin with the camera focused on Joe Jonas before it turns to Kevin, who is seen nodding approvingly at something on the table. The lens then pans to Nick, who appeared to be in the midst of enjoying a bowl of soup. Seemingly lost in thought, the "Jealous" singer removes his sunglasses and rubs his hands together before letting out a short sigh. "French onion soup," he says while pointing at a bowl of slurpable sustenance in front of him and nodding his head.
No other context was provided with the post, but that didn't stop fans from praising the brothers for the hilarious skit, which many have compared to the content the siblings used to put out on YouTube in the early 2000s. And while the video seems to have been completely random, it turns out that Nick made another TikTok centered around soup just last month, making us wonder: will we see a Jonas Brothers soup in the future?