A Woman Crashed Into A Popeyes Allegedly Because They Forgot Her Biscuits
Popeyes does have some of the tastiest fast food out there — the chain is justifiably famed for its delicious spicy fried chicken, its hearty Cajun rice, and, not least, the infamous menu item that launched the great Chicken Sandwich War all the way back in 2019. As you may recall, people went into an absolute frenzy over the sandwich, with some pretty dark results ranging from parking lot chaos to drive-thru brawls. While the sandwich is still on the menu, the darker effects of Popeyes' chicken sandwich has long since died down, and for both of those things we are truly grateful.
More recently, though, Popeyes has been in the news again for yet another overly-passionate patron. Yes, those fluffy buttermilk biscuits are pretty amazing, and who wouldn't be pretty upset to find their order missing this item? Angry enough to go to jail over it, though? Umm, no, since generally a polite request is all that's needed to fix the situation. One woman in Georgia, however, apparently felt differently about the matter.
She got her biscuits, but also got arrested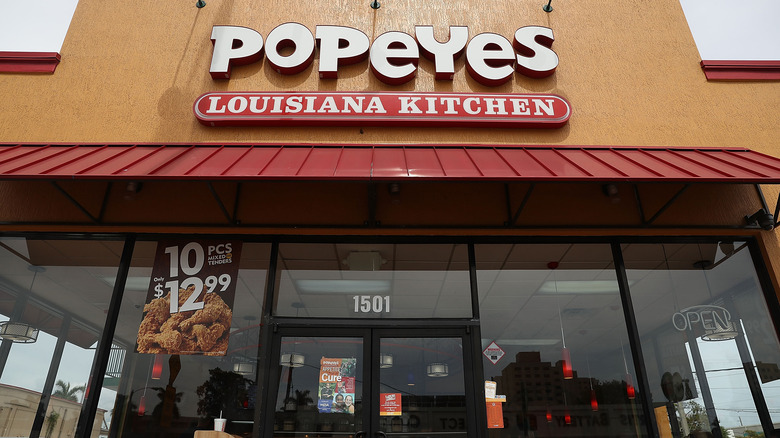 Joe Raedle/Getty Images
On February 22, a woman named Belinda Miller went to Popeye's to place an order that was meant to include biscuits, but due to an oversight, no biscuits wound up in her takeout bag. She was not happy about this and purportedly got back in line to request her biscuits. While Popeyes corrected the error once she pointed it out, she was still quite upset about it. According to the Augusta, Georgia-based WJBF news, she warned others in line that they'd better get their food and go as she was intending to return with vengeance on her mind.
Return she did, behind the wheel of her SUV. The disgruntled customer reportedly crashed the vehicle through the front doors and took out part of the wall as well. Luckily no one seems to have been injured, but it might have been a near miss for one employee who was standing near the point of impact. Somehow Miller was able to pull her car back out of the Popeyes and drive away, but several days later the police located the damaged vehicle parked at her home, per Fox 5 Atlanta. They subsequently arrested her and charged her with aggravated assault and criminal damage to property. While Miller is undoubtedly regretting her monumental mistake, at least she was able to enjoy her biscuits before trading them in for prison cuisine.