Dunkin' Joins The Canned Iced Coffee Game With 3 Unique Flavors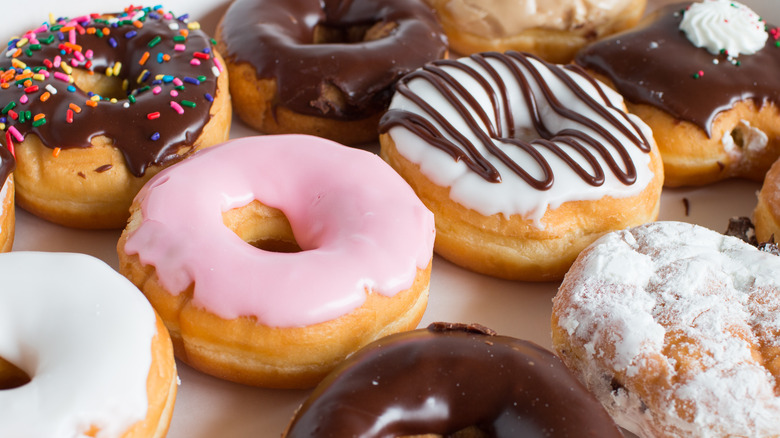 Busara/Shutterstock
Canned coffee may seem like a relatively new phenomenon, something that's just gotten big in the last decade or so, but it was actually invented in Japan over 50 years ago. With such a ready-made market in place, its no wonder that Starbucks chose to release its first ready-to-drink coffees in Japan and Taiwan in 2005, although these types of beverages were made available in the U.S. by the following year. These days, refrigerated coffee drinks are practically a billion-dollar business — as of July 2022, the annual revenue amounted to $925.4 million (according to Beverage Industry) and sales were projected to keep on rising. Starbucks may be the biggest name in the game, but there are plenty of other options on supermarket shelves including Bulletproof, High Brew, Slingshot, and La Colombe.
Dunkin' was late to the game, but it eventually joined the canned coffee party in 2018, launching its line of Shot in the Dark espresso drinks that came in caramel, mocha, and vanilla flavors. Now, however, it's once more partnered with the Coca-Cola company to launch yet another canned coffee product. What makes this one so special is the fact that it takes its inspiration from the chain's original identity: that of a donut shop.
The new canned coffees come in donut and muffin flavors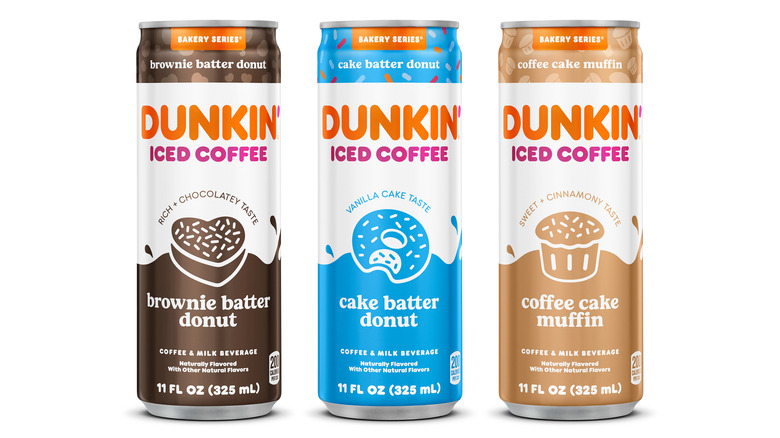 Dunkin'
According to a press release, Dunkin's new bakery series iced coffee comes in flavors that are a deliberate homage to the baked goods that made it famous in the first place. A clever move, as it definitely sets the chain apart from the pack, or rather, from its #1 competitor. Starbucks may own the lion's share of the fast food coffee market, but its pastries are more of a sideline — it didn't even start selling sandwiches until 2003, while cookies, croissants, and cake pops came along later. At Dunkin', on the other hand, it's been "time to make the donuts" for nearly 75 years.
Dunkin's new canned coffees, which should now be available in select groceries and convenience stores, are named after two of their signature donuts and one of their other popular products. The Brownie Batter Donut coffee is, you guessed it, chocolate-flavored, while the Cake Batter Donut coffee has more of a vanilla flavor and the Coffee Cake muffin coffee tastes like cinnamon. (Coffee cake-flavored coffee? What'll they think of next, coffee-flavored coffee cake?)