The Two-Ingredient Frosting That Will Elevate Store-Bought Chocolate Cake Mix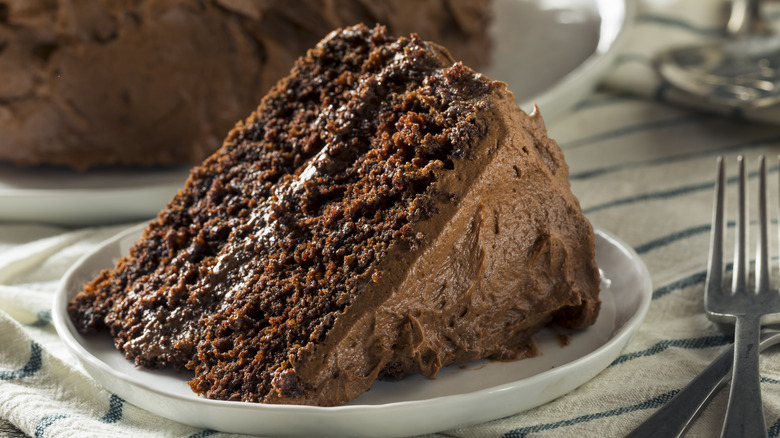 Bhofack2/Getty Images
Whether you're an amateur baker who is a little too intimidated to bake an entire cake from scratch or you're just short on time, boxed cake mixes are a convenient solution. From Funfetti to vanilla to red velvet, you can find almost any flavor of on grocery store shelves. For many boxed cake mixes, all you need to add is eggs, vegetable oil, and water — it really doesn't get much easier than that.
Once your cake is baked, however, you can't forget the second most important component of the final product: the frosting. While you could settle for icing in a can, if you want to put in a little more effort, you can whip up chocolate frosting from scratch with just two ingredients. It adds a homemade element to your from-a-box cake that will impress all your guests. Here's the frosting hack that's gone viral on TikTok, and how you can make it the next time you're baking a cake.
It's very easy to make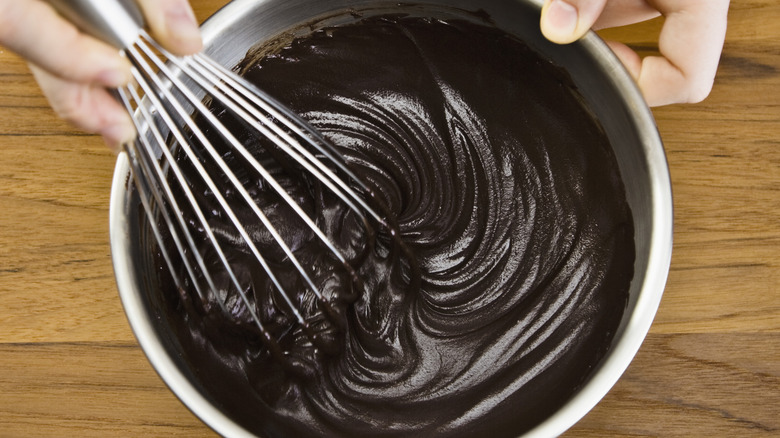 Jupiterimages/Getty Images
If homemade frosting sounds like something only an experienced baker could make, fear not — this recipe spotted on TikTok is so easy that even the most beginner home cook can make it. In a video posted by TikToker @foodbyremi, she whisks together cream and melted dark chocolate to create a luxurious icing for her devil's food cake that she made from a box. (She claims she "refuses to buy frosting because it tastes so bad.")
She isn't the only one who swears by this two-ingredient frosting recipe. The blogger at Indulge With Mimi makes a similar icing with heavy cream and semi-sweet chocolate, saying that she loves it because it doesn't have the aftertaste that you might get from recipes that call for cocoa powder. And if you're dairy-free or vegan, you can make this recipe by subbing in full-fat coconut cream, according to The Big Man's World. "The texture is smooth, creamy, and can be as fluffy as you like," he explains.