We Would Totally Eat Aldi's Irish Style Bangers For St. Patrick's Day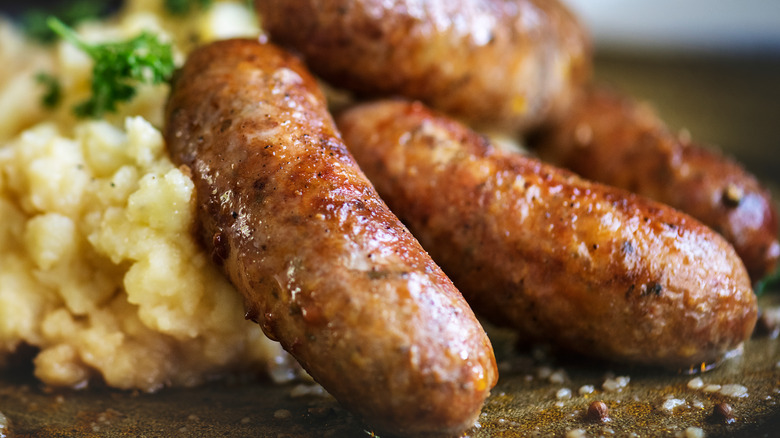 Rawpixel.com/Shutterstock
Saint Patrick's Day is almost here, and if you're like the majority of Americans, you'll be celebrating with a feast of soda bread and corned beef hash, two of the most popular foods to eat on March 17. But if you're getting bored of eating the same thing every year, Aldi just brought back a seasonal Irish item that's a tasty corned beef alternative — and more affordable than picking up a pack of the cured brisket. 
Listed as an "Aldi Find" in February, Aldi's Parkview Irish Style Bangers are in stock just in time for you to stock up for your St. Patrick's day supper. There are two varieties available: Original, and Ale & Onion, both of which come in 14-ounce packages. Price varies by store, but a pack of these Irish style bangers from Aldi will almost certainly cost less than corned beef, which according to the most recent USDA data, was averaging $5.90 per pound. In 2022, Aldi's bangers were selling for $3.89 in at least one location. But how do you eat bangers, and what do they taste like? For those who aren't used to this Irish sausage, you may be pleasantly surprised.
A softer sausage
For those trying Aldi's bangers for the first time, the texture could come as a surprise. In a Facebook group post for Aldi fans, one customer said of the sausages, "they were really mushy." But it turns out that this softer texture is one of the signature differences between bangers and other types of sausage, as several other commenters explained. That's because these sausages traditionally contain breadcrumbs and eggs in the filling, instead of just meat. Aldi's Original Irish Style Bangers contain 12% wheat, and the Ale & Onion variety contains 10% wheat. That's why they have a softer texture than a sausage made of just meat. Another fun fact? In Ireland, they wouldn't be called bangers, just sausage. 
As for how to serve them, you could try some traditional recipes, like toad in the hole, which features the sausages cooked up in a popover batter in the oven, or the simmered stew Dublin coddle. Or, you could try a twist on the traditional dish of bangers and mash with what Robert Irvine calls a marriage made in heaven: bangers with colcannon, an Irish dish of potatoes mashed with cabbage and leeks or green onions. Swap the cabbage for kale, add extra green onions, and you'll have a verdant side dish for your St. Patrick's Day feast that will match your décor and be a tasty accompaniment to your Aldi Irish style bangers.