14 Iconic Texas Foods You Need To Try Before You Die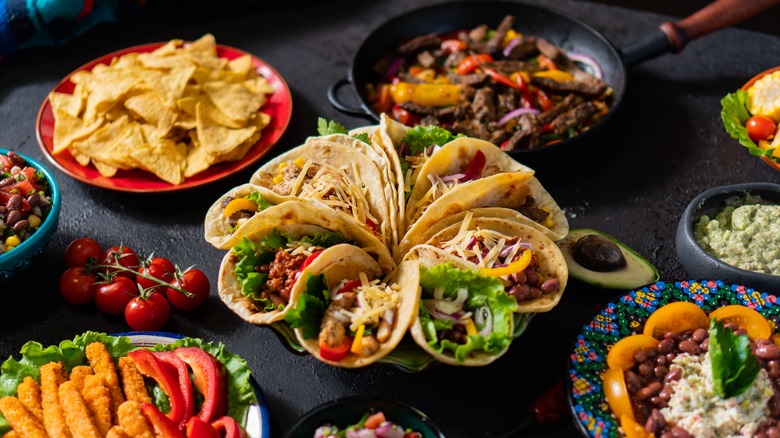 Fevziie/Shutterstock
Whether it's Alaska's king crab, Louisiana's jambalaya, or Florida's key lime pie, most U.S. states have their iconic dish or dishes. Often doubling as comfort foods, these memorable state staples provide us with a sense of familiarity, nostalgia, and well-being. Often served at state fairs and family gatherings, they also tend to bring people together and foster a sense of community and togetherness.
The Southern state of Texas is no expectation. From chili con carne to pecan pie, the Lone Star State abounds in iconic dishes that have become famous not only in the U.S. but also around the world. And this shouldn't come as a surprise. A 2018 study reported by Hays Free Press found that Texas is the second most culturally diverse state in the U.S. after California — a fact that is clearly reflected in the bold flavors and hearty dishes of its cuisine.
Whether you're a longtime Texan, a hungry visitor, or simply curious about the state's culinary gems, here is our roundup of the most iconic Texas foods you need to try before you die.
Texas-style barbecue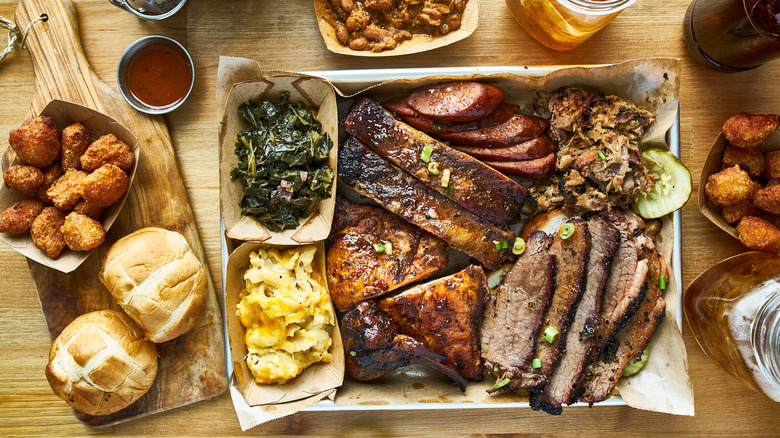 Joshua Resnick/Shutterstock
There's little doubt that Texas-style barbecue has captured the hearts — and taste buds — of many, both locally and nationally. Well-known for its tender and juicy meat, Texas barbecue comes in four styles depending on the region.
Central Texas-style barbecue is both simple to prepare and delicious. Here the meat is usually seasoned with a rub of salt and black pepper and smoked over pecan, oak, or mesquite wood. Influenced by Mexican cuisine, South Texas-style barbecue is known for its thick and flavorful sauces. East Texas-style barbecue is all about slow cooking and tangy tomato-based sauces. West Texas-style barbecue, meanwhile, focuses on grilling meat over direct heat fueled by mesquite wood.
Barbecued beef brisket is highly sought-after across the entire state. The sizable cut from the chest or breast of cattle tends to be naturally tough, making it perfect for slow cooking until it reaches optimal tenderness and juiciness. Before becoming the hallmark of Texas barbecue, brisket was popular with Eastern European immigrants who considered it to be an affordable and nutritious food option.
Chili con carne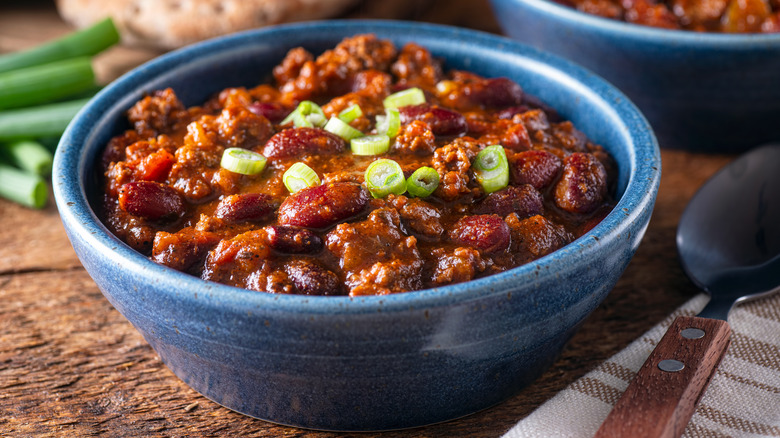 Foodio/Shutterstock
It's easy to see why chili con carne, or Texas chili, is such a hit among the residents of the Lone Star State. One of them is the fact that chili has been the state's official dish since 1977. So what's chili con carne all about? Traditionally, chili should be made with chuck roast or stew meat as well as onions and peppers. And while the recipe for the dish isn't set in stone, Texas chili should never contain beans — however, we all know that rules are meant to be broken.
While the origins of chili con carne are shrouded in mystery, according to Texas food historian Robb Walsh, there's one theory that's more plausible than the others. Walsh believes that the rich stew had its beginnings with San Antonio's immigrants from the Canary Islands in the 18th and 19th centuries, as Texas Monthly reports. Whatever the real origin is, the classic staple was popularized by a group of women referred to as the Chili Queens, who sold an early version of the flavorful dish to passersby in San Antonio's Military Square.
Tex-Mex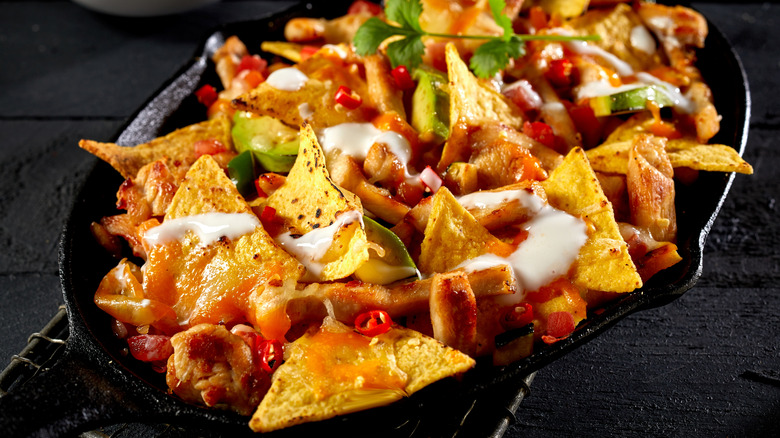 stockcreations/Shutterstock
From high-end restaurants to roadside taquerias, Tex-Mex cuisine is ingrained in the state's culinary sensibility. Not just affordable and widely accessible, Tex-Mex is also varied and delicious. And while Tex-Mex incorporates classic Mexican dishes such as burritos, tacos, tamales, nachos, and enchiladas, it's distinct from the cuisine of its southern neighbor. What differentiates the two styles of cooking are their ingredients and preparation methods. For instance, Tex-Mex utilizes different spices than Mexican cuisine — chili powder instead of fresh chilies being a case in point.
As its name suggests, Tex-Mex has its origins in the Lone Star State. And while many associate Tex-Mex dishes with Mexican cuisine, Texas food writer Waverly Root says it should be more accurately described as an American cuisine with foreign (in this case Mexican) influence since it was created in the U.S. (via Penguin Random House). And while the precise beginnings of Tex-Mex are tricky to pinpoint, one of the cuisine's first dishes was the state's official dish: chili con carne.
Chicken fried steak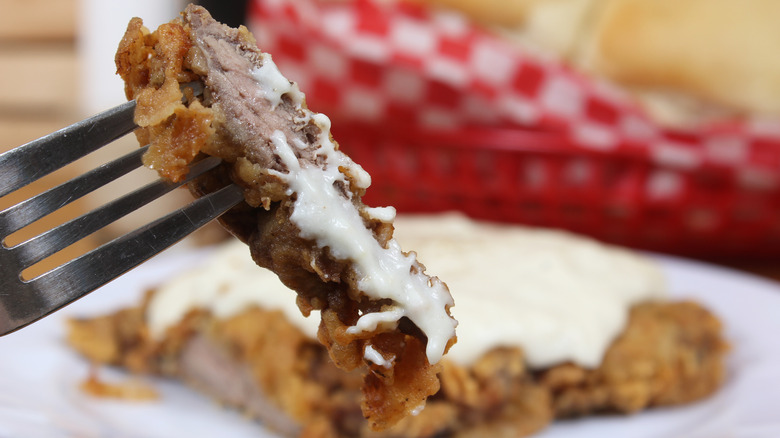 LMPark Photos/Shutterstock
If you stay in Texas for any length of time, you're going to eat chicken fried steak at some point. Indeed, the classic comfort food is hard to miss since it's ubiquitous at the state's diners and cafes.
Said to have originated with German immigrants, chicken fried steak is a variation of wiener schnitzel, a fried dish that combines veal and breadcrumbs. Despite its name, however, chicken fried steak has nothing to do with poultry. Instead, the name is associated with the way the dish is prepared — namely by battering and frying beef chicken-style.
Also sometimes referred to as country fried steak, chicken fried steak is made by coating a cube steak — or a tenderized piece of beef — in a concoction of eggs or milk and seasoned flour. After it's fried, the steak is typically topped with a rich gravy made from pan drippings and served alongside greens and mashed potatoes. The dish is also commonly served for breakfast with eggs and hash browns.
Queso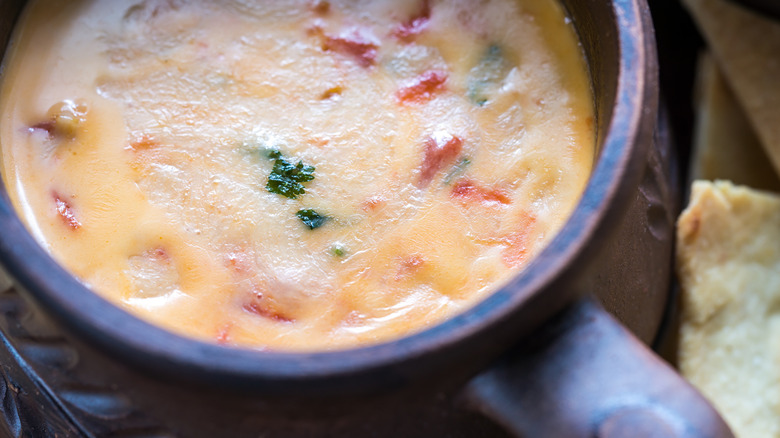 Alexander Prokopenko/Shutterstock
Short for chile con queso (or peppers with cheese), queso is a cultural icon in Texas, with many restaurants and fast-food chains offering their own versions of the dish. Not to be confused with queso fundido, a concoction of melted white cheese and roasted green chilies, Texas-style queso is typically made with American cheeses, such as Velveeta or Kraft, Ro-Tel canned tomatoes, and green chiles. Texas-style queso usually contains more milk than queso fundido, making it thin enough for dipping.
While the exact origins of queso are disputed, the first recipe for chili con queso was published in an American magazine "The Land of Sunshine" in 1896. However, this early chili con queso was more of a side dish than a dip. Recipes in which the cheese played the starring role didn't come about until the early twentieth century. Today, many chili con queso recipes call for a variety of additional ingredients such as chopped veggies and pico de gallo.
Whataburger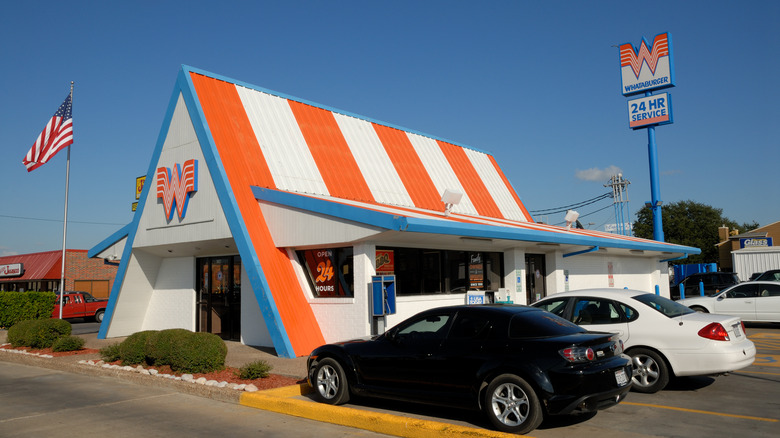 Philip Lange/Shutterstock
Whataburger was founded in Corpus Christi, Texas, in 1950, and has been a beloved institution in the state ever since. Many Texans grew up eating at Whataburger, and over the years the chain has become a part of the state's cultural fabric. With around 890 locations in 10 different states, the franchise is known for its made-to-order burgers and fresh beef patties. The fast food restaurant was a success from the get-go. In fact, the name Whataburger is said to have originated from customers' reaction to the chain's fare, many of whom would exclaim the words, "What a burger!" upon tasting its hamburgers.
It's not just Whataburger's food that's iconic in the Lone Star State. Texans have also fallen in love with the chain's unique architectural design, including its distinctive A-frame roof. As such, it's no surprise that the state's residents were up in arms when in 2020 the franchise decided to overhaul the appearance of its outlets. One Whataburger enthusiast bemoaned the decision on Twitter, saying, "This [new] design is a complete slap in the face to the original design. But, I guess they're appealing to non-Texans."
While the restaurant's new design keeps the chain's trademark orange and white colors, it scraps the beloved A-frame. Whataburger is planning to makeover all of its restaurants within the next 10 years. The change comes after a Chicago-based investor purchased a majority stake in the restaurant in 2019.
Pecan pie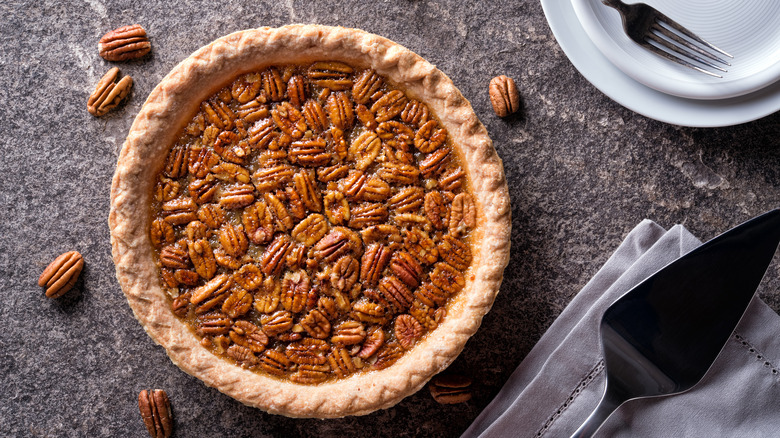 Foodio/Shutterstock
Blending sweet and nutty flavors with a flaky crust, it's not difficult to see why pecan pie is the pride and joy of Texas. In fact, pecan pie was declared the official dessert of the Lone Star State in 2013. The resolution passed by the Texas House of Representatives states, "Texas pecan pies are, hands down, the best, especially when made with Texas pecans by a Texan."
The pecans grown in Texas are known for their rich flavor and superior quality. This means that Texans have easy access to fresh, high-quality pecans, which makes pecan pie a natural choice for a dessert. In fact, the pecan tree was recognized as the official tree of the state of Texas in 1919.
Pecan pie also has deep roots in the state's culinary history. While pecan-based recipes have appeared in Texas cookbooks since the 1870s, the first pecan pie recipe wasn't published until 1898. The recipe for pecan pie has evolved over the years. For example, many pecan pies today call for Karo corn syrup, likely due to the fact that the company has promoted its product in various recipes since the early 20th century.
Frito pie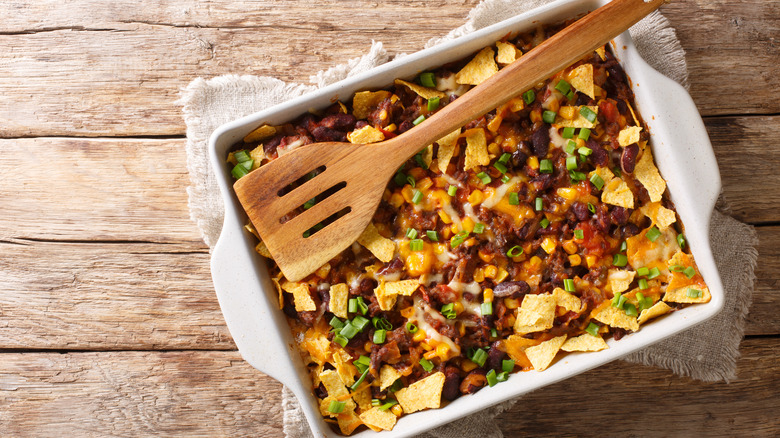 Alleko/Getty Images
Popular at sporting events, country fairs, and backyard parties, Frito pie is both delicious and very simple to prepare. The Tex-Mex dish consists of Fritos corn chips smothered in chili, cheese, and other toppings such as sour cream, onions, and jalapeños. And while the concoction was once criticized by Anthony Bourdain who referred to it as "warm crap in a bag," Texans are clearly partial to the snack (via Houstonia).
Despite Bourdain's slight, there's a dispute between Texans and New Mexicans about who invented the Frito pie. According to New Mexicans, the dish was masterminded by Teresa Hernandez when she spooned red chili into corn chip bags at a Santa Fe Woolworth in the 1960s. The daughter of Fritos founder Charles Elmer Doolin, Kaleta Doolin, debunks Teresa Hernandez and other Frito pie-related myths in her book, "Fritos Pie, Stories, Recipes and More." According to Kaleta, her father didn't invent Fritos but rather purchased the recipe in 1932. Her book also points out that Frito pie was a corporate invention that evolved over time rather than the creation of one individual.
Kolaches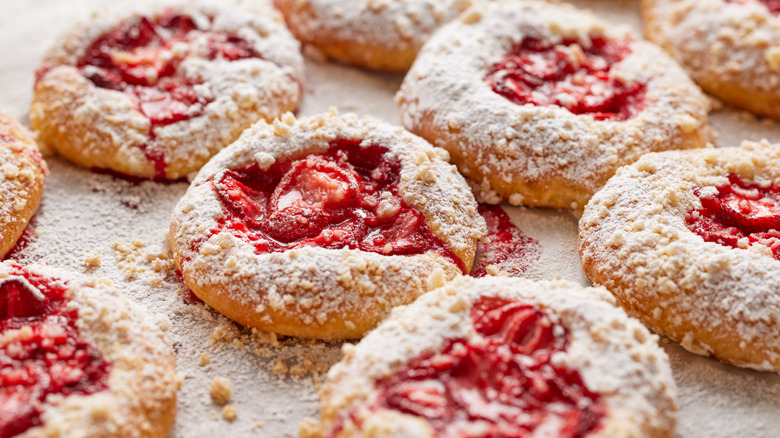 zi3000/Shutterstock
Kolaches are sweet or savory pastries that consist of dough packed with fillings such as cheese, fruit, or sausage. The popular pastry originated in Eastern Europe and was brought to Texas by Czech immigrants in the 19th century. In fact, the word "kola" means round in Czech, referring to the traditional shape of the snack. Today, kolaches are a staple in many bakeries, cafes, and convenience stores across the state. Hallettsville even holds an annual festival in honor of the tasty bites.
Mimi Montgomery Irwin, whose father opened The Village Bakery in West Texas way back in 1952, says that while the snack has evolved over the years, traditional kolaches were always filled with fruit rather than meat. "I try to help them understand that when they ask for a kolache, they should not be getting meat. And in many of the chains, that's what's being passed off as a kolache," she says. Instead, Irwin says that savory versions of the pastry are referred to as klobasniki — a bite invented in The Village Bakery (via NPR).
Migas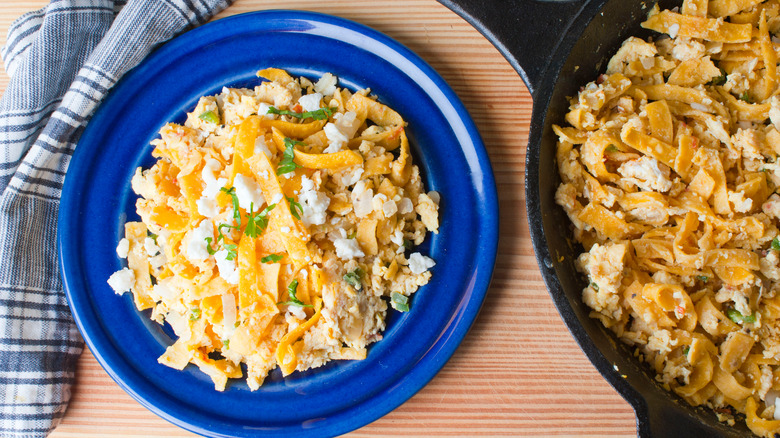 Marie Sonmez Photography/Shutterstock
Unlike most of the other Texas staples on our list, migas are usually eaten for breakfast. At its most basic, the dish consists of eggs scrambled with cheese, salsa, and corn tortilla strips, however, there are plenty of other takes on the Texas staple. Other ingredients frequently added to the filling dish include onions, chilies, and meat.
Migas are commonly confused with chilaquiles. And while both dishes contain similar ingredients, they also feature some vast differences. More specifically, while migas call for the egg to be scrambled into the dish, in chilaquiles it's used as a garnish that tops the final fry-up. Chilaquiles don't even require an egg, since traditionally they have just been made with tortillas, cheese, and salsa. In addition, in the case of chilaquiles, the salsa is added to the pan while the tortillas are being fried and not at the end as is commonly done in the preparation of migas.
Blue Bell ice cream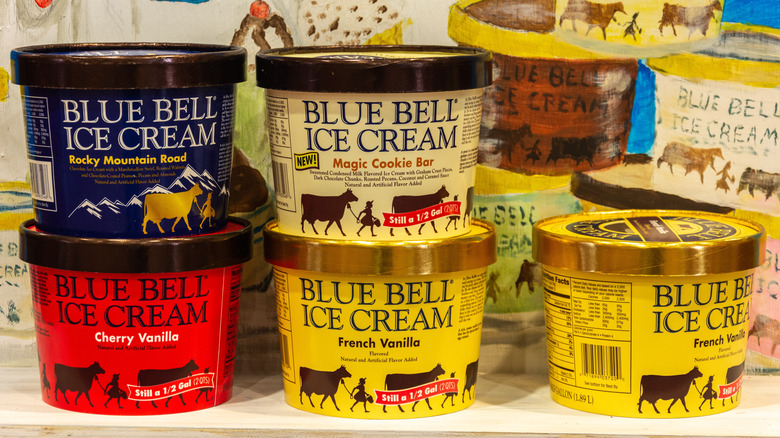 Alizada Studios/Shutterstock
Blue Bell is a Texas-based ice cream company that started out as the Brenham Creamery Company in 1907. The venture gradually shifted focus from making butter to churning ice cream, changing its name to Blue Bell Creameries in 1930 in honor of the Texas bluebell wildflower. And while Blue Bell ice cream can now be purchased in 23 states, the company remains a source of local pride and loyalty among Texans.
Blue Bell, which has never outsourced the manufacture and distribution of its products, has built a strong emotional connection with its customers. And this isn't just through infusing its ice cream with traditional Southern flavors such as Pecan Pralines 'n Cream and Southern Blackberry Cobbler.
Blue Bell has tried to appeal to Texans with advertising jingles that associate its products with nostalgia for the days-gone-by and country-style living. Those curious about the Blue Bell ice cream-making process can even visit the company's factories in Brenham, Texas, or Sylacauga, Alabama.
Texas sheet cake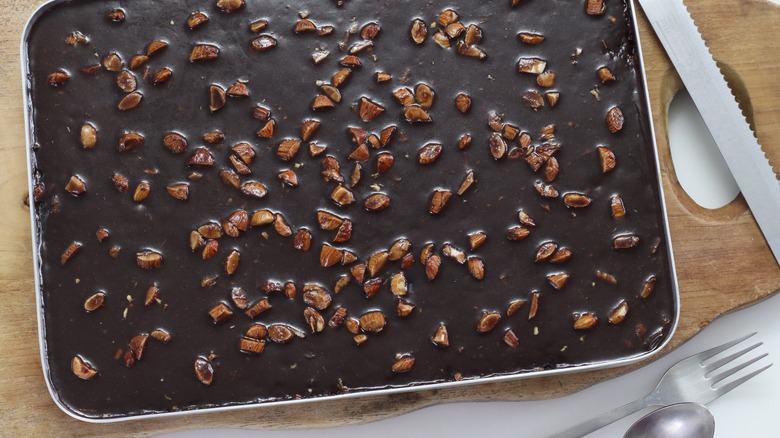 Trending Now/Shutterstock
Usually served at large gatherings, Texas sheet cake — also sometimes referred to as Texas funeral cake or Texas brownie cake — is large enough to feed a crowd. A full sheet cake measures 18 by 26 inches and can be divided into 116 individual servings. However, this chocolate cake is no one trick pony. Aside from its size, it's also delicious. Made with buttermilk, cocoa powder, cinnamon, and pecans, and topped with a rich chocolate frosting, sheet cake is a long-standing favorite with many Texans.
Texas sheet cake is said to have been inspired by German sweet chocolate cake. And while both recipes contain pecans and buttermilk, Texas sheet cake is much easier to prepare. While making a German sweet chocolate cake involves creaming butter, beating eggs, and melting chocolate, when it comes to Texas sheet cakes all the ingredients are just mixed together. With so little effort and so much goodness, it's easy to see why Texas sheet cake is such a beloved dessert throughout the state.
Texas caviar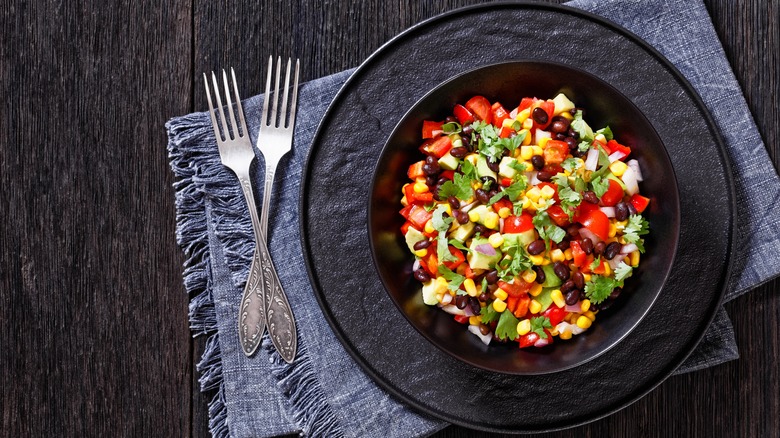 from my point of view/Shutterstock
Also sometimes called Cowboy caviar, Texas caviar is an appetizer or dip with a mixture of black-eyed peas, beans, corn, and other vegetables. The dish is normally smothered with a tangy dressing and served with tortilla chips or crackers. Texas caviar owes its name to its main ingredient — the black-eyed peas — since they look like caviar (kind of). 
While the fact that Texas caviar is a Lone Star State original isn't in dispute, the snack was actually created by Helen Corbitt, a New Yorker who was Neiman Marcus's head chef at a restaurant in Dallas. She came up with the dish in the 1940s after being asked to produce a menu that only used Texan ingredients. Her original recipe, which she called pickled black-eyed peas, didn't have all the vegetables that were later added to the salad. Today, the dish is commonly eaten on New Year's Day since black-eyed peas are considered a symbol of good luck in the Southern U.S.
King Ranch chicken casserole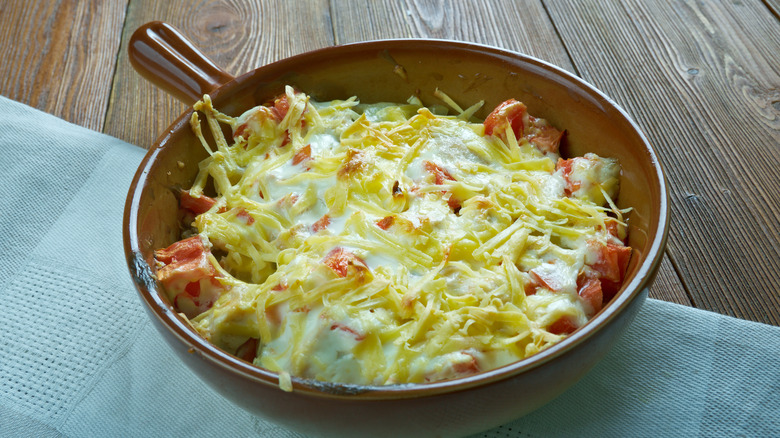 Fanfo/Shutterstock
In Texas, King Ranch chicken casserole is a staple at potlucks, family gatherings, and other social events. The iconic comfort food is simple to prepare and combines ingredients such as chicken, cheese, tortillas, and a sauce concocted from diced tomatoes, chiles, canned soup, and sour cream. You could call it a sort of Tex-Mex lasagna — the main difference being that it uses tortillas instead of noodle sheets. If there was an official state casserole dish, King Ranch chicken casserole would be it for Texas.
The Tex-Mex-style dish is said to have been named after the famous King Ranch in South Texas. Dating back to 1853, the ranch is the largest in the country. However, it's unclear whether the dish was actually invented there. The fact is that the descendants of the ranch's founder have never tried to associate themselves with the recipe. The beloved dish may have been invented by thrifty homemakers trying to make the best of their leftover ingredients in the pantry or by a ranch cook whose name has been lost to history.