Every Las Vegas Casino Buffet, Ranked From Worst To Best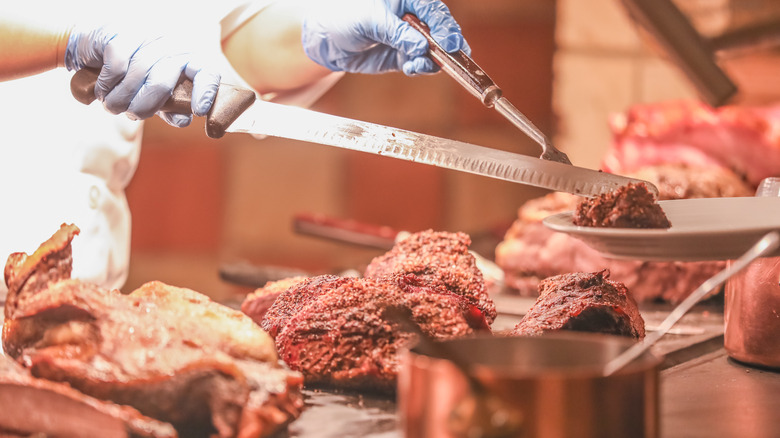 RYO Alexandre/Shutterstock
Las Vegas casino buffets may once have offered quick and inexpensive meals to get gamblers back on the casino floor as quickly as possible, but those days are long gone. Mostly. There are still a few budget buffets available in Sin City today, but the majority veer toward mid-tier and even upscale offerings, with some commanding price tags of up to $80 per person for dinner. Carving tables and crab leg mounds remain popular buffet staples today, but international cuisine and live cooking stations are major draws that better buffets offer, sometimes seeing crowds queueing for hours to score a table.
With the quality of food now available, you might be wondering how all-you-can-eat buffets manage to make money at all, even at those lofty prices. Cheaper, filler foods and soft drinks that fill bellies quickly certainly help, but savvy suppers can maximize their meals with certain buffet hacks to get their money's worth. Perhaps that's why casino buffets just aren't that common in Las Vegas anymore, despite their persistent association. In fact, there are only 13 Las Vegas casino buffets currently open in and around The Strip today, and we've ranked them here from worst to best.
13. Market Place Buffet at Rampart
At the Rampart Casino in the JW Marriott Las Vegas Resort, Market Place Buffet is the only Vegas casino buffet to offer outdoor seating. The novelty of gorging in the great outdoors may seem worth exploring, but this is also the only casino buffet located in Northwest Las Vegas, which means it's at least 20 minutes from The Strip, depending on where you start. The trek out here might seem worth it to take advantage of one of the city's few remaining lower cost casino buffets, but we think you'll regret it, and patrons agree.
Even if you're into the philosophy that you get what you pay for, you're still likely to be disappointed with a trip to Market Place Buffet. Diners complain that there's just not much of a selection here and the items they do find aren't particularly flavorful, so it's not even worth the money they do lay down. Even special occasion events like holiday meals aren't well regarded here, where food is described as cold or lukewarm at best. While Market Place Buffet does attempt to tap into the diverse food trend with a Hawaiian buffet on Aloha Nights, native Hawaiians say this food is inauthentic and clearly not prepared by anyone with experience in Hawaii itself. Bottom line: It's just not worth the trek away from the action for this underwhelming buffet.
12. Fresh Buffet at Westgate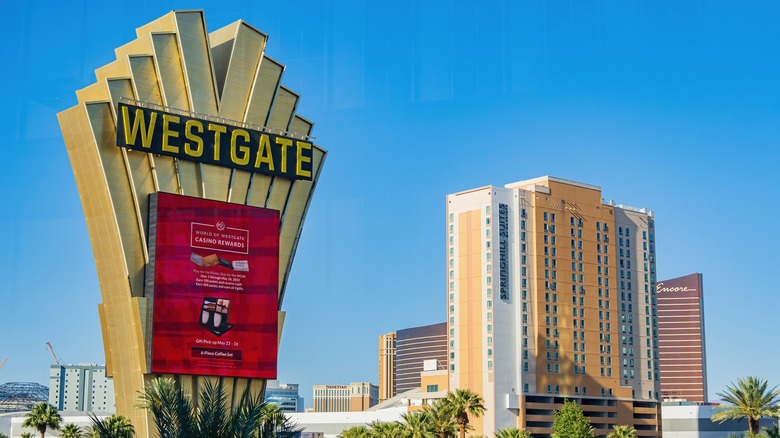 Kit Leong/Shutterstock
Just behind The Strip toward the northern end of Paradise Road, Westgate Las Vegas Resort & Casino is home to Fresh Buffet. While we'd only rank Fresh Buffet slightly above Market Place Buffet in food quality, it's considerably closer to the core of Vegas entertainment and it's a couple dollars cheaper, so we're not sure why you wouldn't choose this one if you were determined to explore a budget buffet off The Strip.
Unfortunately for this buffet, its name makes it all too easy for unhappy diners to complain, often pointing out that just about nothing found here is fresh. Some patrons complain that desserts appear store-bought and are sometimes served rotten, and others point to discolored fruit, soggy fried chicken, and tasteless meats as items to avoid. If you're trying to steer clear of foodborne illness, there are some foods you should never touch at buffets, anyway, but you should theoretically still be able to find plenty of other solid choices that are actually fresh and appetizing. The few positives here appear to be that it's not crowded (not really a good sign, though), and that the service is generally appreciated. The latter is the case at most casino buffets, though, so it's not necessarily a great reason to settle for Fresh Buffet's shortcomings.
11. Garden Buffet at South Point
Just south of the core hotels, South Point Hotel Casino & Spa is not considered to be on The Strip even though it's technically on the same street. The hotel does operate a shuttle service to The Strip proper, though, so don't let this be the reason you don't venture down here. Unless the buffet is your goal — then you should probably reconsider.
Garden Buffet remains an affordable option at less than half the cost of its flashier competitors, but there's nothing particularly special about this venue. Except for the intrigue of Mongolian barbecue, visitors to the Garden Buffet at South Point agree that most of the options here are standard fare and not terribly well prepared. Still, some dishes rate well with diners, like pizza, barbecue pork, and desserts, but these aren't the dazzling dishes anyone is hoping to find in an exciting Vegas meal. The benefit of Garden Buffet is simply that there is a lot on offer here, and that's something that plenty of people are looking for so this is no backhanded compliment. It may not be especially delicious, but visitors agree it's easy to fill your belly here. If that's your goal, which is totally fair, you can do it for half the price at Garden Buffet, so go for it.
10. The Buffet at Luxor
The Buffet at Luxor is the first Las Vegas casino buffet on The Strip to hit this list, but that unfortunately means it's the lowest rated. You already know Luxor as the steel and glass pyramid on the southern end of The Strip, and the Egyptian theme follows straight through to The Buffet on the lower level. Unfortunately, the vibe here veers more tacky than chic (and not in a cool Vegas way), and things don't get much better from there.
The Buffet at Luxor isn't terribly expensive so it does rank above most of our off-Strip options for its improved location at a nominal cost difference, but these are essentially its best qualities. Diners describe the food as standard preparations of standard fare, which isn't necessarily a terrible review. It's just not all that special. Overall, quality is slightly improved and patrons do find more dishes to praise than we've seen thus far, but blunders like illegibly handwritten labels make mealtime decision making tougher. Some of those better bites take a long time to acquire thanks to longer lines around these highlights, though, so you're better off heading to other mid-tier buffets on The Strip if this is your desired price point, unless you really love the Egyptian motif.
9. MGM Grand Buffet at MGM Grand
V_E/Shutterstock
The MGM Grand Buffet was once a venue of gluttonous legend, but its quality and fanbase seem to have slipped in recent years, leaving it low on our ranking of Las Vegas casino buffets. While food is clearly the number one concern at a buffet, it's not the only concern, and MGM Grand Buffet suffers some logistical issues that make it considerably less convenient or enjoyable, and even get in the way of chowing down.
Patrons don't like the awkward layout of MGM Grand Buffet, with popular central stations that create cumbersome lines blocking other stations and inspire accidental line-jumps and other frustrations between guests. Others are disappointed that soft drink service has become self-serve, taking up valuable eating time and downgrading the general experience. Overall, it just doesn't offer the indulgent experience you might hope for from a name like MGM Grand, as visitors from cities with other MGMs have noted. You'd think Las Vegas would offer the cream of the crop for a major chain like this, but that's just not the case at the buffet here.
8. Circus Buffet at Circus Circus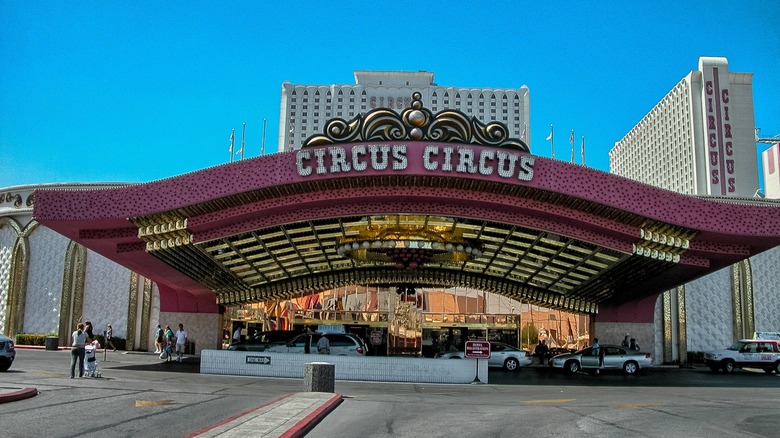 GagliardiPhotography/Shutterstock
Lest you say we simply dropped all the budget buffets at the bottom and accuse us of ranking the Las Vegas casino buffets by cost alone, Circus Circus enters our list at the midpoint, above the mid-tier buffets we've just explored. The Circus Buffet is not renowned as a gourmet experience, but it does offer a budget buffet meal directly on The Strip (however near the northern tip it may be) and its family-friendly atmosphere is a serious plus for those with kids in tow. We admit it's not a five-star experience, but it certainly warrants the attention of those who need or want these conveniences.
Despite its relatively low cost, Circus Buffet offers a reasonably large variety of dishes and diners appreciate the options. Brunch is especially appreciated here, when diners say all the traditional breakfast dishes are available, plus more dinner options than you could possibly sample, including some international cuisine. As a bonus, patrons also report that the line moves quickly here, which is a rarity on The Strip — and take note that there is a line, which is a better sign than those less-frequented buffets we've seen earlier.
7. The Buffet at Excalibur
Like its connected sister property, Luxor, Excalibur's buffet is only open for breakfast or brunch (no dinner), but this one is open seven days per week while Luxor is closed Tuesday and Wednesday. There aren't a ton of notable differences between these two properties' buffets — even the name is the same — but the added hours help The Buffet at Excalibur climb a little higher on our ranking.
In general, diners rate The Buffet at Excalibur on the better side of average, and the majority would return. For its mid-tier price point, that definitely warrants breaking into the top half of our ranking of Las Vegas casino buffets, offering one of the best affordable options. Sometimes the surest way to test the quality of a restaurant is to see how well it prepares the most basic of dishes, and guests of The Buffet have said that even plain eggs are nicely done here. Custom dishes like omelets and crepes also receive high praise, so you can easily jazz up your plates if your tastes are on the more adventurous side.
6. Garden Court at Main Street Station
You don't have to remain on The Strip to find all of our top ranked buffets in Las Vegas casinos. Garden Court is located in Main Street Station, fifteen minutes north of The Strip, but this one is worth the drive if you're looking to give the bank account a little breather but still want that Vegas glitz.
The Victorian theme of the property extends to the buffet, providing a photo-friendly ambiance that feels decidedly more upscale than its approachable price point would suggest. No, you won't find over-the-top gourmet dishes here, but there's ample variety of quality classics served under an ornate architecture that elevates the budget-friendly experience with a heavy touch of Vegas. Because of its location, it's typically less crowded than buffets on The Strip, and patrons appreciate the easy access to a quality all-you-can-eat. And we're not saying this is always the greatest indicator of quality, but Garden Court has been attracting the attention of Las Vegas YouTubers lately, creating a trend that's drawing more locals and visitors to this under-praised buffet spot.
5. The Buffet at Bellagio
You probably know it best for the elaborate fountain shows shooting off nightly in front of the hotel, but Bellagio was one of the first Las Vegas hotels to embrace the idea of a luxury buffet. The Buffet remains a top choice on The Strip today for upscale indulging without limits, and it also carries a considerable cost to match. We think it's worth the expense, and Vegas diners agree, including some who swear it's the best value among the top-tier options.
Unlike some of the other top choices we'll soon see, there aren't a ton of unusual dishes on offer at The Buffet at Bellagio, but the quality of its offerings are a step above what we've seen so far. This is truly the entry point to the upper crust of finer fare found at buffets across Las Vegas casinos, with a program of food preparation and presentation that provides an elevated experience you won't find at the more cost-friendly options in town. Though the range of dishes is similar to those offered at most of the better buffets in Las Vegas, you'll notice the upscale difference in areas in like premium cuts of meat and larger sizes of seafood favorites like crab legs and shrimp.
4. A.Y.C.E. at The Palms
A.Y.C.E. boasts nearly 10,000 square feet of all-you-can-eat (get the acronym now?) options at the Palms Casino Resort in Las Vegas just a mile west of The Strip, behind Bellagio. After a multimillion-dollar renovation in 2017, A.Y.C.E. opted for a food hall style layout with seven key stations offering a large variety and, because it's just off The Strip, you'll find this to be among the less expensive of our top-rated Las Vegas casino buffets. Of course, it's not quite a budget buffet, either, so consider this more of a mid-tier option. Some diners have reported scoring even cheaper dinners by signing up for a free players card at the casino, though, so this is worth checking out if you're looking to save on a solid meal.
While you'll definitely find the quintessential prime rib and seafood nights at A.Y.C.E., this buffet is also ideal for vegetarians and vegans who will find an entire station of dedicated dishes plus plenty of other animal-free options scattered through the rest of the space. You won't have to ask anyone to locate them, either — all vegan and vegetarian dishes are clearly labeled throughout the buffet.
3. The Buffet at Wynn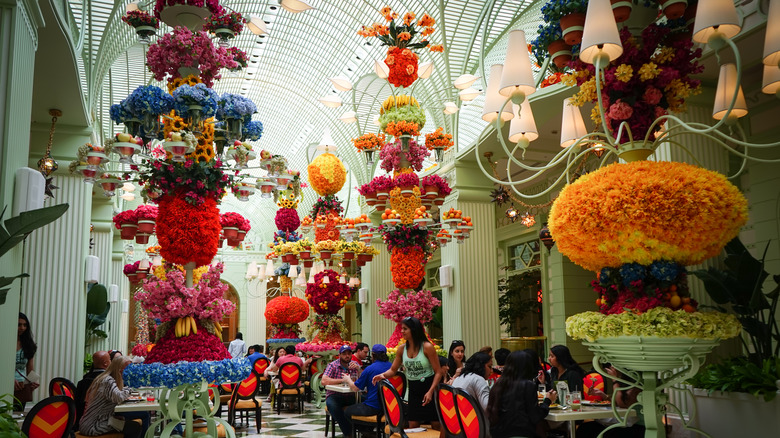 Lucy Deng/Shutterstock
If you love a good remodel, this is definitely the buffet for you. The Buffet at Wynn Las Vegas was remodeled and overhauled in 2015 before shuttering during the pandemic and undergoing yet another reimagining before its reopening in 2021. The new atrium is a photo-friendly wonderland of towering color, with 8 imported royal palms flanked by vibrant floral and sculpted fruit displays that are nearly worth the visit alone. The Buffet also marks the first of three Las Vegas casino buffets on this list that we've also ranked as the absolute best buffet restaurants in the United States (the other two are coming).
From the whopping 16 food stations at The Buffet, guests rave about convenient touches like pre-cracked crab legs, the sheer variety of meats available at the carving station, and a spectacular dessert selection that bests other Vegas buffet desserts in variety and flavor. We especially love The Buffet's focus on customizable plates, including red velvet and buttermilk vanilla bean at the pancake station; lobster, smoked salmon lox, and corncake spinach at the eggs benedict station; and made-to-order dessert crepes.
2. Wicked Spoon at Cosmopolitan
While neither breakfast nor brunch at Wicked Spoon is cheap, Cosmopolitan once made headlines for serving a single bowl of soup that cost almost $700, so you could consider this luxury buffet something of a steal compared to what's available elsewhere at this legendary casino hotel. The ambiance reads more fine dining than traditional buffet with separate eating and serving areas to keep crowds and lines away from tables, and stepped-up design that offers something of a swanky social club vibe.
The line here tends to be long, but it moves quickly so don't be deterred, and just take it as a good sign that everyone wants to eat here. The variety within is strong, but diners especially appreciate that offerings change from visit to visit so they can eat here more than once without becoming bored by the menu. Vegetarians find plenty to eat to make the significant cost worthwhile, too. When compared to its main competitor, which you'll find in our number one spot, Wicked Spoon does come out on top in one important area: Dishes offered here feature more unique and adventurous recipes than you'll find at most other Las Vegas casino buffets, including our number one.
1. Bacchanal Buffet at Ceasars Palace
Speaking of number one, Bacchanal Buffet at Caesars Palace lives up to its decadent name in every sense, offering a true food feast of excess and indulgence. Measuring 25,000 square feet with nine show kitchens, Bacchanal serves up more than 500 different dishes daily. This mega buffet was created with a $17 million dollar budget in 2012, and underwent another $2.4 million update during the pandemic, refocusing the menu on more composed dishes (i.e. already portioned on small plates) to present restaurant-quality recipes.
Diners admit Bacchanal is quite expensive, but say that it's worth it for the sheer volume and variety of quality plates offered here. Patrons also praise the creativity of the international recipes found throughout the space, and are gaga for the enormous dessert bar that includes crepe and gelato stations plus individually portioned cakes and more. If you're heading here soon but feel overwhelmed by the enormity of the space and your seemingly endless options, you can prepare by checking out our list of popular Bacchanal Buffet dishes ranked from worst to best. Or just show up without a plan and chow down — you won't regret it.