Caldo De Pollo (Mexican Chicken Soup) Recipe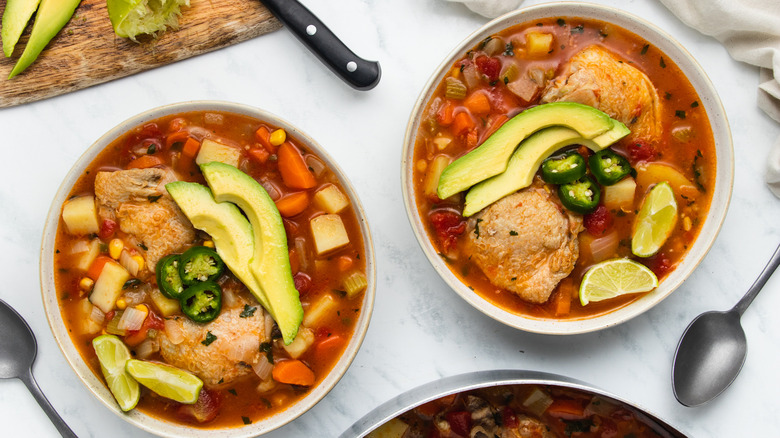 Catherine Brookes/Mashed
Of all the varieties of chicken soup out there, caldo de pollo stands out not only for its flavors but also for how it incorporates whole pieces of chicken. Unlike chicken noodle soup that features shredded, cubed, or chopped chicken, caldo de pollo is a classic Mexican soup that heartily features big ol' pieces of chicken in each bowl. "I love how flavorsome this soup is," recipe developer Catherine Brookes describes. "It's packed with plenty of garlic, spice and the perfect combination of sweet and sour. Simmering the chicken in the soup keeps it super juicy too."
Aside from the chicken, there's a lot more to love about this soup. It incorporates plenty of vegetables, including onion, celery, potatoes, carrots, and corn, so you know that each bite is quite nutrient-rich. Despite there being so many ingredients at play, this soup actually comes together in just 1 hour, and most of that time is hands-off as the soup simmers. So you can kick back and relax as you gear up to enjoy a bowl of caldo de pollo — it just might become your new favorite chicken soup.
Gather the ingredients for caldo de pollo (Mexican chicken soup)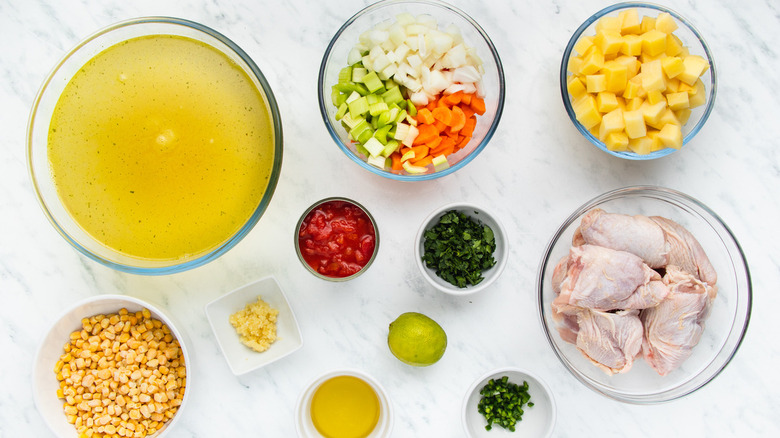 Catherine Brookes/Mashed
The pollo in question here is chicken thighs, and like we've already mentioned, they'll remain whole for the duration of the recipe. If thighs aren't your favorite, Brookes does note that "you could certainly use chicken breasts or thigh fillets." Along with the chicken, you'll need olive oil, a white onion, celery, carrots, garlic, a jalapeño, potatoes, a can of chopped tomatoes, chicken broth (Brookes says that you could use vegetable instead), frozen corn, fresh cilantro, fresh lime juice, and salt and pepper to taste. For serving, you may also want some extra jalapeño slices and lime wedges to garnish the soup.
Sear the chicken thighs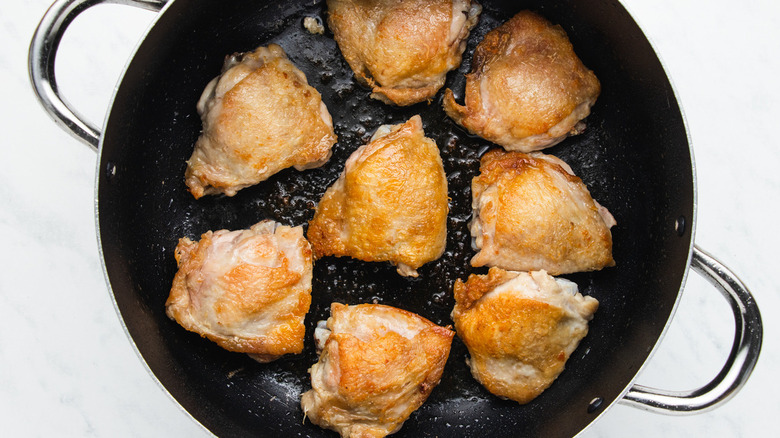 Catherine Brookes/Mashed
Place a large soup pot on the stovetop over high heat, then add in the olive oil. Place the chicken thighs into the pot, allowing them to sear for about 3 minutes on each side. They won't cook all the way through during this time period, but the searing will help give them a nice golden color and lock in some of that moisture. 
Sauté the vegetables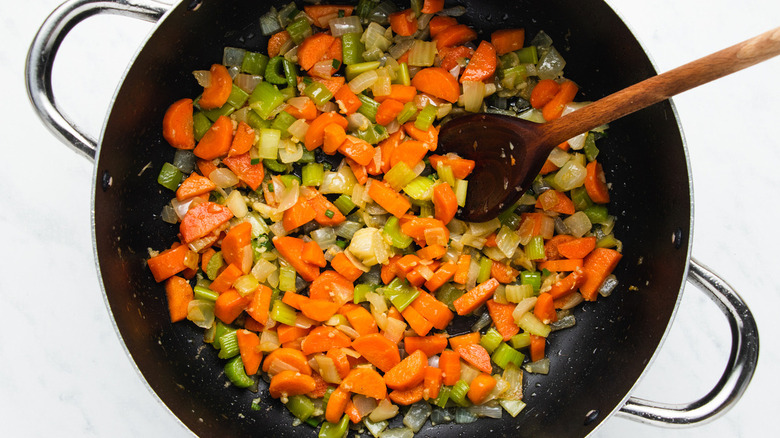 Catherine Brookes/Mashed
Remove the chicken from the pot and immediately add in the diced onion, celery, and carrots. Turn the heat down to medium and sauté the veg for about 10 minutes, or until softened. At that point, add in the minced garlic and finely chopped jalapeño, and cook for just another minute or so.
Build the soup and let it simmer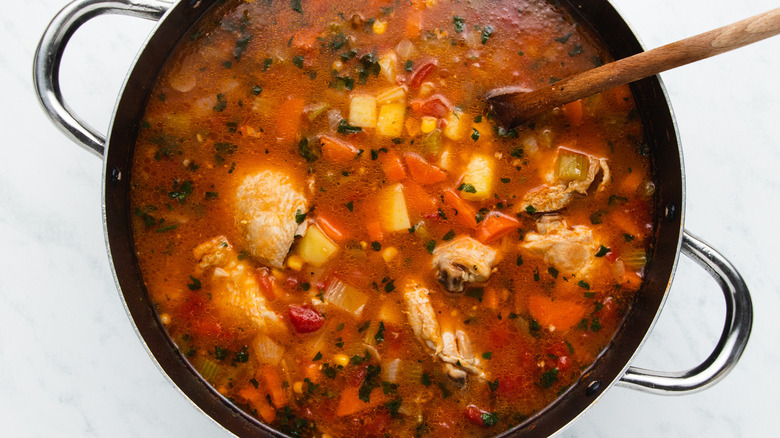 Catherine Brookes/Mashed
Add the chopped potatoes, chopped tomatoes, and chicken broth to the pot. Return the seared chicken thighs to the pot as well, then give everything a good stir and allow the soup to come to a boil, before cutting it down to a simmer. Now, patience is key as you allow the soup to simmer for 25 minutes.
Once the 25 minutes is up, add in the frozen corn and simmer for another 2 minutes. Cut the heat and add in the cilantro and lime juice, then give the soup a taste and add salt and pepper as desired. 
Serve the caldo de pollo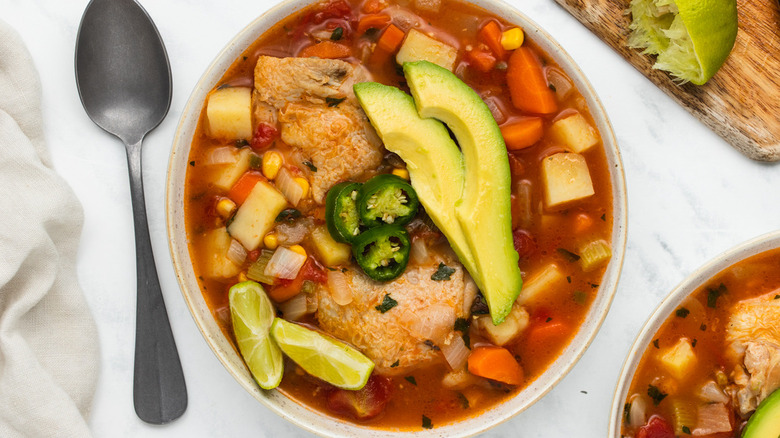 Catherine Brookes/Mashed
Portion out the soup with a whole chicken thigh or two in each bowl, then top it off with garnishes of your choice — avocado slices, jalapeño, and lime wedges are all good options. Then, you're ready to dig in and enjoy. "This soup could be served alongside other Mexican dishes such as fajitas, tacos or enchiladas," Brookes suggests. "It also pairs well with a side of spicy rice."
Because this recipe yields six servings, there's a chance you'll have leftovers. Luckily, leftover soup saves pretty well; per Brookes: "Leftovers should keep well in the fridge up to 3 days."
Caldo De Pollo (Mexican Chicken Soup) Recipe
Learn how to make this caldo de pollo for a filling meal that's packed with sweet and sour flavors, juicy whole chicken pieces, and the perfect amount of spice.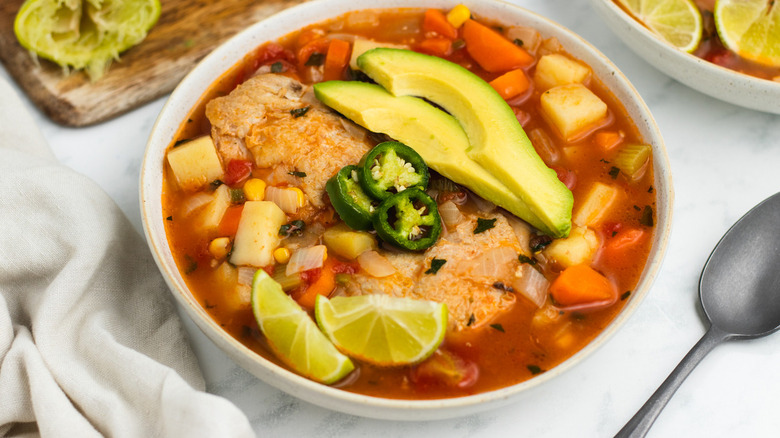 Ingredients
2 tablespoons olive oil
2 pounds skin-on, bone-in chicken thighs
1 large white onion, diced
3 sticks celery, diced
3 medium carrots, diced
4 cloves garlic, minced
1 fresh jalapeño pepper, finely chopped
2 large baking potatoes, peeled and diced into ¾-inch chunks
1 (15-ounce) can chopped tomatoes
8 cups chicken broth
1 cup frozen corn
2 tablespoons chopped fresh cilantro
juice of 1 lime
salt, to taste
pepper, to taste
Optional Ingredients
avocado slices, for serving
lime wedges, for serving
jalapeño slices, for serving
Directions
Heat the olive oil in a large soup pot on a high setting. Sear the chicken thighs for about 3 minutes on each side until golden all over. Remove from the pot.
Add the onion, celery, and carrot to the pot and reduce the heat to medium. Fry for about 10 minutes until softened, then add the garlic and jalapeño and fry for another minute.
Add the potatoes, chopped tomatoes, and chicken broth, then return the chicken thighs to the pot. Stir well, bring to a boil, then reduce to a simmer and leave to bubble for 25 minutes.
Add the corn and simmer for another 2 minutes.
Remove the pot from the heat and stir in the cilantro and lime juice. Season to taste with salt and pepper.
Serve with your favorite toppings such as avocado, jalapeño slices, and lime wedges.