Jenna Ortega Absolutely Ended Guacamole Peas On Hot Ones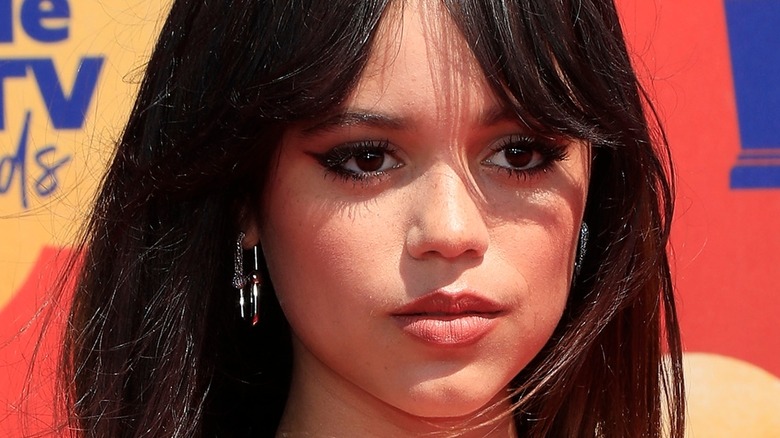 Kathy Hutchins/Shutterstock
At first glance, guacamole may seem like a simple little side dish where in theory you can do no wrong. At its heart, an essential and traditional guacamole recipe includes avocados, onions, tomatoes, cilantro, jalapeño, lime juice, garlic, and salt to taste. Easy peasy. However, just like any recipe, professional and amateur chefs alike may feel the need to thumb their noses at authentic style and take artistic liberties when it comes to revamping a classic. Although this isn't necessarily a bad thing, after all, we should all be free to be creative and inventive in the kitchen. Just be prepared to face the wrath of food purists especially when you mess with an OG (original guacamole.)
In a recent episode of the immensely popular First We Feast show "Hot Ones," — which has already reached nearly 3 million views — star of the Netflix series "Wednesday" actor Jenna Ortega shared her ideal guacamole recipe with host Sean Evans. However, it wasn't just the Scoville levels that had Ortega fuming when a hot-button guac ingredient was brought to her attention.
Jenna Ortega shared her two-word opinion on adding peas to guacamole
While sitting in the hot seat on a recent episode of "Hot Ones," host Sean Evans asked actor Jenna Ortega, "What's your secret to a perfect guacamole?" After just taking a large bite from a wing with a sauce rating of 135,600 on the Scoville scale, Ortega lists off all of the essential ingredients in her ideal guac mixture. She emphasizes that you should have "A whole lotta lime," as well as the importance of choosing the right ripe avocados. She isn't a fan of when Pico de Gallo is just lazily left on top of the mixture. Instead, she prefers it to be folded into the creamy dish, as it should be. Also, if cilantro is not present, she states that it is "disappointing instantly."
However, when Evans brought up a "controversial" 2015 New York Times recipe that included the blending of peas into their guacamole concoction, the "Scream VI" star wasn't deadpan about her distaste for it. "F*** that!" she emphatically stated, "It's not even controversial, it's obviously incorrect." At the time of the recipe release, The New York Times actually published a follow-up because of the immense reactions they received. For the guacamole traditionalists out there, at least they can rest assured that Ortega will be on their side when push comes to shove.