Quick And Easy Guacamole Recipe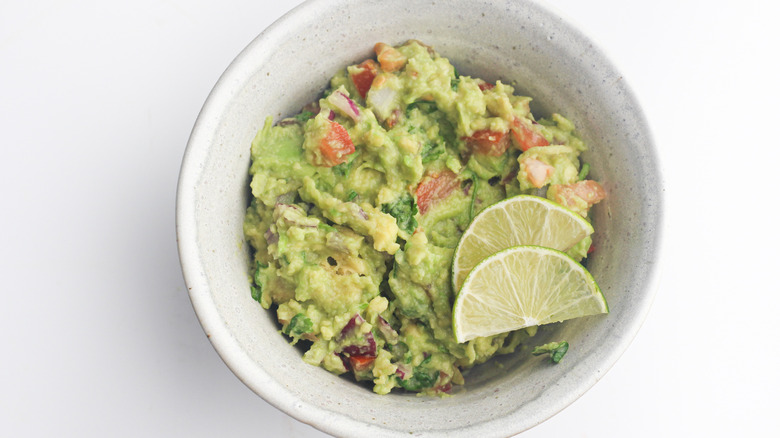 Susan Olayinka/Mashed
Is there any moment more exciting when dining out than when fresh guacamole is made for you tableside? You watch, your attention rapt, as skilled hands slice open an avocado or two, scoop out those rich insides, and whip them together with onion, tomatoes, cilantro, maybe some spices, definitely some juice, and then proffer a bowl of perhaps the finest dip known to humankind. And then you proceed to completely ruin your appetite by filling up on chips and guac, because how can you not?
Chef and recipe developer Susan Olayinka of The Flexible Fridge totally gets it. "You really can't beat it," she says. "I love guac!" But Olayinka wants you to know that if you're only using guacamole to dip your chips in, you've got to expand your culinary horizons. Olayinka spreads this fresh homemade guacamole onto sweet potatoes, mixes it into salads, dollops it beside grilled steaks ... and the list goes on. And of course, don't forget about adding it to tacos, burritos, and wraps — and chips, of course. Always chips. Just don't spoil your appetite, if possible. 
Gather the ingredients to prepare this quick and easy guacamole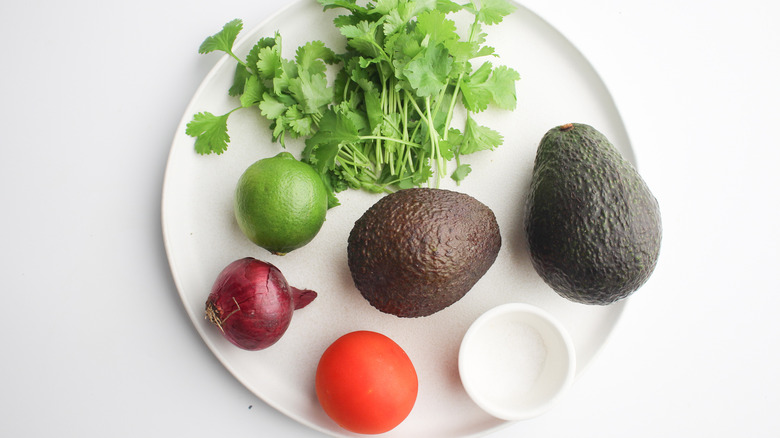 Susan Olayinka/Mashed
Olayinka has put together a recipe for quick and easy guacamole that is ideal for two reasons: first, it is elegantly simple, featuring every ingredient you need for a basic, tasty guac, and without any extra bells and whistles that may backfire for some palates. Second, because this is a classic guacamole recipe, you can feel free to use it as a springboard for experimentation.
All told, you'll need avocados, tomato, red onion, cilantro, lime juice, and salt. That's it.
Prep everything but the avocados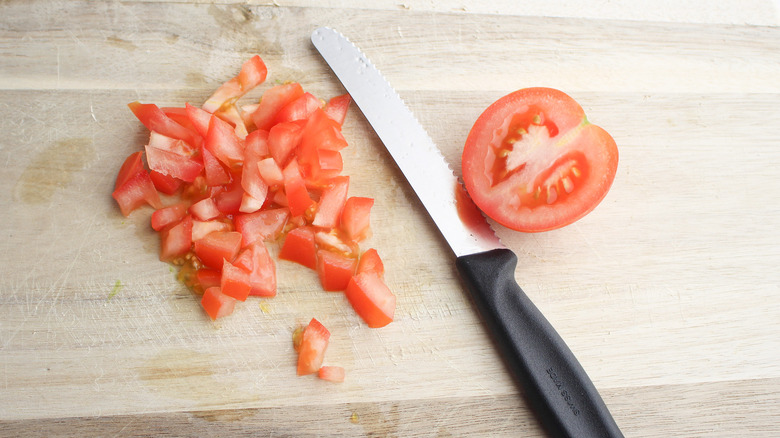 Susan Olayinka/Mashed
Gather your ingredients, except for the avocados, which will be prepped last. As you surely know, avocados turn brown and spoil quite rapidly after they are sliced open, so try to complete that step as close to serving as possible. 
Mash the avocados and season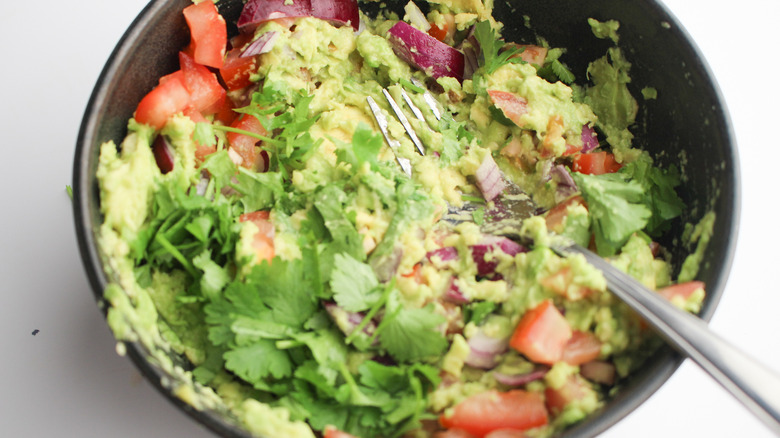 Susan Olayinka/Mashed
To make the guacamole, cut open and pit the avocados, and scoop the avocado "meat" into a bowl, discarding any parts with black or excessively brown spots. Now mash the meat with a fork until it is uniformly crushed smooth.
Next, add the remaining ingredients to the mashed avocado and stir everything together. Your fresh guacamole is ready to be served with chips, on roasted potatoes, in wraps and... well, you get the idea.  
While it's not ideal, you don't have to serve the guacamole right away. Says Olayinka, "While guacamole is definitely best eaten fresh, sometimes I put extra lime [juice] in if I want it to be preserved for a couple of hours." Just make sure to cover and refrigerate the guac until it's ready to eat.
A few ideas for dressing up your guac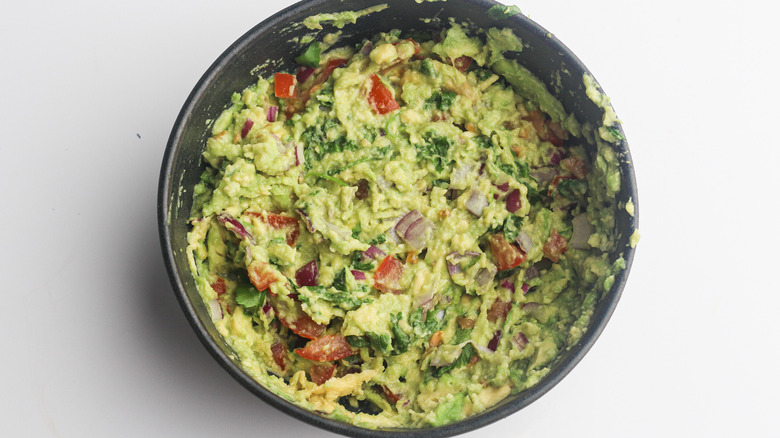 Susan Olayinka/Mashed
OK, so there you have it, a classic guacamole recipe. Want to get a bit wild with things? You can always add a bit of heat. "You can definitely add red pepper or green pepper or even dry black pepper to give a bit of kick," says Olayinka. Then there are spices to try; garlic powder, onion powder, and cumin are all great ways to add some savory richness to your guac — just don't use all three at once.
Basically, there are about as many additions to guacamole as there are recipes, like adding bacon bits (ideally made from freshly cooked and chopped bacon), black beans (maybe chop those a bit, too), and even chopped celery for a delightful crunch. You can start thinking of your guac less as a dip and more as a base for all sorts of flavors and ingredients you want to bring to some of your favorite foods.
Quick And Easy Guacamole Recipe
This classic recipe for guacamole can be made in minutes. But the number of dishes — and chips! — you can serve it with is too numerous to count.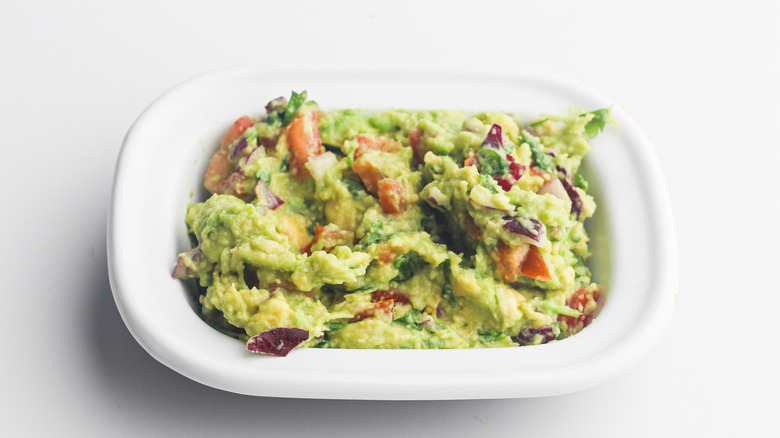 Ingredients
2 avocados
½ lime, juiced
⅛ teaspoon sea salt
1 tablespoon red onion, diced
1 tomato, diced
¼ cup cilantro, chopped
Directions
Chop the red onion, tomato, and cilantro and set aside.
Cut open and pit the avocados, scoop out the "meat" into a bowl, and mash with a fork.
Add lime juice, salt, red onion, tomatoes and cilantro. Combine all ingredients.
Serve, and enjoy.
Nutrition
| | |
| --- | --- |
| Calories per Serving | 57 |
| Total Fat | 4.9 g |
| Saturated Fat | 0.7 g |
| Trans Fat | 0.0 |
| Cholesterol | 0.0 mg |
| | |
| --- | --- |
| Total Carbohydrates | 3.6 g |
| Dietary Fiber | 2.5 g |
| Total Sugars | 0.6 g |
| Sodium | 22.7 mg |
| Protein | 0.8 g |