This Method Gives Starbucks Copycat Egg Bites An Extra Silky Texture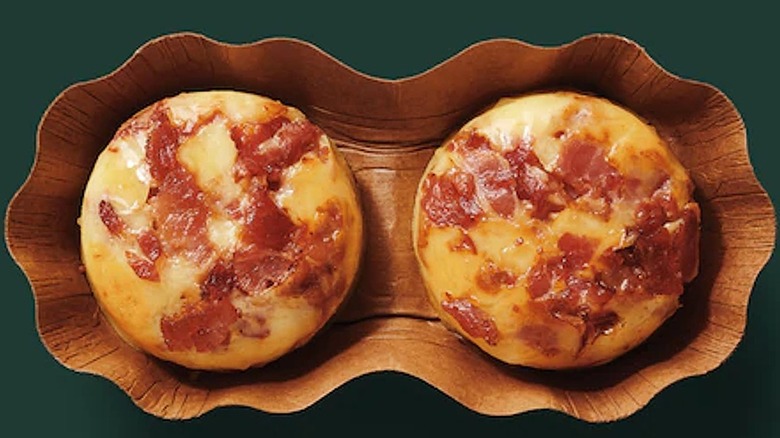 Starbucks
Starbucks egg bites can be a good option when visiting your local joint for a quick breakfast or coffee break. But what if we tell you that they come to the restaurant premade, and you can make Starbucks copycat egg bites at home, with just a little effort while saving time and money? Unlike the original ones that you'll get in packs of two, sold in small quiche-pan-like containers, you can pack your copycats in a more appetizing manner and enjoy them on your favorite serving plate at home. All you need is a Starbucks copycat egg bite recipe, your favorite mix-ins (to customize your experience), a few cooking tricks, and of course the right equipment.
If you have the eggs, bacon, Monterey Jack cheese, Gruyère, roasted red pepper, kales, and other add-ins such as mushroom ready, you're set to recreate a Starbucks experience at home with your copycat egg bites, following the usual egg bite cooking procedures. If you want an extra silky texture for your copycat egg bites, there is one ingredient that does just that.
Add chopped ham to blended eggs and cheese for extra silky texture
Thanks to a social media user, you can get extra silky copycat egg bites by adding chopped ham, paprika, salt, and pepper to a blend of eggs, pepper jack cheese, and cottage cheese. While showing this on TikTok, @leilulemon explains that she blends the eggs and cheese twice using a small blender because this "makes the texture way more smooth and custard-like." After executing the hack, she pours the mixture into a pre-greased muffin pan and takes them to the oven. And here, she reveals another trick. "And this is the second hack," she says explaining that "It's going to be a water bath in the oven. It's just a tray full of water." With this second hack, she says you should put the tray of water in the oven's bottom rack.
The water bath used here (aka a bain-marie, similar in fashion to a double boiler) is a trick to regulate the temperature in the oven and keep the egg bites cooking at even, low, and constant heat. The water also produces steam creating a humid environment that can prevent your egg bites from getting too dry or cracking (Once Upon a Chef). Other users were quick to support this trick with one saying, "If you separate the eggs, beat the egg whites, and fold into your mixture, they'll be even fluffier!" and another expressing their appreciation, "Thank you. I made these today so yummy."