We Tried The JENI'S X TED LASSO Limited Edition Flavor, 'Biscuits With The Boss'. Don't Sideline This Frozen Treat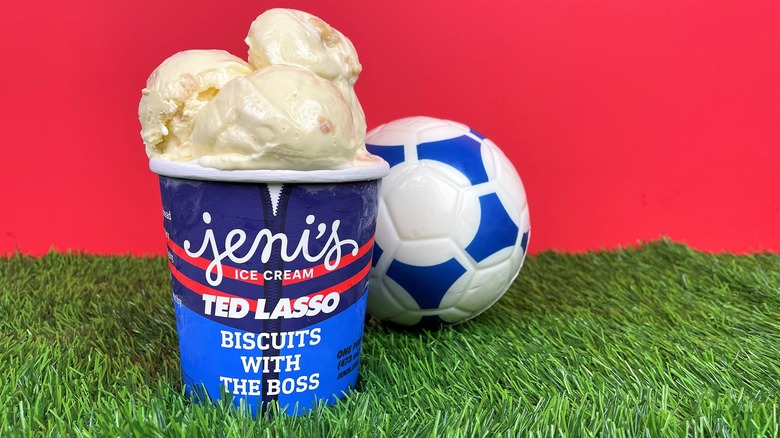 Jenny Kellerhals/Mashed
Few TV shows manage to pack so much feel-good charm mixed with realistic and difficult human emotion into a season the way "Ted Lasso" does. So when Jeni's Splendid Ice Creams announced a limited edition flavor to celebrate the latest season of "Ted Lasso," we couldn't wait to try the inspired variety for ourselves. What could be more comforting than curling up under your favorite blanket with a pint of ice cream, ready for a good laugh (and probably a good cry) while watching "Ted Lasso?" This might be the perfect collab.
The limited edition ice cream flavor is called Biscuits with the Boss. As any "Ted Lasso" fan can tell you, it is inspired by the little pink box of shortbread cookies that Lasso brings to his boss, Rebecca Welton, on his first day coaching the AFC Richmond football club, and every day that follows. The treats first appear in the second episode of the first season, where Lasso exclaims, "You know what? I'll start bringing these to you every morning. Call it 'Biscuits with the Boss!' " Since then, the show starring Jason Sudeikis has won 11 Emmy Awards and has been nominated for dozens more.
Here's everything you need to know about the limited edition "Ted Lasso" ice cream from Jeni's, including what's in it, how much it costs, where to find it, and most importantly, how it tastes. Here's what we really thought of this limited-edition ice cream.
What's in the limited edition Ted Lasso ice cream?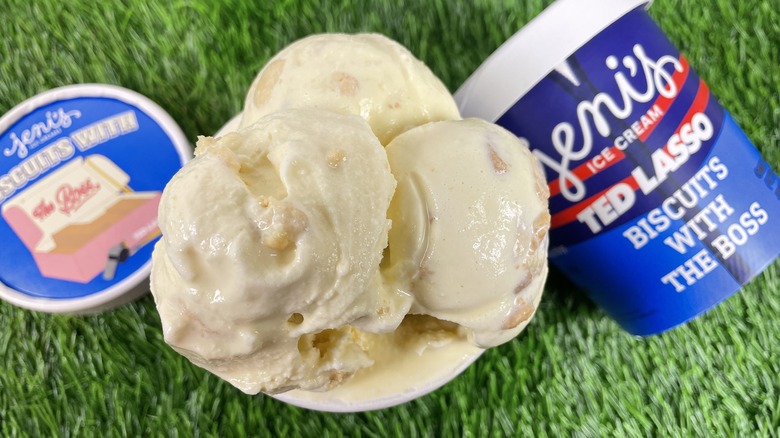 Jenny Kellerhals/Mashed
If you're familiar with the many Jeni's Ice Cream varieties, then you'll already know that quite a few of the brand's ice creams are stuffed with add-ins like sauces, jams, cake and cookie pieces, savory accompaniments, and more inspiration from other desserts. Because of that drive to mix things up, Biscuits with the Boss is a natural addition to the creative and playful style of Jeni's Ice Cream. This particular ice cream flavor is made with a base of salted butter sweet cream, which is exactly what it sounds like — milky sweet ice cream with a salty finish. Additional flavor comes from the shortbread cookie pieces that are mixed into the ice cream base.
Shortbread cookies are known for their simplicity, as they often contain only four ingredients: flour, butter, sugar, and salt. While our Ted Lasso's shortbread biscuits copycat recipe contains vanilla extract for a slightly more complex cookie flavor, no vanilla is listed in the ingredients for this ice cream or the cookies mixed into it. Instead, it plays up the unadulterated buttery, milky, and slightly salty flavors of the cookies for a more intense and classic shortbread taste.
How can you score a pint of Biscuits with the Boss?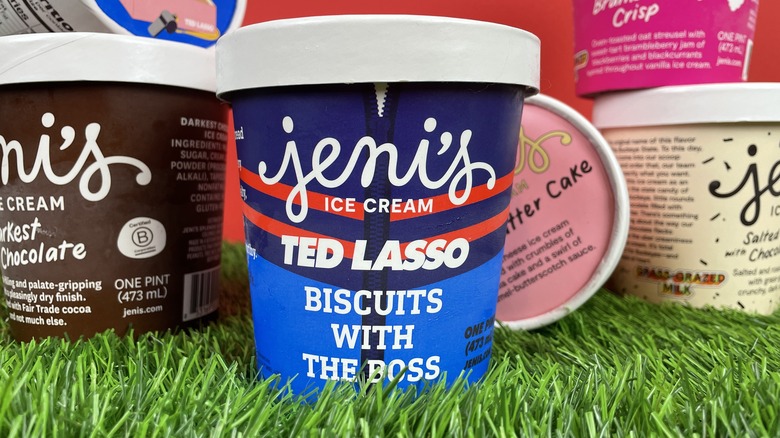 Jenny Kellerhals/Mashed
You may have seen pints of Jeni's ice creams sold at your local grocery store, but before you run out to the closest Whole Foods, you should know there's a good chance that they won't be stocking this limited edition flavor along with the others. Since Biscuits with the Boss is a very special collaboration, it's currently only available to order through the Jeni's website and at Jeni's scoop shops nationwide.
Biscuits with the Boss was released on March 2nd, giving both ice cream aficionados and "Ted Lasso" lovers plenty of time to stock up before the season three premiere on March 15th. If you're ordering online, the ice cream can be shipped nationwide but requires a minimum order of 5 pints (which can be in any flavor combination you choose). The pints are also available at Jeni's scoop shops, of which there are currently more than 60 locations. If you live near one, you might also be able to get your ice cream delivered through a third-party food delivery service. Each Jeni's scoop shop typically has a different menu of ice creams available by the scoop, so even if pints of Biscuits with the Boss are available, it may or may not be available in a cone.
There's no official word on how long the flavor will be available, so if you're interested in trying it, you'll probably want to order as soon as possible.
How much does Biscuits with the Boss cost?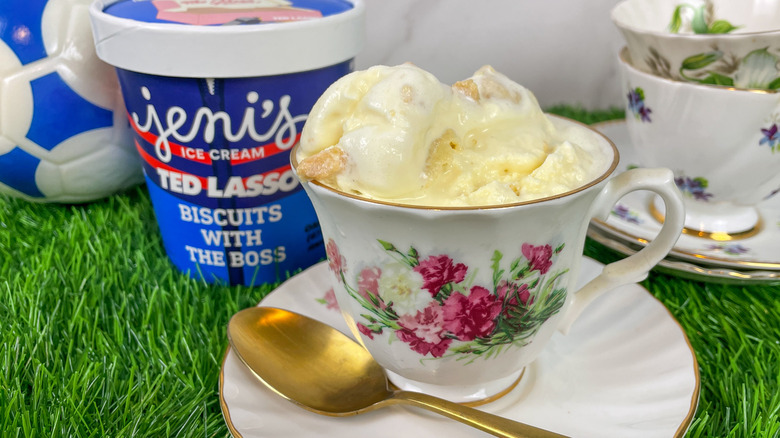 Jenny Kellerhals/Mashed
A pint of Biscuits with the Boss will run you about as much as a dessert at a nice restaurant, which isn't entirely surprising given that the ice cream is made from scratch with buttery shortbread cookies mixed in. One pint of Jeni's Ice Cream typically costs $12 before tax, when it's purchased directly from Jeni's. If you happen to find this limited edition flavor in stores, there's a chance that the price could vary from that baseline. If you're getting the ice cream delivered, there will also be a flat rate shipping cost for nationwide delivery or a fee and likely a driver's tip for local delivery directly from a Jeni's Scoop Shop.
There isn't a discount available for larger orders from Jeni's, but if you're a fan of the ice cream and think you'll end up buying more in the future, it could be worth signing up for the free Jeni's Splendid Rewards program, where you earn one point for every dollar you spend at Jeni's. Once you hit 100 points, you receive a $5 reward, which is a welcome little bonus if you were planning on eating a lot of ice cream anyway. You'll immediately get 20 points just for signing up, getting you a little closer to that $5 reward without actually buying anything.
What's the nutrition information?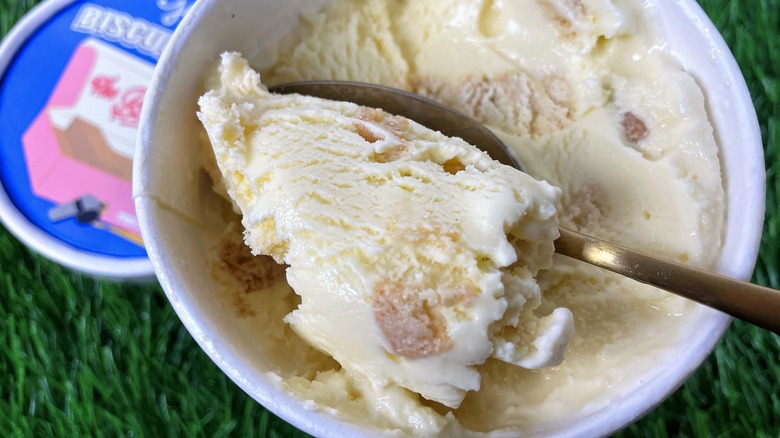 Jenny Kellerhals/Mashed
Nutritionally speaking, Biscuits with the Boss is certainly an indulgence. Of course, that really shouldn't come as a surprise to anyone who loves ice cream. One serving of ice cream is about ⅔ of a cup, or 120 grams, which is a standard serving size across the spectrum of ice cream pints on the market. There are about 3 servings per pint, although how much you choose to enjoy at a time is entirely up to you. One serving of Biscuits with the Boss contains 320 calories, 21 grams of fat, 55 mg of cholesterol, 390 mg of sodium, 34 grams of carbohydrates, and 5 grams of protein. A whole pint of this flavor will set you back 950 calories. 
The ice cream itself is made with milk, cream, cane sugar, nonfat milk, tapioca syrup, sea salt, carrot and pumpkin for color, and natural flavor. The shortbread is made with unenriched wheat flour, butter, sugar, water, and salt. In short, it's all fairly straightforward. The ice cream doesn't contain eggs, although it may be processed in a facility that handles them, so anyone with an egg allergy may want to proceed with caution. Additionally, it contains gluten courtesy of the flour in the shortbread, which might be worth paying attention to for those who are sensitive to that protein.
How does it compare to other Jeni's ice cream flavors?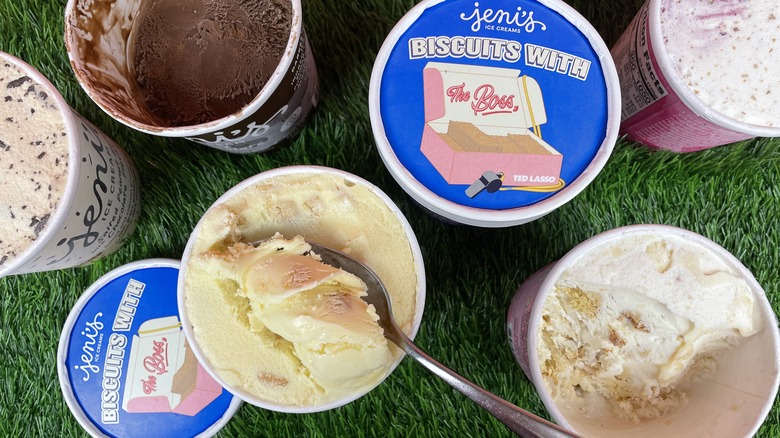 Jenny Kellerhals/Mashed
Mixing baked goods into ice cream is a move that Jeni's Splendid Ice Creams does often and impressively in flavors like Gooey Butter Cake, Wedding Cake, Boston Cream Pie, and more that were clearly made to lure in cake lovers. There's also Cream Puff and Banana Cream Pudding for those who prefer their custardy desserts in ice cream form. And, as far as we're concerned, Sweet Cream Biscuits & Peach Jam was meant to be eaten for breakfast, especially if it's enjoyed with a scoop of the Skillet Cinnamon Roll or Powdered Jelly Donut ice cream flavors. After considering a lineup of dessert-inspired ice cream flavors like that, it's easy to see why Jeni's was the obvious choice to create the "Ted Lasso" shortbread cookie ice cream.
But even if you're skeptical of tie-in flavors, ice cream purists like you can still find a lot to love in the Jeni's lineup. Cookies in Cream and Green Mint Chip are both nostalgic choices that are made with high-quality ingredients. Darkest Chocolate and Milkiest Chocolate ensure both kinds of chocolate lover will be satisfied, and Strawberry Buttermilk and Coffee with Cream & Sugar are great choices for strawberry and coffee ice cream aficionados who don't mind a touch of complexity in their pints. There are even sorbet and dairy-free options for those seeking other cold treats suited to their tastes and dietary needs.
Did we like Biscuits with the Boss ice cream?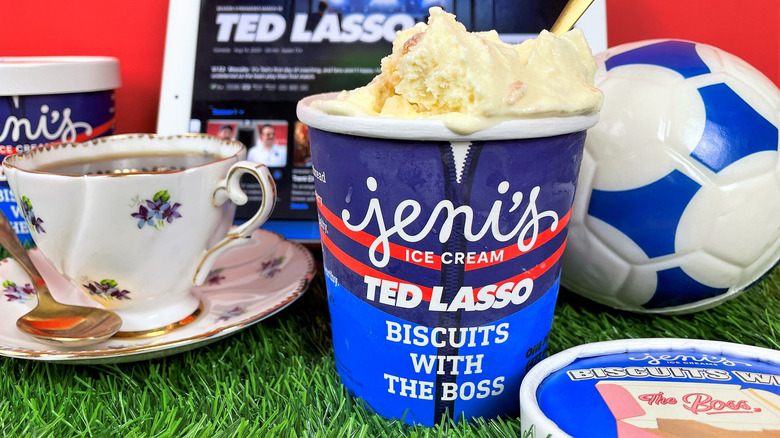 Jenny Kellerhals/Mashed
We'll admit that our expectations were high before we even peeled back the paper on top of this ice cream pint. Would the cookies be dry and stale inside the mix? Or soggy and gloppy? Would the sweet cream ice cream be boring? Would we need to be British to truly appreciate its flavors? If you don't watch the "Ted Lasso" series, is it something you'd want to eat anyway?
The answer is yes. Yes, you would. If you've had the pleasure of enjoying a good shortbread cookie — we're talking about the kind that's buttery, supple, and just a little flaky — then you know what to expect from the cookie pieces that have been mixed into this ice cream. What you might not expect is how amped up the flavors are. These shortbread biscuits are ultra buttery, salty, and noticeably caramel-forward, bringing the taste of perfectly golden cookies. It's what you might expect if salted caramel and cookie dough ice cream had a baby (with fully-baked cookie dough, that is).
We'll even say that this ice cream is an improvement on shortbread cookies (or biscuits, depending on which side of the Atlantic you're on). Most of the time, shortbread cookies are just fine, but they rarely take the top spot on anyone's list of favorite cookies. But Biscuits with the Boss is downright irresistible. As Lasso would say, it's bad, but "like back in the '80s when 'bad' meant 'good.'"