Starbucks Just Launched A New Cold Brew With A Fall Flavor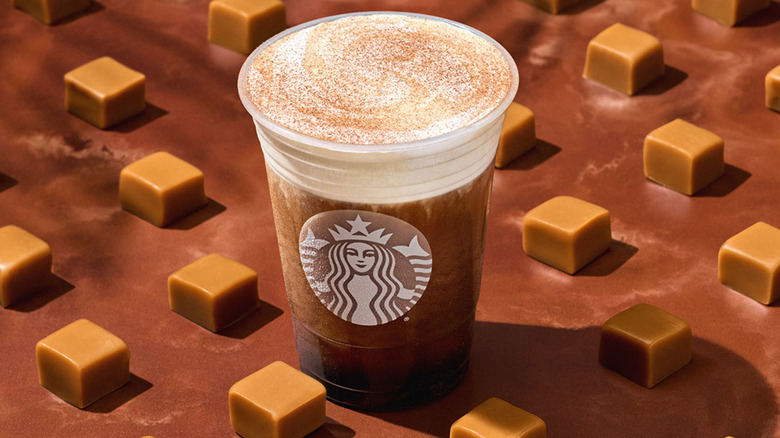 Starbucks
Spring is definitely in the air – Starbucks told us so with a tantalizing new cold brew drink. The coffee giant shared the news of its new Cinnamon Caramel Cream Nitro Cold Brew in a tweet, "Ooey, gooey, cinnamon roll bliss in every sip."
The spiced iced drink is already listed on the Starbucks menu and includes two kinds of flavored syrups: cinnamon-caramel and vanilla. The creamy head on the drink is vanilla sweet cream and the finishing touch is a sprinkle of Cinnamon Dolce topping made with sugar, cinnamon, and butter extracts. The foundation of all the sweet, cinnamony goodness is the chain's Nitro Cold Brew.
A cinnamon-flavored drink may sound more suited to autumn than spring, but we're not hating the idea of getting some comforting vibes a few months early. Until it fully warms up outside, a drink that reminds us of cozy home baking is perfect. Starbucks revealed that the Cinnamon Caramel Cold Brew will stay on the menu all year, but there is one catch: It's not available everywhere, at least not yet. 
The new cold brew flavor is just one of Starbucks' spring releases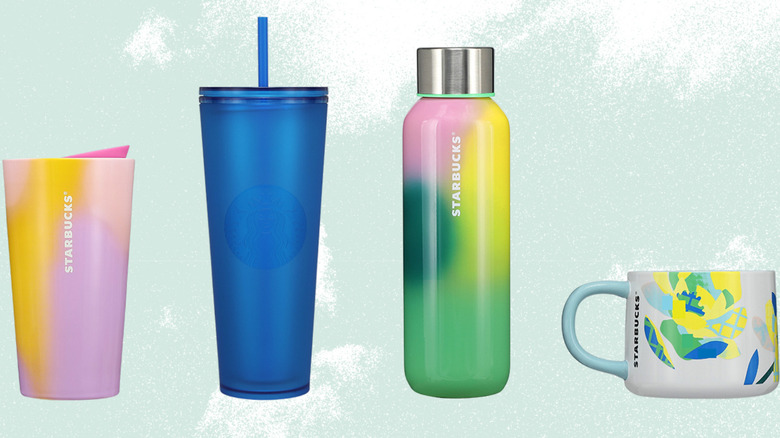 Starbucks
The bad news about this new Starbucks cold brew flavor? The coffee chain said it's currently only available in the U.S. However, the company reassured one disappointed Canadian Twitter fan that the Cinnamon Caramel Cream Nitro Cold Brew is also available in "select stores in Canada." Cinnamon lovers should keep an eye on the Starbucks app to find participating stores.
Along with the new cold brew, Starbucks is releasing a few other goodies to celebrate spring. In a press release, Starbucks shared that new whole-bean varieties for a home coffee fix include a dark roast Anniversary Blend, single-origin beans from Guatemala and Ethiopia, and a Spring Day blend with subtle flavors of chocolate and fruit.
Pour the new coffee into new spring-colored Starbucks cups, mugs, and tumblers. The line includes a sky-blue reusable cup and straw, a green and pink ridged tumbler, and a super cute 24-ounce pink, blue, and gold plaid cup.