Hot Dog Chains That Are Taking Over America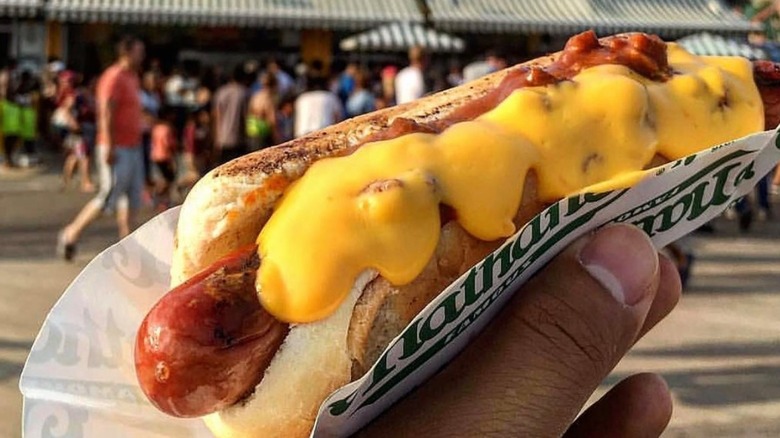 Irati Ventoso Cenzano/Shutterstock
Legend has it the inventor of sausage said, "I have discovered something of great importance!" upon creating the food. The stuffed meat is thought to have come from ancient Rome, eventually making its way across the globe to be claimed and adapted by various cultures. By the early 20th century, the earliest versions of what we know and love today as the hog dog were gaining popularity across America, starting in New York City. Today, hot dogs are one of America's favorite foods, a symbol of patriotism even — there's a hot dog-eating contest held on Coney Island on the Fourth of July every year. They're so popular, in fact, it's estimated that 95% of American homes consume hot dogs each year.  
Despite this love for hot dogs, the food hasn't made a large splash in the United States fast food scene. Of the top 10 fast food franchises in the country in 2021 by revenue, none of them feature a hot dog on their menu. That's something we'd like to see change. It's time hot dogs had their moment, and these franchises are doing their part to make sure that happens. Check out the hot dog chains that are taking over America.
Dat Dog wants to expand in the southeast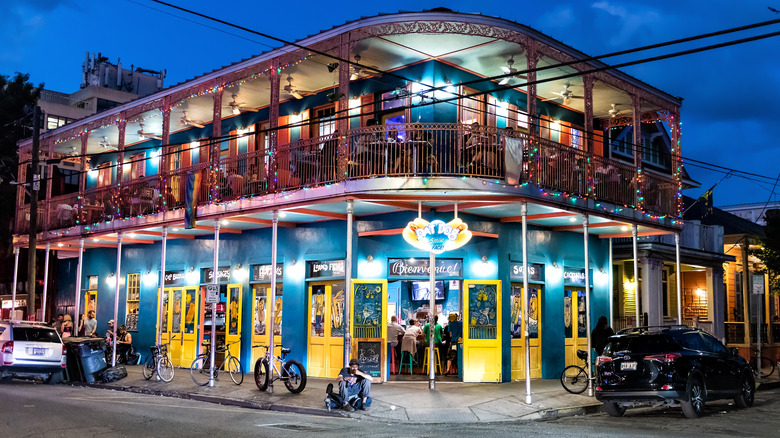 Andriy Blokhin/Shutterstock
What began as a humble New Orleans hot dog stand has turned into a lucrative franchise business that's making a name for itself in the southeast corner of the United States. Dat Dog opened in 2011, and soon opened more locations in Louisiana and Texas. A few years ago, the franchise had its sights set on Florida. The hot dog eatery's CEO Paul Tuennerman hails from the Sunshine State, and he wanted to bring his franchise's signature dogs and sausages there, particularly to Tampa Bay.
It's hard to know what exactly makes a franchise so popular, but Tuenneman had a guess as to what intrigues customers about Dat Dog. "[Customers] can pick anything from alligator, crawfish, or duck sausages to plant-based spicy chipotle sausages or traditional all-beef frankfurters and decorate their creation with any of our 30 toppings. You can come in every day and create an entirely different gourmet masterpiece each time," the executive told The Tampa Bay Times of the possibilities at Dat Dog. Once the flare and flavors of Dat Dog reach Florida, there's no telling where they'll expand to next. 
Nathan's Famous is looking for new franchisees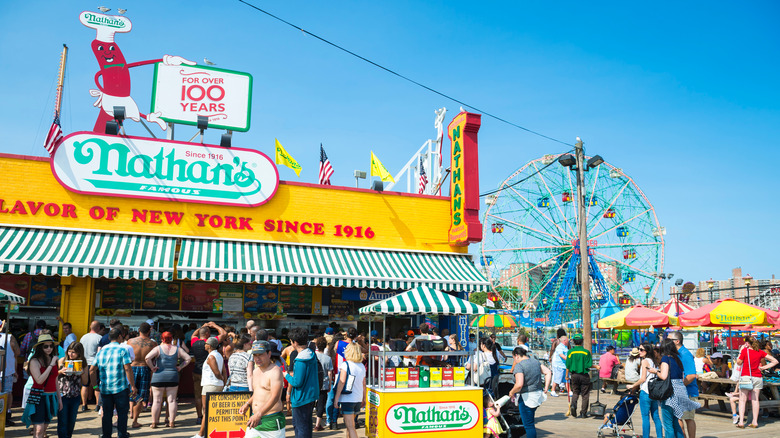 lazyllama/Shutterstock
There are several hot dog chains in the United States, but few have as rich of a history as Nathan's Famous. The franchise opened in 1916 on Coney Island by its eponymous founder and since its inception it's fed millions of hungry customers, including dignitaries such as President Franklin Roosevelt and the King and Queen of England. Not bad for a restaurant that started with a $300 loan. It wasn't until 1955, decades after it first opened, that the restaurant expanded to a second location. Now, more than 100 years after opening, Nathan's Famous is looking for even more franchise opportunities, and it's got a business plan to achieve its goal.
In December 2022, Nathan's Famous Vice President of Marketing, Phil McCann, shared details of the restaurant's franchise conversion program, intended to help struggling businesses by converting them to a Nathan's Famous. "Our goal is to give these restaurant owners a brand that has more than 100 years of recognition packaged in a quick, easy-to-open strategy aimed at driving revenue fast," McCann said of the company's plan. Nathan's Famous currently has locations in nearly half the states in the union along with more than 10 countries around the globe, with hopes to keep growing. And although it is expensive to franchise a restaurant, Nathan's Famous has multiple packages available for those interested.
Hot Dog on a Stick is thriving after the pandemic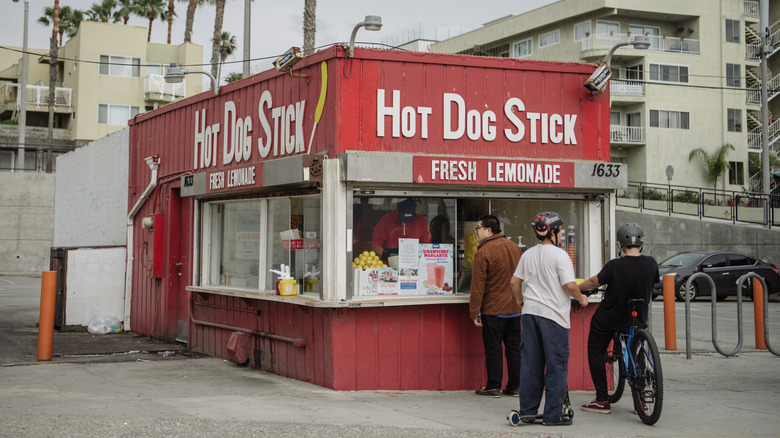 Morgan Lieberman/Getty Images
The COVID-19 pandemic forced nearly every business in the world to somehow pivot to make ends meet. And while some weren't able to make it through the global health emergency, others found the business adaptations to be helpful even after the world resumed mostly normal operations. Chains like Hot Dog on a Stick are still successful thanks to their changes in practices. "Our products are made fresh to order when people get to the counter, so we hadn't really anticipated the demand for people ordering to go and enjoying them later in their home. With the pandemic we ended up putting all of our stores on third party delivery and online ordering," Jenn Johnston of FAT Brands, Hot Dog on a Stick's parent company, told QSR Magazine of the franchise's changes during COVID.
But it's more than just the ability to adapt that has aided in Hot Dog on a Stick's endurance. Outlets like Franchise Chatter have named it a top five hot dog franchise in the United States because of its delicious fare. "We really try to stay true to our iconic menu first and foremost. It gives us a lot of credibility – we do a few things and we do them really well," Johnston told QSR Magazine. The chain currently has dozens of locations across seven states, and is available to franchise. 
Dog Haus is heading to a city near you
Dog Haus was opened by three men with an affinity for hot dogs and a commitment to quality ingredients. The chain prides itself on its use of ethically-sourced meat, and it offers plant-based options, too. The chain serves up hearty and decadent gourmet hot dogs, as well as burgers, chicken, and sliders. Dog Haus also as a breakfast menu and serves craft beers and cocktails, setting it apart from other hot dog franchises across the country. 
With a menu like that, it's obvious why there's a hunger for Dog Haus. And where exactly is that hunger? All over America, particularly in major cities. There are nearly 100 different locations in the continental United States, and there are soon to be more. With the restaurant's growth comes new initiatives. In early 2023, the chain announced its Absolute Wurst Sausage Series. Each month, new sausages will arrive at Dog Haus locations for customers to try, the flavors as unique as the idea. In February, the first month of the series, customers tried Nashville Hot Chicken sausage, and in March, the franchise sent out its Corned Beef & Cabbage sausage, the flavor seemingly chosen in honor of St. Patrick's Day. The remaining flavors have yet to be announced, but they're sure to be intriguing.
Wienerschnitzel is about to pop up across the country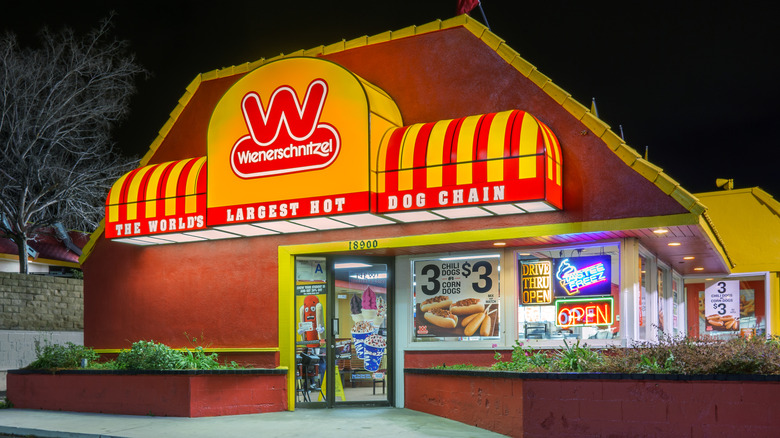 Ken Wolter/Shutterstock
Although Wienerschnitzel has been called "the world's most wanted wiener," there are several places across the United States where patrons couldn't access the hot dog franchise even if they wanted to. But that's about to change. In early 2023, the company announced its goal to put franchise locations in states in the Midwest and the South. Wienerschnitzel plans to achieve its goal through a new franchise incentive program. "The new Hot Dogs for Profits incentive program significantly lowers the cost of entry for prospective franchisees eager to turn hot dogs into financial gains," Wienerschnitzel's Director of Franchise Development, Ted Milburn, said in a press release. With its new initiative, the restaurant hopes to continue expansion and bring business owners who once thought they were ineligible into the franchise game, a historically expensive venture. 
The franchise already has over 300 locations, mostly across the Southwest. The first location opened in southern California in 1961 and since then Wienerschnitzel has grown exponentially, now selling more than 120 million hot dogs every year. The chain plans to have even more hot dogs available in new areas in Arkansas, Nebraska, and Idaho. And that's just a start. Keep your eyes peeled for a Wienerschnitzel, because it might soon be in a city or state near you.
The Original Hot Dog Factory is steadily growing
Most franchises aim for widespread domination, but many begin with a regional approach, opening several new locations in the same general area. Take The Original Hot Dog Factory, for instance. Although it has locations in multiple states from New York to Texas, the Atlanta-based hot dog chain is most prolific along the East Coast. The Georgia-born eatery opened its 25th location in July 2022, which coincidentally happens to be National Hot Dog month. "At the Original Hot Dog Factory, we offer a wide variety of mouthwatering hot dogs that will make you ask for more. We are looking forward to sharing this deliciousness all over the country," owner Dennis McKinley said of the spread, according to Franchising.com.
To open these shops, the chain has had to find very specific people. In order to franchise with The Original Hot Dog Factory, candidates must have a net worth of over $100,000, $40,000 of which must be liquid. The candidate must have other qualifications, too, like the willingness to open at least three stores within two years of opening their first, which sheds light on how the franchise has opened so many new locations in recent years. If this growth continues, the chain will have far more than a few dozen locations to patronize in the coming years. 
Destination Dogs has a unique menu
Several hot dog restaurants in the United States have nearly identical menus. Sure, there are a few marked differences, but most focus on classic American fare. And while there's nothing wrong with that focus — we love a classic American hot dog stand as much as anyone — it's nice to see some restaurants expanding our horizons for us and serving hot dogs inspired by cuisine from around the world. Destination Dogs started because its founders love to travel and eat. Thanks to their passions, we are able to try a unique menu featuring domestic and international dogs alike.
Plenty of customers have taken notice of the New Jersey-based hot dog chain. Outlets like The New York Times have featured Destination Dogs in their reporting, and there's an opportunity to franchise with the chain. If you were to open your own Destination Dogs, just some of the options on your menu would include the Bun Mi, made with Cantonese sausage, pickled carrots and daikon; the Charles Dog Gaulle, proudly boasting duck sausage, duck confit, and shaved foie gras; and the Andouille Armstrong, full of alligator and shrimp sausage and jalapeño remoulade. 
Crave Hot Dogs & BBQ is opening up all across the U.S.
Every now and then we see franchises experience massive growth, opening new locations all across America in what feels like a very short amount of time. It happens across industries, and restaurant chains can experience this, too. Take Crave Hot Dogs & BBQ. The franchise hasn't been in business even close to 10 years yet, and it's already got locations in nearly half of U.S. states. And the momentum shows no signs of slowing down. Crave Hot Dogs & BBQ signed on five new franchisees within the first six weeks of 2023.
Crave Hot Dogs & BBQ isn't only unique in its growth. It's also developing another side of its business that few, if any, other hot dog chains in the world offer — axe throwing. If you're unfamiliar with axe throwing, it's exactly what it sounds like (it's also a lot of fun we promise!). Most axe-throwing businesses, however, aren't associated with a fast food chain. This offering is only available at a few select locations so far, but several more plan to start handing out axes soon. If you've ever dreamed of throwing an axe while eating a hot dog, Crave Hot Dogs & BBQ may be the restaurant for you.
Umai Savory Hot Dogs is a cheaper franchising option than most
While plenty of investment aficionados will tell you that franchising a business is a good investment, it's not something that everyone can afford to do. Franchising a business usually requires significant capital, and many chains won't even consider candidates below a certain net worth threshold, much of which typically needs to be liquid. And while some franchises will list on their websites exactly how much you need to open a storefront of your own, many won't divulge the specifics unless you fill out an application. It's a serious process.
Umai Savory Hot Dogs is doing things differently, and we think it's going to help launch this hot dog chain to national acclaim. What started in San Jose, California, is now a popular chain across the state, and franchising with the business doesn't cost nearly as much as it does to open several other major chains. Top Franchise listed 10 different hot dog franchising opportunities in the United States, and Umai Savory Hot Dogs is definitely on the cheaper end. The initial investment will cost you anywhere from $118,000 to $227,000 with a $20,000 franchising fee. On the other hand, Sonic requires an initial investment of at least $1.2 million, along with a $45,000 franchising fee. It's not cheap to get into the hot dog game. But we're hoping Umai Savory Hot Dogs' valuable investment offering will bring on some major new growth for the chain. 
Hula Dog has expanded beyond Hawaii
File the specialties at Hula Dog under the best foods to come out of Hawaii, right next to poke bowls and Kalua pork. Most American franchises start in the continental United States, but Hula Dog is a fantastic exception to the pattern. The food truck chain opened in the Waikiki neighborhood on Honolulu in 2000, and it now has a location outside Los Angeles, California, and one in Houston, TX.
Hula Dog is known for its novel hot dogs that are fully wrapped in dough rather than laying in an open bun and feature toppings grown in Hawaii. Options to choose from to spruce up your hot dog (either polish or veggie) include a variety of fruit relishes, like banana and star fruit, as well as guava mustard and lilikoi (or passion fruit) mustard. If the fresh ingredients aren't making a good impression on your taste buds, you can opt for more traditional toppings like yellow mustard and ketchup, but you'd be remiss not to at least try a more quintessentially Hawaiian garnish. At the very least, cleanse your palate with one of the franchise's freshly squeezed lemonade flavors just so you can say you had a taste of a paradise. 
Ted's Hot Dogs' charbroiled hotdogs have fed multiple generations
As a broke Greek immigrant who entered the U.S. knowing no English, Theodore "Ted" Spiro Liaros tried a variety of ways to make money. His most successful venture was using his horse to cart hot dogs through the streets of New York. Spiro's big break came in 1927 when someone sold a sandwich shack to him for $100. Although the bridge construction workers the shack had once served cleared out of the area, the hot dog stand still thrived. However, it wasn't until 21 years later in 1948 that he decided to open his second location.
Generations of New Yorkers have grown to love the charbroiled hot dogs at Ted's, which has extended to ten locations in New York and Arizona over the century. The menu has also expanded, with burgers, chicken sandwiches, sausage, sides, and shakes now on the menu. To please more customers, there are veggie dogs, skinless dogs (for picky eaters), and gluten-free buns. The chain also has high standards for its ingredients. In 2022, Ted's temporarily stopped selling its footlong hotdogs until it could find an acceptable bun as a result of supply chain shortages.
New customers still come in off the street, lured by the smell of charcoal-grilled hotdogs. And old customers keep coming back for meals that taste like home to them. Both new and old customers rave about Ted's hotdogs with limitless toppings, along with the chain's brats, loganberry shakes, and onion rings.
Sam's Hot Dog Stand still represents a bargain despite rising food prices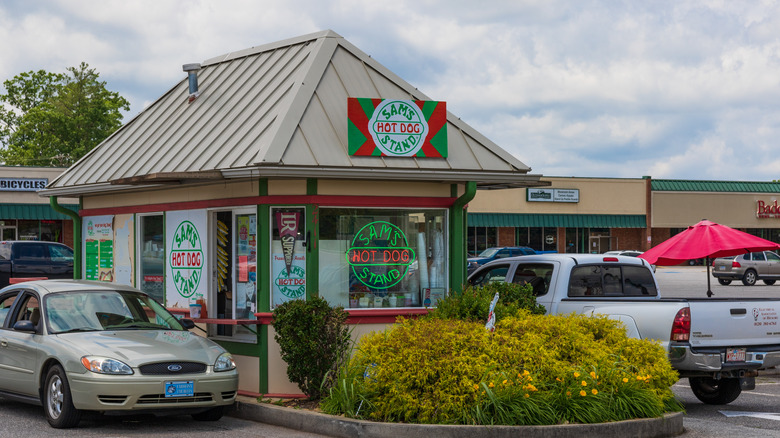 Nolichuckyjake/Shutterstock
Sam's Hot Dog Stand started with a West Virginian named Frank Lucente rather than someone named Sam. When Frank's favorite hot dog stand closed, he boldly asked the former owner for the crave-worthy chili recipe. Unfortunately, the man refused, but Lucente finally tracked down the original recipe from a lady who had been serving similar chili at church bake sales for years. Once Lucente had the coveted recipe, he worked together with his chef friend Rocco Muriale to perfect it. Then, armed with the perfect chili, they opened Sam's Hot Dog Stand together in 1983. They have been successful enough to open over 40 locations across West Virginia, Kentucky, Virginia, Georgia, and North Carolina.
The basic menu at Sam's Hot Dog Stands is simple and inexpensive. Even with inflation, a single hot dog is not likely to cost more than $3.35. Each stand serves a basic menu of 100% beef chili dogs, pork barbecue sandwiches, and coleslaw. However, franchise owners are welcome to extend the menu to suit the locals, with options like seasoned fries, shakes, biscuits and gravy, baked beans, or even breakfast dogs. For people interested in owning a franchise, Sam's says new owners can expect to invest $21,300 to $49,000. One young employee was able to buy the previous owner out with his savings and a small loan. So if owning a hotdog stand is among your dreams, it's not impossible.