The Absolute Best Trader Joe's Cookies, Ranked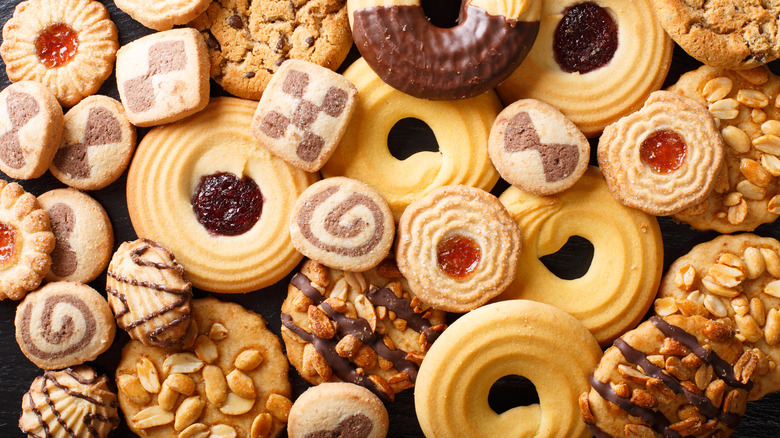 Alleko/Getty Images
With the prices of groceries rising at a staggering pace, it can be tough to figure out which supermarket to head to when it's time to replenish your kitchen. Even though you obviously need food, you never want to walk out of the store feeling like your wallet just took an enormous hit. That's why a ton of people venture out to Trader Joe's to scoop up the items they need.
Trader Joe's, although smaller than many chain supermarkets, carries a substantial variety of goods (as well as a hidden plastic lobster in each location). And it also has its own brand of food that offers quality products at a good value. The store has a pretty epic selection of Trader Joe's cookies for anyone in need of a sugar fix. But just because there are a bunch of options doesn't mean every single one is worthy of a place in your kitchen cupboard. Here are 16 Trader Joe's cookie options ranked worst to first. Don't let your sweet tooth down the next time a cookie adventure is penciled into your schedule.
16. Crispy Crunchy Peanut Butter Cookies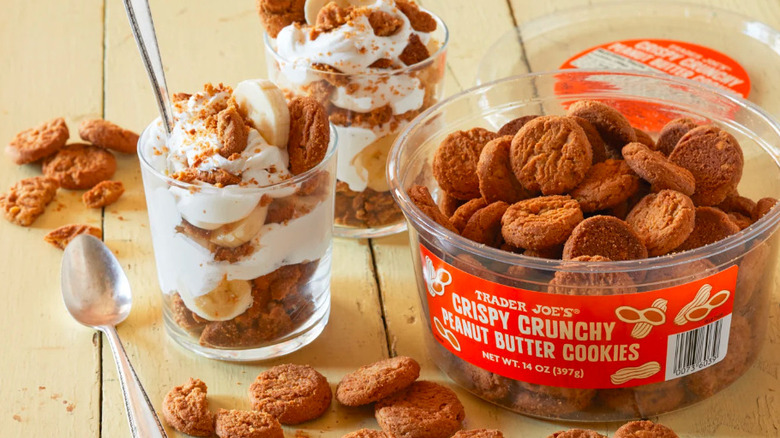 Trader Joe's
Incorporating peanut butter into a bite-sized snack is rarely a bad idea. The rich flavor of peanut butter coats your whole mouth, and when you wash it all down with a glass of milk, your appetite is more than pleased with the decision. So, if you love the taste of peanut butter, your attention will likely fall on the Crispy Crunchy Peanut Butter Cookies that Trader Joe's offers. However, you'll want to take that love of peanut butter and bring it somewhere else.
The name of the cookie pretty much breaks down every flavor and texture you expect when you take that first bite. However, the biggest flaw here is the lack of peanut butter flavor. Yes, it's there, but nowhere near the amount you'd expect. The cookies are definitely crispy and crunchy, but the texture just can't make up for the fact you don't get that burst of peanut butter.
15. Cinnamon Schoolbook Cookies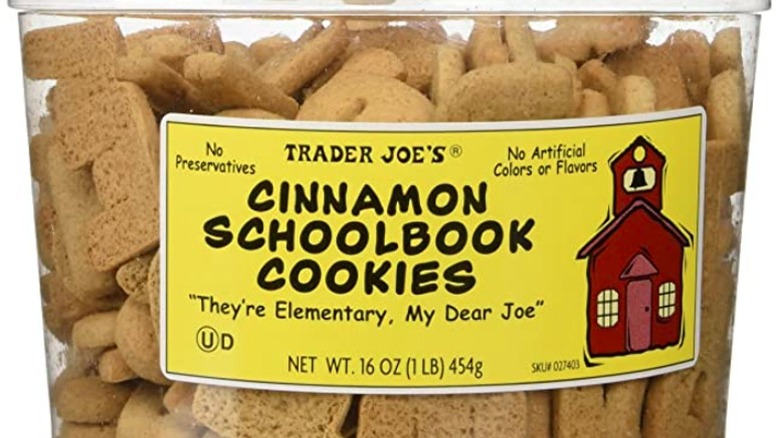 Trader Joe's
If the urge to eat something while also practicing your spelling ever strikes, you have two viable options: Alphabits cereal or Trader Joe's Cinnamon Schoolbook Cookies. Let's assume you pick the latter of the two. These letter-shaped cookies come in a big plastic bin and soon after you purchase them you can give yourself a little vocabulary lesson while you snack. However, the word "delicious" might never end up popping into your head.
The texture of the cookies is quite crunchy, so much so that they might need a dunk into some milk to soften them up a bit. The cinnamon flavor here, however, isn't very prevalent at all. Cinnamon should give your mouth that kick of woody spice it's known for, but the cookies barely make that happen. Outside of the cinnamon flavor, the cookies are rather bland, so you end up with an overly crunchy, barely cinnamon-flavored dessert option.
14. Way More Chocolate Chip Cookies
Trader Joe's
Oftentimes when you get a hold of a chocolate chip cookie, there simply aren't enough chocolate chunks in the cookie to get your sweet tooth excited. You get the chocolate chip cookies for one reason only: the chocolate chips. If you just wanted the cookie there are a ton of other options to choose from. Trader Joe's offers customers what it calls Way More Chocolate Chip Cookies which should have "way more" chocolate chunks nestled inside. Sadly, they don't.
There really isn't any difference between these cookies and your basic Chips Ahoy variety. The cookies are slightly smaller, which might give you the impression you're getting more chocolate chunks, but then you realize it's the standard amount, which is nothing to write home about. The cookies are quite average, so you might as well explore a new option you've never tasted before. Adding a new cookie to the rotation is always an exciting dessert decision.
13. Gluten Free Joe-Joe's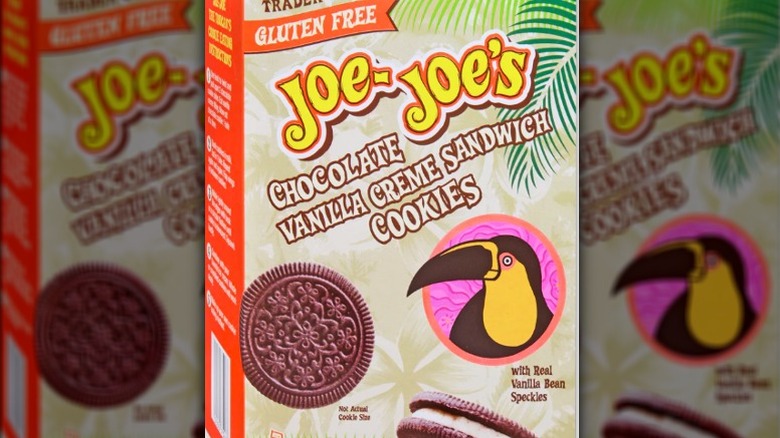 Trader Joe's
Chocolate and vanilla is arguably one of the best flavor pairings around. The two tastes combine together to help offset each other so neither is overwhelming, and the sweetness level is perfect. Trader Joe's makes use of this pairing in the form of the Gluten Free Joe Joe's. They look identical to Oreos (two chocolate discs with vanilla cream sandwiched between), but unfortunately, if you're looking for a cookie that's gonna hit you with all the sweet, creamy notes of an Oreo, you might want to stay away from the Joe-Joe's.
Some might avoid these solely because they read say "gluten free" on the box. Sometimes gluten-free desserts can have a funky taste that attempts to make up for the lack of gluten but never quite succeeds. Joe-Joe's actually don't carry with them that odd faux flavor, but the taste still isn't that impactful. The vanilla cream in the center is more crumbly than creamy, and the chocolate can't really make up for it.
12. Almond Windmill Cookies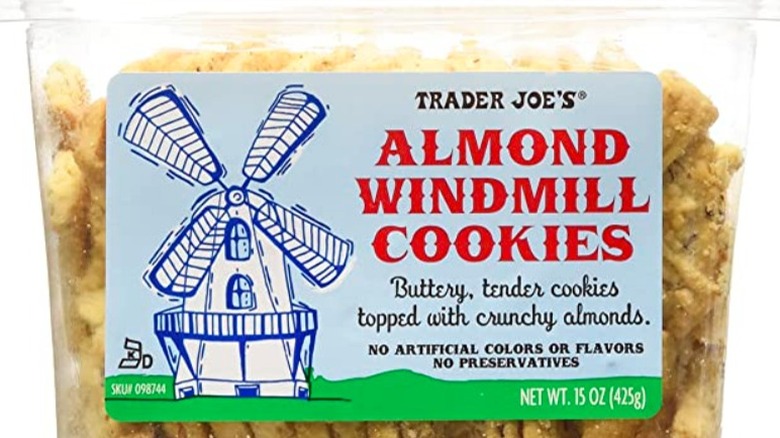 Trader Joe's
You eat with your eyes before food ever enters your mouth, which is why a pleasing aesthetic can play such a vital role. The Almond Windmill Cookies that Trader Joe's offers look absolutely adorable. Not only do they resemble tiny handheld windmills, but there's actually a decent amount of detail to them — they have shutters and a little window in the center. But it's the cookie's aesthetic that's the best aspect here.
These butter cookies are coated in coarse sugar and little granulated bits of almonds. Those two ingredients together should make for a pretty slam-dunk experience, but you really don't get any of the almond flavor coming through. The sugar does make for some sweetness, but overall you miss out on great almond flavor. However, some of that lacking almond flavor is made up for by the buttery taste of the cookie itself. If you go into these knowing you aren't going to get a punch of almond, you won't feel as let down.
11. Cookie Thins
As satisfying as a thick, dense cookie is, sometimes it can be a little too much and you feel like you just packed on way more calories than you should have. No one wants to feel like that after a sweet treat. This is where thin cookies reign supreme. You don't feel as though you're overloading on sweets, and if the flavors are right, they can be just as satisfying, if not more, than a bulky disc of baked dough. The Cookie Thins at Trader Joe's certainly gets the whole thin aspect down pat, but some might find themselves craving a bit more flavor.
Cookie Thins come in two different varieties: Triple Ginger and Meyer Lemon. The Meyer Lemon is definitely the more flavorful of the two, giving you a slightly tangy kick of lemon flavor without ever feeling like it's too mouth-puckering. The Triple Ginger cookie, however, definitely needs a heavier ginger flavor. You think because the word "triple" is in the name you'll be socked in the palate with great ginger spice, but in reality, you have a thin crispy wafer that only hints at ginger.
10. Chocolatey Coated Chocolate Chip Cookie Dunkers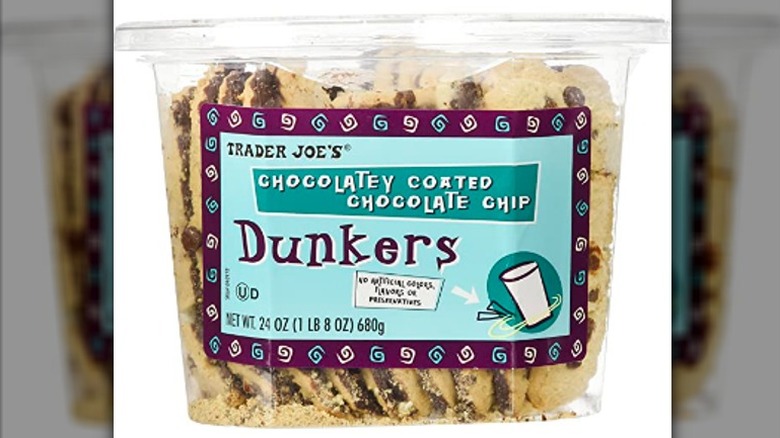 Trader Joe's
Incorporating a milky dunk into your cookie experience always makes everything better. Not only does the creaminess of milk pair really well with rich, sugary flavors, but the milk seeps into the dough and softens everything up for a great delicate mouthfeel. Obviously, you can dunk any cookie you want into a glass of milk, but the Chocolatey Coated Chocolate Chip Cookie Dunkers from Trader Joe's were specifically designed to take the cold plunge.
It's annoying when you have to break apart your cookie for dunking because the round shape won't fit past the brim of a glass, but that doesn't happen with these elongated treats. These are basically regular chocolate chip cookies stretched out to an oval shape. The bottom of the cookie also has an entire layer of chocolate on it, which is nice for anyone who craves more chocolate than just what the chips offer.
9. Cinnamon Graham Crackers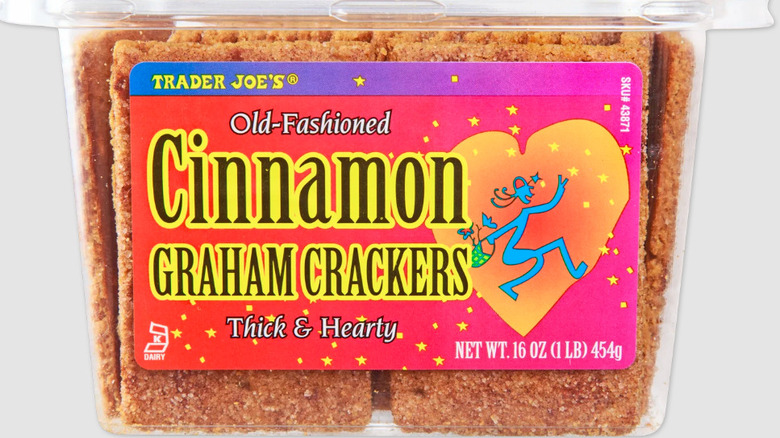 Trader Joe's
So many of us remember the good old days of childhood tossing back handful after handful of graham crackers. Heck, a lot of adults probably still do it. Graham crackers are a simple tasty snack that combines well with a lot of other ingredients, so you can turn your basic graham cracker into an epic experience. Thankfully, Trader Joe's makes it easy to enjoy an enhanced graham cracker with its Cinnamon Graham Crackers.
These crackers have a hefty layer of cinnamon sugar on them, which cranks the flavor up quite a few notches. The layer also adds an additional crunch, so you really feel like you're getting your money's worth with the additional taste and texture. Also, dunking into milk or using these to make s'mores are both great ideas that make these an even better treat if you're in the market for something sweet and simple to snack on that won't hit your stomach like a mound of sugary cement.
8. Triple Ginger Snaps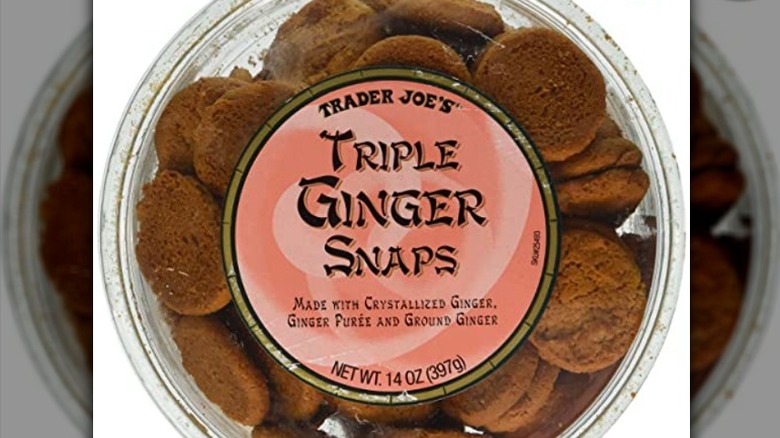 Trader Joe's
If you love the great kick that ginger offers, then you might as well triple down on the stuff and get yourself a real roundhouse kick of the great taste right to the palate, right? The Triple Ginger Snaps from Trader Joe's have the word "triple" on the label for a reason. It doesn't mean that they're supposed to taste three times as flavorful as regular ginger snaps, but there are three varieties of ginger in the cookies: ginger puree, ginger powder, and crystallized ginger. Yeah, that's a whole lotta ginger.
To say these things are gingery would be a gross understatement. All three versions of ginger join forces to really give each cookie an immense hit of the spice. Is that a good thing? Well, for ginger enthusiasts it absolutely is. But for someone who doesn't truly love a heavy ginger sensation, these might be a bit overwhelming. Overall, however, the cookies definitely do their job of offering a hearty amount of ginger taste.
7. Belgian Butter Waffle Cookies
We can all thank Belgium for its awesome contribution to the waffle landscape. Belgian waffles are some of the best around, so why not make a cookie out of them, right? Well that's exactly what the good people at Trader Joe's did. The company sells Belgian Butter Waffle Cookies, and these thin waffle-shaped discs have a delicate texture that almost melts onto your tongue. Thank you, Belgium.
The cookies taste just like waffle cones, and that makes them perfect to pair with any ice cream. A scoop of ice cream and the crunch of these cookies is a match made in heaven. But the cookies on their own are still great. They have a nice butter taste, and the waffle texture feels pleasant on your tongue. The gentle crunch of each cookie leads way to a soft middle that's slightly sweet and slightly rich thanks to the butter flavor.
6. Chocolate Covered Wafer Cookies with Peanut Butter Filling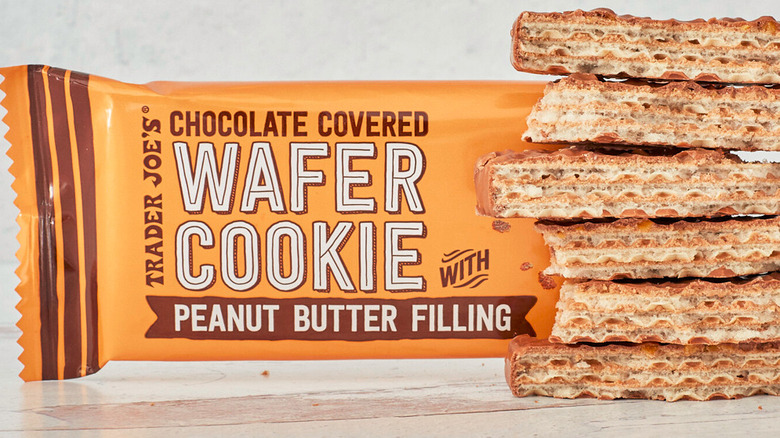 Trader Joe's
Combining chocolate and peanut butter is just about as great as the mixture of chocolate and vanilla. Both flavors work really well when paired together, which is why there are so many desserts that feature these tasty lead performers. Trader Joe's has its finger on the pulse when it comes to the sweets people want, offering Chocolate Covered Wafer Cookies with Peanut Butter Filling. You get chocolate, you get peanut butter, and you get wafers. It's a three-lane avenue of solid flavors.
The chocolate layer over the peanut butter-filled wafer is thin, which is nice because that allows the flavor of the peanut butter to really come through. The wafer isn't chock-full of peanut butter, but it works because you aren't getting a hefty dose of chocolate, so both ingredients are balanced nicely. The wafer, although relatively flavorless, is super delicate and offers a gentle, welcoming mouthfeel.
5. Speculoos Cookies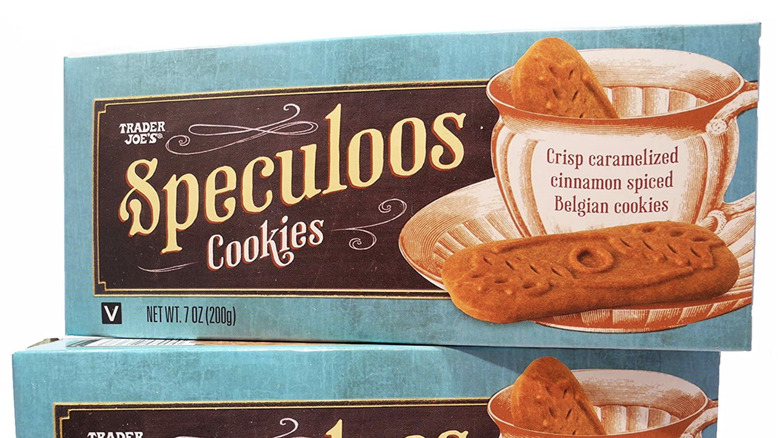 Trader Joe's
When you start adding a lot of ingredients to food, you run the risk of over-complicating the flavor profile and ending up with a disappointing result. Sure, if you balance everything correctly you can create a magnificent taste, but sometimes simplicity is king. That's what makes the Speculoos Cookies from Trader Joe's worth your attention. There's nothing fancy going on with this treat, and that's totally okay.
The cookies are spiced with cinnamon and have a very crunchy texture, and even though that's all you can expect from them, they do a darn good job of it. Each bite has a great snap when you bite into it, but not so much that you feel like you might chip a tooth. The cinnamon flavor is strong, but never overwhelming, so you get to enjoy that warm, woody sensation without feeling like you went a little overboard. Speculoos don't require any other ingredients to make them worth a purchase.
4. Maple Leaf Cookies
When fall rolls around, there are certain things that come to mind: apples, chillier weather, and of course, leaves. Cookies might not immediately jump into the forefront of your mind, but the Maple Leaf Cookies from Trader Joe's will change all that. These leaf-shaped sandwich cookies are a great treat any time of the year, and they might even make you enjoy the beautiful fall foliage a little more when it occurs.
The dessert sandwich consists of two crunchy shortbread cookies with a maple cream filling nestled in between. The cookies themselves are super buttery, and even though they have a crunch, it's a subtle crunch that doesn't require a strong jaw to break through. But it's the filling that's the star of the show. It's super rich and creamy with a hint of maple syrup, and it's the perfect ingredient to pair with the buttery shortbread. Fall has never been so tasty.
3. A Dozen Macarons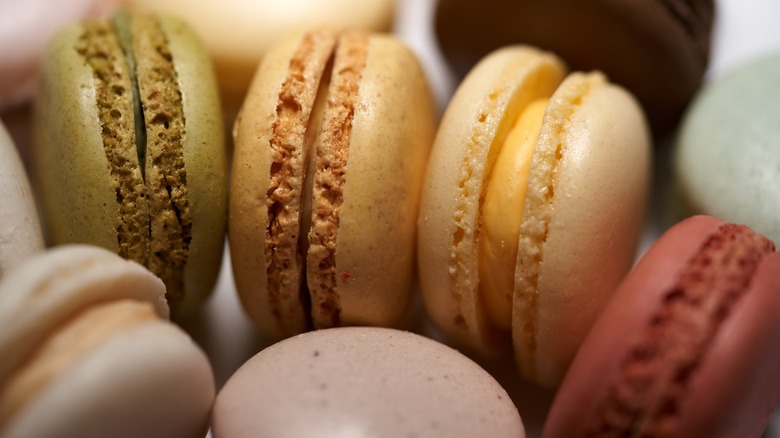 nadia_if/Shutterstock
If you love macarons but don't want to buy several different varieties of them at a time (the temptation to eat them all is too real!), then you gotta snag yourself a box of A Dozen Macarons at Trader Joe's. The box has a lovely variety of flavors so you get a bunch of different sweet tastes in one fell swoop. And who doesn't love variety when it comes to dessert?
For anyone who's never had a macaron before, they're meringue-based cookies made with egg whites, almond flour, and sugar. They're a little crispy and a little chewy, and the mouthfeel is super light and airy thanks to the meringue. With this purchase, you get to dabble in six different flavors: apricot, coconut, fig, salted caramel, lemon, and pistachio. Each variation has a wonderfully inviting texture and the flavors are all strong. For anyone who loves macarons, this is an item that has to be on your next shopping list.
2. Chocolate Hazelnut Cookies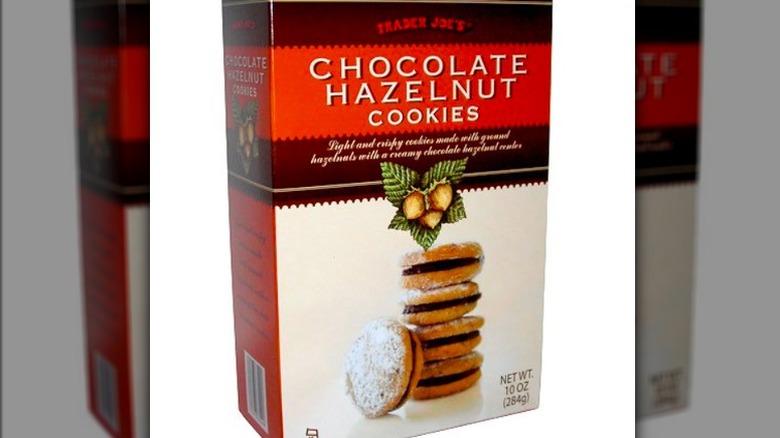 Trader Joe's
Chocolate and hazelnut are a match made in heaven, and anyone who's eaten Nutella will likely agree. The two flavors join hands in one delicious matrimony, and once you try the combination it's hard not to cave in whenever the urge to gobble up sweets strikes your belly. This is exactly why the Chocolate Hazelnut Cookies from Trader Joe's are such a great option. Not only do you get cookies (which are always awesome in any form), but you get a cookie imbued with both of those awesome flavors for a fantastic one-two punch.
The butter cookies used to sandwich the rich hazelnut cream have a great texture that delicately crumbles with each bite and a hefty kick of that coat-your-mouth butter sensation. But the two cookies are just the vessel for the main attraction: the hazelnut spread. Nutty, sweet, and with a great consistency, the spread smears across your palate and refuses to leave even after the cookies are gone.
1. Cookie Butter Sandwich Cookies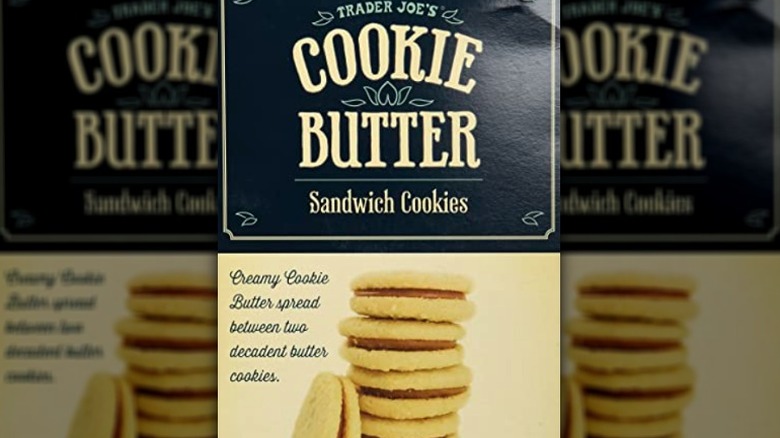 Trader Joe's
All you have to do is read the first two words in the name of this cookie to know you have a gold-medal treat on your hands. Are there any two other words that conjure up such a warm, creamy, sweet, mouth-coating experience as "cookie butter"? Trader Joe's steps the decadence up a bit with these Cookie Butter Sandwich Cookies. Two thin and tender butter cookies hold between them a layer of dense cookie butter spread, and the result is pretty epic.
The butter cookies used as the sandwich here have a great texture. They're not too crunchy, but also not soft, either. They're rich, like butter cookies should be, and they have subtle notes of butter that linger on your palate. The cookie butter spread in the middle is what these things are all about. It's super decadent and the perfect contrast to the lighter cookies. This cookie-on-cookie delight is an easy pick for the number one treat at Trader Joe's.