Anthony Bourdain's Favorite Food To Cook For His Daughter Was So Wholesome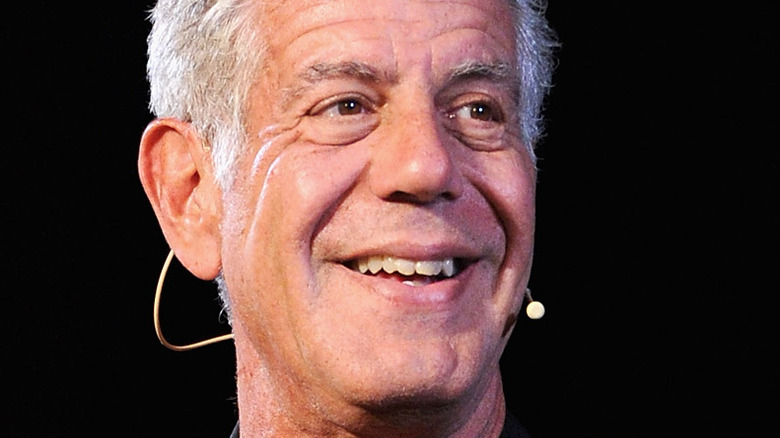 Craig Barritt/Getty Images
For many of us, cooking is an act of love. There's simply nothing like making or receiving a home-cooked meal and digging in with friends, family, or even strangers. No one's more familiar with the power of food to connect and show love than the late Anthony Bourdain, chef, author, and host of travel programs like "No Reservations" and "Parts Unknown." When not exploring the world or working in the world's top kitchens, Bourdain spent much of his time on his other biggest passion, his family. This includes his daughter Ariane, born in 2007 from his partnership with mixed martial arts fighter Ottavia Busia.
Like every skilled chef, Bourdain had a wide variety of sophisticated and delicious recipes he could whip up at home. But like every kid, Ariane had her favorite foods, too. And few things delighted the foodie superstar more than cooking the special dish she enjoyed most — even if it wasn't one of his favorites earlier in life.
Chef Bourdain loved pancake duty
In a video posted to the TikTok account @friendsofanthonybourdain, Anthony Bourdain reveals he's grown to love brunch because of his daughter — specifically, pancakes. To be, in his words, "the coolest dad in the world," all he needed to do was whip up a pancake bar for Ariane and her friends the morning after a sleepover.
If you're wondering what a pancake bar is, it's simply a selection of ingredients and toppings available to add flavor and flair to the breakfast staple. Bourdain reveals his setup in a photo he tweeted in 2015, which features a bowl of fresh batter alongside blueberries, bananas, bacon, and, of course, lots of butter and maple syrup. Others show what appear to be chocolate chips in pancakes on the griddle, providing another delicious option for Ariane and the other kids on what he called "Dada's Bespoke Pancake Bar." Naturally, you'd imagine the chef himself snuck a flapjack or two as well — at least as a "tester," as many dads can relate to. It's easy to imagine the witty but kindhearted TV star cracking jokes with delighted kids while flipping pancakes.
The power of food and family
Jacoblund/Getty Images
The revelation is particularly wholesome because, as Anthony Bourdain says in the clip, it comes after "years of hating brunch," an opinion he often shared throughout his career. Bourdain seemed to take a special, lighthearted pride in Ariane's friends pointing out that their dads didn't do anything similar. This worldly, well-traveled celebrity chef was, in reality, all too relatable and found nothing more satisfying than preparing a simple dish for one of the people he loved most in the world. It's a side of the sometimes-hard-edged food expert that many casual fans never saw. But for many kids, these moments are the ones that create treasured memories they'll hold onto for the rest of their lives.
It's a simple lesson many people will do well to be reminded of. Of course, many of us love to cook, especially when it comes to trying new recipes and experimenting with exotic cuisines and ingredients. But at the end of the day, the best meal can be the one that's shared with someone who matters.