The Aldi Section That's Rare In The US But Way More Common In Other Countries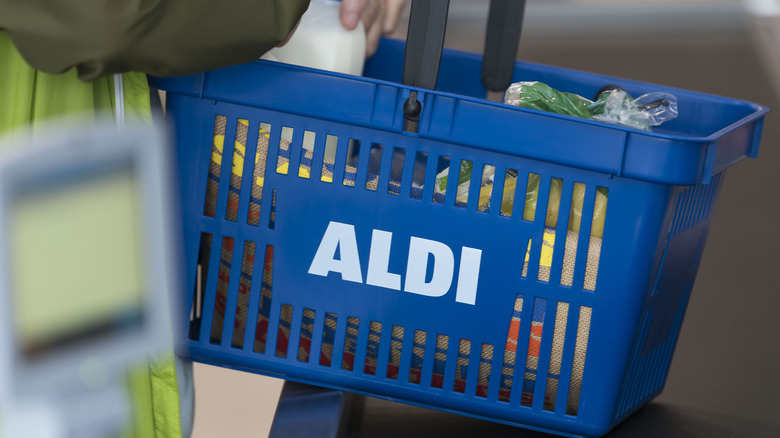 Matthew Horwood/Getty Images
Inflation has meant that shoppers on both sides of the pond are flocking to stores like Aldi and Lidl in search of deals to slash their grocery bills. In September 2022, Reuters reported that same-store sales at locations in the U.S. rose by double digits over 12 months, driven by 1 million new customers, most of them middle and high-income shoppers. Aldi in the U.K. has also seen growth, becoming the fourth-largest supermarket in the country in September 2022, according to the BBC, with inflation reaching a record 12.4% in August 2022. Aldi operates lean so it can pass on those savings to customers, with no butchers or produce workers and a skeleton crew, so it's an attractive option for shoppers looking to trim their budgets.
Another way Aldi saves on operating costs is by cutting out the middleman and producing and selling its own brands — 90% of the products in the stores are Aldi brand — but that doesn't mean skimping on quality. They have high standards when it comes to the quality of their products, which include USDA Organic, gluten-free, and other dietary items. And Aldi's brands are good; some Aldi versions are even better than the name brands you see at grocery stores like Wegmans or Kroger. There are numerous Reddit threads dedicated to shoppers' favorite products, from Mediterranean salmon to bagged salad mixes to Greek yogurt. And, some Aldi locations have what could be viewed as a luxury in a budget-friendly grocery store.
Some US locations are lucky enough to have a bakery section
The section in question is a bakery. While it's not very common in the U.S., Aldi does have a bakery section in locations around the world. In 2018, Aldi Süd launched an in-store self-service bakery section in its German stores, with products baked in-store. You could find breads, rolls, and sweet pastries like croissants and chocolate muffins. To provide more transparency into their production process, the bakery itself is visible to customers so there's no doubt about freshness. According to Insider, a London-based Aldi location had pastries, including pastéis de Nata, cinnamon rolls, and croissants. German Aldi Nord locations began cooperating with local bakeries to offer regional specialties, with 30 bakeries participating as of May 2022. The section has also been available in Australia.
In 2018 Aldi U.S. began testing a bakery section near its American corporate headquarters in Batavia, Illinois as a way to try to match another German deep discount store, Lidl, as it also operates a bakery at most of its locations. The move was also made to reinforce the freshness of products in Aldi stores. Since then, Aldi hasn't offered an official list of its U.S. locations with a bakery, but Reddit compiled an unofficial list with locations in Virginia, Maryland, and Wisconsin. If you're lucky enough to live near one of these locations, stop in and snap up what they have to give it a try.