What Are Portuguese Pasteles De Nata Actually Made Of?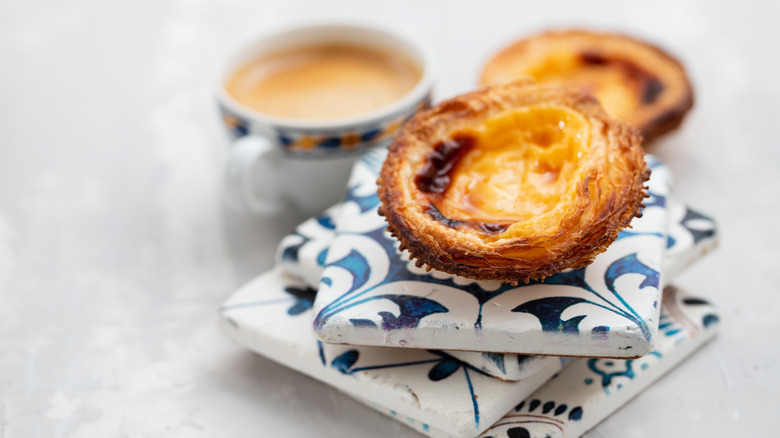 Natalia Mylova/Shutterstock
We travel to enlighten our taste buds. And yes, relax, open our minds and take photos too. But hey, don't we feel we are connected to a place when we taste their food? This magic effect happens in places like Portugal, a country in the southern part of Europe, located right next to Spain.
Portugal is famous for its seafood, like their national salty cod known as bacalhau, fortified wine, interesting meats like the sausage known as linguica, and their piri-piri chicken. Everywhere you eat and visit, you'll live a relaxing atmosphere — except maybe if you ask for seasoning (please don't).
They are also surprisingly good at baking, as Julie Dawn Fox notes. Walk around any street in Portugal and you'll find a local bakery with many goods to choose from. But, you'll instantly detect the most popular one. The pastel de nata is not only showcased everywhere, but everyone is eating one. Sometimes just not one, but a plate full of this delicious pastry. What does this sweet treat is made of? Why is it everyone's favorite? It probably is because how the ingredients create an interesting mix of textures that drives any palate crazy.
The classic Portuguese baked good is made with puff pastry and egg custard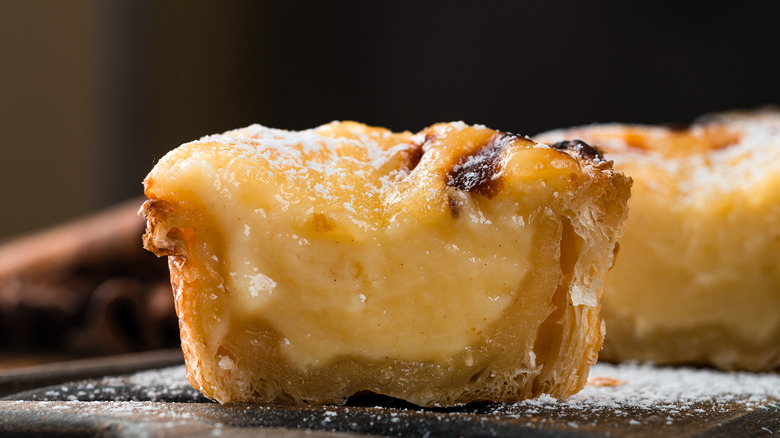 smspsy/Shutterstock
Pastel de nata is a Portuguese tart made with puff pastry and egg custard (via The Daring Gourmet). The puff pastry gives it a crispy and flaky crust, while the eggs in the custard create a creamy filling, so right from the first bite, you'll dive into a game of textures and flavors. Feels crunchy and buttery on the outside, soft and sweet on the inside. It is usually served with a pinch of cinnamon and powdered sugar on top.
Although made famous by Lisbon's local pastries, Belém is the place where they were born. In this city in the west of Lisbon, there is the famous Jerónimos Monastery, a highly visited tourist spot. Back in time, around the 1800s, nuns and monks didn't have detergent for their laundry, so they used egg whites instead (per The Real World). As lots of egg yolks were left, they started using them in desserts to avoid waste, and a secret recipe was born. Later, the tart was sold for financial difficulties, and when the monastery closed around 1830, they sold the recipe to a bakery close by, Fábrica de Pastéis de Belém, which still makes the original pastel de nata today.
What are we left with if there's no way to unlock the secret recipe and you don't want to try the Trader Joe's version? Definitely, with a reason to visit Portugal.